Is hurricane insurance worth it in Florida?
Depending on the risk level of your area, having earthquake insurance can save you big financially in the long run. It's always worth getting a quote.
Hurricanes are a fact of life for Floridians. But there's good news for residents of the Sunshine State: most property insurance covers hurricane damage.
The threat of hurricanes is highest during hurricane season, which runs from June 1 to November 30. If you live in a high-risk coastal area, you might wonder what Florida hurricane insurance covers, whether there are policy limits, and how much the deductible could cost.
Here's your complete guide to hurricane insurance to get you up to speed before hurricane season starts.
And if you're looking for the best insurance coverage, use the free comparison tool from Insurify. You can search for property insurance and compare home insurance quotes for a new home or to replace an existing policy.
Hurricane Insurance in Florida: The Basics
Hurricane insurance covers damage caused by a windstorm during a hurricane. However, it isn't a separate type of policy.
A standard homeowners insurance policy in Florida generally includes hurricane coverage. In some states, windstorm damage is excluded. But Florida law requires policies to cover wind damage if the National Hurricane Center declares the storm to be a hurricane.
Is Hurricane Insurance Required in Florida?
The Insurance Information Institute (III) ranks Florida in first place for storm surge risk. Louisiana, Texas, New Jersey, and New York round out the top five.
Despite the high risk, Florida doesn't specifically require hurricane insurance. That's because hurricane insurance isn't a separate policy you can purchase. It's included in a standard property insurance policy.
To protect your home and belongings, you can get hurricane coverage by buying:
Homeowners insurance: Lenders generally require you to get homeowners insurance as part of the approval process when buying a home. In other states, insurers can offer hurricane coverage as an add-on endorsement. But it's included in standard homeowners policies in Florida.

Mobile home insurance: You'll find many mobile and manufactured homes in Florida. Mobile home insurance is a separate type of policy specific to mobile and manufactured homes. While your home should be covered, read the details to know for sure.

Renters insurance: Your landlord's insurance covers hurricane damage to the structure of the home or building you live in. Renters insurance isn't required, but it can protect your personal property against damage if a hurricane occurs.

Condo insurance: Condo or homeowners association fees generally cover a condo's master insurance policy. However, you must have a separate policy to cover hurricane damage to your interior walls, floors, ceilings, and personal items.
You likely have a lot of money invested in your home and personal property. If you rent your living space, you could pay a substantial amount if you had to replace your personal belongings. Having a property insurance policy in place can protect you financially if disaster strikes.
Compare Car Insurance Quotes Instantly
Personalized quotes in 5 minutes or less
No signup required
What Does Hurricane Insurance Cover in Florida?
Florida hurricane insurance covers loss or damage from windstorms during a hurricane. Because hurricane insurance isn't a separate policy, your homeowners, renters, or condo insurance policy determines what is covered.
A policy generally includes:
Your home's structure

Other structures such as your garage, greenhouse, or shed

Interior property damage and items inside a building

Additional living expenses if you can't live in your home while repairs are done
In Florida, coverage can include wind, wind gusts, hail, rain, and tornadoes if they're a direct result of the hurricane.
What Isn't Covered by Hurricane Insurance in Florida?
According to the III, about 98 percent of Florida's population lives in a coastal county. For those residents, understanding what isn't covered by hurricane insurance is crucial. Hurricane insurance only covers damage caused by hurricanes. That means tropical storms aren't covered.
The National Weather Service tracks and predicts tropical weather storms. But the National Hurricane Center must issue a hurricane watch or warning before your policy kicks in.
But there's a catch. Storm surges and flash flooding can accompany hurricanes, and even the best homeowners insurance companies don't cover water damage from floods.
Because flooding isn't covered, the Florida Office of Insurance Regulation (FLOIR) encourages residents to consider flood insurance. The most common natural disaster in the U.S. is flooding. It's smart to consider a flood insurance policy even if you don't live in a high-risk area.
Some private insurers let you add an endorsement to your existing policy to get flood protection. Separate flood insurance policies are also available, and the National Flood Insurance Program (NFIP) can help you get a policy and answer questions.
Hurricane insurance also doesn't cover vehicles. Storms can cause substantial damage when windblown objects or toppled trees crush cars and trucks. If you purchase comprehensive coverage as part of your auto insurance policy, hurricane and flood damage is usually covered.
Florida Hurricane Insurance Rates
Protecting your property from hurricane damage is possible with a Florida homeowners insurance policy. But most Floridians wonder how much hurricane insurance costs in Florida.
The average cost for a home insurance policy is $1,410 per year as of 2021.
Many policyholders are eligible for premium discounts for trying to protect against hurricane damage. Installing wind-resistant features on your home is one way to lower your rate. Contact your insurance provider to find out what steps you can take to qualify for a discount.
Another cost to consider is your Florida hurricane insurance deductible. Remember that your policy could have a separate deductible for some hurricane losses.
How much could you pay for a Florida hurricane deductible?
FLOIR states that insurers must offer specific deductible amounts:
$500

2 percent

5 percent

10 percent
The percent is calculated using the total insured value of the home. For instance, if your home value is $250,000 and you had a 10 percent deductible, the amount would be $25,000.
The dollar amount is usually much less for other perils. You might pay only $500, $1,000, or 1 percent of the value for a fire, hail, or lightning insurance claim.
Florida Hurricane Insurance Companies
According to the III, the top five writers of homeowners insurance in Florida are:
Universal Insurance Holdings Inc., which includes Universal Property and Casualty Insurance Company (UPCIC) and American Platinum Property and Casualty Insurance Company

State Farm

Tower Hill

Citizens Property Insurance Corp.

USAA
If you already have a homeowners or renters policy, contact your insurance agent to ask about hurricane coverage and deductible amounts.
However, it pays to shop around. Check rates from multiple insurers if you're in the market for a new policy or if it's been a year or more since you purchased your existing coverage. You might be surprised by how much you could save.
Where should you look? Start with Insurify's free comparison tool to compare rates and policy options.
Florida Hurricane Insurance - Frequently Asked Questions
Hurricane insurance isn't a separate type of policy you can purchase in Florida. It is part of a homeowners, renters, or condo insurance policy. Most lenders require you to have homeowners or condo insurance when you buy a home or condo. If you're renting, it's smart to have renters insurance to cover your personal belongings if a hurricane or another disaster strikes.

Yes, homeowners insurance covers hurricane damage in Florida. In some hurricane-prone states, you need a separate windstorm insurance endorsement or policy. But Florida law requires insurers to include hurricane windstorm coverage as part of a property insurance policy. Keep in mind that flooding is common with a hurricane, and homeowners policies don't cover flood damage. You may need to buy separate flood insurance.

Florida hurricane insurance is part of your homeowners policy. The average price for homeowners insurance is $1,410 as of 2021. You might pay more or less depending on your home's age, location, and features.

No. Because hurricane insurance in Florida is part of a homeowners policy, it doesn't include damage to your vehicle. If flying objects, a fallen tree, or flooding damages your car, it may be covered under the comprehensive portion of your auto insurance policy.
Florida Hurricane Insurance: The Bottom Line
The risk of hurricanes in Florida is higher than in any other state in the U.S. Hurricane coverage shouldn't be an afterthought.
Most homeowners, renters, and condo owners already have coverage. Because hurricane insurance is part of a standard property insurance policy in Florida, you shouldn't need a separate endorsement or policy.
If you're not sure what your policy includes, contact your insurance agent to make sure you understand what your policy covers and what it doesn't.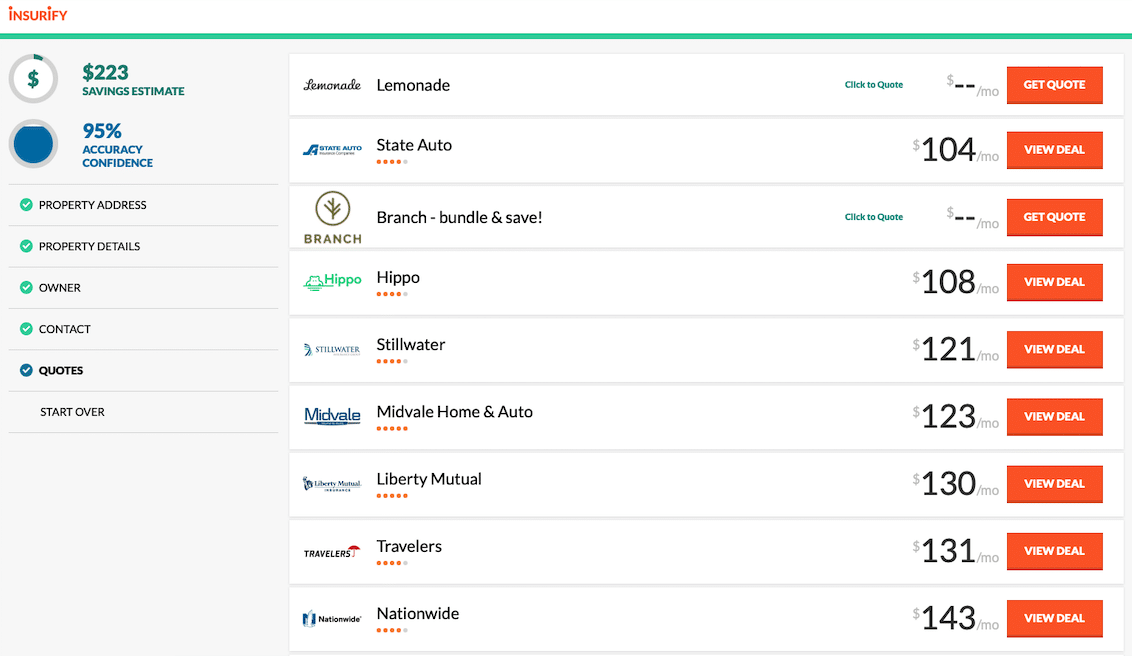 Compare Car Insurance Quotes Instantly
Personalized quotes in 5 minutes or less
No signup required
Data scientists at Insurify analyzed over 40 million auto insurance rates across the United States to compile the car insurance quotes, statistics, and data visualizations displayed on this page. The car insurance data includes coverage analysis and details on drivers' vehicles, driving records, and demographic information. With these insights, Insurify is able to offer drivers insight into how their car insurance premiums are priced by companies.