How much will I pay for flood insurance?
The cost of your flood insurance policy will vary based on a number of different variables. We'll help you estimate how much you should expect to pay for flood insurance.
Flooding is the most common natural disaster —and the most expensive. So whether or not you live in a flood zone, it's a smart idea for all homeowners to contemplate purchasing a flood insurance policy.
Before you set out to buy flood insurance, give our insurance cost calculator a try to see what you're likely to pay.
How to Know if You Need Flood Coverage
Most homeowners insurance policies don't include flood insurance. So if you don't have flood insurance coverage and you get unlucky, flood damage could land you in big financial trouble. And even if you're in a low-risk area, some mortgage lenders still require flood insurance for your mortgage.
You don't have to live in a flood zone, floodplain, or high-risk area for flood insurance to make sense. Use our flood insurance cost calculator to see what to expect for your annual flood insurance rate, and you might be surprised by the affordability.
Renters insurance policyholders can also get flood insurance, which isn't a bad idea since most renters insurance policies don't cover flood damage to personal property.
Flood Insurance Coverages
Flood insurance coverage can be divided into two types of coverage: building coverage and contents coverage. Building coverage, unsurprisingly, protects the foundation, walls, plumbing, appliances, and other systems and equipment that are part of the home itself; contents coverage applies to possessions, furniture, artwork, and other stuff inside the home.
FEMA coverage has hard limits on the amount you can be reimbursed for flood damage. Typically, you'll be covered up to around $250,000 for building coverage and $100,000 for contents coverage.
Be advised that homeowners insurance policies usually do not cover flood damage. So don't assume that this flood insurance coverage is already part of your existing insurance.
Sound worth exploring? Try out our home insurance cost calculator to see if the rate looks to be in your budget. Then, once you have a flood insurance quote from an insurance agent, you'll know for sure if you want to invest in a flood insurance policy.
Compare Car Insurance Quotes Instantly
Personalized quotes in 5 minutes or less
No signup required
The Cost of Flood Insurance
Different states have very different average costs for flood insurance. The average annual flood insurance premium is just over $700, but the average in Vermont, the most expensive flood insurance state, is more than twice that. Florida is the cheapest; the average annual premium is less than $600.
Most flood insurance is sold by the federal government through the Federal Emergency Management Agency's ( FEMA ) National Flood Insurance Program ( NFIP ). This is why, unlike homeowners insurance, the cost of flood insurance won't vary from one insurance company to another. Insurers are all selling the same NFIP policies.
NFIP flood insurance rates depend on your proximity to high-risk flood zones and whether you live in a floodplain or are at high risk of heavy rain. FEMA uses sophisticated flood maps to calculate these premiums, and those maps are currently being updated.
There are also deductibles to consider. When you make a flood insurance claim, you must first pay the deductible on your policy before you can access reimbursement, which will extend up to your coverage limit. As with auto insurance and other insurance policies, a lower deductible will raise your premium and vice versa.
Still not sure a flood insurance policy makes sense? Try our insurance cost calculator, and if you think the rate is feasible for your family, contact your insurance provider or, if you don't have a homeowners insurance policy, go to FEMA.gov.
The Difference Between FEMA and Private Insurance
Starting October 1, 2021, FEMA is adjusting its flood insurance rates to make the system fairer and easier to understand. High-risk homes are going to pay higher premiums than before, and lower-value homes in lower-risk areas will get a break.
Private flood insurance policies may or may not respond to these changes, but they most likely will. Private insurers tend to offer lower premiums for their policies because you can be more selective of the type of coverage you want. If you're looking for higher coverage limits, you can also get them from some private insurers.
But even though private insurers can offer you different rates and more customizable coverage, pay attention to who is selling you flood insurance. Private flood insurance policies are being sold by new companies that might lack the stability to pay out your insurance claim.
When Flood Insurance Kicks In
If you've waited until a really bad storm is on the radar to buy a flood insurance policy, you're too late. NFIP flood insurance policies have a waiting period of 30 days, so if you are at higher risk of flood or water damage and entering a rainy season, get a policy before there's an inch of water in your basement. Some flood insurance policies from private insurers kick in more quickly.
Frequently Asked Questions
FEMA is an agency of the federal government that helps prepare for and recover from natural disasters and other emergencies. FEMA administers the National Flood Insurance Program, or NFIP, that is responsible for underwriting flood insurance. Learn more at floodsmart.gov.

Almost all home insurance policies lack flood insurance. Until recently, flood insurance was only available through the NFIP.

Use our flood insurance cost calculator at the top of this page to get a good estimate of what your premium will be. The average is over $700 but varies from state to state.

The costs and policies will all be the same if you are buying an NFIP policy. But use our flood insurance cost calculator, and make sure the insurance company you contact gives you a reasonable quote.
Getting the Right Coverage
After you've used the flood insurance rate calculator to get a sense of the cost of flood insurance, contact your homeowners insurance provider to see if they offer NFIP flood insurance. If you need to secure an insurance policy, compare quotes from top insurers with Insurify.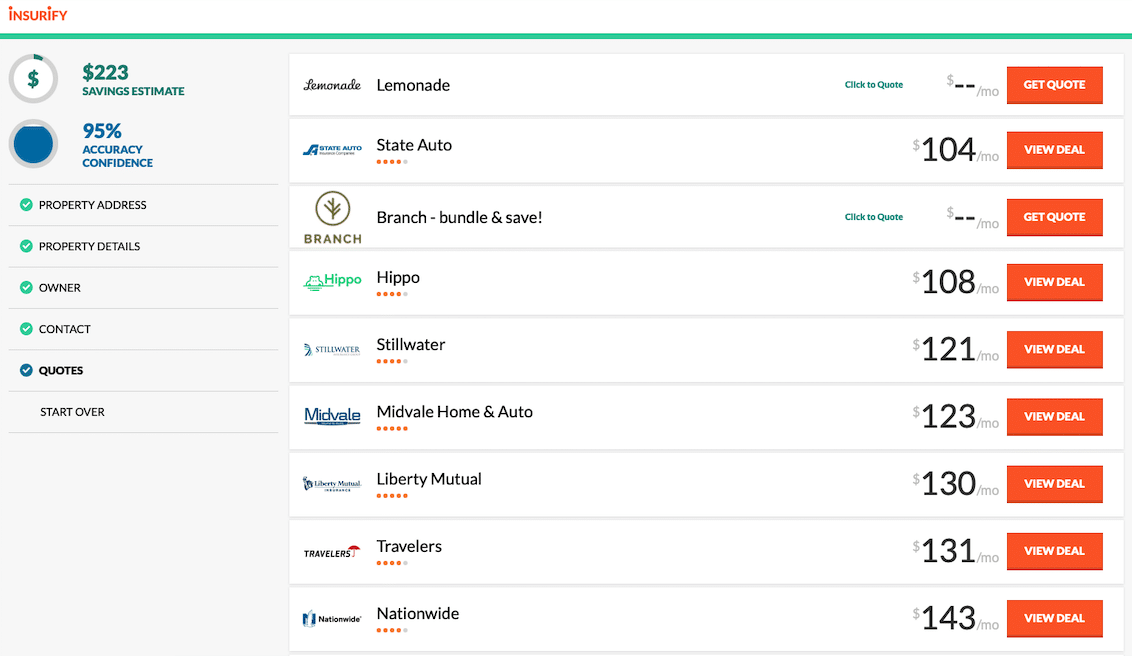 Compare Car Insurance Quotes Instantly
Personalized quotes in 5 minutes or less
No signup required
Data scientists at Insurify analyzed over 40 million auto insurance rates across the United States to compile the car insurance quotes, statistics, and data visualizations displayed on this page. The car insurance data includes coverage analysis and details on drivers' vehicles, driving records, and demographic information. With these insights, Insurify is able to offer drivers insight into how their car insurance premiums are priced by companies.