Why you can trust Insurify
Buying a home is an exciting time. You spent weeks preparing to close on your new home, and the only box left unchecked on your to-do list is buying home insurance. You call your insurance agent, and they surprise you with news of a significant past insurance claim: eight months earlier, a water leak caused substantial interior damage to your would-be new home.
How do they know the claims history of a house? Before issuing a home insurance policy, insurers can review the property's claims history report from the Comprehensive Loss Underwriting Exchange (CLUE).
CLUE reports also apply to auto insurance and can provide vehicle information. However, this article will focus on CLUE reports for homeowners, including what's in the report, how to get your hands on one, and how it might affect your insurance premiums.
And if you're in the market for homeowners insurance, Insurify makes it easy to compare rates from half a dozen or more insurance companies.
CLUE Report 101
A CLUE report provides detailed, historical information about property loss claims. The information in the loss history report can include details for up to seven years of past claims about an individual homeowner or property.
However, a CLUE report is much different from a 4-point inspection that insurance carriers can require.
CLUE reports are maintained by LexisNexis, a research company that provides information and reports for law firms, government agencies, businesses, and academic institutions.
Because the CLUE database can search more than 40 billion records from over 10,000 different sources, the report will include a detailed history of claims, no matter how big or small it was.
What's On It
CLUE reports are a comprehensive listing of home insurance claims for an individual or property. The data can include:
Insurance company name

Date of loss and claims filed

Type of loss, such as wind damage, fire, or other peril

Claim number and whether the claim was denied or approved

The amount the insurer paid out

Address and other property information

Policyholder's name, date of birth, and policy number
The report is especially helpful for potential buyers. It won't tell you where the damage occurred, but it provides enough information that you can confidently ask the current homeowner to explain what happened and request documentation of repairs.
How it Works
More than 90 percent of insurance companies contribute claims information to the CLUE database. For example, when you file a claim for water damage, fire, or a fallen tree, your insurance carrier sends the information to the CLUE database, which then gathers, indexes, and organizes the insurance history.
Insurance companies review the information when you apply for homeowners coverage or request home insurance quotes.
If you're purchasing a home, it's in your best interest to review a CLUE report on the property before closing. It can influence insurance premiums, but it could also signal a red flag if there are major claims for substantial damage or chronic or repeated claims.
Do claims history reports affect your insurance?
CLUE reports are a standard source of information in the insurance industry. Ninety-six percent of insurers rely on CLUE reports when underwriting new policies, and the information can impact your insurance costs.
Previous home disasters can predict future insurance claims. For instance, if you make a claim for hurricane or wind storm damage, you'll likely need to make a similar claim in the future. To balance the risk of possible claims, the company may increase your premiums.
Every insurer has its own methodology to determine rates. That's why it's important to get multiple insurance quotes when comparing home insurance options. If one company turns you down based on your CLUE report, another might offer you a policy (though it might be at a higher insurance rate).
The impact of CLUE reports isn't always negative. If previous damage caused a home's roof or windows to be replaced, the insurer will know those parts of the house are in good condition. Positive reports can make a property more desirable.
How to Get a CLUE Report
If you haven't filed a claim in the past seven years, your personal CLUE report is likely clear. You can request a copy for yourself if you're curious about what might be on your CLUE report.
The Fair Credit Reporting Act allows you to request a free annual credit report and credit score. It also allows you to request a free copy of your CLUE report every 12 months. There's just one catch: you can only get a report for yourself or someone you have legal authority over, such as a minor.
For detailed claims history information on a house, only the property owner may request the CLUE Report.
LexisNexis, the company that maintains the CLUE database, makes it easy to request your report:
When you fill out the form to request a CLUE report online, you must verify your identity by providing your name, street address, date of birth, and Social Security number or driver's license number. You can also submit a request for your report by mail or by phone through the LexisNexis Consumer Portal.
Compare Car Insurance Quotes Instantly
Personalized quotes in 5 minutes or less
No signup required
Disputing or Updating Information On a CLUE Report
Even the best home insurance companies don't get it right all the time. Whether it's an invalid claim or incorrect loss payment, you might find an error on your CLUE report. When mistakes happen, report or dispute the information with LexisNexis by calling 1 (888) 497-0011 or sending an email to consumer.documents@LexisNexis.com.
Incorrect information can make you look riskier to insurers. Because CLUE reports can impact your insurance premiums, it's crucial to correct any inaccuracies you find.
Buying a house can be stressful. Insurance claims and history reports, such as the CLUE report, can provide the insight you need to help make an informed decision.
Frequently Asked Questions - Anaheim Homeowners Insurance
CLUE reports can include up to seven years of claims history information. Whether you request an individual report or one for a specific property, you can see dates of all reported losses or claims, types of losses, amounts paid by the insurance company, and property information for claims made during that time.

If you're buying a home, a CLUE report can give insight into past damages or issues you may encounter down the road. Only the current homeowner can request a copy of the report. However, as the home buyer, you can ask the home seller to provide you with a CLUE report. The Insurance Information Institute recommends you have a professional inspect any damage that shows up on a CLUE report before purchasing a home.

If you're planning to rent a home, you don't have the legal right to request a CLUE report from LexisNexis. However, ask the homeowner—your potential landlord—to provide you with a copy of the report. It can help you decide whether the home is a safe and sound place to live. The report won't tell you the specific areas of the home that were damaged, but it will give you enough information to ask the landlord to explain past claims and the repairs that were completed.
CLUE Reports: The Bottom Line
Insurance providers rely on CLUE reports to determine the insurability of a home. Major claims or claims that are excessive, chronic, or recurring can cause insurers to hesitate in providing insurance for you or your property. The company may deny coverage completely or offer you a policy with a higher premium payment.
View your CLUE report to check for errors. Because mistakes can negatively impact your ability to get home insurance, report any inaccuracies you might find to LexisNexis.
If you're buying or renting a home, ask the current homeowner for a copy of the property's CLUE report. It can alert you to previous damage and prepare you for potential problems that may arise in the future.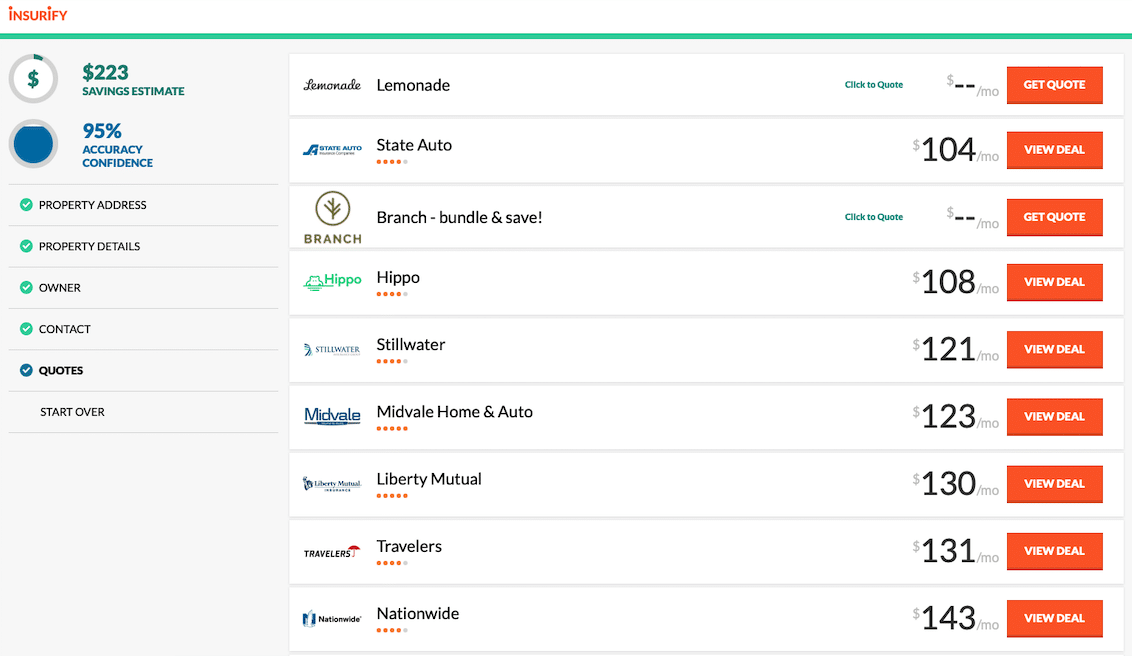 Compare Car Insurance Quotes Instantly
Personalized quotes in 5 minutes or less
No signup required
Data scientists at Insurify analyzed over 40 million auto insurance rates across the United States to compile the car insurance quotes, statistics, and data visualizations displayed on this page. The car insurance data includes coverage analysis and details on drivers' vehicles, driving records, and demographic information. With these insights, Insurify is able to offer drivers insight into how their car insurance premiums are priced by companies.