How much is earthquake insurance in California?
You can expect to pay $1,200 to $2,200 annually or more depending on your location, claims history, and other factors. The best way to lower your rates if you live in an earthquake-prone area is to invest in seismic upgrades to your house.
When you live in California, the question isn't " Will there be earthquakes?" Earthquakes are a fact of life. The question is: Do you have California earthquake insurance to cover your home and belongings when a quake strikes?
Being prepared is crucial to protecting yourself financially from earthquake damage. Forecasters can predict thunderstorms, hurricanes, flooding, and flash floods. But the U.S. Geological Survey and scientists have never predicted a major earthquake.
This guide to California earthquake insurance can help you know what to expect as a homeowner.
In addition to earthquake insurance, make sure you're protected with the right California homeowners insurance policy. Insurify can compare quotes and connect you with a policy in minutes.
What Is California Earthquake Insurance?
Earthquake insurance protects you financially from damage caused by earthquakes. It applies to damage to your home, personal property, and temporary living arrangements.
In most cases, your insurance agent will offer residential earthquake insurance as an add-on to your existing policy. It's also available from private earthquake insurance companies and the California Earthquake Authority (CEA). The CEA is not-for-profit and funded by insurance premiums and FEMA.
Earthquakes occur along fault lines, which are fractures in the earth. Earth's surface is always moving, but fault lines can cause intense shaking —an earthquake—during certain movements.
There are nearly 16,000 known faults in California. The CEA reports a greater than 99 percent chance of one or more earthquakes happening in the Golden State.
Isn't Homeowners Insurance Enough?
Most homeowners and renters already have insurance. But homeowners, renters, and condominium insurance doesn't cover damage from earthquakes.
Earthquakes commonly cause fires, and some policies will cover fire losses after a quake. But you'll need to buy a separate policy in addition to your renters or homeowners insurance policy to cover quake damage.
According to the CEA, most Californians live within 30 miles of an active fault. Keep in mind that mild earthquakes can damage your house's foundation, collapse walls, and destroy belongings.
Do You Need Earthquake Inurance?
To know if you need earthquake insurance, answer these questions:
Can you afford to rebuild or repair your home if it's damaged?

Can you replace your personal belongings if they're damaged or destroyed?

Can you afford temporary housing and other additional living expenses if you can't live in your home while it's being repaired?
As you can see, you may want to consider buying an earthquake insurance policy even if you don't live in a high-risk area. It can provide financial protection for you and your family.
Compare Car Insurance Quotes Instantly
Personalized quotes in 5 minutes or less
No signup required
What Earthquake Insurance Policies Cover
No matter which county in California you're in, the risk of an earthquake never falls below 75 percent. If a quake strikes in your area, what does earthquake insurance cover?
Earthquake policies have three main components: dwelling, personal property, and additional living expenses:
Dwelling coverage includes your home's structure and other structures like an attached garage.

Personal property reimburses you for the cost of damaged furniture, clothing, electronics, and other belongings.

Additional living expenses, or loss of use, cover anything you may need to pay for if you can't stay in your home, such as a hotel or other accommodation costs.
What Isn't Covered by Earthquake Insurance
Earthquake insurance doesn't cover all damage following a quake. The purpose is to put a roof back over your head. It isn't meant to replace everything you lost.
Most policies, including CEA insurance, don't cover:
Fences

Swimming pools

Separate buildings

Fire

Landscaping

Vehicles

Flooding
Home insurance can cover some of the excluded items, such as a fire. Your auto insurance policy may cover damage to vehicles. However, a separate California flood insurance policy may be needed to protect against flood damage.
How California Earthquake Insurance Works
Because standard homeowners policies don't cover earthquake damage, California earthquake insurance picks up where your homeowners insurance leaves off. Like most policies, there are limits to cap how much your insurance will cover:
Dwelling coverage is typically the same as the limit on your homeowners insurance.

Personal property coverage starts at $5,000 and goes up to $200,000.

The limit for additional living expenses can range from $1,500 to $100,000.
For claims, you'll likely need to pay an earthquake insurance deductible in California before the policy kicks in. Your deductible can vary but is usually a percentage of the policy limit. The CEA offers 5, 10, 15, 20, and 25 percent deductibles. The amount is usually subtracted from your claim check, so you don't have to pay it upfront.
For example, if an earthquake damages your home, you'd contact your insurance provider to file a claim. You'd report visible destruction and work with an agent to determine the full extent of the loss. You may also want to get a home inspection to capture damages you might miss.
If your insurer finds $220,000 in covered damages and your policy deductible is 15 percent, the claims check you receive will be $187,000. That's because 15 percent of $220,000 is $33,000, and the $33,000 deductible is subtracted from the total value of the claim.
Average Cost for California Earthquake Insurance
Insurance premiums for earthquake insurance in California can range from $800 to $5,000 per year. However, many policies fall between $1,248 and $2,744 for $500,000 of coverage.
Your insurance rate is based on several factors. The closer you live to a fault line, the more you'll pay because there's an increased risk of damage. The cost is usually higher for older homes, brick or mason homes, homes with more than one story, and homes not up to code.
The CEA has an option to estimate your additional earthquake insurance cost in California whether you carry a
Homeowners insurance policy

Renters insurance policy

Condo insurance police

Mobile home insurance policy
Yes, even renters and mobile homeowners should be protected from earthquakes. Visit the CEA's premium calculator, and choose the type of coverage you're looking for.
How to Get Discounts on Earthquake Insurance Premiums
Policyowners are always looking for ways to lower insurance rates. Getting premium discounts is one of the easiest ways to do so. To lower your rate, the name of the game is earthquake safety. If your home:
Was built before 1980

Is wood-frame construction

Is on a raised foundation or other non-slab foundation

Has been seismically retrofitted in accordance with California standards
You could be eligible for up to 25 percent off your CEA earthquake insurance policy.
If your home doesn't meet one or more of those standards, you can still look for applicable building code upgrades. Not only will this lower your rate, you'll also be better protecting your home from disaster. Staying up-to-date on home improvements is a very important part of earthquake preparedness.
How to Get Earthquake Insurance Coverage in California
Because California is earthquake country, buying earthquake insurance is commonplace for residents. Policies are available from private insurers and the CEA.
To get earthquake insurance, start with your current homeowners or renters insurance company. You may be able to purchase it as an add-on to your policy or as stand-alone coverage.
To buy a CEA policy, choose from one of their participating insurance companies. However, they do not offer stand-alone policies. You must have an existing residential property insurance policy with one of their approved providers to add on an earthquake policy. The CEA has a list of participating providers to choose from.
Frequently Asked Questions - California Earthquake Insurance
Despite the high risk of earthquakes in California, state law does not require you to purchase earthquake insurance. Only about 13 percent of homeowners, renters, condo owners, and mobile homeowners have policies, according to a 2018 California Department of Insurance study.

However, quake damage isn't covered by homeowners or renters insurance. Purchasing a policy can protect you, your family, and the financial investment you have in your property.

Yes. Mobile homeowners can buy earthquake insurance coverage. Contact your current insurance agent to ask if a policy is available as an add-on to your existing coverage or as a stand-alone policy. You can get an estimate of how much it might cost from the CEA's premium calculator.

Renters insurance doesn't cover quake damage. But there's good news: if you rent your living space, you can still buy earthquake insurance. Your renters insurance company may sell policies. Otherwise, visit the CEA to see how much it would cost and to buy a policy.

For the best coverage, start with your existing insurance company. Homeowners insurance providers in California are required by California law to offer earthquake insurance to policyholders.

You may be able to add coverage to your existing policy or purchase it as a stand-alone insurance product. The CEA provides most earthquake policies in California. Coverage is similar whether you buy a policy from a private insurer or the CEA. However, differences in coverage limits and deductibles are important. Read your policy carefully to understand what it covers and how much you may have to pay out of pocket if you file a claim.
Is Earthquake Insurance Worth It in California?
Earthquake insurance protects the financial investment you made in your home and belongings. Policies can be expensive, and many California homeowners don't buy coverage for that reason.
The earthquake risk is high in California. But is insurance worth the cost? It depends. It isn't mandatory, but earthquake coverage can protect you from catastrophic financial loss if an earthquake destroys your home and property.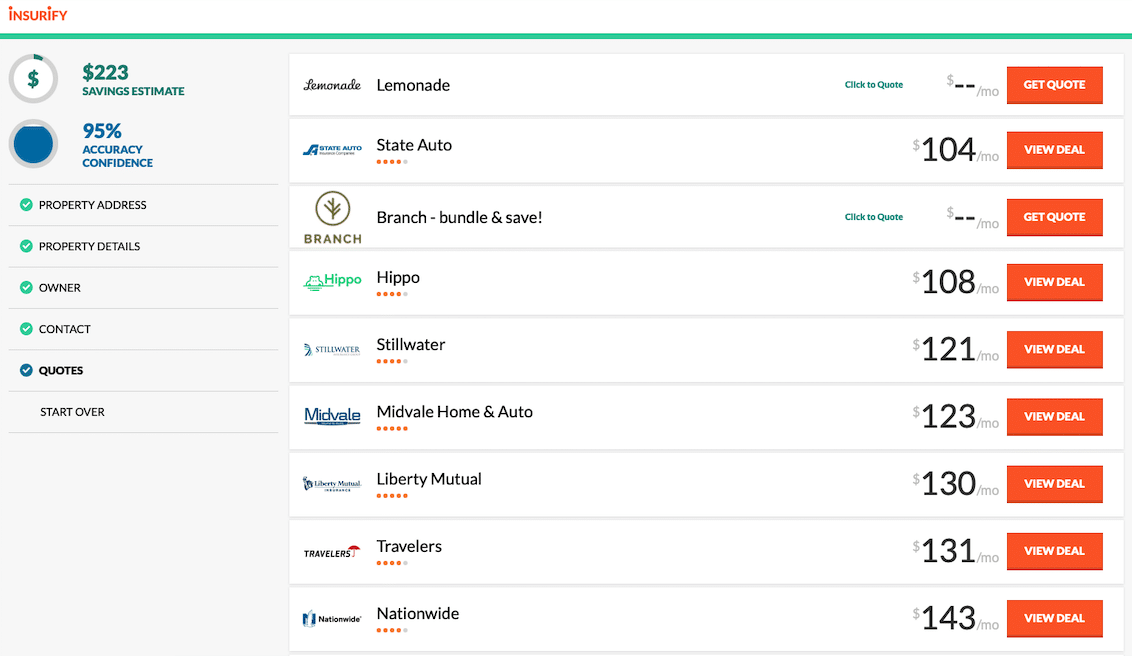 Compare Car Insurance Quotes Instantly
Personalized quotes in 5 minutes or less
No signup required
Data scientists at Insurify analyzed over 40 million auto insurance rates across the United States to compile the car insurance quotes, statistics, and data visualizations displayed on this page. The car insurance data includes coverage analysis and details on drivers' vehicles, driving records, and demographic information. With these insights, Insurify is able to offer drivers insight into how their car insurance premiums are priced by companies.