Buying a house is a process. If you've gone through it, you understand the paperwork, inspections, and reports that becoming a homeowner can require. Depending on the home you purchase, your insurance carrier may need a 4-point inspection of the house.
Four-point inspection reports can influence your ability to get homeowners insurance. Insurance companies use the information to decide whether they will offer coverage for your property.
If you need home insurance coverage and want to get the best price, use Insurify to compare home insurance quotes and save money while protecting your house and family.
What Is a 4-Point Inspection?
A 4-point home inspection is an analysis of the well-being of your home. It's known as a 4-point inspection because it examines four major systems: roof, electrical, plumbing, and HVAC.
Many insurance companies require it before you can get or maintain home insurance coverage. The inspection is a chance for the insurer to get an opinion from an unbiased professional on a house's condition. It helps the insurer to understand the risks of the real estate they're insuring.
Certain conditions in the home could be a future liability, and a 4-point inspection can alert the insurance company to potential problems. Many newer homes don't require it. However, it can be necessary in older homes because they're more likely to be in disrepair or have had repairs that may not meet building codes.
What Does a 4-Point Inspection Cover?
A 4-point inspection covers the major components found in most homes:
HVAC system: Heating, ventilation, and air conditioning

Electrical system: Electrical wiring and electrical panels

Plumbing system: Hot water heater and existing water damage

Roofing: Roof covering and roof shingles
A home inspector will visually examine your home's structure and components to look for current or future problems and complete a 4-point inspection form. The report should include pictures of each system and the interior and exterior of your home.
4-Point Inspection vs. Home Inspection
Keep in mind that a 4-point inspection is not the same as a full home inspection. Insurance underwriters and insurance companies use the information in a 4-point inspection when putting together an insurance policy, but it can leave out critical areas of the home.
If you're considering a home purchase, a full inspection can reveal potential concerns important to new homeowners:
Appliances

Structural integrity

Site conditions

Outlets

Plumbing fixtures

Toilet and sink operation

Doors and windows

Insulation
A home inspection can help you decide whether to buy a particular house. But your insurance company doesn't generally require all the extra information a home inspection includes.
Compare Car Insurance Quotes Instantly
Personalized quotes in 5 minutes or less
No signup required
Do All Homes Require a 4-Point Inspection?
Not all homes require a 4-point insurance inspection. If you're looking to buy an older home, you're much more likely to need a 4-point inspection done before obtaining homeowners insurance.
Home inspection requirements vary from state to state. For instance, to get homeowners insurance in Florida, you need to have a 4-point inspection done. And some insurance companies can require an inspection before issuing an insurance policy regardless of your state. This is much more common in homes over 10 years old.
What If You Fail a 4-Point Inspection?
Four-point inspections don't have a grading scale: the only outcomes are "pass" or "fail." If the house fails a 4-point inspection, it's usually because the central heat and air conditioning system is missing or not functional, the roof has damage, or aluminum wiring or polybutylene pipes are present.
If you're buying a house that fails a 4-point inspection, you have three options:
Negotiate with the sellers to make necessary repairs.

Find an insurance company that doesn't require a 4-point inspection.

Ask whether the insurance company will accept a failed inspection and give you 30 to 60 days to make the repairs.
A building contractor can offer cost estimates to repair the issues, which are helpful during negotiations with the seller. Remember: not all insurance companies require a 4-point inspection. If they do, you may get temporary coverage and make the repairs at a later date.
Four-point home inspections are primarily for use by insurance companies. However, you may end up footing the bill or having to track down an inspector to complete the report.
Frequently Asked Questions
The cost of a 4-point home inspection can vary by state and inspection company. Generally, expect to pay between $50 and $150.

Your insurance agent may have a list of local companies they recommend for 4-point home inspections. Another place to look is the International Association of Certified Home Inspectors (InterNACHI®). It lists inspectors by state and address.

A wind mitigation inspection is a report that insurance companies need to issue insurance. It's different from a 4-point inspection. While a 4-point inspection examines a home's major systems, a wind mitigation inspection determines a house's stability during strong winds.
4-Point Inspection: The Bottom Line for Homeowners
A 4-point home inspection is not the same as a full home inspection, though it's often necessary to obtain home insurance. It's best to ask your insurance agent to recommend an inspector because they may have a working relationship with local companies. If the home fails a 4-point inspection, you still have options to find the best homeowners insurance for you. However, proceed with caution, and consider getting a full inspection to reveal other potential concerns the home may pose.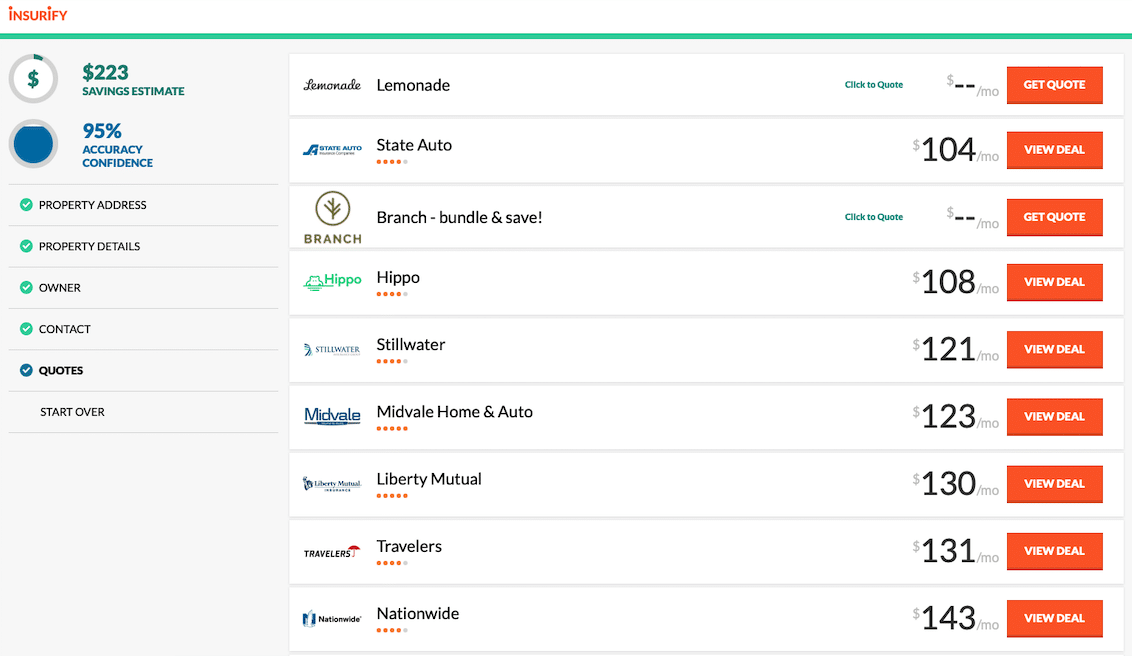 Compare Car Insurance Quotes Instantly
Personalized quotes in 5 minutes or less
No signup required
Data scientists at Insurify analyzed over 40 million auto insurance rates across the United States to compile the car insurance quotes, statistics, and data visualizations displayed on this page. The car insurance data includes coverage analysis and details on drivers' vehicles, driving records, and demographic information. With these insights, Insurify is able to offer drivers insight into how their car insurance premiums are priced by companies.