Pet insurance is a relatively new idea for most American pet parents.
While 20 percent of pets in Europe and the U.K. are insured, only one percent of pets in the United States have pet insurance.
But that's changing.
As the cost of vet bills, routine care, and pet upkeep is rising, more Americans understand the necessity of having pet insurance. In fact, the American pet insurance industry is on track to double by 2022.
You want the best for your furry friend; after all, pets are family! So to help you get the best pet insurance, Insurify has compiled a handy guide to pet insurance comparison websites and how they work .
How insurance comparison sites work
Insurance comparison websites allow consumers to view quotes from multiple insurance companies all at once. This makes it much easier for you, the consumer, to decide what company to go with because you can compare policies and prices side-by-side.
All you have to do is fill out one simple form, and you can view quotes and policies from multiple companies within minutes!
Without using an insurance comparison site, you would be forced to go to individual insurance companies' websites, fill out a form on each one, save that information, then do the same for each company you're considering.
Insurance comparison websites are 100 percent free, and by using one, you would save yourself the time—and the headache—from having to do this work manually.
For instance, sites like Insurify have plenty of options for auto, home, and pet insurance comparison.
Factors that affect your pet insurance rates
Before getting a pet insurance quote, you should probably familiarize yourself with how insurance companies determine pet insurance quotes. These are the factors that impact your quotes:
What kind of pet you have Pet insurance rates for dogs are usually $15 to $20 more expensive than those for cats. The size of your dog also affects insurance rates, with larger dogs warranting higher insurance rates than smaller dogs.

Your pet's breed Certain breeds are more prone to hereditary conditions like hip dysplasia and cruciate ligament injury than others, and those breeds will generally lead to higher pet insurance rates. Certain dog breeds, like pit bulls and Rottweilers, have been historically considered "aggressive," and may also lead to higher dog insurance and even home insurance rates. If you have a historically "aggressive" breed and are looking for home insurance, make sure you check out Insurify to compare home insurance quotes from companies that will cover you and your dog.

Your pet's age
Older pets are more prone to health conditions, and as such, pet insurance rates for senior pets tend to be more expensive. Many pet insurance companies even have upper age limits on pets they're willing to insure. Check out our guide to the best pet insurance companies to see which companies are best for senior cats and dogs.

Where you live **
** Certain parts of the country have higher costs of treatment than others. As such, where you live can affect your pet insurance rates.
What to look for in a pet insurance company
Payout Limits
Generally, the higher the payout limit, the better. Payout limits refer to the maximum amount an insurance company is willing to pay you. These could be annual limits, per-incident limits, or even lifetime limits. Payout limits are an essential factor to consider since certain pet treatments and surgeries could end up costing you tens of thousands of dollars. Some companies, like Trupanion and Healthy Paws pet insurance, offer unlimited payout limits for all plans. Other companies may offer higher payout limits if you agree to higher monthly premiums.

Deductibles
Your deductible is the amount you must pay before your pet insurance kicks in. Pet insurance deductibles can be either annual or per-incident. Generally, annual deductibles are preferable to per-incident ones because you only have to pay the deductible once in a whole year. Meanwhile, you must pay a per-incident deductible for each incident covered by your insurance company. Make sure you look closely at your policy terms before settling on a deductible.

Coverage options
This factor varies widely based on a pet parent's preferences as well as the age, breed, and health condition of their pet. Some pet health insurance plans have limited or no wellness coverage for routine bills, checkups, and veterinary care, but offer reliable coverage for more serious health conditions like hip dysplasia, cancer treatment, periodontal disease, and congenital and chronic conditions. Meanwhile, other pet insurance plans can help you pay for routine bills and veterinary care but have limited payouts that wouldn't really cover much when it comes to severe health conditions, treatments, and surgeries. You should read up on different pet insurance coverage options to determine what works best for you, your pet, and your budget.
Pet Insurance Comparison Charts 2020
Most pet insurance companies ' websites will have pet insurance comparison charts that compare companies to each other.
While these are quite helpful, these tables and charts only compare one company to another and are usually made to show one company in a better light.
That's why Insurify's data team compiled an unbiased, easy-to-read table to help you compare pet insurance policies across ten different companies. This table can help you understand how waiting periods, deductibles, reimbursement levels, and coverage varies by company:
And here are some pet insurance cost-comparison charts to give you an idea of pet insurance rates for dogs and cats:
Pet owners would do anything for their furry friends, but with the perfect pet insurance policy, that doesn't have to include going into debt. Compare companies to find the best policy for you and your family with Insurify **today.
**
Pet insurance comparison sites with real quotes
Currently, Policygenius and Pet Insurance Review are the only pet insurance comparison websites in the United States.
Policygenius
Policygenius ' website presents customers with a few basic questions about their pet, such as their pet's age, breed, size, where it lives, and whether it has any pre-existing conditions.
The form then prompts customers to answer some more in-depth questions about your pet, such as whether it's been microchipped and if it functions as a service animal. The form also asks questions about the pet owner, such as whether you're in the military or if you're part of an organization that offers discounts.
You can customize pet insurance quotes on Policygenius before you view them. Policygenius asks consumers if they want accident coverage only or accident and illness coverage, as well as whether consumers want exam fees coverage, alternative therapy coverage, behavioral treatment coverage, or hereditary and congenital condition coverage.
Then, consumers must pick whether they want low, mid, or high coverage limits. Coverage limits are the maximum payouts a pet insurance company will pay per annum. However, these options can often be grayed out, meaning you can only opt for low coverage limits.
The Policygenius pet insurance form takes about 10 minutes to fill out before customers can view quotes. This is both good and bad. It's good because you won't be presented with a list of irrelevant plans that don't cater to your needs. Instead, you're given a list of options that are very much relevant to what you're looking for. The only drawback is that filling out the form takes quite some time, especially if you're not sure what kind of policy you're looking for.
Policygenius also doesn't seem to have very many pet insurance providers quoting on its platform, and it doesn't show quotes for companies like Embrace, Trupanion, or Healthy Paws. Certain insurance companies like Pets Best and Petplan show up multiple times on the quote list, but this may be because those companies have multiple plan options for your pet.
This is what the Policygenius quote list looks like for a three-year-old Golden Retriever named Sally, who lives in Texas:
Pet Insurance Review
Pet Insurance Review 's online form is much shorter compared to that of Policygenius. The form is only one page long, and asks basic questions about your pet, like whether it's a cat or dog, how old it is, what breed it is, and whether it's been spayed or neutered. It also asks questions about you, the pet parent, such as where you live and your contact information.
Pet Insurance Review's form doesn't take very long to fill out, and you can view the quote list in about two to four minutes. Once on the quote list, consumers can easily filter out and customize results by adjusting reimbursement levels ( co-pay ), deductibles, policy limits, and payment terms.
Pet Insurance Review seems to have more pet insurers quoting on its platform, including companies like Embrace, Trupanion, ASPCA, Figo, and Nationwide.
For reference, here is what the Pet Insurance Review quote list looks like for the same three-year-old Golden Retriever:
As such, Pet Insurance Review's comparison experience seems to be much quicker and has more options than that of Policygenius.
Compare quotes for car, home, and pet insurance
You should consider comparing quotes for all insurance products, not just pet insurance. By comparing quotes on websites like Insurify, you could save up to $400 a year on car insurance, home insurance, and renters insurance!
You never know what deals and prices you might be missing out on, and comparing insurance companies by yourself can be a time-consuming task.
But we make it easy.
All you have to do is answer a few short questions, and we'll present you with a list of auto, home, and renters insurance options so you can compare policies and prices all in one place. Don't miss out on the best deal for the best price! Check out Insurify.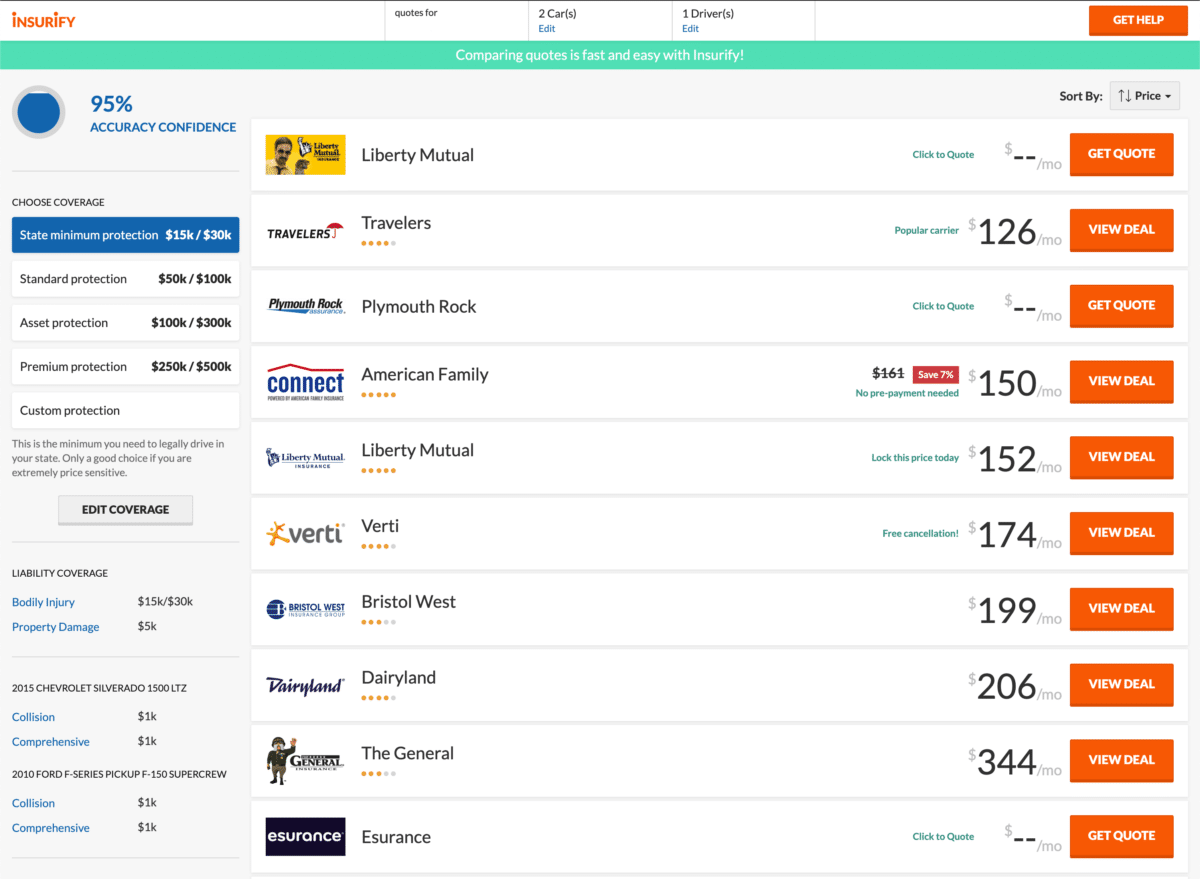 Pet Insurance Comparison: Frequently Asked Questions
Currently, Policygenius and Pet Insurance Review are the only two pet insurance comparison websites.

Pet insurance rates depend heavily on your pet's breed, age, pre-existing conditions, and location. On average, however, dog insurance costs about $38 a month, cat insurance costs about $27 a month, bird insurance about $15 a month, and reptile insurance about $8 a month. Again, these rates are heavily subject to the aforementioned factors, as well as the insurance plan you choose.

While pet insurance isn't mandatory, it helps to know your vet bills and treatments are going to be covered regardless of your personal finances. Aside from protecting your pet from future illnesses, pet insurance can also help pay for your regular vet bills and any vaccinations or preventative treatments you want for your pet. In other words, pet insurance can help you prepare for unforeseen medical emergencies and help you pay for regular pet upkeep costs.
Data scientists at Insurify analyzed over 40 million auto insurance rates across the United States to compile the car insurance quotes, statistics, and data visualizations displayed on this page. The car insurance data includes coverage analysis and details on drivers' vehicles, driving records, and demographic information. With these insights, Insurify is able to offer drivers insight into how their car insurance premiums are priced by companies.