Best For…
Pet parents who want to customize their plans

Those looking for a decent reimbursement rate
Not the Best For…
Pet owners looking for an unlimited annual maximum payout

Breeds with significant hereditary conditions

Pet parents who want high reimbursements

Pet families living in states that aren't covered
Why buy pet insurance?
Like every other family member, cats and dogs can get very sick, very quickly. Pet parents always want to provide the best care for their furry family members, but vital vet treatments can come at a high price. Dealing with a sick or injured pet often has to happen immediately, making pet owners feel like they don't have many options. That means families have to deal with the stress of a sick pet and the pressure of a looming, potentially unaffordable vet bill.
Pet parents have had to confront vet bills by themselves for decades, with many turning to creditors, personal loans, and even crowd-funding to pay for expensive procedures. Now, pet owners can turn to pet insurance companies to help pay for large portions of vet bills. Pet insurance works like human health insurance and can help pet families save hundreds or thousands of dollars each year.
Depending on the company, insurance policies can reimburse pet parents for accidents, illnesses, routine and preventative care, and much more. Buying a pet insurance policy can mean saving between 25 and 100 percent on all qualifying vet bills, which can mean a world of difference when accessing the best medical care. It can even mean the difference between life and death for a sick pet that requires an expensive procedure or multiple treatments.
Pet owners would do anything for their furry friends, but with the perfect pet insurance policy, that doesn't have to include going into debt. Compare companies to find the best policy for you and your family with Insurify today.
Bivvy Pet Insurance Policies and Pricing
Bivvy is only available in 16 states: Wisconsin, Virginia, Texas, South Carolina, Oregon, North Carolina, Minnesota, Michigan, Maryland, Kansas, Iowa, Indiana, Illinois, Georgia, Connecticut, and Arizona. The company plans to expand service to all 50 states.
Bivvy does not require new policyholders to get a vet exam upon signing up, but pet owners must disclose all necessary medical records. The medical records determine pre-existing conditions, which the company will not cover in the future. Bivvy has the right to deny any claims made after its waiting period if you cannot provide the necessary medical records.
Accident and Illness Coverage
Bivvy pet insurance only offers one coverage option for cats and dogs without the opportunity to adjust any policy aspects. The monthly premium for Bivvy's one-size-fits-all pet insurance policy costs $15 per month regardless of age, breed, and size.
This plan does not have an upper age limit. Still, policyholders can't adjust the deductible, coinsurance rate, lifetime limit, or annual limit. The plan covers accidents, illnesses, hereditary conditions, congenital conditions, cancer, diagnostics, emergency care, rehabilitation, dental diseases, and prescription medications. Pet owners can also opt to purchase an additional wellness plan, which would help cover routine care costs like vaccinations.
Bivvy reimburses you for 50 percent of your vet bill if your dog or cat contracts any conditions that need expensive treatment. Disorders like hip dysplasia, cancer, or cruciate ligament disorders can cost hundreds or thousands of dollars out of pocket. Bivvy also helps alleviate financial stress from more common or chronic conditions like parvo, diabetes, worms, kidney disease, and upper respiratory disease.
Unfortunately, Bivvy doesn't cover diseases for which a preventable vaccine is available. That includes any vaccination deemed highly recommended by the American Animal Hospital Association. It also will not cover more than one foreign body removal surgery within a single insurance period.
Bivvy's plan provides a $100 per-claim deductible, a 50 percent reimbursement rate, and a $2,000 annual limit. It also has a lifetime limit of $25,000. That means it will pay for half of your qualifying vet bills up to $2,000 during each policy year. However, it will not pay more than $25,000 for the lifetime of your pet. Policyholders cannot adjust these amounts.
Bivvy's Wellness Plan
Bivvy policyholders can also choose to purchase a wellness care add-on for $9 a month, which would provide a full spectrum of coverage. Wellness coverage refers to any treatment that pet owners routinely pay for each year. That includes vaccines, dental cleanings, and routine blood tests. Unfortunately, it does not cover spaying / neutering operations.
The add-on has annual treatment limits. For example, Bivvy covers $40 toward wellness exams, $15 toward parasite prevention, and $20 toward dewormers.
Bivvy Insurance for Your Dog or Cat
Bivvy offers comprehensive accident and illness coverage for cats and dogs and can help with any financial constraints pet parents might face when it comes to pet care. Policyholders can have 50 percent reimbursement for all qualifying vet bills by any licensed vet, specialist, or emergency clinic.
According to Bivvy's website, it won't exclude coverage regardless of age, breed, or breed-specific conditions. However, it is not available in all 50 states.
Bivvy's comprehensive insurance is pretty extensive, especially when considering its low price. It can help pets dealing with common conditions like parvo, kennel cough, Lyme disease, gingivitis, and cancer. In case of emergencies, it will also cover hospitalizations, surgery, anesthesia, and rehabilitation.
Just like every other pet insurance company, Bivvy does not cover pre-existing conditions. Luckily, Bivvy will reinstate coverage for temporary conditions that haven't resumed within 12 months. It will also not cover more than one foreign body removal surgery within a single year, deciduous tooth removal, cosmetic surgeries, or treatments for diseases that have preventative vaccines.
Bivvy Insurance for Your Bird or Exotic Animal
Bivvy does not offer insurance for birds or exotic pets. Currently, Nationwide is the only pet insurance company to provide pet insurance for exotic animals.
Bivvy Claims, Deductibles, and Benefits
Bivvy policyholders cannot change most aspects of their policy, which has a fixed rate of $15 a month. The only aspect pet owners can choose is whether to supplement their pet insurance with a wellness plan add-on for an additional $9.
Bivvy's reimbursement rate is 50 percent. The reimbursement rate, somewhat similar to a co-pay, is the portion of any qualifying vet bill that Bivvy will reimburse pet owners for. The reimbursement model of payment is largely used by pet insurance companies, most of which don't pay vets directly.
Bivvy's 50 percent reimbursement rate is relatively lower than many competitors. So while Bivvy can only pay for half of any of your pet's vet bills, companies like Wagmo offer to pay for up to 100 percent of your pet's vet bills.
Bivvy's pet health insurance provides a $100 deductible per claim. That means policyholders are required to pay $100 toward every qualifying vet fee before Bivvy calculates the reimbursement amount. For example, if you sent in a claim of $1,000 for your dog's orthodontic treatment, Bivvy would require you to pay $100 out of pocket. That means you would receive half of $900, or $450, instead of half of $1,000, or $500, despite the 50 percent reimbursement rate. This is different from an annual deductible, which is often used by other pet insurance plans.
Bivvy also has pretty low annual and lifetime payout limits that cannot be adjusted. The annual payout of $2,000 is the maximum amount Bivvy will pay toward a pet's medical care per year, regardless of how many additional claims occur. Bivvy has a lifetime maximum of $25,000, which is the maximum amount it will pay over a pet's lifetime.
A good pet insurance plan could mean the difference between paying a couple of dollars out of pocket, and having to potentially shell out thousands of dollars out of pocket. This is why it's vital for you to compare pet insurance quotes and plans before buying a policy.
Filing a Claim with Bivvy Pet Insurance
Bivvy will reimburse all qualifying claims after receiving a completed claim form and a copy of your veterinary invoice. Policyholders can mail these to Bivvy, Claims Department, 5910 Mineral Point Rd., Madison, Wisconsin 53705, email to team@ bivvy.com, or upload electronically to Bivvy's online portal.
According to Bivvy's website, it will begin the claim review process within one business day.
Waiting Periods
Bivvy has several waiting periods for treatment coverage, depending on the illness or injury. Accidents have coverage after 14 days from the beginning of the policy, and diseases have coverage after 30 days. Orthopedic conditions, like cruciate ligament or hip dysplasia, have coverage after 180 days, which is roughly a six- month waiting period, unless it is directly related to physical trauma.
Unfortunately, Bivvy deems any condition that appears before the end of these waiting periods a pre-existing condition. That means if your cat were to develop a bad case of calicivirus, Bivvy would not cover any current or future treatments.
Success stories
Bivvy has a separate section on its website to showcase policyholder's reviews, all of which include pictures of their beloved, healthy pets. Many reviews talk about the low cost of Bivvy's insurance and the ease of submitting a claim.
Not-so-successful stories
Unsurprisingly, Bivvy doesn't publish any negative reviews on its website, but websites like Trust Pilot gives consumers an unbiased platform to share their opinions. Still, Bivvy does not have many negative reviews from its customers, holding a 4.7-star rating with 2,872 reviews.
Negative reviews usually cite bad experiences with customer service and the denial of claims. A representative for the company has responded to each negative review on Trust Pilot.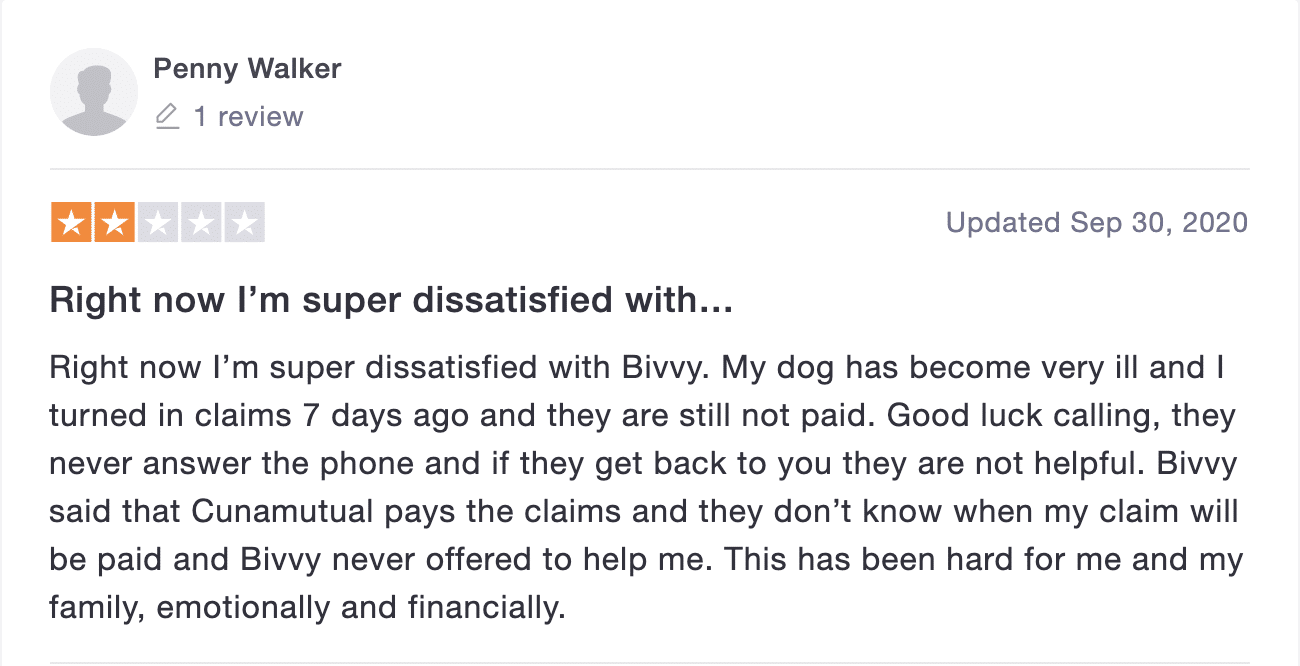 Bivvy Pet Insurance Contact Information
| | |
| --- | --- |
| Customer Service | 1 (855) 434-3744 |
| Email | team@ bivvy.com |
| Contact Portal | https:// bivvy.com /faqs |
| Website | https:// bivvy.com / |
Bivvy Insurance Underwriters
CUMIS Insurance Society, Inc., underwrites Bivvy's insurance policies.
The Best Way to Make Sure Your Pet's Covered
Pet parents know how to take care of their furry friends, and that includes access to the best possible veterinary care. Purchasing a pet insurance policy can mean a world of difference for a sick pet, and finding the best policy can prevent pet owners from having to choose between their finances and beloved pet.
Luckily, Insurify makes finding the perfect policy simple with its online tool. You'll be able to compare pet insurance quotes from multiple companies at once and find the policy that fits both your and your pet's needs.
Data scientists at Insurify analyzed over 40 million auto insurance rates across the United States to compile the car insurance quotes, statistics, and data visualizations displayed on this page. The car insurance data includes coverage analysis and details on drivers' vehicles, driving records, and demographic information. With these insights, Insurify is able to offer drivers insight into how their car insurance premiums are priced by companies.