Best for…
Pet parents looking for expansive coverage.

Pet owners looking for a wellness add-on.
Not the Best for…
Pet owners looking for dental disease coverage.

Pets with patterns of unsafe behavior, like aggression or foreign object consumption.

Pets more than 10 years old.
Why buy pet insurance?
The pet parent community is always finding new ways to access the best possible care for their furry companions. While there might be debate about the best food brand, every pet owner can agree that access to quality vet care is their foremost priority. Unfortunately, not every pet parent can afford the best veterinary care. When unexpected accidents and illnesses occur, they can get very expensive very quickly.
That is why so many new pet parents turn to pet insurance programs to provide extra peace of mind when it comes to guaranteeing the best care. Pet health insurance works similarly to human health insurance and pays for a percentage of qualifying vet bills. Finding the best policy can mean a world of difference between available treatments.
When a beloved family pet needs medical care, pet parents have to cope with new financial and emotional distress. Although every family wants what's best for their furry friends, some pet owners cannot afford substantial vet bills. That can lead to improper treatments and even economic euthanasia. Buying a pet insurance policy can mean saving up to 100 percent on qualifying vet bills for emergency care, surgery, rehabilitation, alternative therapy, and even kennel fees.
Every pet family knows the importance of accessing the best possible healthcare. Finding the best pet insurance policy can mean continuing a long and happy life with your furry family member. Compare pet insurance policies today, with Insurify.
24PetWatch Pet Insurance Policies and Pricing
24PetWatch offers comprehensive insurance coverage for dogs and cats in all 50 states.
The company requires new policyholders to undergo a vet exam within 30 days of enrollment. Pet owners must also disclose all veterinary records before filing any claims, which allows it to determine any pre-existing condition exclusions. Without the proper documents, 24PetWatch may deny future coverage.
Accident and Illness Coverage
24PetWatch offers four plans that vary in annual maximum payout and deductible options. Each policy covers accidents, illnesses, rehabilitation, prescriptions, alternative therapy, boarding fees, trip cancellations due to pet illness, and lost pet recovery fees.
That means 24PetWatch will reimburse you if your dog or cat were to contract any conditions that need expensive treatments, like hip dysplasia or cruciate ligament disorders. It will also cover more common diseases like parvovirus, tick-borne diseases, ringworm, upper respiratory disease, and heartworm.
Unfortunately, 24PetWatch won't cover treatments for preventable conditions. That includes diseases with vaccines or dental infections. It will also not cover treatments for conditions arising from patterns of unsafe behaviors.
Each of 24PetWatch 's coverage options has a 20 percent copay. That means it will cover 80 percent of the vet bill. The extra plan is the cheapest option. It offers $3,000 in annual maximum payouts and a $100 or $250 annual deductible.
The classic plan offers $5,000 in annual payouts, and policyholders can choose a deductible of $100, $250, or $500. The super plan is a bit more expensive and offers $10,000 in annual limits. For this plan, policyholders can choose between deductibles of $100, $250, $500, and $1,000. The champion plan is the most expensive coverage option. It offers $20,000 in annual payouts and deductible options of $100, $250, $500, or $1,000.
Wellness Plans
24PetWatch also offers a routine care add-on, paired with a comprehensive insurance plan for full coverage. Purchasing a wellness plan provides coverage for wellness and preventative veterinary coverage. Wellness coverage includes vaccinations, microchipping, parasite prevention, dental cleanings, and routine blood and fecal testing.
Policyholders can choose between the routine wellness plan or the advanced wellness plan. The routine plan provides $200 in wellness coverage per year, and the advanced plan offers $400 in coverage per year. 24PetWatch also gives a discount to policyholders whose pets have a microchip number.
Pet Protection Services
In addition to financial help with vet fees, 24PetWatch also offers pet protection services for lost cats and dogs. Pet parents can pay a one-time fee of $94.95 for a lifetime protection membership or an annual fee of $29.95 for the first year and $19.95 for each following year.
Pets are only eligible for coverage if microchipped. Policyholders have access to a 24/7 lost pet recovery specialist service, an online customer portal, and a 24/7 vet helpline.
24PetWatch Insurance for Your Dog
Depending on the policy and add-ons, 24PetWatch can help with any financial limitations that pet owners might have related to unexpected accidents and illnesses. Policyholders can have 80 percent of all vet bills reimbursed for vet services by licensed veterinarians, specialists, and emergency clinics.
According to 24PetWatch 's website, it won't exclude coverage, regardless of breed or breed-specific conditions. But it will exclude coverage for pets over 10 years old.
24PetWatch 's accident and illness coverage is relatively expansive when it comes to unexpected health issues and fees. It includes parvovirus, flea allergy dermatitis, giardiasis, upper respiratory infections, Lyme disease, and kennel cough. It will also cover chronic conditions that start after your policy begins, like arthritis, cancer, heart disease, and epilepsy. In case of emergencies, 24PetWatch will also cover clinic fees, like surgery, anesthesia, rehabilitation, and accidental death.
Combining a comprehensive insurance plan with a wellness plan can cover almost every instance of veterinary care a pet may need.
Like every other pet insurance policy, 24PetWatch will not cover elective or cosmetic operations, breeding-related conditions, or pre-existing conditions. However, the company will reinstate coverage for certain conditions they deem cured. It will also not cover illnesses related to working dogs, dental disease coverage, and any treatments due to unsafe behavior patterns.
24PetWatch Insurance for Your Cat
24PetWatch also has excellent options for cat parents and offers comprehensive accident and illness coverage. Pet owners can also purchase extensive wellness and routine care and a pet protection service add-on.
Policyholders also qualify for several non-medical pet fees, including cattery fees, the cost of any vacation cancellation due to pet illness, lost pet recovery costs, and assorted additional living expenses.
According to 24PetWatch 's website, it won't exclude any coverage due to breed, congenital, hereditary, or breed-related conditions. However, cats over 10 years old are not eligible for coverage.
Depending on the plan, treatments from any licensed vet, emergency clinic, or specialist are reimbursable. These treatments include torn nails, feline panleukopenia, valley fever, FIV, broken bones, or heatstroke. It will also cover common diseases like toxoplasmosis, upper respiratory infections, and coccidia.
24PetWatch will not cover pre-existing conditions. However, it will reimburse coverage for certain cured conditions. It will also not cover cosmetic procedures, breeding fees, dental diseases, or the result of unsafe behaviors.
24PetWatch Insurance for Your Bird or Exotic Animal
24PetWatch does not offer insurance for birds or exotic pets. Currently, Nationwide is the only pet insurance company to provide pet insurance for exotic animals.
24PetWatch Claims, Deductibles, and Benefits
Compared to competitors, 24PetWatch does not have as many options for customizing policies. Policyholders can choose the annual payout limit and deductible but cannot adjust the reimbursement amount. Pet parents can adjust the monthly premium by selecting between the four plans and changing the deductible.
Pet owners can choose between annual payouts of $3,000, $5,000, $10,000, and $20,000. The higher the maximum payout, the more policyholders pay each month. But choosing the plan with a $3,000 payout limit could mean you risk exceeding the annual payout limit and having to pay more out of pocket for medical expenses. If your cat needed a $7,000 foreign object removal surgery, you'd pay $4,000 out of pocket.
Depending on the chosen plan, policyholders can choose a deductible between $100, $250, $500, and $1,000. That means the insurance policy will only kick in after the policyholder has spent the chosen amount on qualifying medical treatments. The higher the deductible, the lower the monthly premium.
If pet parents want to purchase a wellness add-on, they can choose between yearly payouts of $200 for $10 per month or $400 for $25 per month. 24PetWatch determines how much of the payout goes toward each procedure. That means pet owners can only put $15 toward fecal screenings but $20 toward urinalysis.
Filing a Claim
24PetWatch will reimburse each eligible claim after receiving a copy of its completed claim form, an itemized invoice, and your pet's medical records. These can be uploaded to 24PetWatch 's online portal, emailed to medicals@ pethealthinc.com, or faxed to 1 (866) 597-2424.
Waiting Period
24PetWatch has various waiting periods depending on the chosen plan. All accidents are covered immediately. Illnesses coverage starts after 30 days for the extra plan and 14 days for every other plan. Certain coverage for conditions like ear or eye diseases, internal parasites, and urinary tract diseases starts after three days.
Any condition contracted before the end of the waiting period would be considered a pre-existing condition. That means if your dog were diagnosed with cancer before the waiting period was over, you would not receive any coverage for any future treatments.
24PetWatch vs. Competitors
To see how 24PetWatch quotes stacked up against its competitor, Insurify's data team compared pet insurance quotes from Trupanion, Healthy Paws, and Nationwide.
Below are the pet insurance quotes for a two-year-old purebred labrador retriever named Sally who lives in San Jose, California:
| Company Name | Quotes |
| --- | --- |
| 24PetWatch | $58/mo |
| Trupanion | $133/mo |
| Nationwide | $54/mo |
| Healthy Paws | $66/mo |
These are the pet insurance quotes for a one-year-old German shepherd named Jerry who also lives in San Jose, California:
| Company Name | Quotes |
| --- | --- |
| 24PetWatch | $56/mo |
| Trupanion | $121/mo |
| Nationwide | $36/mo |
| Healthy Paws | $63/mo |
Finally, these are the quotes for a three-year-old labradoodle named Sandy in San Jose. Mixed breed dogs usually have lower insurance premiums since they aren't as susceptible to genetic diseases:
| Company Name | Quotes |
| --- | --- |
| 24PetWatch | $60/mo |
| Trupanion | $99/mo |
| Nationwide | $38/mo |
| Healthy Paws | $53/mo |
Now moving on to cats, these are the cat insurance quotes for Simon, a three-year-old British shorthair who lives in Houston, Texas:
| Company Name | Quotes |
| --- | --- |
| 24PetWatch | $25/mo |
| Trupanion | $63/mo |
| Nationwide | $15/mo |
| Healthy Paws | $16/mo |
And these are the quotes for Wesley, a mixed-breed cat who also lives in Houston, Texas:
| Company Name | Quotes |
| --- | --- |
| Trupanion | $73/mo |
| Nationwide | $16/mo |
| Healthy Paws | $14/mo |
| 24PetWatch | $24/mo |
24PetWatch's quotes are quite on par with competitors like Nationwide, Healthy Paws, and Trupanion. Of course, this depends on the level of coverage you purchase and what kind of policy you want for your pet. Either way, you should make sure to compare pet insurance quotes and coverage before making a solid decision.
Success stories
24PetWatch doesn't have any reviews on its website. Still, there are a handful of positive reviews from policyholders on websites like ConsumerAffairs. ConsumerAffairs allows patrons to share their experiences. Unfortunately, 24PetWatch holds a 1.5-star rating after 215 ratings. That is significantly lower than its competitors. Many of these positive reviews boast about fast reimbursements and the ease of the online portal.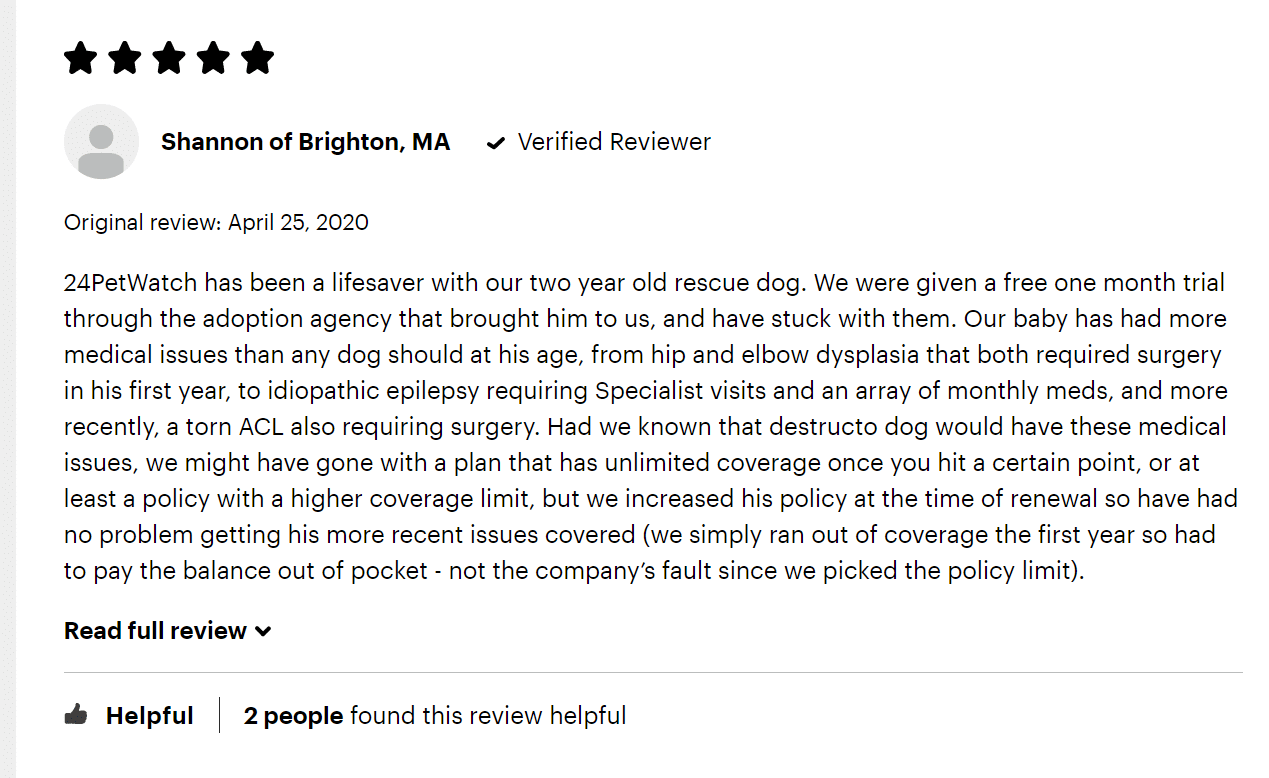 Not-so-successful stories
Most of 24PetWatch 's reviews on ConsumerAffairs are negative. These negative reviews usually refer to "sneaky" behavior and difficult customer service. Many patrons cite unprofessional staff and being unable to access personal information.
24PetWatch Pet Insurance Contact Information
24PetWatch Insurance Underwriters
The North River Insurance Company, an underwriting company of Crum and Forster, underwrites 24PetWatch 's insurance policies.
24PetWatch: Frequently Asked Questions
24PetWatch insurance rates depend heavily on a pet's breed, age, and location. On average, 24PetWatch's can range from $24 to upwards of $175 per month. These rates are heavily subject to previous factors that are out of an owner's control and the plan chosen. 24PetWatch does not offer as much flexibility when it comes to adjustable factors, but changing the plan and deductible can lower the monthly cost. Compared to other pet insurance companies, 24PetWatch is relatively more expensive than its competitors. Still, you should compare pet insurance plans and prices before settling on one policy.

24PetWatch offers a separate service that helps pet owners with lost pets. The pet protection service is separate from its insurance policies. It can be a great option for pets that have a habit of running away. Pet owners can pay $94.95 for a lifetime membership or sign up for an annual membership for $29.95 the first year. It connects pet owners with a network of recovery services that work with a pet's microchip. The pet protection service also gives pet owners access to a 24/7 vet helpline for one year and several pet store coupons.

24PetWatch seems to offer the average amount of insurance coverage, with a handful of expansive, non-medical coverages. Although its premiums are pretty high, it still allows pet owners the opportunity to access a wide array of coverage. But many policyholders believe that a policy from 24PetWatch is not worth the high cost, especially when it comes to denying claims and customer service. There are also many cases where policyholders claim to lose access to their personal information and cannot cancel memberships, even after a pet's death. Whether 24PetWatch is a good choice for you comes down to what you can afford and what kind of coverage fits you and your pet best. That's why you should make sure you compare quotes before settling down on a single pet insurance policy.
Data scientists at Insurify analyzed over 40 million auto insurance rates across the United States to compile the car insurance quotes, statistics, and data visualizations displayed on this page. The car insurance data includes coverage analysis and details on drivers' vehicles, driving records, and demographic information. With these insights, Insurify is able to offer drivers insight into how their car insurance premiums are priced by companies.