Making the switch to working from home can sound like a dream come true. There's a lot to love about not commuting to an office every day. The coronavirus outbreak caused many companies to transition on-site staff to work-from-home roles. It's going so well that some employers are looking to make an at-home office a permanent arrangement.
But you don't need to be an employee to work from home. Plenty of opportunities exist to start your own business out of your home. No matter your background, chances are you have a skill that a company will pay you to do. When you are your own boss, you can tap into a more flexible schedule and even work in your pajamas.
Still, there's a lot to consider if you're thinking of working from home, such as setting up a home office space and its effect on your homeowners insurance. According to the Insurance Information Institute, you could pay up to 10 percent less for your homeowners insurance premiums because you're less likely to be burglarized. You may spot fires sooner when you spend most of your day at home, too.
Take a few minutes to look for the best homeowners insurance with policy discounts for working from home with Insurify.
How to Find Remote Work from Home Positions
When you work from home, there's no commute or traffic to deal with, your office can be anywhere, and you can avoid office politics. Customer service, sales, and information technology are common industries that hire remote work from home positions.
Legit work from home jobs may not have been as readily available before the pandemic. However, many companies discovered how easy it is to have employees work from home when COVID-19 forced staff out of office buildings.
Here are some well-known companies that offer remote work from home jobs.
1. Amazon
Amazon's work from home jobs are perfect if you aren't near a physical Amazon location. The company has several active listings on its website for virtual positions, including:
Web services

Human resources

Finance and global business services

Transportation and logistics

Fulfillment and operations

Advertising

Amazon customer service

Amazon devices

Operations technology

Retail
2. 1-800-Flowers.com
Flexible jobs that allow you to work from home are found in almost every industry, including fresh flowers and gift baskets. 1-800-Flowers.com hires staff to work in positions that are 100 percent remote. You could be the company's next merchandising coordinator, digital marketing specialist, mobile product manager, or work-at-home customer service agent.
3. U-Haul
You might not have guessed it, but U-Haul frequently has openings for flexible hours and work-from-home positions to support the customer experience. You don't need a high school diploma to apply for call center agent, roadside assistance, sales representative, or bilingual worker. Because the company is headquartered in Arizona, you must be available during normal business hours in Mountain Standard Time.
4. American Express
Leading credit card company American Express has remote job options for full and part-time work-from-home opportunities. You might find an opening for network analyst, collections specialist, client management, customer service experience, or account management.
9 Best Online Jobs You Can Do From Home
When you work from home as an employee, you usually have a set schedule. Opening your own business and being your own boss gives you much more flexibility. It also opens the door to unlimited earning potential.
Thanks to the internet, there is no shortage of online jobs you can do from home. Some require a little know-how, but many are excellent options for entry-level roles or beginners with no experience working online.
1. Data Entry
Data entry is a simple task you can do from home if you have a computer and a high-speed internet connection. Data entry work-from-home jobs can be flexible, and you can usually choose your own hours. However, the pay rate may be lower than what you can expect with other remote positions.
2. Virtual Assistant
A virtual assistant is anyone who is paid to provide services to another business owner. You're almost guaranteed to have a skill that another business is willing to pay for. You might offer:
Customer service

Online order processing

Website design

Graphic design

Inbox and email management

Content creation

Editing

Keyword research

Video editing
3. Transcription
Transcription is an excellent entry-level work-from-home job. You essentially listen to audio or video files, such as podcasts, lectures, or medical dictations, and type what you hear. Most often, your payment will be by the minute or the word, although you could earn up to $25 per hour as a transcriptionist.
4. Editing and Proofreading
If you have an eye for detail, editing and proofreading could be the perfect opportunity to work from home.
Large corporations often look for remote editors for marketing material and online content. Small business owners, bloggers, and freelance writers also hire editors and proofreaders to check for errors.
5. Content Writing
You don't need an English degree to get paid to write content. You could write blog posts, company newsletters, web copy, catalog descriptions, real estate captions, or resumes. To start, try Fiverr or Upwork to build your portfolio.
6. Bookkeeping
Bookkeeping can be a side job or a full-time role. It depends on your income goals and the time you have available. As a bookkeeper, your duties may include updating financial records, creating financial reports, categorizing receipts, paying bills, or collecting payments.
7. Teach English Online
You don't need to know a second language to teach English online. You generally team up with an English-teaching company to find jobs, and some require you to have a bachelor's degree.
Once you provide your weekly availability, the company will assign students to you based on your schedule.
8. Social Media Manager
Social media managers help businesses engage readers and grow the company brand online. You'd get paid to work from home and set up accounts, write and schedule posts, respond to fans, and develop marketing strategies.
9. Graphic Designer
Graphic designers can create logos, design marketing materials, make T-shirt designs, create images for social media, and develop branding guides. If you have a computer and an eye for design, this could be an excellent work-from-home job for you.
Compare Car Insurance Quotes Instantly
Personalized quotes in 5 minutes or less
No signup required
FAQs - Working From Home
There is no set amount of money you can earn working from home. It depends on how much time you invest in your job, your work, and whether you're self-employed or working as an employee. Your earning potential is usually higher if you start your own business. A freelance writer could earn anywhere from $20 to over $100 per hour while an Amazon Virtual Customer Service Representative might make $10 per hour.  You can also save a significant amount of money when you work from home. A study from FlexJobs found that remote workers save around $4,000 per year by cutting out commuting costs and spending less on office-related necessities.

One advantage of working from home is that you can get a job virtually anywhere. When you're not reporting to a physical job location, you could search job postings in your local area or anywhere in the United States. To find legit work-at-home jobs, first, decide if you want to be an employee or start your own home-based business as an independent contractor. Reputable job boards like FlexJobs, LinkedIn, and Aerotek can connect you with remote positions no matter which job type you're seeking. To save time, set up a job alert to get an email whenever you're an ideal candidate for a job listing.

No. And you could pay up to 10 percent less per year if you work from home. Risk plays a significant factor in determining the cost of your homeowners insurance. If you're at an office all day, you're higher risk because your home sits empty. However, if you're home, the risk goes down because burglars are less likely to break in and you can spot fires sooner.  With lower risk comes lower insurance premiums. Whether you have your own home-based business or are a company's remote employee, check for discounts with your homeowners insurance company to see how much you can save.
Is Working from Home Right for You?
Working from home is a dream for many. With the right technology, a remote position could be a reality for you sooner than you might think. Keep in mind that some job postings might be a scam. A good rule of thumb is that, if it sounds too good to be true, it probably is.
However, many companies hire employees to work from home, so there are plenty of legit job listings available. If you need a flexible schedule, working as an independent contractor might better suit you.
Whichever route you take to make your dream of working from home come true, check with your homeowners insurance policy to see if working at home can qualify you for a discount.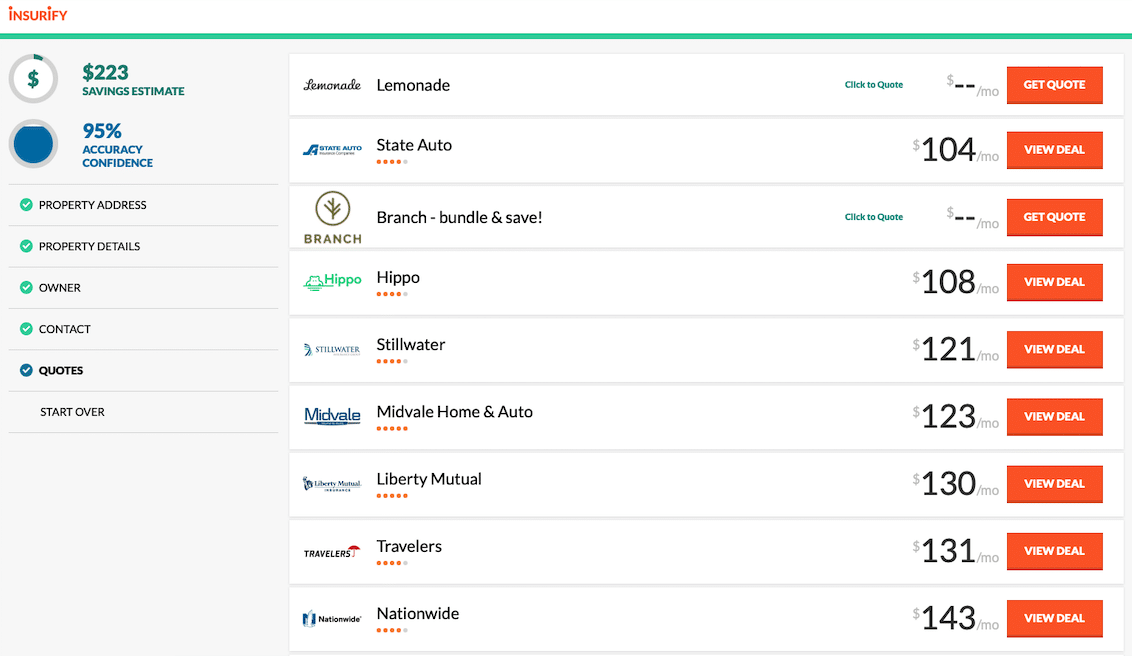 Compare Car Insurance Quotes Instantly
Personalized quotes in 5 minutes or less
No signup required
Data scientists at Insurify analyzed over 40 million auto insurance rates across the United States to compile the car insurance quotes, statistics, and data visualizations displayed on this page. The car insurance data includes coverage analysis and details on drivers' vehicles, driving records, and demographic information. With these insights, Insurify is able to offer drivers insight into how their car insurance premiums are priced by companies.