Wildfires are unfortunately becoming more common. The news reports the devastation as people evacuate their homes, often escaping with nothing more than what will fit in their cars. If you're in an area with increased wildfire risk, you know the danger all too well.
Many homeowners in these high-risk areas face uncertainty about whether they can rebuild, whether their insurance coverage is enough, and where they will live in the meantime if tragedy strikes. Because wildfires can be unpredictable, it's best to understand what your policy covers before your home is put in jeopardy.
This guide will help you understand how wildfires can affect your home insurance. To make sure you get the best coverage, use Insurify to compare policy options. It's easy to check dozens of rates to protect your home from wildfires and other disasters.
Does Homeowners Insurance Cover Wildfire Damage?
Some natural disasters, like floods and earthquakes, require you to purchase a separate policy to protect your home from related damage. Separate wildfire insurance isn't necessary because it's typically a covered peril in standard homeowners insurance policies.
While insurers generally cover damage to your home, structures, and personal items resulting from wildfires, your coverage can vary by your home's location and the details of your policy. There's also the risk of home insurance companies raising rates or denying coverage in wildfire-prone areas.
What Kind of Wildfire Damage Is Covered by Insurance?
Because wildfires and smoke damage can cause long-term destruction, it may take months or years to rebuild your home and community. Fire insurance can help cover home repair and replacement costs as you return to your normal routines. This type of coverage is part of the hazard insurance section and generally covers:
Your house

Fences, garages, or other structures

Personal belongings

Additional living expenses

Trees, shrubs, and landscaping
Several policy options and types of protection exist. Although policies include fire damage, even the best homeowners insurance may not cover 100 percent of your out-of-pocket costs. Review your policy limits and deductible amount regularly to ensure you have the best protection.
Dwelling Coverage
Your house is the primary structure that your homeowners insurance covers. Your insurance company will pay for the cost of repairs or construction if wildfires damage or destroy your house. The amount they'll pay depends on the coverage limits and deductible you choose when selecting your policy.
To know if you have enough coverage, check the coverage limits on your policy. It should equal the total cost to rebuild your home and its attached structures, such as a garage or carport.
Remember that construction and labor costs can change over time, so review your limits to keep up with current prices. Your policy may have been enough when you first purchased it, but it may not provide the protection you need now.
Other Structures Coverage
Home insurance policies can also cover "other structures." This is the portion of your policy that protects structures or buildings on your property that are not attached to your home, such as:
Detached garage

Gardening or tool shed

Fence

Driveway

Swimming pool

Gazebo
If a clear space separates the structure from your home, your policy should cover it. Your policy might limit the coverage to 10 percent of the amount you have on your primary dwelling, but some insurers allow you to increase your other structures limit.
Personal Property Coverage
Wildfires destroy more than your home; your clothes, jewelry, furniture, and other personal belongings can also suffer damage. Homeowners insurance includes personal property coverage to help replace your belongings.
Your policy can limit the maximum payout for your items. It's generally about 50 percent of your dwelling coverage limit, but some companies let you increase your limit.
Note that your policy limits might not be enough to replace jewelry, collectibles, or other expensive items. Consider adding a rider to protect your more expensive belongings.
Keeping a home inventory and taking pictures of more valuable items are helpful when filing an insurance claim. It's a good idea to store this information away from your house or make it accessible online.
Trees and Landscaping Coverage
Most homeowners insurance includes coverage for trees, shrubs, plants, and other landscaping, according to the Insurance Information Institute (III). Debris removal falls under this section, and your reimbursement limit can be a percentage of your dwelling coverage or a fixed dollar amount.
Keep in mind that policy limits may apply to landscaping restoration, too. A typical policy may pay no more than $500 per tree, shrub, or plant.
Your insurance may not cover the full cost if you had expensive landscaping, though additional coverage or an endorsement on your existing policy could increase your policy limits.
Compare Car Insurance Quotes Instantly
Personalized quotes in 5 minutes or less
No signup required
Wildfires and Home Insurance Coverage Details You Need to Know
A homeowners insurance policy is a legal document, and it can be difficult to understand the ins and outs of your coverage. Don't hesitate to contact your insurance agent if you have any questions.
However, policyholders must know a few policy details, including the deductible, the difference between actual cash value and replacement cost, and how to pay for additional living expenses if their home is uninhabitable after a wildfire.
Insurance Deductible
Homeowners insurance is an excellent way to protect your house and property from fire, theft, vandalism, and natural disasters. However, before the insurance company will cover any loss, you must meet your insurance deductible.
An insurance deductible is an amount you pay out of pocket before your insurance will kick in. Your deductible can be a fixed dollar amount or a percentage deductible. Policyholders often choose a higher deductible in exchange for lower premiums.
Remember: the higher your deductible, the less the insurance company will pay overall to fix or replace your house or property after a wildfire, so choose your home insurance deductible carefully.
Actual Cash Value vs. Replacement Cost Value
Besides selecting your deductible amount, your policy may also give you the option of actual cash value (ACV) or replacement cost value (RCV). The cheapest home insurance may leave you with an ACV policy, and it might not be enough to replace what you lost.
ACV factors in the age plus wear and tear of items, while RCV pays current prices to replace or fix your home and personal belongings.
It's an important distinction. Your home may cost more to rebuild because of changing building codes or rising construction costs. If your policy includes RCV, you're more likely to have enough insurance to rebuild using the same or similar materials.
Additional Living Expense Coverage
Because of the widespread destruction of wildfires, your home may be uninhabitable for weeks or months after the initial damage, and the costs can be significant. The loss of use policy of your homeowners insurance may cover the cost of living expenses if you can't live in your home after a fire.
Loss of use, or additional living expenses (ALE), coverage can pay for hotel stays, restaurant meals, a rental home or apartment, and other costs while your home is being repaired. Hold onto receipts for proof of purchase when you file a claim with your insurance carrier.
You should note that you can't take advantage of this coverage indefinitely. Your policy will put a cap on the reimbursement amount and how long you can use the ALE benefits.
Frequently Asked Questions - Wildfires and Home Insurance
The thought of losing your home insurance during wildfire season is nerve-racking. Fortunately, insurance companies shouldn't deny your claim after a wildfire if you paid your premium and your policy is active. However, insurers can cancel your policy if they determine your home is in a high-risk area. After a wildfire, your insurance company can refuse to renew your policy. According to the California Department of Insurance, the number of non-renewal notices sent to homeowners increased to 10 percent after a fire in some areas.

While most homeowners can get coverage even in fire-prone areas, options are available if you're struggling to find an insurer to take on the risk. FAIR plans, short for Fair Access to Insurance Requirements, are obtainable in most areas where homeowners insurance isn't available because of wildfire risk. A FAIR policy, such as the California FAIR plan, is generally more expensive than traditional homeowners insurance and may provide lower coverage limits.

Purchasing renters insurance is a smart choice if you're renting a home, apartment, or condo. It protects your belongings and personal liability in the same way that a homeowners policy does. Although the building owner's policy covers the home you live in, it doesn't protect your property. If a wildfire destroys your belongings, contact your renters insurance company or agent to file a claim.

Removing fire hazards, such as clusters of trees and brush, can help mitigate your loss if a wildfire occurs. It can also increase your chances of finding a home insurance policy in a high-risk area. Other fire protection measures include removing low tree limbs, cleaning leaves from gutters, and moving stacks of wood or other flammable materials away from your home.
Wildfire Coverage: The Bottom Line
Standard homeowners insurance covers wildfire damage, although each policy can vary by area. If you're located in an area at risk for wildfires, you may need to implement mitigation strategies or go through a FAIR plan to protect your home against the threat of wildfires.
It's important to understand your policy options, including your deductible and additional living expense coverage, and know if your policy covers replacement cost or actual cash value. If you have questions, contact your insurance company to get clarity and peace of mind.
Use Insurify to compare home insurance premiums for your property.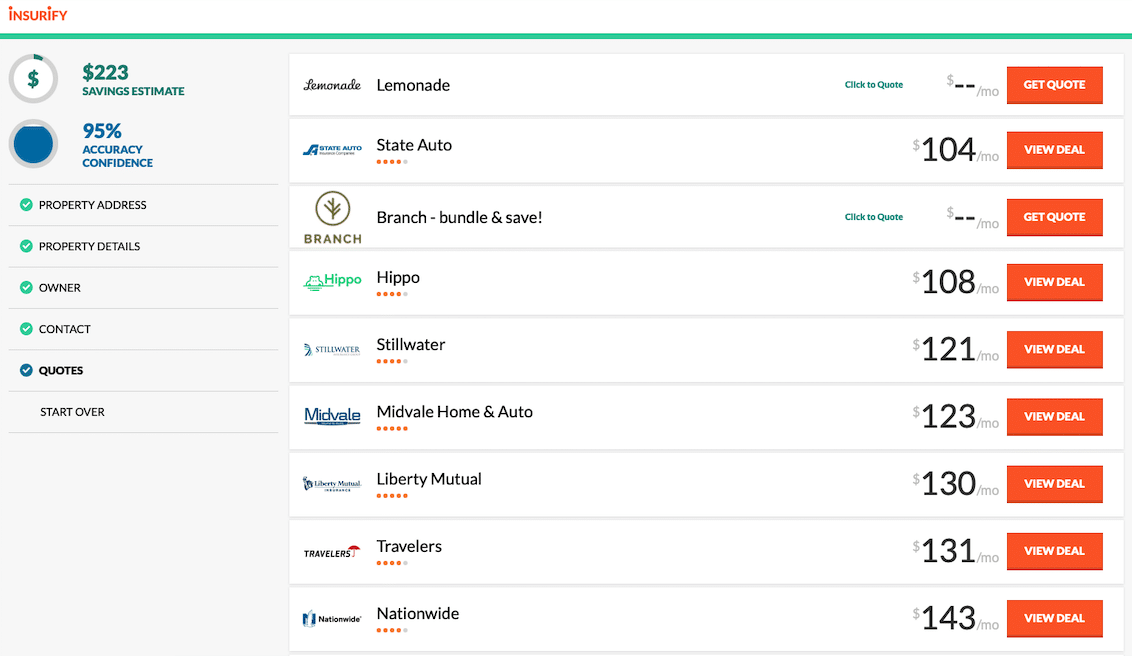 Compare Car Insurance Quotes Instantly
Personalized quotes in 5 minutes or less
No signup required
Data scientists at Insurify analyzed over 40 million auto insurance rates across the United States to compile the car insurance quotes, statistics, and data visualizations displayed on this page. The car insurance data includes coverage analysis and details on drivers' vehicles, driving records, and demographic information. With these insights, Insurify is able to offer drivers insight into how their car insurance premiums are priced by companies.