Life is full of unexpected events. What happens if your beloved dog bites your neighbor or a child gets injured at your pool party? These are some of the types of things you can get sued for. We all must have insurance to protect us against these types of unknown risks. Sometimes, insurance coverage is mandatory, and other times, we purchase it to give us an extra layer of protection, whether or not it is legally required.
An "extra layer of protection" is exactly what an umbrella insurance policy is. A regular homeowners or auto insurance policy may not provide the dollar amount of protection you need, considering liability lawsuits can bring judgments worth millions of dollars. Your banking, savings, and retirement accounts could all be at risk. Umbrella insurance adds coverage to an underlying auto, home, or watercraft insurance policy.
Why not make sure you have all the liability protection you need? Use Insurify to shop and compare homeowners insurance quotes from top-rated insurance companies. It only takes a few minutes if you're ready to get started!
What Is Umbrella Insurance?
What does umbrella insurance cover? Umbrella insurance is extra personal liability coverage that can be added to an auto policy, homeowners insurance policy, or watercraft policy. It covers liability claims for injury or property damage to others. The umbrella liability policy does not offer coverage for you or your household members for bodily injury or damage to personal property.
Umbrella insurance also covers false arrest, libel/slander, and defamation of character. Defamation of character is a false statement made about someone that causes injury to them or damages their character. Libel and slander are forms of this. Libel refers to false statements about another person made in writing, while slander is a false statement about another person that is spoken.
A personal umbrella liability policy covers things that excess liability insurance may not. For example, if you add excess liability to an auto policy or a homeowners policy, the same exclusions to coverage still apply. By purchasing a personal umbrella liability policy, you will have greater liability coverage without as many exclusions. For example, you may be covered for a libel/slander lawsuit under your umbrella policy, even though it is excluded from coverage on your homeowners policy.
Who Needs Umbrella Insurance?
Do you need umbrella insurance? It is highly probable that at some point in your life, you will need the extra protection of umbrella insurance. Umbrella insurance can potentially benefit anyone, especially if you engage in any activities that put you at an increased risk of a personal liability lawsuit, such as frequently hosting large gatherings or events at your home. Parents of teenage drivers can also benefit from carrying umbrella car insurance, as teenage drivers are more likely to be involved in car accidents that cause injury to others or damage to someone else's property. Owning a dog or having a swimming pool or trampoline can also increase your chances of a personal liability lawsuit.
Another thing to consider is your net worth: if the total of your assets equals more than the coverage limits of your home insurance or auto insurance policy limits, a personal umbrella liability policy is probably a very good idea.
Compare Car Insurance Quotes Instantly
Personalized quotes in 5 minutes or less
No signup required
How Umbrella Insurance Works
If you are confused about umbrella insurance, here is a simple explanation of how it works. Umbrella insurance is designed to kick in once the liability limits of the underlying policy have been reached in paying a claim. For example, suppose someone slips and falls at your home and has to undergo surgery. His medical bill totals $1 million, but your homeowners policy liability coverage is only $500,000. Your excess liability insurance will cover the additional $500,000 if you've added that much liability coverage to your homeowners policy. It will also pay for any legal fees if you have to go to court.
Umbrella Policies – Frequently Asked Questions
The cost of umbrella coverage is going to vary based on several factors: how much coverage you purchase, the state you live in, and how much of a risk you are to the insurance company to insure. According to the Insurance Information Institute, a personal umbrella policy providing $1 million will typically cost only $150 to $300 per year. That is a lot of protection for a little cost and well worth the added security of knowing you are covered against personal liability lawsuits.

These things are generally not covered by a personal umbrella insurance policy. Injuries to yourself or others in your home or your personal property Damage to business property Criminal or intentional acts to cause damage Breach of contract

To purchase umbrella insurance, you must first have an underlying policy, such as a homeowners or auto policy, in place. However, a few insurers will actually sell a personal umbrella liability policy without underlying liability insurance. This is referred to as a stand-alone personal umbrella policy. You can sit down with your insurance agent and go over your coverage options to find out if a personal umbrella insurance policy is right for you.  Once you determine the type of insurance coverage you need, you can use Insurify's insurance comparison tools to shop for the right insurance coverage to protect you and your family.
Umbrella Policies: The Bottom Line
You never know when the unexpected will happen. When "life" happens, you are going to need the extra liability coverage of umbrella insurance. You will enjoy the peace of mind that comes with having the personal liability protection that you need from the devastating financial losses a liability lawsuit can bring.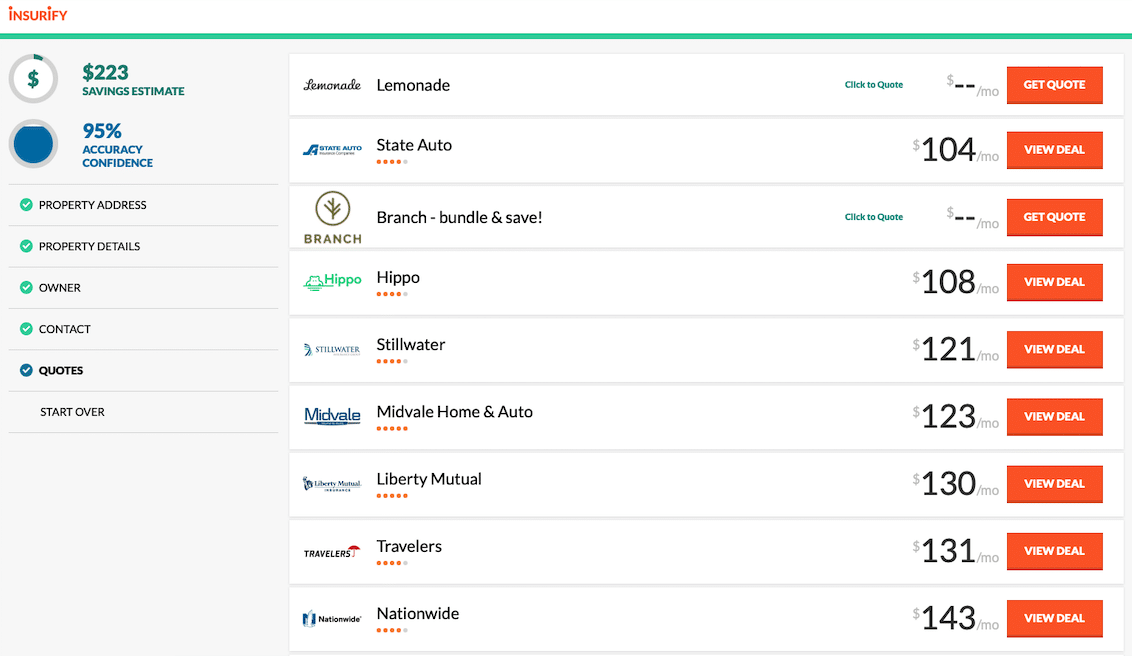 Compare Car Insurance Quotes Instantly
Personalized quotes in 5 minutes or less
No signup required
Data scientists at Insurify analyzed over 40 million auto insurance rates across the United States to compile the car insurance quotes, statistics, and data visualizations displayed on this page. The car insurance data includes coverage analysis and details on drivers' vehicles, driving records, and demographic information. With these insights, Insurify is able to offer drivers insight into how their car insurance premiums are priced by companies.