What is The Zebra?
The Zebra is an insurance quotes comparison platform that allows users to compare home insurance rates from multiple carriers at once. It's an insurance marketplace. You enter your basic information and receive estimated quotes in return, usually from one to six insurance providers.
But the Zebra isn't your only choice to compare rates. Whether you want a lower price on homeowners insurance or are buying a policy for the first time, Insurify lets you review your quotes side-by-side to get the best rate for home insurance.
How Does The Zebra Work for Home Insurance?
The Zebra offers a quick and easy approach to buying home insurance. The site is easy to navigate, and it promises free quotes without worrying about unwanted emails or spam calls.
To start a quote, enter your ZIP code. You'll also answer questions about your home's residence, address, foundation, and roof type. The more up-to-date information you provide, the more accurate your quote will be.
You'll receive your quote in a matter of seconds from well-known companies like Liberty Mutual, Farmers, USAA, State Farm, Allstate, and more. Before you move ahead with your quote, carefully review the policy options near the top of your quote page.
Specifically, look at the dwelling coverage and the deductible. The deductible is how much you'll pay out of pocket before the insurance kicks in. Generally, a higher amount means lower rates.
Before you select a home insurance deductible, make sure it's an amount you can afford. It might be worth paying a little extra for insurance premiums to get a deductible that fits your budget.
Because The Zebra also sells policies from auto insurance companies, you may save money by bundling your home and auto policies. The quoting process will ask about your driving record and credit score if you opt to add auto insurance. In that case, you'll receive a list of auto insurance quotes along with home insurance pricing. When you search car insurance rates, you'll have the chance to adjust coverage options, such as adding comprehensive coverage or raising limits for liability insurance.
You may also be asked about your marital status. This is because married people tend to be considered lower risk and thus get a lower rate.
If you have questions, call The Zebra during regular business hours or email them anytime, day or night, at support@ thezebra.com.
Like other home insurance comparison sites, The Zebra is looking to turn the home insurance industry on its head. Instead of stuffy offices and tedious phone calls, it takes a playful approach to purchasing a policy.
The Zebra Reviews: What Customers Say About Home Insurance
Customer reviews say a lot about a business. What good is saving money on home insurance if you can't get in touch with an insurance agent to file a claim?
If you look at insurance reviews of The Zebra, you'll see that the company prides itself on providing quality service. It's not a lead-generation site and won't sell your contact information to third parties.
People who used The Zebra to buy insurance were impressed with the help they got from the company. Reviewers gave high marks to customer service agents for their patience and knowledge about insurance.
Based on reviews from actual customers on popular review sites, here's how The Zebra rates overall:
| Site | Customer Rating | Number of Reviews |
| --- | --- | --- |
| Shopper Approved | 4.8 / 5 | 2,102 |
| Highya | 4.4 / 5 | 290 |
| Clearsurance | 3.88 / 5 | 420 |
| Better Business Bureau (BBB) | 4.39 / 5 | 113 |
| SiteJabber | 4 / 5 | 118 |
| Total Score | 4.29 | 3,043 |
The Zebra is rated an average of 4.29 out of 5 based on 3,043 reviews.
The Better Business Bureau (BBB) is a reliable resource to gather information about a company. The Zebra is not a BBB accredited business, but it has a BBB rating of "A" based on how well the insurer interacts with its customers.
| Better Business Bureau Rating | A |
| --- | --- |
| BBB Total Customer Reviews | 113 |
| BBB Customer Complaints | 6 |
The Zebra isn't your only option if you're shopping for homeowners insurance.
With Insurify, you can see multiple home insurance quotes in seconds. And if you're shopping for auto and life insurance, you can compare car insurance quotes and life insurance policies, too—all in one simple platform. Enter your information to get an average of five to seven quotes from top insurance companies.
If you're not sure, think about how much you could save by taking a few minutes out of your day to get a quote. There's no obligation to buy, and you won't get any pesky sales calls as your information is kept 100 percent confidential.
Compare Car Insurance Quotes Instantly
Personalized quotes in 5 minutes or less
No signup required
More About The Zebra
The Zebra got its start in 2012 by co-founders Joshua Dziabiak and Adam Lyons. The insurance agency was initially launched in Texas and California but now provides insurance coverage nationwide.
Top publications have featured The Zebra, including Forbes, TechCrunch, and The Wall Street Journal.
Contact Information
Headquarters

1801 E. 6th Street, Suite 200

Austin, TX 78702

Phone Number

1 (888) 255-4364
Email

support@thezebra.com

Website
Frequently Asked Questions - The Zebra Home Insurance
The Zebra is a home and auto insurance comparison site. You can shop for quotes from one central form and get pricing from top providers of home and auto insurance. The Zebra offers home and renters insurance, life insurance, and auto insurance.

The Zebra is a legitimate company that offers a variety of insurance options. It partners with home and auto insurance providers to help you compare quotes to get the best rates. Reputable review sites, such as Shopper Approved, Highya, and SiteJabber, show above-average customer ratings. The Zebra also has an "A" rating from the Better Business Bureau.

Insurify is an online insurance marketplace that simplifies comparing insurance quotes across several companies. Both Insurify and The Zebra offer home and auto insurance rates with the click of a button. However, insurance agents provide a referral for most quotes you find on The Zebra, while Insurify lets you purchase your policy 100 percent online. It uses artificial intelligence technology to match homeowners with ready-to-buy insurance policies in all 50 states.
Is the Zebra Right for You?
Buying home insurance is an integral part of being a homeowner. You never know when you'll need to make an insurance claim. Purchasing a policy with a company you trust can provide peace of mind.
If you're in the market for homeowners insurance, it pays to shop around. Companies like t he Zebra can help you compare homeowners insurance for a new home or to replace an existing policy.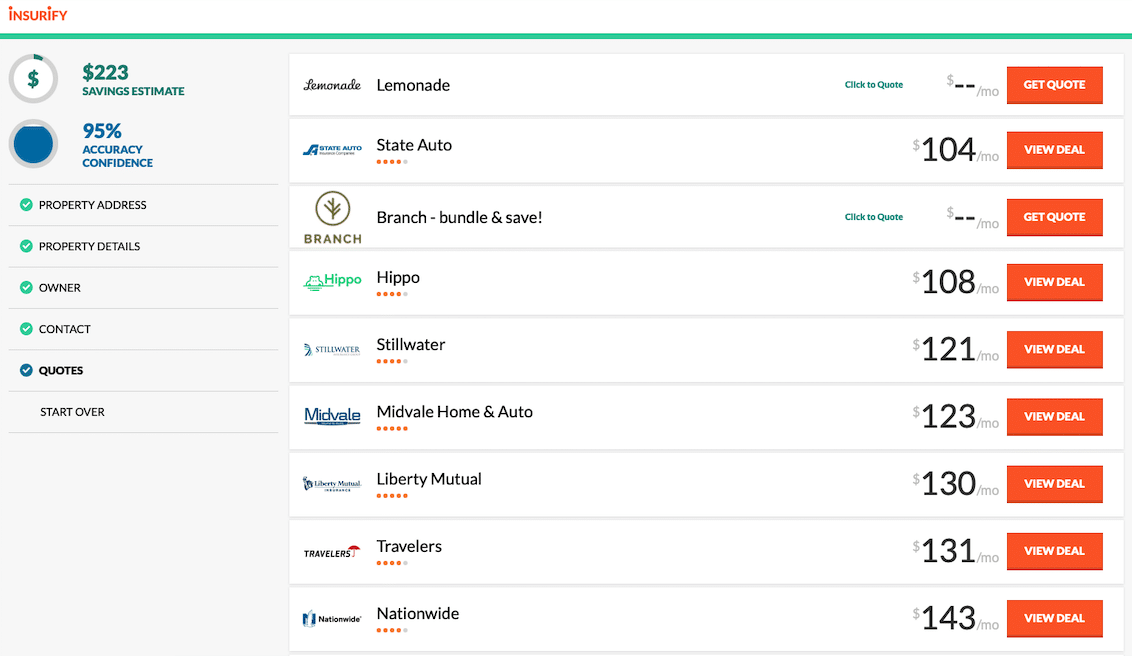 Compare Car Insurance Quotes Instantly
Personalized quotes in 5 minutes or less
No signup required
Data scientists at Insurify analyzed over 40 million auto insurance rates across the United States to compile the car insurance quotes, statistics, and data visualizations displayed on this page. The car insurance data includes coverage analysis and details on drivers' vehicles, driving records, and demographic information. With these insights, Insurify is able to offer drivers insight into how their car insurance premiums are priced by companies.