What is windstorm insurance?
Windstorm insurance is a supplemental insurance product that protects policyholders from damage caused by windy weather patterns such as tornadoes, hurricanes, and gales.
If you live in Texas, you know how important it is to keep your ears tuned in to the National Weather Service, especially during hurricane season. A windstorm doesn't even have to be a named storm to cause extensive damage to your property.
Windstorm insurance is designed to protect your Texas home from damage resulting from windstorms, including hurricanes, thunderstorms, tornadoes, and other natural disasters. Texas windstorm insurance can sometimes be added by endorsement to your home insurance policy or purchased as a separate policy through the Texas Windstorm Insurance Association ( TWIA ).
While windstorm insurance is not required in Texas, it is an important way to protect your home and property against damages caused by windstorms.
Do you already have homeowners insurance? If not, you can use Insurify's comparison tools to shop for an affordable Texas homeowners insurance quote. It only takes a few minutes of your time if you're ready to get started!
How to Know if You Need Windstorm Insurance in Texas
Anyone living in coastal areas, such as Louisiana, Maine, Maryland, North Carolina, or South Carolina, can tell you the importance of maintaining windstorm insurance. Texas is also a coastal state at great risk for windstorm threats, such as tornadoes, hurricanes, tropical storm events, severe thunderstorms, and hailstorms.
In 2018, one of the worst hailstorms in Texas history hit the Dallas-Fort Worth area with hailstones measuring three inches in diameter. The storm produced large hail and high winds that caused more than $600 million in property damage. Windstorm protection, including hail coverage, is essential coverage for Texas homeowners who live along the coast or other areas experiencing frequent windstorms.
Home insurance companies in areas prone to windstorm damage may exclude windstorm coverage from your home insurance policy or charge a separate deductible, sometimes called a hurricane deductible, for windstorm damage. If this is the case, you will need to make sure your Texas home is properly protected against windstorm -related losses. You may also need a hail deductible or other variety of insurance coverage. Coverage limits will vary based on your specific situation.
Another reason for purchasing a windstorm policy is that it may be required by your mortgage lender, especially if you live in an area prone to wind damage from storms.
You normally have two options for purchasing wind insurance, either by adding it to your homeowners policy through a windstorm endorsement or buying a separate windstorm insurance policy.
Texas Windstorm Insurance Association ( TWIA )
Coastal states provide residents who are unable to secure wind and hail insurance through the private market the option of purchasing coverage through a state-run windstorm insurance plan. The state plan is called the Texas Windstorm Insurance Association ( TWIA ). You may also hear TWIA windstorm coverage referred to as "the market of last resort."
TWIA provides windstorm insurance to these Texas Gulf Coast counties:
Harris

Jefferson

Chambers

Galveston

Brazoria

Matagorda

Calhoun

Aransas

San Patricio

Nueces

Kleberg

Kenedy

Willacy

Cameron

Refugio
Your property must meet certain requirements established by the Texas legislature to be eligible for a TWIA windstorm insurance policy. The property must be located in one of the Texas coastal counties covered by TWIA, and you must have also received a denial of coverage from at least one authorized insurer that writes windstorm coverage in your area.
There are three ways to file a windstorm insurance claim with TWIA.
Register and file your claim online.

Call 1 (800) 788-8247, option 1.

Contact your TWIA insurance agency.
The online claims center gives policyholders 24/7 access to claims reporting, claims status, documents, your payment history and options, and messaging with the claims team or your adjuster.
Remember to include these items when reporting your claim:
Policy number

Cause of the damage (wind, hail, or both)

Description of the damage

Your contact info

Documentation or photographs of the damage
The rates for TWIA windstorm policies are determined by its board of directors and subject to the review of the Texas Department of Insurance. Several factors go into determining the rates you will pay for your windstorm policy, including the amount of insurance purchased, the type of home construction, your windstorm deductible, and any optional coverages you choose to purchase.
TWIA does not use your credit score to determine its insurance rates, and discounts are available to homes built to current windstorm building codes. According to the TWIA website, the average premium for a TWIA residential policy is around $1,700.
Compare Car Insurance Quotes Instantly
Personalized quotes in 5 minutes or less
No signup required
Windstorm Insurance Coverage Options
Windstorm insurance through the TWIA is administered by the Texas Department of Insurance. It is important to remember that a windstorm insurance policy through the TWIA is not a replacement for a homeowners insurance policy; it is intended to provide coverage for wind and hail damage only. There are some important exclusions to the TWIA policy to keep in mind:
Damage from burst pipes due to downed tree limbs or freezing temperatures are not covered.

Food spoilage is only covered if it is due to a power outage resulting from a windstorm or a hailstorm.

For flood coverage, you must purchase a separate flood insurance policy through the National Flood Insurance Program (NFIP).
You cannot purchase windstorm coverage directly from the TWIA but must work with a TWIA -registered insurance agent. You can find a list of TWIA registered agents here. Protect your personal property today.
Texas Windstorm Insurance - Frequently Asked Questions
Does regular home insurance cover damage from gusts?
Not necessarily. Most standard homeowners insurance policies will have coverage limitations when it comes to things like damage from hurricanes, tornadoes, or other gusts. Homeowners at risk for such disasters should consider supplemental insurance that covers wind specifically.
Does Texas suffer from wind damage?
As Texans know, everything's bigger in the Lone Star State, including the wind! Texas is prone to strong gusts, including hurricanes and other windstorms. Because of this, Texan homeowners should consider adding supplemental wind coverage to their policies.
How can I get the cheapest home insurance in Texas?
The easiest way to find the best and cheapest home insurance options for your Texas home is by comparing quotes. Insurify is a free online comparison tool that lets you check out home insurance quotes from top companies all in one place. It's 100% free and gets you covered in minutes, no phone calls required.
Texas Windstorm Insurance: The Bottom Line
Don't leave yourself unprotected from windstorm damage —your home and valuables are too important! Some homeowners in Texas could be at an especially high-risk for damage from windstorms. Protect your personal belongings with supplemental property insurance that will cover windstorm damage. If you're a renter, you may also be able to get special windstorm coverage through your policy.
Use Insurify to compare home insurance rates so you can rest easy, knowing your home is in good hands.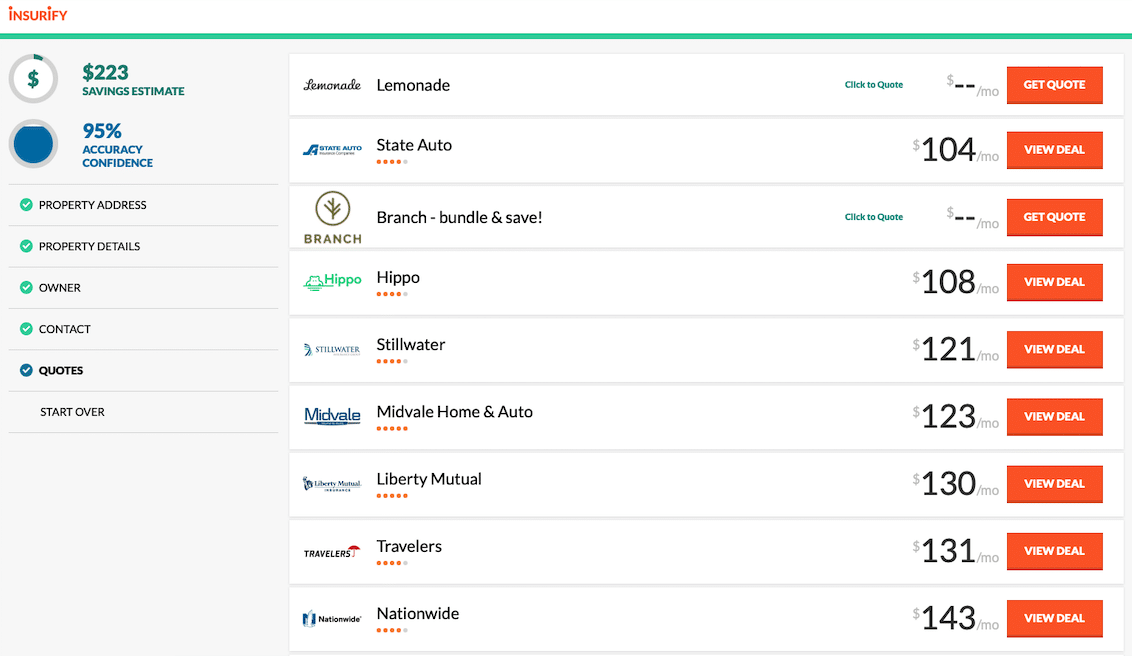 Compare Car Insurance Quotes Instantly
Personalized quotes in 5 minutes or less
No signup required
Data scientists at Insurify analyzed over 40 million auto insurance rates across the United States to compile the car insurance quotes, statistics, and data visualizations displayed on this page. The car insurance data includes coverage analysis and details on drivers' vehicles, driving records, and demographic information. With these insights, Insurify is able to offer drivers insight into how their car insurance premiums are priced by companies.