Do I really need to get sewer backup insurance?
The comparatively low cost for the amount of protection you get is likely worth it, especially if you have a basement.
Sewage! Hardly anyone wants to talk about it, much less find sewage water bubbling up in their bathroom. But sewer and water backups can happen regardless of where you live, so homeowners need to prevent and prepare—these events can cause thousands of dollars in damage.
Standard homeowners insurance covers damage when the water originates from inside the home (like from a water heater or washing machine ), but it usually doesn't cover damage from water/ sewer backups. For protection in such gnarly incidents, you'll need additional coverage, sometimes called a rider. The good news is that the average cost is $50 to $250 a year—arguably inexpensive for the amount of protection you get. If you don't want to get stuck with the bill when your sump pump fails, consider adding this overage to your home insurance policy.
Not sure about the details of your current home insurance coverage? Check your policy or call your insurance agent. They can also tell you if water backup coverage is available to add to your policy.
Need to save on home insurance? Compare your current policy using Insurify. One short form gets 6+ quotes from top companies in your area. Try it today and see how much you could save!
Assess Your Home's Risk for Sewage or Water Backup
Backups can occur in any home for a variety of reasons (like a blockage in your home's drain line, obstructive tree roots, broken sewage lines, or sump pump failure ), but some homes are more at risk than others.
Homes connected to a combined sewer system are at greater risk because the same pipes that carry away raw sewage also carry away rainwater; if there's heavy rain, the sewage and water can get back backed up and forced up into your home.
Old plumbing systems and sewer lines are also at risk of breakage. If you're not sure about the state of your pipes or water lines, bring in a plumber, who can conduct an assessment with a scope.
Risk is especially acute in basements, though backups can cause damage in any part of a home.
The risk level of your home can inform the amount of coverage you want to buy. You should also consider what might be damaged in a worst-case scenario water backup and how much it would cost to repair and replace everything. For example, is your basement unfinished and empty or finished out with drywall and furniture?
What Does Sewer/Water Backup Insurance Cover?
This insurance helps cover the cost damage caused by the backup. You're protected up to your policy limit, which you'll select when you buy the insurance. It can pay to remove excess water from your home, repair damaged structures (like wood and drywall ), and replace personal property. This insurance also includes loss of use coverage, so if you have to stay somewhere else because of the damage, your living expenses will be covered.
The minimum coverage is usually around $5,000, with maximums ranging from $25,000 to $100,000. Deductibles are usually $500 to $1,000 but can be higher at the upper policy limit.
Be sure to take photos of your basement and any areas you think could possibly be affected by water or sewer backup. Make an inventory of the furniture and belongings in those areas, too. This will ensure you have documentation of what's damaged and/or lost in the event of a backup.
Compare Car Insurance Quotes Instantly
Personalized quotes in 5 minutes or less
No signup required
What's Not Covered?
While sewer backup coverage may pay for damage caused when the sump pump fails, it won't cover the cost of replacing the pump—you'll need equipment breakdown coverage for that.
It also doesn't cover damage from flooding in your home due to rising surface water or rainwater that seeps in through cracked foundations. Consider getting a flood insurance policy for this protection.
Note that this type of insurance also won't cover damage resulting from homeowner negligence, like not fixing your sump pump or failing to turn it on.
How Much Does Water/S ewage Backup Insurance Cost?
Good news! With most insurers, this coverage will add less than $300—sometimes as little as $50—to your annual home insurance bill. Your cost will depend on where you live and the coverage limit you choose.
FAQ: Sewer Backup Insurance
Take photos of the damage and cause, if you can identify it, immediately. Call your insurance company to see if they need to send an assessor. Hopefully, you'll have taken "before" photos of the affected area and made an inventory of everything contained there. You'll also need to keep detailed records of your repair/replacement costs—keep all your receipts! Digital versions are fine.

After documenting the damage, arrange to have it cleaned up swiftly—sewer water contains harmful chemicals and germs. You can hire professionals for the task (recommended) or be sure to wear protective gear if you do it yourself.

Remove excess water and damaged/moldy surfaces; disinfect floors and walls; flush out plumbing fixtures; clean up ductwork; steam clean affected carpets, furniture, and drapes; open windows; and install dehumidifiers to prevent continued damage or mold growth.

First and foremost, don't use your toilet or kitchen disposal for a trash can. Put paper towels and menstrual products in the waste bin, even if they say they're flushable. In your kitchen, don't pour any kind of cooking oil down your drain. Store it in a bottle and throw it out when it's full.

If you have a sump pump, run it every few months and buy a battery backup to keep it running if the electricity goes out. You can also consider a water-powered backup sump pump. Be sure to keep your gutters clean.

Raise major appliances or electrical equipment a few inches off the ground so they don't get touched by any standing water. Instead of cardboard boxes, use waterproof storage bins in your basement or any place that could be affected by a backup. Consider installing a smart home device that can alert you to leaky pipes or climate changes and allow you to turn off your water remotely if you're not home.
A Lot of Protection for Not Much Money
Water/ sewer backups are common and expensive. If you want financial protection against the damages of these incidents, call your insurance company to ask about adding sewer/ water backup coverage to your policy.
If you like getting a lot for less, be sure to comparison shop for your home insurance with Insurify. One search can save you hundreds every year.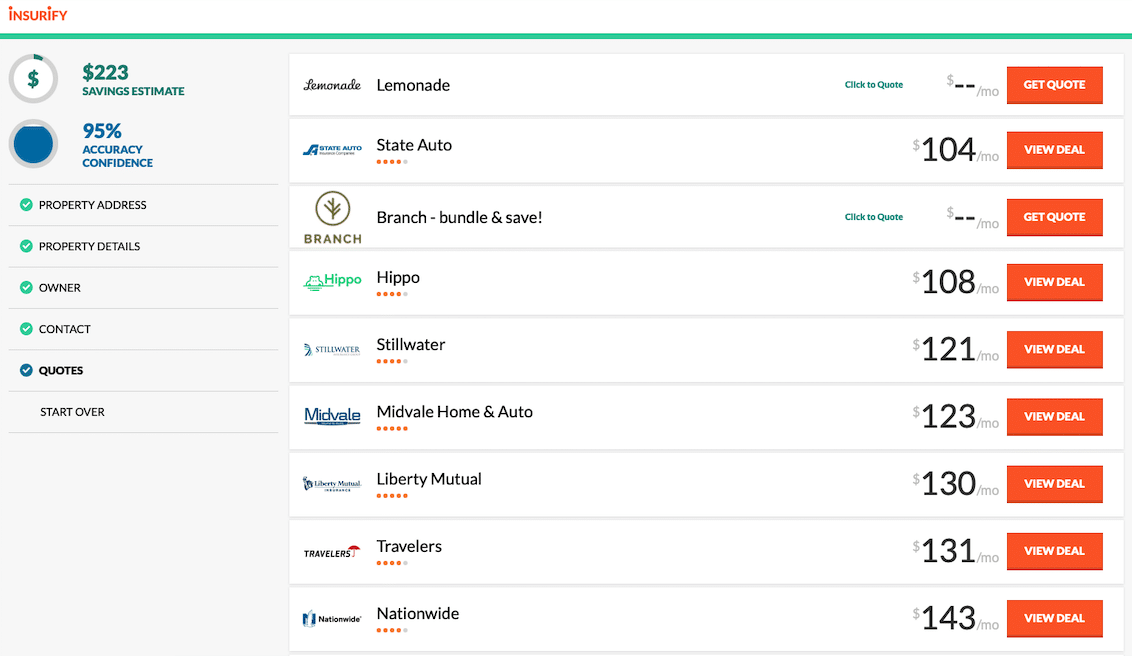 Compare Car Insurance Quotes Instantly
Personalized quotes in 5 minutes or less
No signup required
Data scientists at Insurify analyzed over 40 million auto insurance rates across the United States to compile the car insurance quotes, statistics, and data visualizations displayed on this page. The car insurance data includes coverage analysis and details on drivers' vehicles, driving records, and demographic information. With these insights, Insurify is able to offer drivers insight into how their car insurance premiums are priced by companies.