What is renters insurance?
Also known as tenants insurance, renters insurance provides coverage of personal property and liability to those who do not own the property they reside in.
If you rent your home, you've probably considered renters insurance, also called an HO4 insurance policy.
But is a policy worth it? We think so! Here, let's break down exactly what's covered by renters insurance—as well as what's not.
Not a renter anymore, but a new homeowner? Compare homeowners insurance quotes today with Insurify. Browse, Compare, Discover affordable premiums for your new home
What's Covered in an HO4 Policy
All HO4 policies cover certain basics. Considered peril policies, even the most minimal renters insurance plan will cover damage to your personal belongings that's a direct result of things like:
Fire and smoke

Wind, hail, lightning, and other types of weather

A faulty hot water or air conditioning system

Vandalism or theft (called "malicious mischief")

An auto or aircraft accident

Civil unrest, such as a riot or looting (called "civil commotion")
But your HO4 policy does a lot more than just protect your stuff. It can protect you, too. For example, if a guest gets hurt while he or she is in your apartment, renters insurance can protect you in case they sue you for medical payments in case of bodily injury. This type of coverage is known as liability coverage, and it can give you great peace of mind whenever you have guests. Whether your neighbor comes over to borrow some sugar and slips in your kitchen or your long-lost cousin injures himself with your pull-out sofa, renters insurance can shield you against the long arm of the law.
Depending on your policy, you'll be paid for either the actual cash value of your items or the replacement cost. It's important to choose wisely when selecting your policy to ensure you're not unpleasantly surprised when you file a claim. Here's how they differ:
Actual cash value refers to the original cost of the item minus depreciation. For example, if your video game console is stolen and your policy covers "actual cash value," you'll be paid what the item is worth now, not what it was worth when it was new.

Replacement cost, on the other hand, is an amount of money that would be necessary to replace the item. If your game console was protected with a "replacement cost" policy, you'd be able to buy a brand-new one once you're reimbursed. Depending on the amount of coverage you've chosen to purchase through your insurer, your covered losses will fluctuate.
Like all forms of insurance coverage, you are almost 100% likely to have a deductible amount on your renters insurance policy. A deductible is a predetermined amount of money you as the policyholder are responsible for before your insurance coverage kicks in. For example, if you've filed for a claim of $1,000 worth of losses after a burglary, and your deductible is $250, your final claim payout will amount to $750.
Roommates and Renters Insurance
Unlike homeowners insurance, which covers everything in a home regardless of whom it belongs to, renters insurance only covers your personal property. Your roommate will have to get his or her own policy to protect their stuff.
Compare Car Insurance Quotes Instantly
Personalized quotes in 5 minutes or less
No signup required
Structural Damage
This is a common question that renters have, especially people who rent single-family homes.
To explore this concept, let's use a made-up scenario: a volcanic eruption. If you're lucky enough to live in Hawaii, you know this can be a real threat! If a volcano erupts near your house or apartment, you only need to worry about the property that you own. This means that any structural damage to the home itself is covered by your landlord's homeowners policy. You're only responsible for the personal property that you own (which renters insurance covers). In fact, this is the major difference between HO4 insurance and most other types of property insurance, including HO6, HO3, and HO5.
Landlord's insurance, or their own homeowners' insurance, will generally cover structural damage that needs repair. Their separate policy will cover things your renters policy will not when it pertains to structural damage.
A Surprising Perk
Many people don't realize that an HO4 policy covers more than just stuff. Many policies also cover living expenses in case your rental is temporarily uninhabitable. This is called "loss of use." For example, let's consider the scenario of a blizzard. If a major winter storm comes through town, the weight of ice or snow can cause serious structural damage—and even collapse. If damage from the storm renders your home uninhabitable, renters insurance coverage might include the costs of temporarily living somewhere else, like a hotel. Remember that this type of coverage isn't typically included in basic renters insurance policies, so check with your own insurance company to ensure you're prepared. (Psst…if you're a homeowner reading this, Insurify can help you compare quotes from multiple home insurance companies to make this step easier.)
Keeping an up-to-date home inventory list can help you keep track of expenses if your personal belongings are damaged. The right renters policy will cover both personal property coverage and additional living expenses. Other coverage options will include protections for medical expenses and other liabilities.
Beyond Your Apartment
Sure, a lot can go wrong at home, but the world is even more unpredictable outside your rental. Specifically, the world is unpredictable for your stuff. Certain renters insurance policies cover your personal property when the "worst-case scenario" occurs outside your home. Was your laptop snatched at a coffee shop? Did your phone fall in a public toilet? It's highly possible that your HO4 will reimburse you for the actual cash value or replacement cost—just ask! Predetermined coverage limits for your rental property will provide insurance for your personal items with replacement cost coverage.
What's Not Covered in an HO4 Policy
So now that we've covered (ha!) what your renters insurance policy can do, let's take a look at the things that it doesn't include.
Natural disasters
Yep, natural disasters are different from wind, hail, and lightning—at least by insurance company standards. Think of things beyond the run-of-the-mill storm (or volcano eruption). Property damage caused by earthquakes, sinkholes, and floods is not typically covered. This is why flood insurance is usually sold as a separate product.
Pests
There's no doubt that rodents and insects can cause a lot of damage to your personal property, but it's unfortunately not covered by your HO4. Renters insurance coverage also doesn't apply to the cost of an exterminator. Sorry! Although sometimes infestations are unavoidable, it's a good idea for renters to do as much preventative maintenance as they can. (Think of this as a costly incentive to keep your home in good condition.) Our recommendations?
Keep all your food and beverages sealed tightly and stored properly.

Empty your trash when it gets full or smelly.

Address a clogged sink or tub with a commercial drain cleaning product or pipe snake, or notify your property manager.

Clean up spills and tend to leaky faucets as soon as possible. Remember, pests need water as much as they need food.

Tidy up! Certain animals, especially rodents, make their nests in piles of paper and other common clutter. Making your home as inhospitable to them as possible will encourage them to look elsewhere.
Your Car
Even if your rental includes a garage, parking spot, or carport, damage to your car is unlikely to be covered by your renters insurance policy. Although your HO4 has your back in case any of your stuff gets stolen out of your car, damage to your ride itself isn't included. The good news is that the car insurance quotes you find on Insurify will pick up the slack.
Renters Insurance - Frequently Asked Questions
Renters insurance is a form of property insurance that applies to rental properties like apartments and condos. It covers your personal property and protects you from liability claims.

Most renters insurance policies do cover you in the event of theft. Always check the fine print of your policy to know exactly what qualifies as a covered loss.

Average renters insurance costs $15 in the United States. These prices can vary based on your living situation and the insurance company you're working with. Insurance discounts may be able to lower the cost.

If you're looking to compare insurance quotes side by side, Insurify has your back. Simply enter some basic information about yourself, and Insurify will give you 10+ free quotes so that you can pick the policy that meets your needs and budget.
Renters Insurance: The Bottom Line
Whether you're moving into your first apartment or simply upgrading to a bigger space, renters insurance coverage is an invaluable, affordable way to maintain your peace of mind. Renters insurance is a wonderful option for tenants looking to protect their belongings with personal property coverages. Renters insurance companies provide reimbursement for damaged items. Getting renters insurance is easy and fast, find the best renters insurance quotes and pick the right coverage today.
Protecting your stuff—whether at home or on the road—doesn't have to be complicated. Learn more about what's covered under your insurance policy and compare homeowners insurance quotes with Insurify today!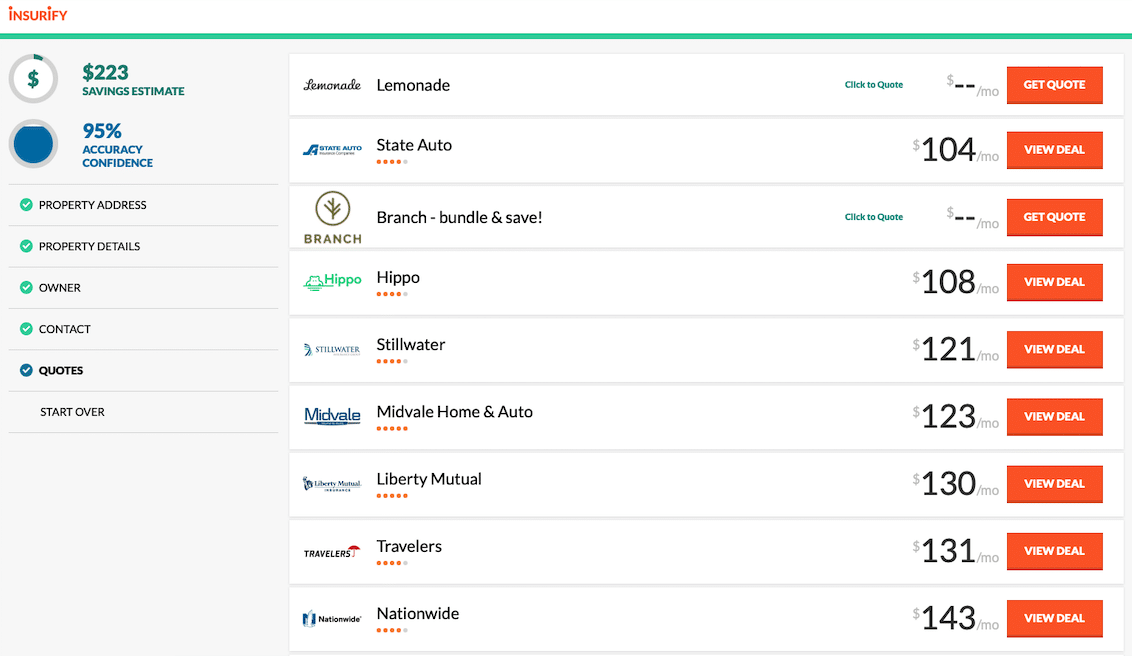 Compare Car Insurance Quotes Instantly
Personalized quotes in 5 minutes or less
No signup required
Data scientists at Insurify analyzed over 40 million auto insurance rates across the United States to compile the car insurance quotes, statistics, and data visualizations displayed on this page. The car insurance data includes coverage analysis and details on drivers' vehicles, driving records, and demographic information. With these insights, Insurify is able to offer drivers insight into how their car insurance premiums are priced by companies.