Property crimes, unforgiving storms, and insurance claims are some of homeowners' biggest concerns, and one out of every 20 insured homeowners files home insurance claims each year. After experiencing property damage, you already have plenty to worry about—repairing your damaged home, protecting your personal property, providing for your family—and now you have to navigate your homeowners insurance policy, too. If you have to file an insurance claim, you probably have a lot of questions.
Will your insurance company pays for the full replacement cost of your damaged property? Or will your reimbursement only cover the actual cash value of your damaged items? Will you even receive compensation after you pay your deductible?
The homeowners insurance claims process is complicated, but Insurify is here to provide clarity in the confusion.
Ideally, you should know the ins and outs of your policy before you need to file a claim. But if the claims process has you feeling unsatisfied with your current home insurance policy, Insurify is here to help with that, too. Use our home insurance comparison tools to explore insurance quotes and coverage options to find the best policy for you in just minutes.
And keep reading to learn how to get the most out of your insurance claim payment.
How does recoverable depreciation work?
Home insurance policies fall under one of two categories: they either provide replacement cost value (RCV) coverage or actual cash value (ACV) coverage. The first step in estimating how much to expect from an insurance payout is determining which type of policy you have.
After property damage occurs, ACV policies pay for the value of the items prior to becoming damaged. The estimated cost of the items depends on factors like the amount of time you've owned them, as well as the amount of wear and tear on the items.
Let's say you purchased a laptop for $500 and most laptops have an average lifespan of three to five years. If someone breaks into your home and damages your laptop three years after you bought it, your ACV policy won't reimburse you for the full $500 you initially paid for the laptop. Instead, it will pay for the depreciated value of the laptop. Since the laptop had nearly reached its useful life at the time of the loss, you will likely only be reimbursed a few hundred dollars, if anything.
If you have a replacement cost policy, on the other hand, your insurer will pay for the actual cash value of your damaged property as well as the depreciation amount. This is known as recoverable depreciation because that's exactly what it is––the amount of depreciation (or lost value) that you can recover (or be reimbursed for).
It's important to note that recoverable depreciation is only available to policyholders with replacement cost coverage. This is because recoverable depreciation is the amount of money that covers the difference between your damaged property's actual cash value and its replacement cost.
So policyholders with replacement cost coverage are reimbursed for their items' actual cash value plus the depreciated value. In contrast, policyholders with ACV coverage are only reimbursed for the actual cash value of their belongings.
Claiming Recoverable Depreciation
For policyholders with replacement cost coverage, filing an insurance claim is just the first step in securing your full reimbursement.
When you file a claim, your insurer calculates the individual costs associated with your reimbursement (your damaged items' replacement cost value, depreciated value, and actual cash value). Insurance companies generally calculate an item's actual cash value based on its initial cost, its expected lifespan, and the amount of time you owned the item before it was damaged.
Let's say you face roof damage from the weight of snow after a storm. You paid $6,000 for the roof five years ago and––if the roof didn't cave in from the snow––its lifespan was 20 years. The value of a $6,000 roof with a 20-year lifespan will depreciate by $300 per year. Once the roof reaches its 20-year lifespan, its value is $0. It's pretty simple.
So if this roof is damaged after five years, its value depreciated by $1,500 before the damage. This means that its recoverable depreciation is $1,500. It also means that the roof's actual cash value is now $4,500.
Your insurer will then distribute your net claim payment. This payment is your replacement cost value ($6,000 for the roof) minus depreciation ($1,500) and minus your deductible (typically around $1,000), leaving you with a $3,500 check to begin repairing your roof.
This payment is equal to the total amount that a policyholder with an actual cash value policy would receive for the same claim. There are still a few more steps before you can reap the full benefits of replacement cost coverage.
To receive your recoverable depreciation––which is typically paid separately from your net claim––you need to pay to repair or replace your damaged items and show your insurer proof of payment. After your insurance company verifies your repair and replacement costs, the company will send you a check for your recoverable depreciation. In the case of the damaged roof, this is $1,500. Keep in mind that you have to cover your $1,000 deductible before your insurance policy kicks in, so this payout only leaves you with $5,000 to replace your $6,000 roof.
It's also important to remember that if the cost of replacing your damaged items is less than your coverage limit, your insurer will only reimburse you for the cost that you paid to repair your items. This means that if it only costs you $4,000 to repair your roof, you will only receive a $4,000 reimbursement (minus your deductible, of course).
Compare Car Insurance Quotes Instantly
Personalized quotes in 5 minutes or less
No signup required
Non-Recoverable Depreciation
Non-recoverable depreciation refers to the same decreased value of your damaged items as recoverable depreciation, except in this case, you can't be reimbursed for this amount.
This is the case for ACV policies, where an item's depreciation simply isn't paid back. In ACV policies, an item's non-recoverable depreciation is always equal to its total depreciation. But there are levels of non-recoverable depreciation in RCV policies, too.
Some RCV policies will exclude recoverable depreciation for certain items or perils, so your insurance company will either reimburse the ACV of those items (rather than the RCV) or may not cover them at all.
Basically, your replacement cost policy might not actually provide total replacement cost coverage for all of your items all of the time. Talk with your insurance agent to see what type of coverage your policy includes and what it doesn't. That way, you won't get stuck paying out of pocket for repair costs that you thought your policy covered.
Still have questions? We know. That's why Insurify compiled our answers to some of homeowners' most frequently asked questions. (You can thank us later.)
Frequently Asked Questions
Some RCV policies have exclusions for recoverable depreciation. These exclusions can range from certain items to different perils that insurance policies don't cover. If your damaged item isn't included in your coverage or an excluded peril caused the damage, you may still be able to file an insurance claim (and receive an ACV reimbursement), but you won't be able to claim recoverable depreciation.

Claiming recoverable depreciation works the same way regardless of the property you need to repair. You submit your claim, pay for repairs, and send your receipts to your insurance company. Then, your insurer will send a check for any recoverable depreciation you qualify for.

You! When a policyholder submits a recoverable depreciation claim, the insurer sends the check directly to the policyholder as reimbursement for any repair or replacement costs.
Recoverable Depreciation: The Bottom Line
The insurance claims process can feel overwhelming, especially if it's your first time filing a claim. But understanding your policy will help you get the most from your replacement cost coverage. Once you know how to secure recoverable depreciation, you can get back to fixing (and enjoying) your home again.
And if filing a claim left you feeling underwhelmed with your current home insurance policy, use Insurify's comparison tools to find the best home insurance providers in no time.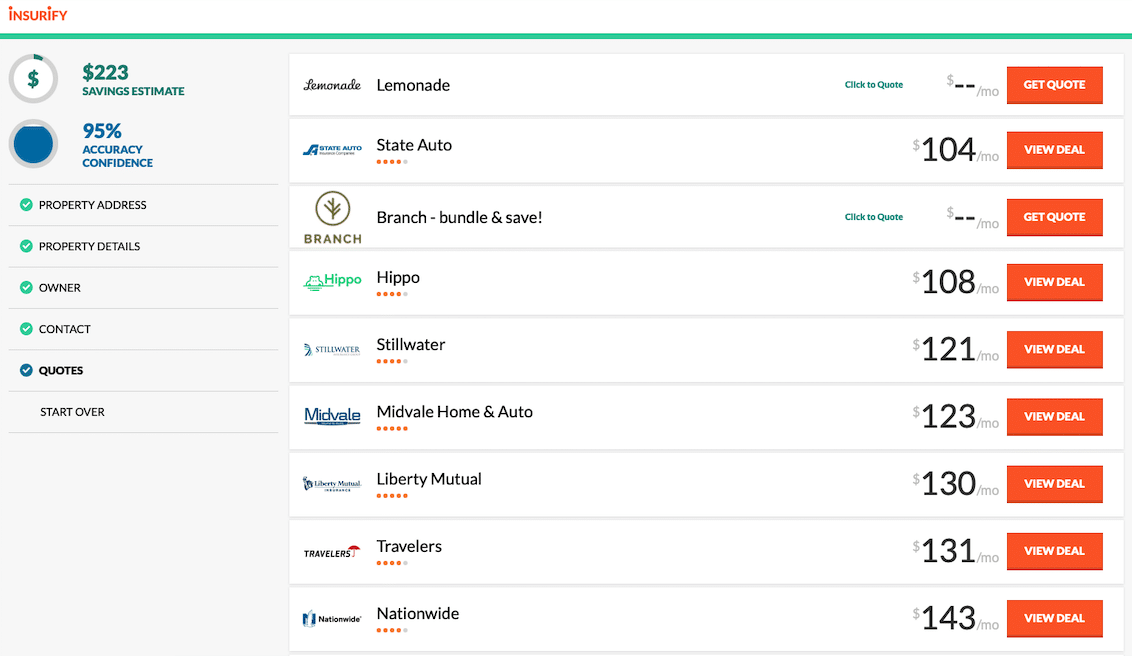 Compare Car Insurance Quotes Instantly
Personalized quotes in 5 minutes or less
No signup required
Data scientists at Insurify analyzed over 40 million auto insurance rates across the United States to compile the car insurance quotes, statistics, and data visualizations displayed on this page. The car insurance data includes coverage analysis and details on drivers' vehicles, driving records, and demographic information. With these insights, Insurify is able to offer drivers insight into how their car insurance premiums are priced by companies.