Should I get flood insurance in North Carolina?
Buying North Carolina flood insurance could save you from a devastating loss, and South Carolina flood insurance policies are among the most affordable in the country.
North Carolina is home to 322 miles of ocean shoreline, with incredible beaches and scenery. It can make homeowners feel like they're on vacation every day. But it's also the third most hurricane-prone state in the U.S.
Flooding often accompanies hurricanes, and any home in the state could be at risk. However, your homeowners insurance policy won't cover flooding.
Fortunately, flood insurance options are available. Some insurers allow you to add flood coverage as an endorsement to your existing homeowners policy. Shop and compare homeowners policies with Insurify to get the coverage you need at a price you can afford.
Do I Need Flood Insurance in North Carolina?
Typically, North Carolina property owners aren't required to buy flood insurance. But there is one exception: if FEMA ( Federal Emergency Management Agency ) determines your home is in a high-risk flood zone, your mortgage lender may require you to carry it.
However, according to FEMA, you may want to have flood insurance even if your home isn't in a flood-prone area. About 25 percent of all flood insurance claims are from areas with low risk to moderate risk.
If you don't have flood insurance, you may have options to get help from nonprofit organizations or local aid.
North Carolina Flood Zones
An area's likelihood of flooding determines flood zones. The North Carolina Flood Risk Information System (FRIS) has an interactive map to help you determine if your home is in a flood zone.
You can compare flood insurance rate maps to determine if you're in a Special Flood Hazard Area. According to the North Carolina Floodplain Mapping program, state flood zones are as follows:
Zone A is a flood area without a Base Flood Elevation (BFE). It generally has a 1 percent chance of annual flooding.

Zone X, if shaded on the map, is a low-risk area with 0.2 percent annual chance of flooding. It was formerly known as Zone B. Unshaded areas in Zone X (formerly Zone C) is also low-risk.

Zone AE has a 1 percent annual chance of flooding. It was formerly Zones A1 to A30.
What's Covered with North Carolina Flood Insurance?
Flood insurance covers two types of property: physical property (the structure of the home) and personal property (your personal belongings). Here's the breakdown:
Property
The house and its foundation

Systems, including electrical, plumbing, A/C, furnace, and water heaters

Appliances, such as your stove, refrigerator, oven, microwave, and dishwasher

Flooring and permanently installed carpeting

Permanently installed shelving and cabinets

Window blinds
Personal Property
Furniture

Window treatments that aren't blinds

Clothing

Non-permanent carpeting

Non-permanent systems, like portable A/C units

Additional freezers

Antiques and other valuables up to a certain dollar amount
Your coverage depends on your policy. Read the fine print or contact your agent before you face flood damage so that you understand your coverages and policy limits.
Compare Car Insurance Quotes Instantly
Personalized quotes in 5 minutes or less
No signup required
What's Not Covered with North Carolina Flood Insurance?
Like all insurance policies, North Carolina flood insurance doesn't cover everything. For example, policies typically exclude:
Landscaping, trees, pools, decks, and fences

Paper currency, including stock certificates

Living expenses to live elsewhere while the house is repaired

Vehicle damage
And remember: flood insurance covers only losses directly caused by flooding. If a sewer backup floods your house, and the backup is not caused directly by floodwaters, your policy won't pay for the damage.
What's the Cost of Flood Insurance in North Carolina?
The average cost of flood insurance in North Carolina is $718 per year. Research suggests that policyholders in Charlotte pay the highest premiums, while Concord offers the cheapest coverage.
However, suppose you live in one of the 76 communities that use a Community Rating System. In that case, you can qualify for substantial discounts up to 25 percent on your National Flood Insurance Program ( NFIP ) premiums.
Your actual flood insurance premiums depend on the type of coverage and deductible you choose and your home's size, location, and features. For example, property owners in Carteret County will likely pay higher premiums because it's a coastal area.
Use a flood insurance cost calculator to estimate your rate. In many cases, you can lower your cost by increasing your deductible. Like standard home insurance, the higher your flood insurance deductible is, the lower the premiums—but make sure you choose a deductible you can afford should disaster strike.
How to Get a Flood Insurance Policy in North Carolina
As a homeowner, you likely have homeowners insurance coverage. However, you must understand that your standard home insurance policy doesn't cover flooding or the damage it causes.
You'll need a separate flood insurance policy for that. Federal flood insurance coverage is available through the NFIP. You may also get a flood policy from a private insurance company.
National Flood Insurance Program ( NFIP )
The National Flood Insurance Program is a federal government program that offers flood insurance policies. However, policies are sold through participating insurance providers.
If you already have home insurance, ask your insurance agent about an NFIP policy. You can also visit FloodSmart. gov or call the FEMA Mapping and Insurance eXchange (FMIX) center at 1 (877) 336-2627 for more information.
Private Flood Insurance
North Carolina also allows you to buy a non- NFIP policy. If you don't qualify for NFIP coverage or want higher policy limits, you may want to buy a policy from a private insurer.
The process is generally the same whether you buy an NFIP policy or one from a private company. But there's one significant difference: the price you pay for coverage from a private company can vary from one insurer to the next.
If you're shopping for flood insurance, compare rates from several companies to make sure you're getting the best coverage at the best possible price.
Do You Need North Carolina Flood Insurance?
Flood insurance isn't required by law, but lenders can direct you to buy a policy if you live in a high-risk flood area. However, North Carolina is in third place for the highest number of hurricanes, and flooding typically accompanies those storms—you may want coverage even if you live outside of a floodplain.
Homeowners can secure flood insurance through the NFIP or from private insurers. Know your options and compare insurance quotes to best protect your North Carolina home from flood damage.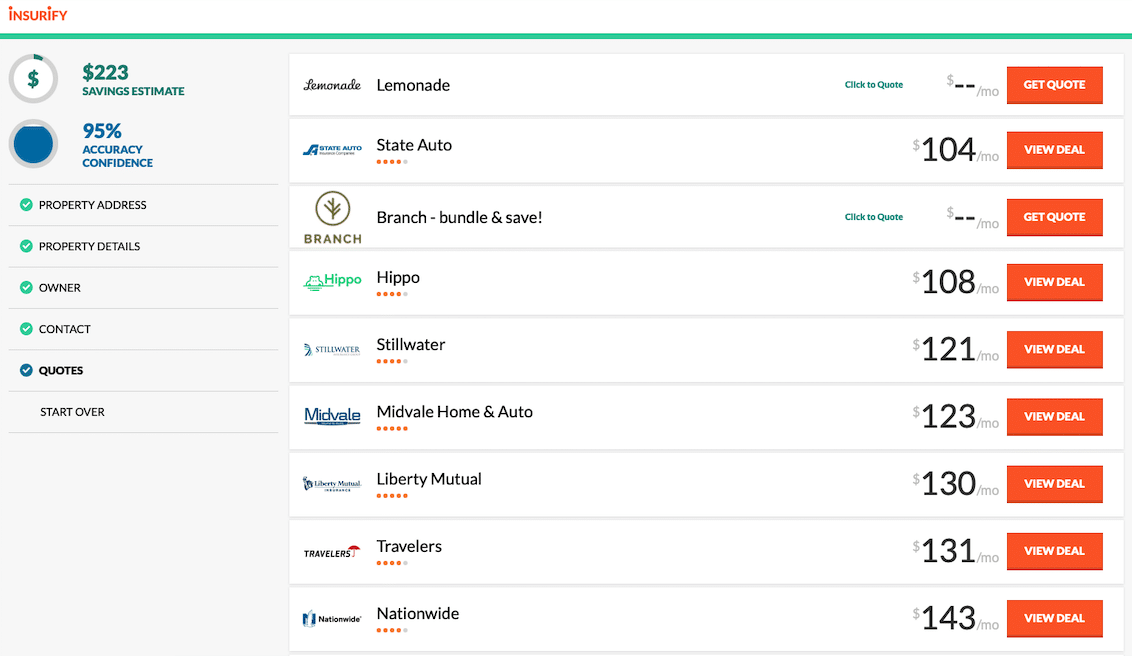 Compare Car Insurance Quotes Instantly
Personalized quotes in 5 minutes or less
No signup required
Data scientists at Insurify analyzed over 40 million auto insurance rates across the United States to compile the car insurance quotes, statistics, and data visualizations displayed on this page. The car insurance data includes coverage analysis and details on drivers' vehicles, driving records, and demographic information. With these insights, Insurify is able to offer drivers insight into how their car insurance premiums are priced by companies.