I have no flood insurance– what do I do?
If you don't have flood insurance, you may qualify for federal government assistance if flooding damages your home or personal property.
Flood damage doesn't only happen in high-risk flood areas. According to the Federal Emergency Management Agency (FEMA), about 25 percent of flood insurance claims come from moderate- to low-risk areas.
Yet, according to a survey by The Harris Poll on behalf of National Flood Services, only 12 percent of homeowners say they have flood insurance.
If you're caught off-guard with no flood insurance, what should you do? First, take a deep breath. You may have lost your belongings, but you still have hope. Here are five ways to get help if you don't have flood insurance.
1. Review Your Insurance Policy First
If you don't have flood insurance coverage, your first step is to check your insurance policy. Your homeowners insurance won't cover flood damage. But your auto policy might.
Comprehensive auto insurance coverage includes flood damage to vehicles. You'll be responsible for your deductible, but your car insurance company can help pay for damage if the flood wrecked your car.
Even though your homeowners insurance policy doesn't cover water damage from flooding, it might come in handy. Some will pay for expenses as a result of mandatory evacuation orders. So save your hotel and meal receipts, and your insurer may reimburse you.
2. Get Immediate Help from Nonprofit Organizations
The American Red Cross is one of the first nonprofit organizations that spring into action following a natural disaster. If a flood destroys your home and property, you can get help.
The Red Cross sets up safe, dry shelters and offers water and hot meals for displaced residents. The organization also provides first aid and assists people with disabilities to get the help they need.
The United Way offers disaster recovery to communities before and during disasters. Your local chapter can direct people to evacuation routes and shelters before disaster strikes. Afterward, it can distribute food, water, and emergency supplies.
Compare Car Insurance Quotes Instantly
Personalized quotes in 5 minutes or less
No signup required
3. Check for State, County, and Local Aid
Following a flood, local emergency management departments are likely in place to supply information about available resources.
Your local government, county, and state services may not have the financial resources to provide relief themselves, but they'll be able to point you in the right direction to get meals, shelter, and any other help you need.
See more: Texas Flood Insurance
See more: Florida Flood Insurance
See more: California Flood Insurance
4. Look into FEMA Disaster Grants
FEMA has an Individuals and Household Program (IHP) that can help after a flood. The program is geared toward individuals and households who are uninsured or underinsured.
You can apply for FEMA grants to help with:
Temporary housing, rental assistance, or hotel reimbursement if your home is uninhabitable. If there aren't enough rental units, you may qualify for a temporary housing unit.

The repair or replacement of your home if it's your primary residence. You can also use the grants to support driveways, roads, and bridges.

Personal property, vehicles, storage, or other living expenses, such as medical, dental, childcare, and funeral costs
Keep in mind that FEMA isn't an insurance replacement. Therefore, it will not pay to restore your home to its original condition before the disaster.
5. Apply for a Low-Interest SBA Loan
You don't have to be a business owner to apply for a loan from the U.S. Small Business Administration (SBA).
The SBA offers disaster loans with low interest rates to homeowners and renters in disaster areas. There are a few requirements to be aware of:
You can apply for a max loan of $200,000. The funds can only be used to replace or repair your primary residence.

Renters and homeowners may qualify for up to $40,000 to cover clothing, furniture, cars, appliances, and other personal property destroyed or damaged by a flood.

You can choose to repay the loan with terms of up to 30 years.
You can apply online for an SBA disaster assistance loan. Just be aware that your application must also include IRS Form 4506-T.
Private Flood Insurance
If you're wondering " Do I need flood insurance?" you may have a last-ditch option to protect yourself from damage if flooding hasn't destroyed your home or property.
But there's a catch: Flood insurance usually comes with a waiting period between the time you buy your policy and the time it takes effect.
For instance, a policy from the National Flood Insurance Program (NFIP) has a 30-day waiting period. A few exceptions exist that can eliminate the waiting period for federal flood insurance, so ask your current insurance provider about coverage options.
You can also visit FloodSmart.gov or call 1 (877) 336-2627 for help finding an NFIP policy provider.
But there may be an even better option. Private insurers tend to have a shorter waiting period of around 10 to 14 days. Because private insurance companies don't offer flood coverage in all areas, check with your current insurer or insurance agent about your options.
No Flood Insurance FAQs
Yes. If a flood destroys your home and belongings, FEMA has an assistance program that can help. You could qualify for temporary housing, rental assistance, and grants to repair or replace your home and personal property and cover medical costs, childcare, and other serious needs.

No, it isn't illegal to not have flood insurance. In most instances, flood insurance isn't required. However, your mortgage lender may require you to have a flood insurance policy if you use a loan to buy your house and live in a floodplain or high-risk flood zone.

Last-minute flood insurance is an option in some cases. However, most policies have a 10- to 30-day waiting period, so don't wait to get the coverage you need. Some exceptions apply. Check with your home insurance provider, visit FloodSmart.gov, or call 1 (877) 336-2627 for more information.

Yes, renters can buy flood insurance. The NFIP has flood insurance for renters that can cover your personal property up to $100,000. You also have the option to purchase flood insurance from your current insurer or as a stand-alone policy from another provider.
No Flood Insurance? What to Do
Floodwaters can wreak havoc on your home and belongings and destroy your property within seconds. If the flood hasn't yet hit your community, you may be able to purchase a last-minute flood insurance policy.
If you've already experienced the destruction, you may feel devastated. However, help is available. Turn to nonprofit organizations, local resources, and government agencies for help getting the resources you need to get back on your feet.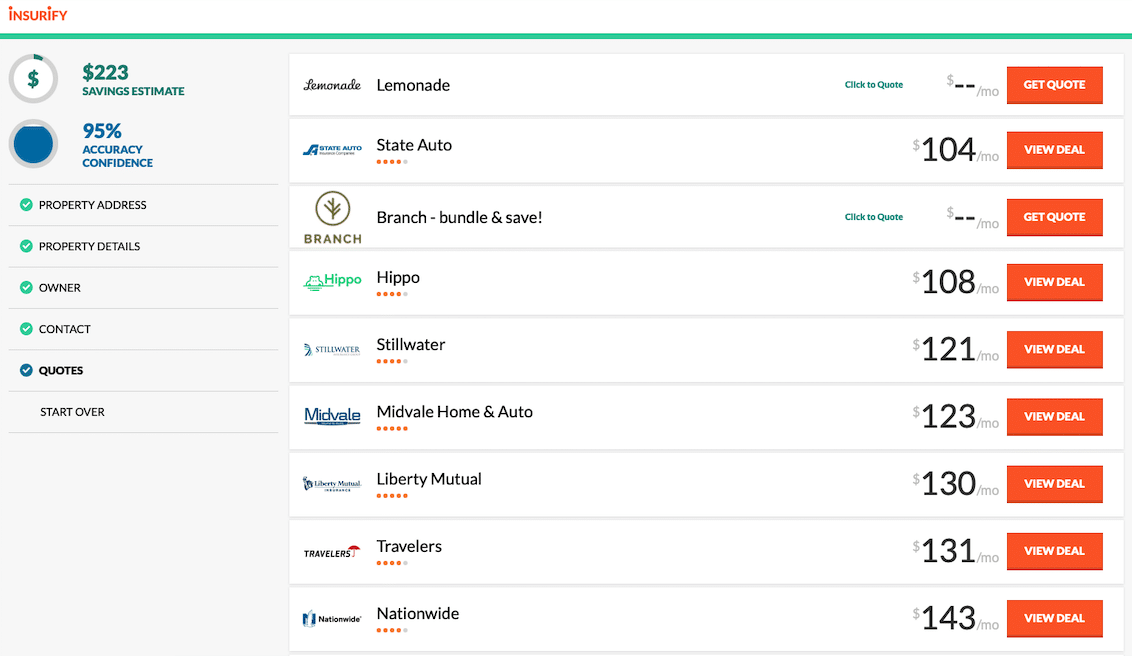 Compare Car Insurance Quotes Instantly
Personalized quotes in 5 minutes or less
No signup required
Data scientists at Insurify analyzed over 40 million auto insurance rates across the United States to compile the car insurance quotes, statistics, and data visualizations displayed on this page. The car insurance data includes coverage analysis and details on drivers' vehicles, driving records, and demographic information. With these insights, Insurify is able to offer drivers insight into how their car insurance premiums are priced by companies.