Am I required to buy flood insurance in New York?
While the flood risk is high in some areas of the state, you're not legally required to purchase flood coverage—although it's a good idea to, even if you don't live in a high-risk flood zone.
In 2012, Hurricane Sandy affected tens of thousands of business owners and homeowners. The state of New York sustained nearly $33 billion in damages. Some New Yorkers were able to count on their flood insurance policy to help them financially on the road to recovery and normalcy—those without one faced a tougher path.
Many New Yorkers were under the impression—like many nationwide—that a standard homeowners insurance policy would protect their homes from all types of natural disasters, including floods from hurricanes. However, that is not the case. To be covered in the event of flooding, you must have flood insurance coverage.
In this guide, we cover everything you need to know about flood insurance in New York state —whether you need it, what it covers, what it costs, and how to get the best policy. When you're well-informed, you're well-equipped to make the best decision for your personal situation.
While we're on the topic of insurance policies, keep in mind that flood insurance is not a replacement for homeowners insurance. If it's been a while since you've reviewed your home insurance options, take a few minutes to quickly compare quotes with Insurify, where you can find the best New York homeowners insurance policies in your area.
Do I Need Flood Insurance in New York?
Whether you need flood insurance coverage in New York depends on where you live and the flood risk for that area. If you are a homeowner in a high-risk flood zone, you may be required to purchase a flood insurance policy. Mortgage lenders often require homeowners to purchase flood insurance if you are applying for a mortgage loan for a home located in a high-risk zone.
However, even if you don't live in a high-risk area that requires you to purchase flood insurance, there are still reasons why you may want coverage anyway. If you live in a geographical area prone to hurricanes or tropical storms, then you may find peace of mind by purchasing flood insurance, even if your home is located in a low-risk area. After all, flood risk zones are simply guidelines—so flooding in a low-risk area isn't impossible or unheard of.
In fact, according to the Federal Emergency Management Agency ( FEMA ), more than 40 percent of the National Flood Insurance Program ( NFIP ) claims between 2015 and 2019 came from homes in moderate- to low-risk areas. A home is likely the largest investment you'll ever make, and you want to know that you'll be financially protected should something as disastrous as a flood occur.
New York Flood Zones
New York flood maps and flood zones are determined by FEMA. As you might have guessed, cities along the New York waterfront are major flood risk areas.
New York City boroughs in particular are at high risk of flooding. A few high-risk areas in NYC include Manhattan, the Rockaways in Queens, Staten Island, and South Brooklyn.
In New York, you may also find neighborhoods or buildings built in floodplains —which are at greater risk of flooding while simultaneously increasing flood hazards in surrounding areas. Floodplains are low-lying areas of land next to rivers and streams. In their natural state, such as forestland or meadows, floodplains can safely store floods. But with buildings, roads, parking lots, and even homes being built in these floodplains, the land in a given area cannot naturally absorb water. Instead, this increases the chances of homes being flooded.
New York Flood Insurance Rate Map (FIRM)
FEMA creates Flood Insurance Rate Maps (FIRMs) that mark areas at high risk of flooding. These are extensive maps created by mapping the topography of the state and the types of storm strengths that have come through in the past. With a flood map, you'll be able to see if your home is located in a low-risk, moderate-risk, or high-risk flood zone or in a Special Flood Hazard Area.
You can either view flood maps in person at the Department of Buildings offices or at FloodHelpNY.org.
What Does New York Flood Insurance Cover?
Flood insurance provides coverage to help protect your home, personal property, or both. Here's what you need to know about these coverages:
Building Property Coverage
This helps protect the physical structure of your home, which includes:
Plumbing

Electrical

Central air and heating

Water heaters

Cabinets

Paneling

Built-in appliances

Attached or detached garage

Home's foundation
When you choose a flood insurance plan, take care in how the policy will pay out when you make flood claims. There's replacement cost coverage, which pays out what it would take to repair the home, up to the policy's maximum coverage limit. Then, there's actual cash value, which pays out the depreciated value of items that need replacing or repair.
Personal Contents Coverage
This provides coverage for your personal belongings, which can include:
Clothing

Furniture

Electronics

Portable appliances

Valuables like art or jewelry
Remember to pay attention to how your policy pays out and the maximum coverage limit. Certain categories within personal contents coverage may have their own limits as well. For example, artwork may have a lower limit than furniture or electronics. If you have personal belongings you want covered outside of those limits, you may want to look into purchasing additional protection.
Compare Car Insurance Quotes Instantly
Personalized quotes in 5 minutes or less
No signup required
What's Not Covered with New York Flood Insurance?
Flood insurance can significantly help you should your home be affected by a flood. There are, however, many limits and exclusions that come with most flood insurance policies. Here's a basic list of items not covered with flood insurance:
Automobiles

Property and belongings outside of an insured dwelling, such as decks, patios, fences, swimming pools, hot tubs, wells, septic systems, and sheds

Currency, precious metals, and valuable papers, like stock certificates
Additionally, most flood insurance policies will not allow you to make claims for the following damages:
Damage caused by moisture, mildew, or mold that could have been avoided by the homeowner or is not attributable to the flood

Areas underneath the first floor of a home, like basements or crawl spaces, may have limited to no coverage

Loss of use or access (most policies do not provide additional living expenses, like hotel reimbursement, when the home is being repaired or is uninhabitable)
What Does Flood Insurance Cost in New York?
According to FEMA, the average flood insurance policy premium is $700 per year. However, flood insurance premiums will vary from one homeowner to the next. Your annual premium will depend on several factors, such as:
Flood risk (location)

Your home's value

Your home's age and build

Your policy's deductible amount

Your policy's coverage amounts

Your coverage type ( NFIP versus private insurance)
How to Get a Flood Insurance Policy in New York
Even if you have a homeowners insurance policy from one of the best home insurance companies, you still won't get coverage for flood damage to your home. Whether you live in a high-, moderate-, or low-risk flood zone, purchasing a flood insurance policy can bring you great peace of mind—especially after witnessing or learning about the detrimental effects of Hurricane Sandy in 2012.
Finding flood insurance coverage is easy. If you have a homeowners insurance policy, you can start by contacting your local insurer 's agent to ask about adding flood coverage. This is often the easiest route for many homeowners, and you may even be able to get a discounted rate from your insurance company by purchasing multiple policies.
But of course, comparison shopping is always a good idea. Once you get a quote from your current insurance company, you may want to check out the National Flood Insurance Program ( NFIP ) policies available to see what's the best fit for you.
National Flood Insurance Program ( NFIP )
An NFIP policy provides you with flood coverage issued through the federal government. You can purchase an NFIP policy through a direct servicing agent if you live in a FEMA -designated participating community, or you can purchase NFIP flood insurance through a private insurance agent.
Private Flood Insurance
The NFIP isn't your only option when it comes to flood insurance coverage. You can also buy flood coverage through private insurance companies. Often, these insurers offer policies that cost around the same or less than those offered by the NFIP.
Frequently Asked Questions
Yes, renters can purchase flood protection for their possessions. The property owners are responsible for purchasing flood insurance coverage, but tenants may want to opt-in for supplemental coverage to protect their personal belongings.

Standard home insurance policies do not cover water damage from floods. You will need to get a separate policy for flood insurance coverage.

Buying a flood insurance policy through the Federal Emergency Management Agency (FEMA) is an option. FEMA is a federal government organization that offers disaster assistance and flood insurance policies through the National Flood Insurance Program (NFIP). However, you can also choose to purchase flood insurance through a private insurance company.

You can purchase flood insurance at any time. However, most flood insurance policies have a waiting period before you can make any flood claims—usually 30 days. Peak hurricane season is from August to October, so purchasing flood insurance coverage well in advance can save you a lot of worry and headaches.
Protect Your New York Home Against Flood Risks with Insurance
Your home is likely the greatest asset you own—protecting it with the right insurance coverage is a smart move. Why leave anything up to chance?
Check out if your home is located in a high-risk flood area, and remember that floods can (and often do) occur outside of high-risk areas. Compare your options from the NFIP and from private insurance companies to see where you can get the best flood insurance coverage in New York.
And while you're at it, you can quickly compare homeowners insurance rates with Insurify to see if you're overpaying on home insurance —we're here to help you find the best policy and the best rates.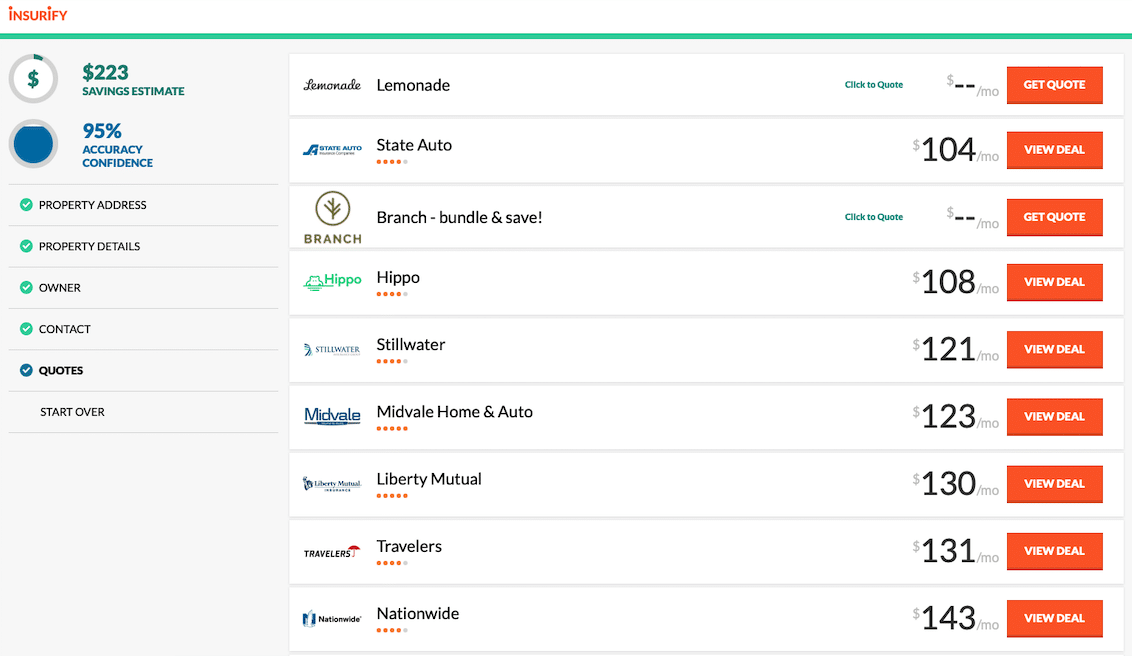 Compare Car Insurance Quotes Instantly
Personalized quotes in 5 minutes or less
No signup required
Data scientists at Insurify analyzed over 40 million auto insurance rates across the United States to compile the car insurance quotes, statistics, and data visualizations displayed on this page. The car insurance data includes coverage analysis and details on drivers' vehicles, driving records, and demographic information. With these insights, Insurify is able to offer drivers insight into how their car insurance premiums are priced by companies.