Is flood insurance required in New Jersey?
For most homeowners in New Jersey, flood insurance isn't mandatory. However, you may need coverage to qualify for a mortgage if you live in a high-risk flood area.
If floodwaters threaten your New Jersey home, are you covered? According to a 2020 Triple-I Consumer Poll, most homeowners aren't. Standard homeowners policies don't cover flooding, and only 27 percent of homeowners say they have flood coverage.
Discover when you're required to have flood insurance, what it covers, how much it costs, and where to get a policy in this comprehensive guide to New Jersey flood insurance.
And if you're looking for home insurance, we've got you covered there, too. Insurify's homeowners shopping tool can help you compare insurance quotes and get great coverage for a great price.
Do I Need Flood Insurance in New Jersey?
While New Jersey law doesn't require homeowners to have flood insurance, some circumstances mandate you to buy coverage:
If you live in a high-risk flood zone with a government-backed mortgage

If you live outside of a high-risk flood area and your lender requires it

If you live in a high-risk flood area and have previously received federal disaster assistance
But you may want to consider buying flood insurance even if your mortgage lender doesn't require it and you live outside of a traditional flood zone.
According to the Federal Emergency Management Agency ( FEMA ), 25 percent of all flood insurance claims are from areas with low to moderate flood risk —and standard homeowners insurance doesn't protect against flooding.
New Jersey Flood Zones
The Garden State has several types of flood zones. Depending on where you live, your zone can determine your risk of experiencing a flood:
Zone A has a 1 percent or more chance of annual flooding.

Zone AE replaces the old numbered A zones and is subject to a 1 percent or more chance of flooding.

Zones AH and AO fall under the 1 percent or more risk of annual flooding and typically have average flood depths of one to three feet.

Zone AR has a temporarily increased flood risk from ongoing restoration of the flood protection system.

Zone A99 has a 1 percent or greater chance of flooding annually but will be protected by the federal flood protection system.

Zone V is found in coastal areas. It has a 1 percent or greater annual chance of flooding and can experience storm-induced waves.

Zones VE and V1 to V30 are in coastal areas and have a flood risk of 1 percent or more along with storm-induced waves. Zone VE is replacing previously numbered V zones.

Zone D might have a flood risk, but it's undetermined.

Zone X, if shaded, is replacing zone B. These areas have a moderate flood risk.

Zone X, if unshaded, is replacing zone C and has minimal flood risk.
If you aren't sure which zone type you're in, use the Flood Map Service Center at FEMA.gov. Enter your address to view the floodplain map in your area and make an informed decision about buying a flood insurance policy.
What's Covered with New Jersey Flood Insurance?
Flood insurance coverage protects you and your property from flood damage. Policies are typically broken down into two parts:
Building coverage

Contents coverage
Your protection can vary depending on the policy you choose. Generally, building contents covers:
Electrical and plumbing systems

Furnaces and water heaters

Refrigerators, stoves, and other built-in appliances

Carpeting, cabinets, and bookcases

Foundation walls and detached garages
Contents coverage protects your personal belongings. It typically includes:
Clothing, furniture, and other personal items

Curtains

Washer and dryer

Valuables, such as original artwork and jewelry
Keep in mind that policies can limit the coverage of valuable items. For example, your policy may have a cap of $2,500 for artwork and furs lost in a flood.
Compare Car Insurance Quotes Instantly
Personalized quotes in 5 minutes or less
No signup required
What's Not Covered with New Jersey Flood Insurance?
Flood insurance only covers damage caused by a flood. For example, a policy would not cover flooding in your home caused by sewer or drainage backup (unless the backup was directly caused by flooding).
Policies also limit coverage for items in areas below the lowest floor, such as a basement. For example, your coverage may not include personal belongings, furniture, or electronics stored in a basement, crawlspace, or an enclosed area beneath a building.
It's good practice to contact your insurance agent to find out what isn't covered before you face a flooding emergency.
What's the Cost of Flood Insurance in New Jersey?
The average cost of flood insurance in New Jersey is $950 per year. How much you pay for flood coverage will depend on your home's build, the amount of coverage you need, and the flood zone you're in.
The flood zone determines the risk of flooding, which impacts the flood insurance rate —the higher the risk, the more expensive your flood insurance premiums are. Flood insurance companies use Flood Insurance Rate Maps to determine your flood risk.
For example, you can expect to pay higher rates if you live in a Special Flood Hazard Area ( SFHA ). An SFHA is an area that has at least a 1 percent annual chance of a flood, also known as the "100-year flood."
In 2021, FEMA proposed a new rating system. Known as Risk Rating 2.0, data from the First Street Foundation suggests the new categories could increase flood insurance premiums for 79 percent of current policyholders in New Jersey. But 21 percent could pay less.
How to Get a Flood Insurance Policy in New Jersey
If your home is in a high-risk area, it is important to make sure you have the right type of coverage for flooding.
Generally, property owners have two options: an NFIP policy from the National Flood Insurance Program or coverage through a private insurance company.
National Flood Insurance Program ( NFIP )
Even though FEMA manages the NFIP, it doesn't sell policies directly. Instead, NFIP flood insurance is provided through insurers that partner with the NFIP.
To buy a new policy or renew existing coverage, contact your insurance company or local independent agent.
You can also use the flood insurance provider locator at Floodsmart. gov to locate a participating insurer near you.
Private Flood Insurance
Private insurers offer private flood insurance policies. If you don't qualify for NFIP coverage or want higher coverage limits, private policies are an excellent option.
The process to buy private flood insurance is similar to how you'd buy an NFIP policy, with one exception—while the cost of an NFIP policy is the same no matter which insurance company you use, insurers can charge different prices for private flood policies.
Make sure you shop around to compare coverage options and insurance quotes if you opt for a private flood insurance policy.
Frequently Asked Questions
Flood insurance policies typically have a waiting period before becoming effective. NFIP coverage requires a 30-day waiting period, while some private insurers have a 10- to 14-day waiting period. However, there are exceptions, so ask your insurance agent to clarify when the policy will go into effect.

Policyholders will have a deductible to meet before flood coverage kicks in. Your deductible amount depends on the insurer and policy options you choose. A typical deductible can range from $1,000 to $5,000.

A standard renters insurance policy does not cover flooding. To protect your belongings from flood damage, you must buy flood insurance for renters. Contact your renters insurance provider to discover your options.
Is New Jersey Flood Insurance Worth It?
New Jersey is a coastal state with many inland lakes and rivers—all factors that make it a prime state for flooding. Homeowners should be aware that standard homeowners insurance doesn't cover flood damage.
To get protection from flooding, you must buy separate flood insurance coverage. Before you commit to a policy, contact your insurance agent or visit Floodsmart. gov to learn about the different flood programs available in your area.
You can also search homeowners insurance companies with Insurify to discover coverage options and compare policy prices where you live.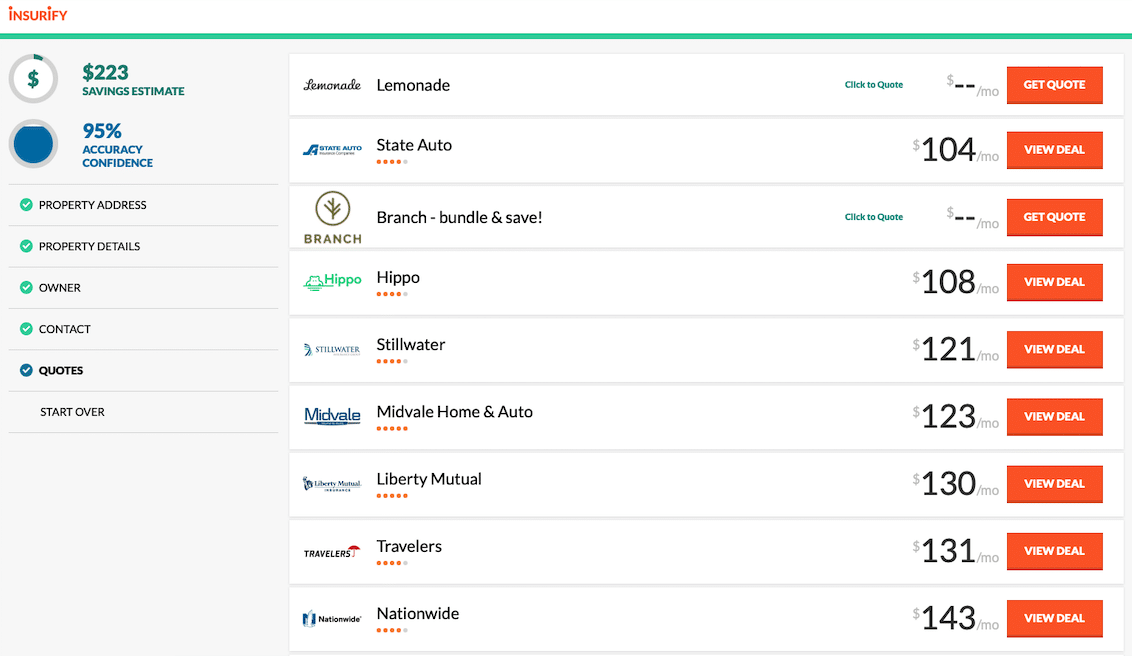 Compare Car Insurance Quotes Instantly
Personalized quotes in 5 minutes or less
No signup required
Data scientists at Insurify analyzed over 40 million auto insurance rates across the United States to compile the car insurance quotes, statistics, and data visualizations displayed on this page. The car insurance data includes coverage analysis and details on drivers' vehicles, driving records, and demographic information. With these insights, Insurify is able to offer drivers insight into how their car insurance premiums are priced by companies.