If your property is used solely as your family's personal residents, not for any sort of small business operation or a rental unit, then no, your homeowners insurance will not be tax-deductible. Only private mortgage insurance (PMI) can be claimed as an itemized deduction on your tax return.
Unfortunately, however, in almost all other cases, homeowners insurance does not qualify as a tax-deductible expense. Neither do those hefty monthly premiums you've been shelling out for years. The governing body that oversees all things taxes, the Internal Revenue Service (IRS), does not consider homeowners insurance a valid tax deduction.
This means that as a homeowner, you won't be able to capitalize on these insurance payments on your tax returns this year. In spite of this fact, a proper homeowners insurance policy is still a worthwhile cost to protect your property investment. There might be room for some other tax benefits, though. Read on to find out.
Regardless of if your home insurance is considered tax-deductible, Insurify can help you save on your homeowners insurance by comparing dozens of home insurance premiums and quotes in a matter of seconds.
How Homeowners Insurance Can Be Tax-Deductible
If you're determined to find another write-off this tax year, there are a few exceptions to the general lack of tax breaks when it comes to home insurance.
What is a Tax Deduction?
They say there are only two guarantees in life– death, and taxes. That assurance doesn't make taxes any less complicated, though. Income tax, property taxes, loan amounts, federal tax returns… tax law is no walk in the park. One thing everyone should understand is tax deductions. Many Americans may not be aware of the tax write-offs they may be eligible for in order to optimize and grow their tax returns. Put simply, a tax deduction lowers a person's tax liability, thus, decreasing their taxable income. These deductions are generally expenses a taxpayer incurs throughout the tax year that may be eligible to be subtracted from their gross income. More tax deductions mean less taxable income, increasing the number of those tax return checks.
Home Office Insurance
Business owners, rejoice! If you utilize any part of your real estate to operate your business, whether that's your living room, rental property, or a second home, you may be able to be qualified for a deduction based on the square footage of your home office space.
These home office deductions can be considered business expenses for those who are self-employed or if you work out of part of your home. These tax credits will be taken into account in your adjusted gross income. A certified tax professional can help you identify if you're qualified for any of these deductions.
Landlord Insurance
Landlords can benefit too. A homeowners rental property is considered tax-deductible, as it is considered taxable income.  If you're a landlord to several properties that produce rental income, all of your homeowners insurance is considered tax-deductible.
Reassessing Your Home Insurance Costs
Homeownership comes with numerous expected and surprise costs. Homeowners insurance premiums, mortgage interest, property taxes, mortgage payments, home improvements—the list goes on. There are a few ways to cut these costs, though.
The first step is evaluating home insurance quotes. You may be paying way more for your homeowners insurance policy than you need to. It's essential that you compare home insurance options while shopping for policies before committing to the first insurance quote that you see.
Use a home insurance comparison tool like Insurify to see homeowners insurance quotes from dozens of companies in your area in a matter of seconds. Don't forget to specify any potential discounts for which you may be eligible, like if you use your property for business purposes or run a small business from your home, or if you lease to renters. Even if you're not eligible for standard deductions, you never know what other kinds of discounts your home insurance company may grant you.
Saving On Other Home Costs
In addition to cutting your home insurance costs, homeowners can save in other ways, too.
Bundle, Bundle, Bundle!
Almost all service categories can be bundled together if you opt to stick with one company. Telecommunication services like cable, landline, and internet can be easily combined to lower their overall cost. The same goes for household utilities like gas and electricity. Insurance policies can also be easily bundled, which can help you save hundreds on your auto and homeowners insurance. Use Insurify to find your best insurance options.
Cut Extras
A common-sense solution to cutting homeownership costs is to be mindful about the use of utilities and other services. Take shorter showers, turn off the lights when you leave a room, and open the blinds to let natural sunlight into your home. Take into consideration all of the monthly costs you shell out cash for. Do you still use your landline? Do you really need six streaming services? Asses, cut, save!
Be Financially Smart
Treat credit like cash, don't overdraft your accounts, and always pay your bills on time. If you can maintain these habits for an extended period of time, your credit score will reflect that. A healthy credit score can open many doors for future endeavors, like securing a mortgage and lowering your insurance costs. As long as you've been making your payments and limiting your inquiries,  it comes time to file an insurance claim, your reimbursement should come quick.
Compare Car Insurance Quotes Instantly
Personalized quotes in 5 minutes or less
No signup required
Homeowners Insurance and Tax Deduction – FAQs
In many cases, yes, operating a small business out of your home may grant you a tax-deduction. There are some nuances, though, so to score the best savings, make sure to talk to a tax professional to ensure you're getting all the discounts you deserve. Most of the time, you are able to deduct the square footage of your home used for your business to save on your property taxes.

If you're a landlord that earns rental income off of your properties, there are a few homeowners expenses you'll be able to deduct on your tax return. This includes your mortgage interest, property taxes, home improvements and repairs, and other operating expenses. This taxable income may save you on your tax return if you're an eligible homeowner.

A Mortgage Insurance Premium (MIP) is insurance paid by a borrower after purchasing a home if their down payment was less than a fifth of their total home loan. It protects the mortgage lender from losses if the borrower were to default on a loan.
How to Cut Costs on Home Insurance
Homeowners insurance is a necessity to make sure your home, property, and possessions are protected against fire, weather, theft, or liability. In fact, if you're taking out a mortgage, many lenders require you to have a policy. So, if even if it doesn't carry a tax break with it, homeowners insurance is worth the cost.
To save on your homeowners insurance premiums, use Insurify. Insurify helps homeowners at every step of the insurance shopping process. On a single platform, homeowners can compare, buy, and manage their home insurance online. This simple shopping experience can help you save hundreds on their home insurance policy, hassle-free.
Don't settle for the first quote you see—compare with Insurify today.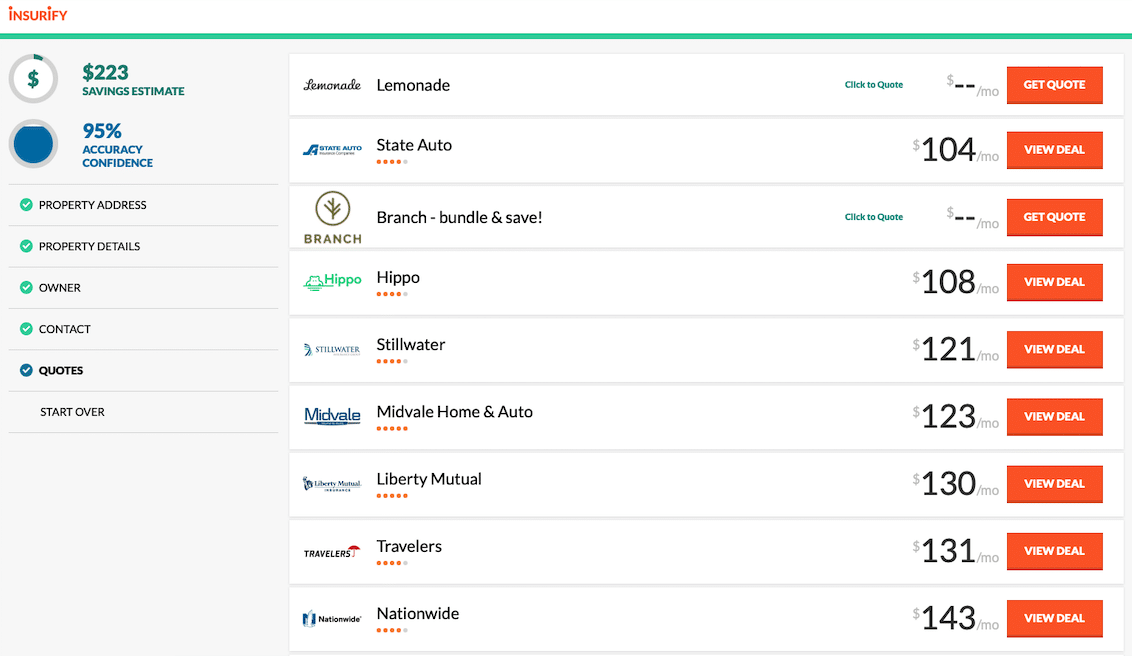 Compare Car Insurance Quotes Instantly
Personalized quotes in 5 minutes or less
No signup required
Data scientists at Insurify analyzed over 40 million auto insurance rates across the United States to compile the car insurance quotes, statistics, and data visualizations displayed on this page. The car insurance data includes coverage analysis and details on drivers' vehicles, driving records, and demographic information. With these insights, Insurify is able to offer drivers insight into how their car insurance premiums are priced by companies.