Why you can trust Insurify
Blog
Home Insurance
Home Insurance And Fire Everything You Need To Know 2021
Does my homeowners insurance cover fire?
Yes, standard homeowners insurance policies cover accidental fire and smoke damage. But make sure you understand the details of your plan and have enough coverage.
Let's hope you never need to use it, but fire insurance coverage is built into virtually every home insurance policy. It will cover your residence, belongings, liability, and additional living expenses —up to your coverage limits —in the event of a fire. Details of coverage vary greatly, so you'll want to understand exactly how your coverage works and how much you have.
Because fire damage can be catastrophic, you may want to consider enhancing your basic coverage to ensure that your finances aren't destroyed along with your house. Home insurance isn't an area where you want to skimp. Should disaster strike, it's better to have too much coverage than not enough.
Better coverage breaking the bank? Try the Insurify home insurance rate comparison tool and easily find the best coverage at the lowest cost to you. It's free and confidential to use.
What Does My H omeowners Insurance Cover If There's a Fire?
Several types of coverage may kick in if your home is damaged by fire or smoke. (Remember that you will be responsible for your deductible before the insurance company begins to pay.) Many plans will cover damage even if the underlying cause of the fire isn't included in the list of "covered perils." Say, for example, an earthquake (not covered) causes a power surge that sets your house ablaze (covered). Again, every policy is different, so make sure you understand your coverage to the letter.
Dwelling coverage will pay to repair or rebuild the structure of your home, up to your policy limit. Keep in mind that construction costs can increase over time or after a disaster, so you'll want to be covered for more than the value of your home in case the cost to repair/rebuild exceeds that amount. If you want dwelling coverage beyond your policy limit, you may be able to buy extended or guaranteed coverage.

Detached structure coverage will pay to repair/rebuild things like your fence, backyard pottery studio, or detached garage.

Personal property coverage goes toward replacing or fixing your belongings, including furniture, electronics, clothing, and jewelry. Make an inventory of your belongings long before any disaster strikes so that you can include everything in your claim. You can get additional coverage, especially for expensive items, through a scheduled property policy.

Loss of use coverage kicks in if you need to stay elsewhere while your residence is being repaired or rebuilt. Your homeowners insurance coverage will pay for additional living expenses like hotel and restaurant bills.

Liability coverage protects you if someone is injured during your house fire or if your home sparks the neighbor's ablaze. For extra liability coverage, you can buy an umbrella policy.
Levels of Coverage
At the very least, you need to be insured for the value of your home—though it's far better to have too much insurance than not enough. Talk with your insurance agent to determine the right amount of coverage, taking into consideration the size and materials of your home and the value of your belongings.
Should you suffer loss from fire or smoke damage, your home insurance will reimburse you for personal belongings at one of two levels:
Actual cash value will reimburse the cost of your items minus depreciation —basically, the "used" cost of the item.

Replacement cost coverage will pay current prices for your new items.
Make sure you understand what level of coverage is included in your plan so that you aren't caught without sufficient protection.
Compare Car Insurance Quotes Instantly
Personalized quotes in 5 minutes or less
No signup required
What Happens After I File a Claim for F ire Damage?
Your insurer will work with you to determine the extent of the loss and, therefore, the amount of reimbursement you'll receive. They'll look at the police and/or fire department reports and your own accounts of the damage. They'll likely send an insurance adjuster to the site as well.
Fires Not Covered by Standard Plans
Fires from certain causes are less likely to be covered by a standard home insurance plan. These include:
War

Wildfire in a high-risk area

Gross negligence

Purposefully set by you (this is insurance fraud)
An Ounce of Prevention Is Worth a Pound of Insurance
Even better than good insurance coverage is preventing a house fire altogether. First and foremost, make sure you have sufficient and functional smoke detectors. You should also keep a fire extinguisher around, especially near the kitchen. According to the National Fire Protection Association, the leading cause of home fires is cooking. The next leading causes are heating, electrical, and lighting systems, so be sure that yours are in good shape.
If you have an older home, it might be wise to hire professionals to preventatively assess these systems in your residence. Don't smoke inside your home, and be careful with plug-in heaters.
FAQ: Home Insurance and Fire Coverage
Yes, most home insurance plans will pay to replace your landscaping if it's damaged by a fire.

Renters insurance, my friend! It's inexpensive for the amount of coverage you get, and some landlords actually require it. Just like for homeowners, make an inventory of your belongings.

This type of insurance isn't the place to skimp, but you might be able to lower your costs a bit. If you're shopping for a home insurance policy, get several insurance quotes before making a decision. Inquire about discounts for bundling your home and auto insurance. And if you're about to cave and install that trampoline the kids have been begging for, you might want to think again. High-risk features like trampolines and pools can spike your annual premium by 10 percent or more.
Don't Get Caught Under-covered
Loss from a fire can be catastrophic—your home, your belongings, and your financial well-being are at stake. Nearly every home insurance policy covers fire, but it's important to know before a catastrophe exactly what's covered and if you have enough protection.
Ready to get better home insurance for a lower price? Try the Insurify home insurance comparison tool. One short and confidential form gets you 6+ quotes from top insurers in your area!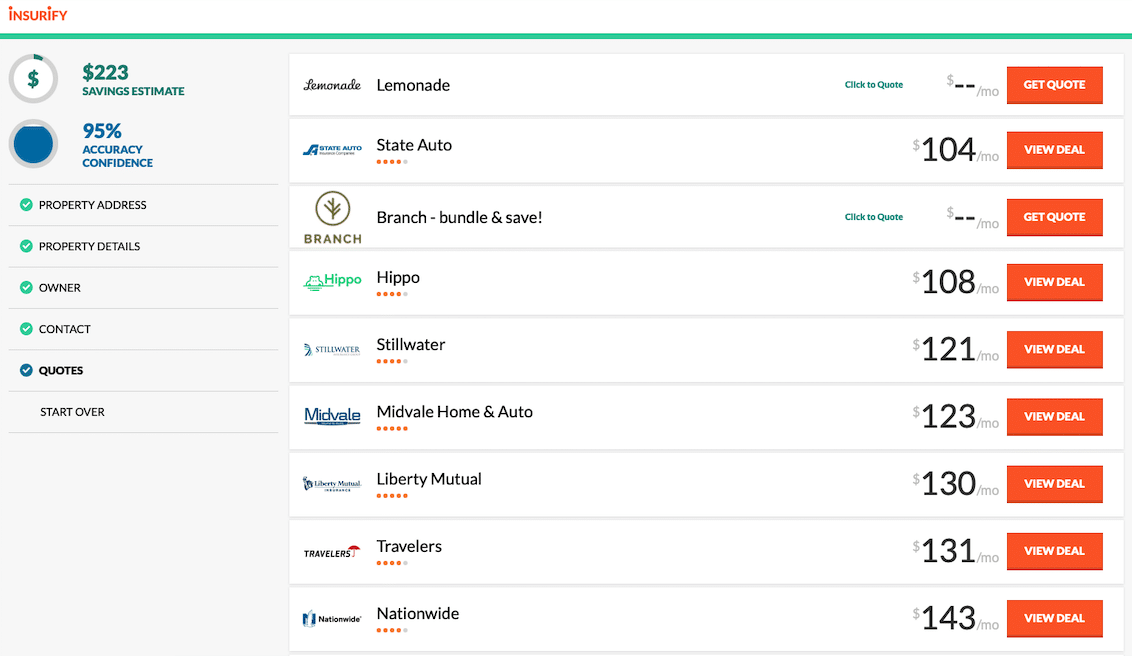 Compare Car Insurance Quotes Instantly
Personalized quotes in 5 minutes or less
No signup required
Data scientists at Insurify analyzed over 40 million auto insurance rates across the United States to compile the car insurance quotes, statistics, and data visualizations displayed on this page. The car insurance data includes coverage analysis and details on drivers' vehicles, driving records, and demographic information. With these insights, Insurify is able to offer drivers insight into how their car insurance premiums are priced by companies.