How much is home-based business insurance?
You can expect to pay $25 to $40 a month for home-based business insurance depending on your location, business revenue, claims history, and other factors.
More than half of all U.S. businesses are operated out of the business owner's home, according to the Insurance Information Institute. And since the beginning of the COVID-19 pandemic, droves of workers began to work from home. However, most traditional homeowners insurance policies won't cover claims related to your home office or home business activities, including personal property and liability coverage.
Standard homeowners insurance policies generally cover up to $2,500 of protection for onsite business equipment including electronics and supplies, and $500 for off-premises protection. They are also unlikely to provide liability coverage for business-related activities and actions, which may endanger your home office and business if you don't have supplemental coverage.
Here's a quick fix to lower insurance costs: compare home insurance quotes with Insurify and find the right provider for you and your home-based business in minutes with Insurify.
Homeowners Insurance vs. Home Business Coverage
Using your home for business purposes? Most standard homeowners insurance policies will not provide adequate coverage to your home-based business. And small business insurance coverage may not get you what you need either. Depending on the nature of your business, you may require additional coverage.
The size and nature of the business operated out of your home will determine what type of business property insurance you may need to obtain to properly protect it. States have differing regulations in regard to what is considered a " home business," as these definitions determine different tax breaks, fees, etc.
Types of Home Business Insurance
Home-based business owners have options when it comes to home business policies. The first form is known as an endorsement or rider. Generally, endorsements/riders come as add-ons to traditional homeowners insurance policies.
Permitted Incidental Occupancy Endorsement
For freelancers who work from home in a secondary office, or other professionals who work outside of the main office most of the time (e.g. contractors, lawyers, bookkeepers, and editors), a Permitted Incidental Occupancy Endorsement (type HO 04 42) is an ideal option. This includes professionals who have a traditional out-of- home office, but also have a supplemental home office used for general business activity like phone calls and paperwork.
When added to a standard home insurance policy, Permitted Incidental Occupancy Endorsement can protect home offices that act as secondary workspaces to a professional. Other professionals can consider an endorsement of this nature if their business is conducted at home on a more limited, part-time basis (e.g. music teachers, bakers, photographers, and crafters).
Note: If you conduct business in a separate building on your property, like a garage, workshop, or shed, your homeowners insurance company may charge extra fees.
Permitted Incidental Occupancy Endorsement
If you opt into a Permitted Incidental Occupancy Endorsement for limited business activity that takes place in your home, you may wonder what your small business or home office is protected from. Of course, coverage limits may be adjusted according to your insurer's coverage options and offerings, but in general, business property coverage will offer liability coverage, business property protection, and other insurance needs. Business liability limits can, in general, be adjusted from $2,500 in coverage to up to $10,000.
It's important to note that not all of your business assets will be covered by Permitted Incidental Occupancies Endorsements. These policies do not include protection against loss of income due to property damage or business interruption, medical coverage, or professional liability insurance. Not all home-run businesses are eligible for Permitted Incidental Occupancies Endorsements due to their unique risks and need for more robust business insurance. These businesses may include auto body shops, daycare centers, catering services, or retail shops.
Home Business Endorsements
While Permitted Incidental Occupancy Endorsement provides coverage for professionals working from home offices on a part-time or limited basis, or as a secondary workspace, Home Business Endorsements (HO 07 01) cover home-based business activity on a much broader scale. Though not an exhaustive business owner's policy, Home Business Endorsements will suffice for most small businesses operated out of a home.
A small business must meet a few criteria to be eligible for a Home Business Endorsement, beyond simply proving that occasional business activities are performed on the premises. Businesses must generate under $250,000 annually, be owned by the same individual as who is named on the standard homeowners insurance policy, operate primarily at the residence, and must not be producers or distributors of food or personal care products (with the exception of some big-name door to door social sales companies like Mary Kay and Avon).
Home Business Insurance Endorsements are feasible options for four main business categories. If your small business fits the above criteria and falls into one of these categories, a home business insurance endorsement might be the right choice for you:
| | |
| --- | --- |
| Crafts | Production and sales of crafts and homemade goods out of a home. |
| Offices | Use of space for business activities including administrative and clerical tasks like phone calls and record keeping. |
| Sales | Sales of non-craft goods out of a household. |
| Services | Businesses offering goods and services like bike repairs, music lessons, or childcare. |
Home Business Endorsements apply to home-based businesses with up to three in-house employees and provide general liability coverage, medical payments, business income and expenses, and business equipment protections. It is important to note that Home Business Endorsements do not provide the same protections as commercial insurance policies, such as professional liability coverage or commercial liability. In some cases, professional liability coverage will be referred to as errors and omissions insurance.
Financial advisors, lawyers, or other professionals who regularly advise clients will want to ensure that their policy of choice does in fact include commercial liability protection, excluding Home Business Endorsements as their best option. Other services related to home-based businesses may not be included, such as landscaping or daycare insurance.
There are additional add-ons to most Home Business Endorsements that can provide other critical coverage to valuable business property. These supplemental coverage options can include protections for valuable papers and records and loss payable provisions, which provide businesses coverage for equipment and property. Extensive coverage can be added to distribution channels associated with a home-based business, like vendors or deliverers.
Beyond Endorsements: Business Owners Policies
Some home-based businesses may find themselves ineligible for Home Business Endorsements.
If that's the case, a Business Owners Policy ( BOP ) is also an option. BOPs provide general liability insurance coverage and property coverage to business owners. Liability coverage can protect a small business owner from lawsuits in the case of bodily injury of an affiliate on their watch. The business property coverage provides protection for documents and records, plus protection for business income and extra expenses.
To be eligible for a Business Owners Policy, your home business must meet the following eligibility criteria:
The operating area must be less than 25,000 square feet

Business must generate less than $3 million annually in revenue

Business cannot fall in one of the following categories

Manufacturing

Banking

Hospitality (bars, pubs, restaurants)

Car storage

Auto repair

Amusement parks
Compare Car Insurance Quotes Instantly
Personalized quotes in 5 minutes or less
No signup required
Homeowners Insurance for Home-Based Business Owners and Employees
An increased percentage of American companies are allowing employees to work remotely from home due to the COVID-19 pandemic. If a business is working remotely, employees can often piggyback onto their employer's business insurance, providing protection against damage on business equipment such as laptops and documents that are being used inside employees' homes.
As an employer with employees, you should look into getting workers compensation insurance. Depending on your business and your location, you may be required to carry this type of coverage.
As an employee, if you're required to use your vehicle for business use, your automobile may be covered by your company's business insurance as well. But, it's important to know that every employer will have its own policies and regulations. Before relying on a business insurance policy to take care of any accidents while you're on the clock, be sure to double-check that you're covered. It's not uncommon to be required to carry your own auto policy.
Further, if you're working from a rented home, you should know that your renters insurance won't cover you for work-related claims. You may need to add a rider to your policy or a separate policy altogether.
Home-Based Business Insurance: Frequently Asked Questions
Firstly, in order to qualify for home-based business-coverage, your small business must be properly declared with your municipality. Once that is squared away, you may be able to tack on protections for your business to your standard homeowners policy.

This can be done by adding endorsements to your home insurance. If your small business requires more coverage than basic endorsements offer, you may need to level-up to a Business Owners Policy or BOP.

Depending on your business's unique needs and your homeowners insurance company's offerings, the types of coverage your Home-Based Business insurance policy will offer will differ.

Most home business policies will offer some sort of general liability coverage and property protection. You may attach supplemental coverage to these policies, such as auto insurance for vehicles used for business purposes, or special records, data, and cyber-security protections.

If you're working from home temporarily or for the foreseeable future, you will want to confirm with your employer that your business-related equipment is protected while being used in your home. We all know accidents happen, but if your toddler accidentally drops a cup of milk on your work laptop, you want to be sure you'll be off the hook before it's too late.

Insurify, the online quotes comparison platform, can help you compare numerous quotes in just two minutes, all for free. Check it out and start saving.
Properly Protecting Your Home-Based Business
Owners of home-based businesses of every size will want to consider what protections their standard homeowners insurance policy offers them, and what they'll want to obtain as additional protection. In order to properly protect your business' equipment, assets, and liability, proper insurance is necessary.
To compare standard homeowners insurance and business insurance quotes, use Insurify to compare multiple homeowners insurance quotes in minutes. Make sure you find the best homeowners insurance policy that covers all your business needs. Have more questions? Speak to one of our licensed insurance agents ready to help you protect your business and your home. We're here when you're ready.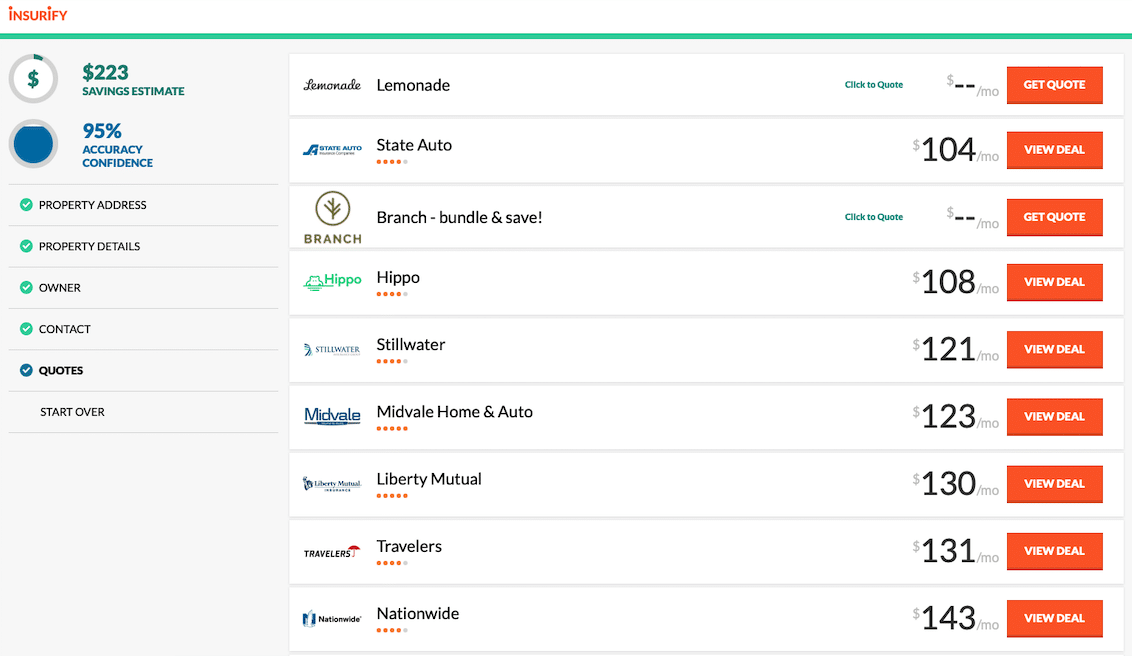 Compare Car Insurance Quotes Instantly
Personalized quotes in 5 minutes or less
No signup required
Data scientists at Insurify analyzed over 40 million auto insurance rates across the United States to compile the car insurance quotes, statistics, and data visualizations displayed on this page. The car insurance data includes coverage analysis and details on drivers' vehicles, driving records, and demographic information. With these insights, Insurify is able to offer drivers insight into how their car insurance premiums are priced by companies.