What do you need to make sure your mobile home is protected against floods?
Be sure to have an additional insurance policy that covers repairs, replacements, and your personal belongings in the case of water damage.
Mobile homes can be an exciting place to call home. They offer a way to live comfortably while still providing an opportunity to move around if need be. Another great advantage is the affordable cost, allowing people to enjoy homeownership without having to pay property taxes or feeling stuck living in one area. Also known as trailer homes, RVs, motorhomes, or caravans, mobile homes offer the best of both worlds when it comes to comfort and a change of scenery.
Despite their name, they are usually left permanently or semi-permanently in one location but can be moved if needed. Sometimes, mobile homes need to move due to legal reasons. Built-in factories and transported to the final site, usually by a tow truck or on a trailer, they can be used as permanent homes or for vacations or short-term accommodations.
However, temporary or not, homeowners of all types need to consider purchasing a home insurance policy to protect their personal property against risk or damage. It is especially necessary to have insurance coverage when living in a high-risk area, like a flood zone.
It is important to consider mobile home coverage that includes other optional coverages that can protect specifically against water damage. While mobile homes offer flexibility, different types of caravans still include the risk of living somewhere that may be more prone to natural disasters and property damage. Read here for more on how flood insurance works.
It's important to understand what insurer and which homeowners insurance policies are right for you. With a number of mobile home insurance policies on the market, it's easy for the right policy to get lost in the mix. Insurify is here to help make sure you have the coverage options you need.
Mobile Home Insurance 101
The insurance policy you need is determined by what you use your mobile home for. For example, most caravans are used as vacation homes, which require a static caravan insurance policy. If you live in your mobile home all year long and it's not just for vacations, you will need a park home policy. Some insurance companies will also provide mobile home insurance even if your caravan is used as a permanent residence, although homeowners must hold a residential license and have their mobile home located in a private park.
Plus, additional flood insurance may be needed on top of a mobile home insurance policy. While it is not required if you have already completely paid off the mortgage on your mobile home, there are some reasons it might be necessary. If your mobile home is in an area that is prone to floods, or a Special Flood Hazard Area (SFHA), then flood insurance is probably required. This also matters if you have a mortgage through a lender regulated by the government. But even if you have already paid off the loans on your home or you live in a moderate- to low- risk area, it is still recommended to get flood insurance added to your mobile home insurance policy.
Mobile Home Flood Coverage
First and foremost, mobile homeowners need to understand what their policies and dwelling coverage entails. Owning mobile or manufactured home insurance can protect personal belongings from theft, as well as the structure and permanent foundation from vandalism, but there are coverage limits when it comes to water damage.
In the case of water damage, property damage and personal belongings are only covered if the cause happened suddenly and accidentally, as well as internally within the structure. For example, if a pipe bursts within your home, then mobile home insurance will cover water damage.
Unfortunately, though, water damage caused by natural disasters, like floods, is not covered by a mobile home insurance policy. Flood coverage is a separate insurance policy that needs to be purchased if your mobile home is in a high-risk area prone to floods and flood damage.
You should know if your mobile home's site is at risk of flooding. Homeowners should be aware of the history of their mobile home park, which can be provided by the site owners. Government websites, like that of the Federal Emergency Management Agency ( FEMA ), can also provide information regarding national flood insurance programs and where flood zones are. The problem has been getting worse over the past few years, so it is important to even check areas that may not have had problems before.
If your mobile home is in an area at high risk of flooding, be sure to get a home insurance quote that includes additional flood coverage. Both renters and homeowners might notice their insurance rates go up, depending on their area of residence, like coastal North Carolina or Florida.
Compare Car Insurance Quotes Instantly
Personalized quotes in 5 minutes or less
No signup required
Why You Need Coverage
Even if you don't think you need flood insurance, water damage from floods can still happen outside of flood zones. As a matter of fact, more than 20 percent of flood claims happen outside of high-risk areas that are prone to floods. About 1 in 4 flood claims actually happen in low- to moderate- risk areas, so even when you least expect it, you could be hit by flood damage.
It's important to have flood insurance because it provides liability coverage, protecting you and your loved ones in case there are any physical injuries or damage to your personal property caused by a natural disaster. Having personal liability insurance on top of your home insurance policy may be seen as an extra cost, but it will cover the legal cost of damages and the actual cash value of personal belongings should these be destroyed by water damage.
The replacement cost coverage is just one perk. It can also result in the homeowner or renter paying a lower deductible should a natural disaster happen. The deductible is the amount that the policyholder pays out of pocket before the insurer covers any of the expenses.
In the United States, it is 27 times more likely for homeowners or renters to experience a flood than a house fire. While these disasters are rare, it's important to be prepared. Floods happen to be the number one natural disaster across the country, especially in coastal areas with tropical and warm climates, like Florida and North Carolina. As mentioned before, homeowners and renters insurance policies typically do not cover flood damage.
Additional flood insurance may be especially important for you. Be sure to ask insurance agents what the options are for getting additional flood coverage when asking about a home insurance quote.
Flood Insurance Protection
Before purchasing an additional flood insurance policy, make sure that your mobile home is eligible. It must meet the following criteria according to the National Flood Insurance Program ( NFIP ):
Your mobile home must be attached to a permanent foundation and built on a permanent frame, ensuring it is sturdy.

In the case of tractor-trailers, these types of mobile homes only have effective flood insurance if:

Its wheels have been removed

It is built on a permanent frame

It is attached to a permanent foundation
Once you know your mobile home is eligible for flood insurance, you can go ahead and buy an additional policy for extra coverage against water damage.
It's important to recognize that your extra flood insurance can protect your mobile home in three main areas:
Contents coverage: This will protect your personal belongings inside your mobile home. In the case of a flood, you will not be held responsible for the entire replacement cost coverage of your possessions. A federal NFIP plan can cover up to $100,000 in contents coverage, making sure your belongings are safe in the case of flood. Alternatively, homeowners or renters can opt for a private insurer that may provide additional benefits, like reimbursing items for what they cost today, even if the item was purchased years ago.

Building coverage: This will protect the physical structure of your mobile home against flood damage. If using a federal NFIP policy, building protection can be covered up to $250,000. If not using a federal NFIP policy, there are options for getting private flood insurance. In this case, private insurers usually offer more building coverage and have fewer limits, but this might not be the best option if you are just looking to insure a small mobile home. NFIP policies have a maximum, which may be all you need for a smaller home.

Loss of use coverage: This will pay for additional living expenses if a flood happens to damage your mobile home so badly that you cannot live in, or use the home. This covers relocation costs if water damage forces you to live somewhere else temporarily, like a hotel. However, it is important to note that this benefit is only available through private flood insurers.
Throughout all of these coverage areas, note that there are two types of flood insurance that homeowners or renters can purchase to protect their mobile homes from water damage. Be sure to ask your insurance agent your options when comparing federal NFIP policies and private insurance policies. The coverage limits and cost for each type of policy vary depending on location and the type of mobile home you would like to insure.
Frequently Asked Questions
According to the National Flood Insurance Program (NFIP), there are coverage limits to flood insurance. Water damage caused by moisture, mildew, or mold that the property owner could have avoided is not covered. Also, property damage caused by earth movement, like landslides, isn't covered, even if it was caused by a flood.

Modular homes are built in sections, or modules, that are built off the property site and in an indoor facility. The separate parts are usually put together with cranes and can no longer be moved once assembled. A manufactured home is also known as a mobile home or trailer. These are usually completely built-in factories and can be transported, as they are not built on permanent foundations. They usually include wheels that can be detached once it arrives at the home site.

The average annual cost of an NFIP flood insurance policy was around $700 as of 2018. As the United States has been experiencing more natural disasters in recent years, insurance quotes may vary, especially depending on state. Flood insurance policies depend on what flood zone the property is located in, whether it is a mobile home or not. People living in lower-risk flood zones might be eligible for a cheaper Preferred Risk Policy through the NFIP.
Protect Your Mobile Home Against Flood Damage
Flood damage is one of the most expensive forms of property damage, and it's common. In addition to warping and destroying property, flood damage can cause other problems, like rot and mold. In the worst cases, flood damage can destroy your home and everything in it.
Even in the case of mobile homes—whether they are stationary or moving, permanent or temporary, in a high-risk or low- risk area —both homeowners and renters should consider purchasing a flood insurance policy in addition to a pre-existing homeowners insurance policy.
Insurify is here to help you save. Check out the Insurify rate comparison tool. Our confidential form allows you to compare policies from the best providers in your area. It's free and easy to use—just enter your ZIP code to get started and keep your home safe from harm.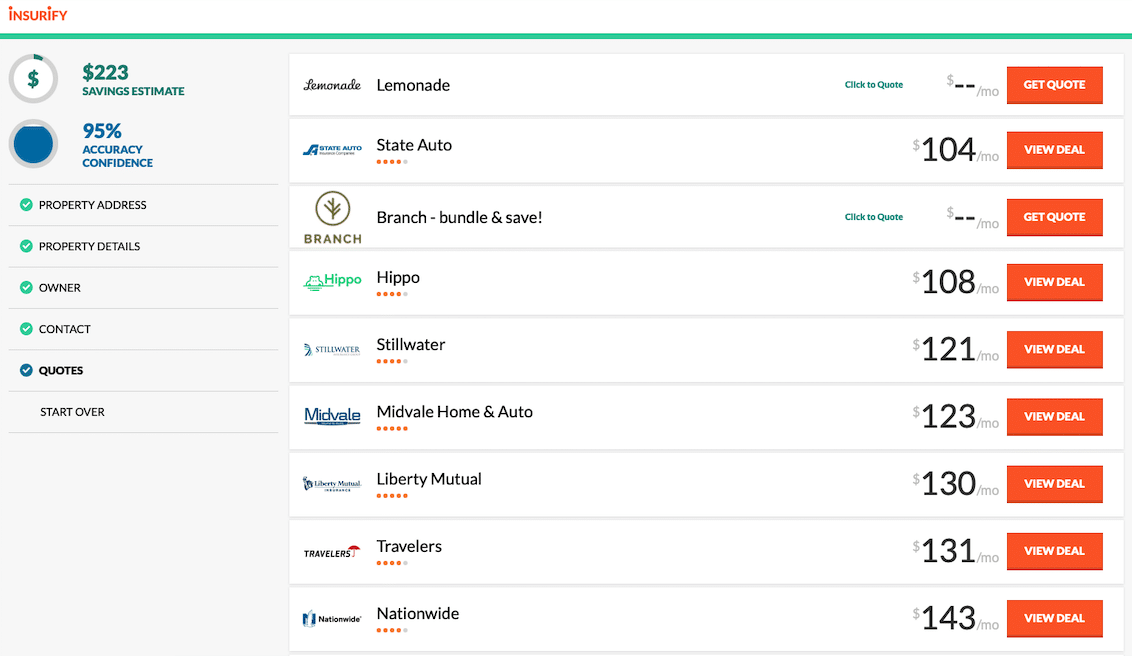 Compare Car Insurance Quotes Instantly
Personalized quotes in 5 minutes or less
No signup required
Data scientists at Insurify analyzed over 40 million auto insurance rates across the United States to compile the car insurance quotes, statistics, and data visualizations displayed on this page. The car insurance data includes coverage analysis and details on drivers' vehicles, driving records, and demographic information. With these insights, Insurify is able to offer drivers insight into how their car insurance premiums are priced by companies.