What is a FAIR plan?
A FAIR plan is a last-resort option for homes that are considered high-risk and uninsurable by insurance companies in the open marketplace.
Have your home insurance rates gone up? Just shop for a new plan elsewhere.
Moving states and your current insurance doesn't serve that area? Search for a new insurance provider.
But what if your dream home is smack dab in Tornado Alley or you inherit your grandma's vacation home, complete with water damage, along the Florida coast? That poses a bit of a challenge.
Getting homeowners insurance or auto insurance is something that many people take for granted. It's basic-level adulting and the internet makes it so much easier than it was for our parents. But if you're among a small group of people who have homes in hard-to-insure locations, getting a good insurance plan is easier said than done.
Fortunately, more than 30 states have Fair Access to Insurance Requirements (FAIR) plans, so you can obtain insurance coverage on your home if you're turned down by everyone else. The coverage isn't as comprehensive, and there are some eligibility requirements to meet, but it's a last-resort program that has helped numerous families get insurance coverage on their homes.
Understanding FAIR Plan Insurance
FAIR plans date back to the 1960s and were created as a way for people in coastal and urban areas to have access to a basic homeowners insurance policy even when traditional insurers denied coverage due to risks associated with the home's location. These policies typically offer bare-bones coverage that may exclude liability and personal property insurance.
FAIR plans are available in many states, including Pennsylvania and New York. They are shared-market plans because their costs are subsidized by tax dollars and private insurance agencies to aid in risk mitigation. Think of it as an insurance pool, whereby many people band together to help meet a need that's not available on the regular insurance marketplace.
What Do FAIR Plans Cover?
FAIR plan policyholders are protected in four main areas:
FAIR policies cover fewer perils and give less coverage than regular policies in the insurance industry. The exact coverage amounts vary from state to state. Personal liability coverage is included in New Jersey and Delaware but not in California or Oregon.
What Qualifies a House As "High-Risk?"
When private insurance companies decide that a house will cost them more money in paying out claims, they will refuse to underwrite a policy for it. There are four main reasons why a house might be uninsurable:
It's in an area with extreme weather, like tornadoes or hurricanes.

The surrounding area has a high crime rate.

The house is in poor condition.

Too many claims have been made on the home.
In the case of homes built in areas prone to weather-related damage, there may be little you can do to remedy the situation. There may be some updates you can make to the house and property in order to reduce the amount of potential damage. This could include keeping trees trimmed, installing storm shutters, and repairing the roof.
In many situations, such improvements are useful and will protect your home. However, there's always the chance that the home is directly in the path of the storm and totally destroyed. This is why insurers are less likely to insure homes in areas that have a history of extreme weather events.
A home in an area prone to vandalism and crime is hard to insure because the insurance company assumes it will have to pay out insurance claims to the property owners. Having a security system in place may help you get a home insurance policy with private insurers, but you'll pay more for your basic property insurance than homeowners in safer neighborhoods.
When a home is considered high-risk because of its condition, in most cases, this is an obstacle that can be overcome with some time, money, and sweat equity. The underwriting association will tell you what needs to be fixed in order to be insured, so it's just a matter of getting it done. You can opt to DIY if you're Chip and Joanna Gaines wannabes, or you can hire pros who may get it done faster.
The final reason a house might be high-risk could be something totally unknown to you and beyond your control. Insurance companies have access to the Comprehensive Loss Underwriting Exchange (CLUE), which has records of all claims against a house. If they determine that there have been too many in too short a time span, they will not give you a policy.
How to Find Insurance for High-Risk Homes
So, what do you do if you find yourself wanting to buy a home that's in a high-risk area? Or what if, after making a claim following a recent windstorm, you were dropped by your insurance? Before you start looking into FAIR plan coverage, there are a few things you can do to see if getting standard insurance is an option.
Call your current homeowners insurance carrier. When buying a new house, see if your current insurance company will work with you on this new home. Also contact the insurance companies you have your auto and life insurance policies with.
Ask around the neighborhood. In either instance, a new home or your current one, your neighbors may be in the same situation. Talk to a few of them to see which insurance policy they use.
Talk to an insurance agent. Agents have many resources available to them that may be able to help you find a policy through the private insurance market. Typically, they'll have large networks with many connections, which could lead them to finding a local or specialty insurance carrier that will work with you.
Negotiate with a homeowners insurance company. A little negotiating can go a long way. You can ask for a higher deductible or offer to go above and beyond what they require for repairs or upgrades to ensure the home's safety and security. It never hurts to ask and offer options that are mutually beneficial.
Once you've exhausted all of these options without success, it's time to consider a FAIR plan policy. Go to your state insurance commissioner's website to find the phone number of the FAIR plan association in your state. Contact them to begin the application process.
Compare Car Insurance Quotes Instantly
Personalized quotes in 5 minutes or less
No signup required
Requirements for Getting FAIR Plan Insurance
Each state's requirements for getting dwelling coverage through the FAIR plan will be different, but there are some basics that are similar across the board.
Provide proof of nonrenewal or cancellation of your current policy.

Show proof that similar coverage would be a certain percent more expensive than FAIR plan pricing.

Make all improvements that are required in order to reduce risk.

The home must be occupied.

There must be no open insurance claims.

You cannot have dogs that fall under their restricted breeds.
Just meeting these requirements doesn't guarantee coverage. If you still cannot find adequate coverage for the home, and you haven't closed on it, it's probably best to resume your search for a home. The alternative, having a home without insurance, is generally not an option unless you pay cash for it. Even then, it's inadvisable.
FAIR Plan Frequently Asked Questions
For homes that are deemed uninsurable by traditional insurance companies and your state's FAIR plan, making the requested repairs and upgrades should help it qualify. Living in a home without insurance is not advisable, but if you pay cash, you won't have to meet this requirement of mortgage lenders.

The FAIR plan does not help homeowners find lower-cost homeowners insurance. It's a last-resort option for those with homes that are difficult to insure. Coverage is not as robust as a plan you can get through the insurance marketplace.

Look on your state insurance commissioner's website. If your state does have a FAIR plan (not all do), you will find application requirements and directions on how to apply.
Conclusion: Get Homeowners Insurance Quotes Online in Just Minutes
Until you know for sure that you can't get a policy for your North Carolina or Florida beach home, it's simple to get home insurance quotes from multiple insurance providers. Just enter the requested data about your home, and you'll be matched with plans that might be a fit for your home insurance needs.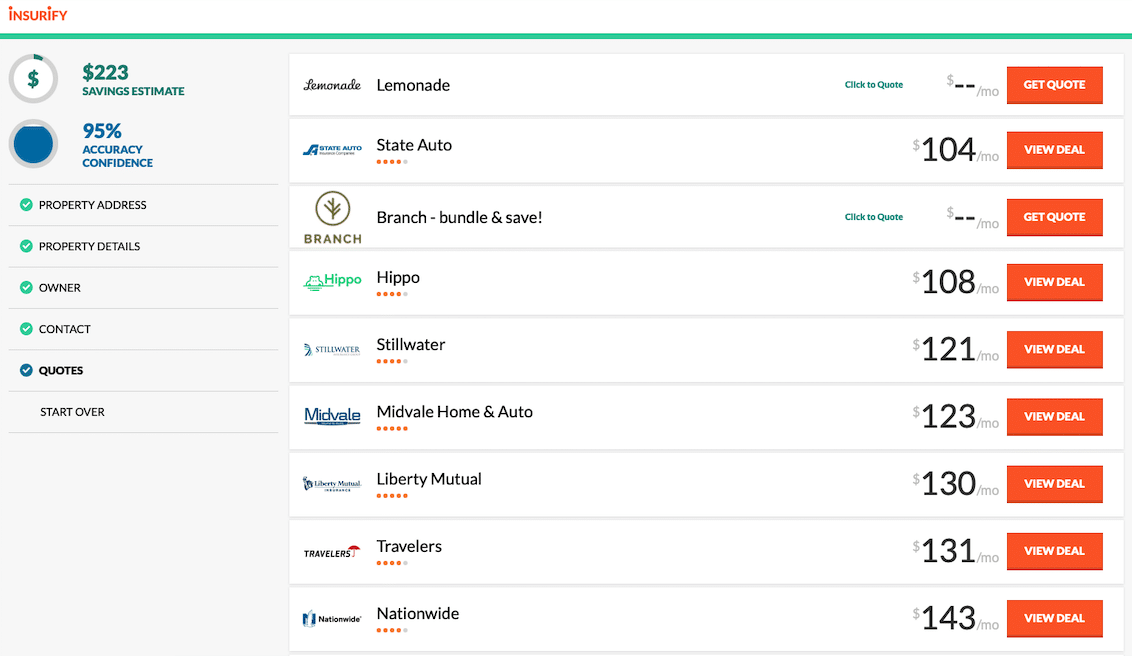 Compare Car Insurance Quotes Instantly
Personalized quotes in 5 minutes or less
No signup required
Data scientists at Insurify analyzed over 40 million auto insurance rates across the United States to compile the car insurance quotes, statistics, and data visualizations displayed on this page. The car insurance data includes coverage analysis and details on drivers' vehicles, driving records, and demographic information. With these insights, Insurify is able to offer drivers insight into how their car insurance premiums are priced by companies.