Water damage is a common source of homeowners insurance claims.
Every year, about 2 percent of insured homes file a homeowners insurance claim due to water damage or freezing, according to the Insurance Information Institute.
But not all of those claims will be covered. Whether your home insurance claim is paid or not depends on what caused the water damage and where the water came from. Here's how insurance providers decide which water damage claims are covered by your home insurance policy.
Get a new quote on homeowners insurance in minutes with Insurify, an easy-to-use tool that lets you compare quotes for home, auto, and life insurance from multiple insurers!
Types of Water Damage Covered by Insurance
There are two kinds of coverage that might be included in your policy. Read your policy to see what the coverage limits are and what kind of deductible you'll have to pay before these kick in.
Dwelling coverage: This type of insurance coverage helps pay for damage to the structure of your home if it's caused by a type of damage that's covered by your policy—for example, damage to a wall from a burst pipe.
Personal property coverage: This helps repair or replace your belongings if they're damaged by a covered type of damage, like a laptop that was irreparably damaged when a pipe bursts.
A standard homeowners insurance policy covers about 16 types of damage or perils. The common thread with covered perils is that water damage has to be sudden and internal —in other words, it can't have touched the ground outside. This could include things like:
Rainstorms

Snowstorms

Plumbing problems, including burst pipes, broken pipes, or frozen plumbing

Water damage caused by putting out a fire

Leaks in the roof (although the homeowners policy would typically only cover the inside of the home, not the actual roof)

Accidental overflow of appliances or fixtures

Mold, if it's caused by a type of water damage that's covered

Vandalism
Filing a claim for mold damage can be tricky because not all mold is covered. Floods and gradual damage can cause mold, but these sources wouldn't be covered. Neither would mold that grows because of a humid environment, like what you might find in your bathroom or basement. An insurance adjuster will evaluate your mold claim and determine whether your policy covers it.
Types of Water Damage Not Covered by Insurance
Usually, if it's not covered, it's because the water damage wasn't from an accident or it wasn't sudden and unexpected. Your homeowners insurance won't cover water damage from sources like:
Ground seepage

Water backup or sewer backup from outside

Floods

Neglect or lack of maintenance that led to a leak
As a rule of thumb, water damage is usually covered if it hasn't been happening over an extended period of time. A burst pipe is covered, but not a pipe with a slow leak, even if you just discovered the leaky area. And the pipe can't have failed because of regular wear and tear —you're responsible for routine maintenance on your home, even if you have insurance.
Another thing to remember is that even if the damage itself is covered, the source of the water usually isn't. So the washing machine or dishwasher that sprayed water into your home because of a failed connection won't be covered if they're damaged, but the policy should cover damage caused by the faulty connection.
A special note on flood damage: it's never covered by a standard policy, but you can buy separate flood insurance. Flood insurance is a good idea if you live in an area where flooding is common. See the National Flood Insurance Program for details.
Compare Car Insurance Quotes Instantly
Personalized quotes in 5 minutes or less
No signup required
How to Make a Successful Water Leak Insurance Claim
To make a successful water damage claim, you will need to prove that the water damage was caused by a covered peril. Here's how to do that.
Take pictures. Make sure you have photos of the entire area that was affected and everything the water damaged. Also take pictures of wherever the water came from, such as the broken pipe. Dig out any photos you have of the damaged area from before the incident—that way, you can show the insurance company what it looked like before. Photos are also helpful if you have mold issues in the future so you can prove that the mold is from the water damage, not from you neglecting it.

Answer the insurance company 's questions. Your insurer will have questions about your claim to help determine whether the damage is covered by your policy. They'll also send out an adjuster to look at the damage in person. If you have to make temporary repairs before then, take pictures of the damaged area before and after the repairs and keep the receipts for repair materials.

Decide whether to hire a contractor. You can have a contractor evaluate the damage to your home and give you a cost estimate for repairs. If you take this route, you can use the estimate to negotiate with your insurer if their offer is too low.

Agree on the cost of repairs. After you and your insurance company have reached a settlement to cover the repair cost, they will usually send you half of the payment up front and the last half after the repairs are done.

Pay your deductible. All policies come with a deductible, which you'll have to pay before the insurance company will cover the rest of your loss. Sometimes this means that smaller losses won't be paid by the insurance company at all because the amount you lost was lower than the deductible amount you chose when you bought your policy.

Keep your documentation. Save the photos you took of the water damage and all of the documents from your claim. You will need them if mold grows in the future to prove that the mold was from the water damage event, not neglect.
Frequently Asked Questions About Water Damage
That depends. Did the hot water heater cause the damage? If so, it probably won't be covered—the source of the water is usually not covered by homeowners insurance. But if something else caused water damage that affected your hot water heater, it may be covered.

No, a standard homeowners insurance policy won't cover flooding. You need a separate flood insurance policy to cover flood damage.
Water Damage Coverage: The Bottom Line
Homeowners insurance covers water damage—but only sometimes.
Your water damage claim will likely be covered if it's the result of one of the 16 covered perils. If it was caused by you neglecting maintenance or it happened over an extended period of time, it likely won't be covered.
All insurance policies are a little different. Use Insurify to compare homeowners insurance quotes from multiple insurers in just a few minutes and find the policy that fits your home best.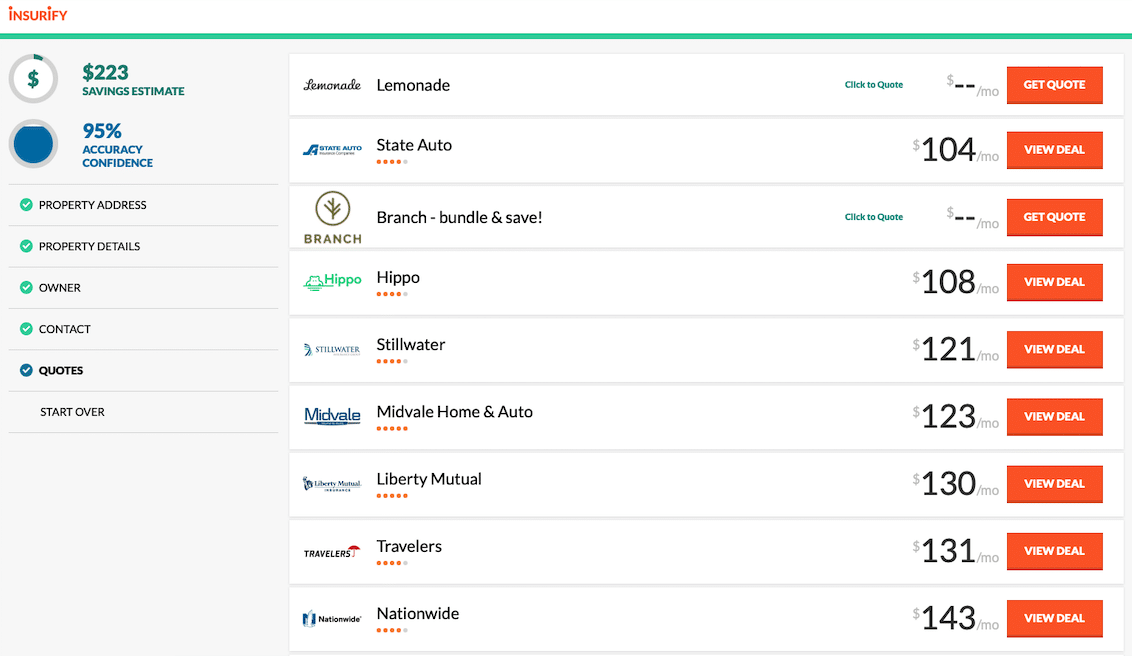 Compare Car Insurance Quotes Instantly
Personalized quotes in 5 minutes or less
No signup required
Data scientists at Insurify analyzed over 40 million auto insurance rates across the United States to compile the car insurance quotes, statistics, and data visualizations displayed on this page. The car insurance data includes coverage analysis and details on drivers' vehicles, driving records, and demographic information. With these insights, Insurify is able to offer drivers insight into how their car insurance premiums are priced by companies.