Homeowners insurance can cover costs to rebuild, repair, or replace your home if there's a fire, theft, or other property damage. But what about catastrophic events? Most homeowners are surprised to discover that standard insurance coverage may not protect against floods, earthquakes, or other devastating situations.
You may need to purchase a catastrophe insurance policy to get the best protection for your home. What is catastrophe insurance? And does it provide home and property insurance? Discover what you need to know in this catastrophe insurance guide for homeowners.
To protect your home, Insurify can help you get the right coverage at an affordable price. Our easy-to-use tool makes it easy to compare homeowners insurance rates and find the right policy for you and your family.
Catastrophe Insurance 101
Catastrophe insurance protects homeowners and small businesses against disastrous events. A catastrophe is a natural or human-made disaster that is unusually severe.
Because the damage can be widespread and extreme, many standard homeowners insurance policies don't protect against catastrophe risk.
It's comparable to a catastrophic health plan, a specific type of health insurance plan covering healthcare costs related to tragic circumstances, such as COVID-19. For instance, a supplemental policy that covers cancer treatments qualifies as a catastrophic health plan.
Catastrophe insurance for homeowners is similar. In the event of a tragic event or natural disaster that damages your home, catastrophic insurance can provide the protection you need against significant financial loss.
How It Works
Homeowners insurance provides certain types of coverage for fire, theft, and accidents. Most insurers have an exemption for damage and destruction due to catastrophes.
If your home suffers property damage caused by a catastrophe, you'll start by working with your insurance agent to determine whether your homeowners policy will cover the loss.
You may need to rely on additional disaster coverage, such as flood or earthquake insurance, if available. For instance, if you have flood damage, you'll work with your agent to file an insurance claim through the National Flood Insurance Program (NFIP).
Like the coinsurance you pay with your health insurance plan, you generally must pay a deductible when filing a catastrophe claim.
Deductible amounts can vary depending on the policy you choose. Because affordability is an essential consideration for policyholders, consider choosing a high deductible to save money on your policy premiums.
Insurers also require you to practice mitigation to lessen the impact of the disaster. If you're in a flood zone, mitigation could include elevating your HVAC, ductwork, and electrical systems to protect against flood damage. In hurricane-prone areas, you might be required to install hurricane shutters to protect windows and glass doors.
Compare Car Insurance Quotes Instantly
Personalized quotes in 5 minutes or less
No signup required
Natural Disasters and How to Protect Your Home
The number of catastrophic events in the U.S. has been on the rise in recent years, and 2019 had the highest number of reported catastrophes on record. Standard home insurance doesn't always protect your home and personal property from catastrophe losses. Here are eight types of natural disasters with recommendations on how to best protect your home.
1. Floods
Standard homeowners policies don't cover flood damage. To protect your home in a flood-prone zone, purchase flood insurance from the federal government through the NFIP. Start by contacting your agent or visiting floodsmart.gov —the official site of the NFIP—to learn more.
2. Earthquakes
Homeowners insurance and renters insurance don't cover damage to your home from earthquakes. Instead, you could buy earthquake insurance as an endorsement to your existing homeowners policy for an additional premium.
3. High Winds
Most insurers include high wind coverage in their standard homeowners policy. Protection typically extends to windstorm and hail damage, so an additional policy isn't usually needed.
4. Severe Thunderstorms
Your homeowners insurance generally covers damage from severe thunderstorms, including wind, hail, and lightning. Most policies cover smoke, fire, and damage to electronics or appliances from lightning strikes or power surges.
5. Tornadoes
Tornadoes come with high winds, and your standard policy is usually enough to cover any loss you might have. Because policies can vary, it's best to check yours for specific perils.
6. Wildfires
Wildfires are a natural disaster that your homeowners policy will generally cover. If you're in a wildfire-prone area, your insurance company may raise rates or deny coverage in certain instances.
7. Hurricanes
How your insurance plan handles hurricanes depends on the damage caused. There is no stand-alone hurricane insurance. Instead, you must rely on a combination of different coverages.
For instance, your standard homeowners policy will likely cover wind damage. But additional flood insurance would be required for damage caused by storm surges or wind-driven water associated with the hurricane. Also, depending on where you live, your policy may require a separate, and higher, deductible for hurricanes.
8. Ice Storms
Winter storms are common in the northern and eastern parts of the U.S., including states like New York, Michigan, and Minnesota. You rarely need separate or additional insurance to cover damage from ice storms or heavy snow.
Frequently Asked Questions - Catastrophe Insurance
Standard homeowners insurance is typically enough to cover most types of damage. When underwriting your policy, your agent may require catastrophe insurance if you're in an area prone to natural disasters, such as flooding or earthquakes. Talk with your agent to learn more about the coverage types recommended for you.

Before you purchase catastrophe insurance, check with your agent or insurance provider's customer service department to find out what your current home insurance policy covers. If you need additional insurance, the best home insurance companies can offer an endorsement or a separate policy to get the right protection for your home.

Renters insurance is necessary to cover your personal belongings if they are stolen or become damaged. However, renters insurance, similar to homeowners insurance, typically excludes certain types of catastrophic or natural disaster damage. Flood damage is one example where a renter could benefit from catastrophe insurance.
Catastrophe Insurance for Homeowners: The Bottom Line
Natural disasters, "acts of God," and other catastrophes can cause substantial property damage and adversely affect you as a homeowner. It's crucial to understand what your home insurance policy covers before a disaster comes your way.
If you need catastrophe insurance, it's better to know now so that you have time to get a policy in place before a loss occurs. Talk with your insurance agent to discuss coverage options and mitigation strategies needed to protect against loss.
Use Insurify, the best way to compare home insurance premiums for your property. Our comparison tools make homeowners insurance shopping (and saving) simple so you can be on your way to enjoying your newly insured home in no time.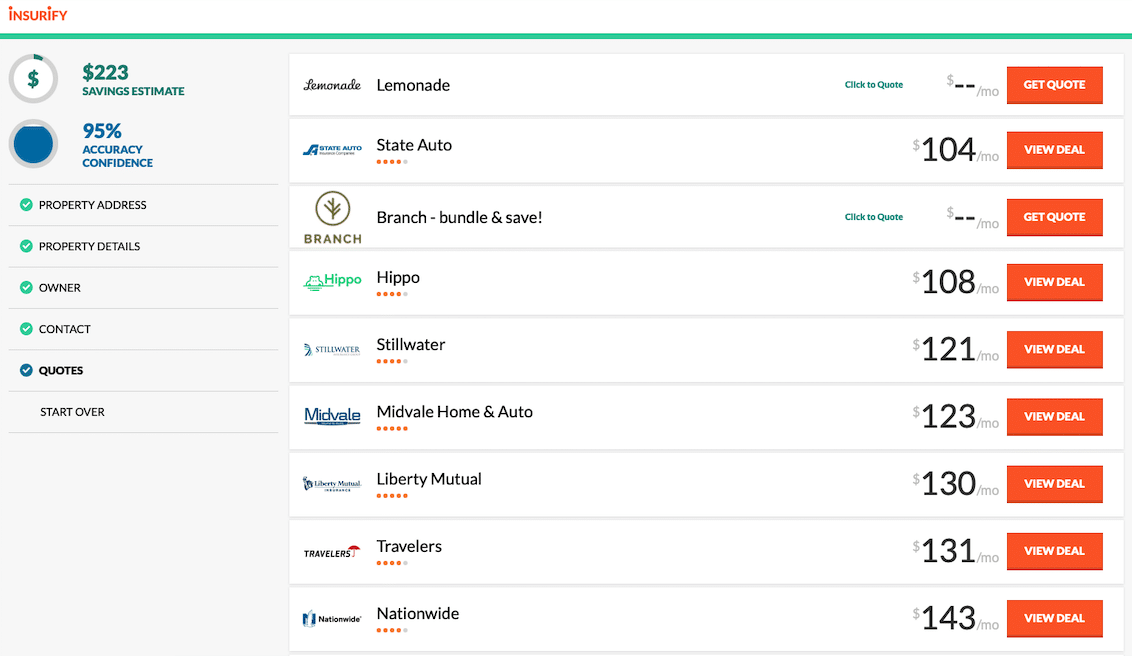 Compare Car Insurance Quotes Instantly
Personalized quotes in 5 minutes or less
No signup required
Data scientists at Insurify analyzed over 40 million auto insurance rates across the United States to compile the car insurance quotes, statistics, and data visualizations displayed on this page. The car insurance data includes coverage analysis and details on drivers' vehicles, driving records, and demographic information. With these insights, Insurify is able to offer drivers insight into how their car insurance premiums are priced by companies.