What's the best way to buy flood insurance?
Your insurance company or local independent agent is typically the best place to start when you're ready to buy flood insurance.
Flooding is the most common and costly natural disaster, and it isn't covered by home insurance or renters insurance. Yet, only 15 percent of homeowners have flood insurance, according to the Insurance Information Institute (III).
Mortgage lenders can require you to buy a policy before closing on a home. But you can get a policy even if you aren't in a flood zone.
If you're ready to buy flood insurance, here's what you need to know.
Why Buy Flood Insurance?
Many Americans love to live near bodies of water. A home near a lake, river, pond, or ocean can be at high risk for flooding.
But you could also be at risk if you don't live in a flood zone —nearly 25 percent of all flood claims come from areas with a low-to-moderate risk of flooding, according to the Federal Emergency Management Agency ( FEMA ).
The damage can be costly. A 2,500 square foot home can sustain over $52,000 in damage from just six inches of water.
The trouble is that many people don't realize that standard homeowners or renters insurance doesn't cover flood damage. You could be left to pay to repair or rebuild your home and belongings on your own.
Flood insurance specifically protects against flood loss. A flood policy can soften the blow and safeguard you and your family from financial ruin.
Understanding What Flood Insurance Covers
Because homeowners and renters policies don't cover damage caused by flooding, understanding what a flood policy covers is crucial to making sure you have the protection you need.
First, know that flood insurance only covers damage directly caused by flooding. If you had a sewer backup that flooded your house, your policy wouldn't cover it. But if the sewer backup was a direct result of flooding, your flood policy would kick in and cover the loss.
According to Floodsmart.gov, flood insurance is available in two types of coverage: building coverage and contents coverage.
Building Coverage
Building coverage is similar to the dwelling coverage of a homeowners insurance policy. For example, it can protect your:
Home systems like electrical and plumbing

Furnaces and water heaters

Refrigerators, stoves, and other built-in appliances

Carpeting

Cabinets, paneling, and bookcases

Window blinds

Foundation walls and staircases
Contents Coverage
Contents coverage is pretty much what it sounds like—coverage for the contents of your home. It typically covers your:
Clothing, furniture, and other personal belongings

Curtains

Microwave, washer, and dryer

Portable and window air conditioners

Carpets that aren't permanently installed

Artwork, jewelry, and other valuables
Compare Car Insurance Quotes Instantly
Personalized quotes in 5 minutes or less
No signup required
How to Buy a Flood Insurance Policy
Not so long ago, you didn't have much choice about where you bought flood insurance—the federal government 's National Flood Insurance Program ( NFIP ) was the only option.
However, the NFIP launched a Write Your Own Program that introduced private flood insurance providers as an option in 1983.
Now, you have different paths to get coverage. But how and where you buy flood insurance can depend on your living situation. Homeowners, renters, and business owners have different needs and coverage options to consider when buying a policy.
Homeowners
Homeowners looking for flood insurance should get a policy that has both building property coverage and contents coverage. That way, if disaster strikes, the policy protects the structure of the house and personal property.
If you're buying a home in a high-risk flood area, your lender can require flood insurance. Your lender may have a list of recommended flood insurance providers for you to review if you're not sure where to start.
But you can get a policy even if your lender doesn't require it or if you've lived in the home for years.
In that case, contact your current homeowners insurance agent to ask about your options. They may participate in the NFIP or offer a private flood insurance policy.
Renters
Flood insurance is almost never required for renters. However, standard renters insurance does not include flood coverage.
If you're a renter, your flood policy doesn't need to include building coverage. Instead, your landlord is responsible for insuring the structure of the building. But having your furniture, clothing, electronics, and other belongings protected by flood insurance can be a relief.
Your renters insurance provider may offer an endorsement for flood coverage at an extra cost. You may also buy a policy from the NFIP.
Business Owners
Natural disasters can be devastating to businesses. Commercial coverage typically includes lightning and wind damage, but it does not include flood damage —even if a hurricane caused the flooding.
Whether you run a business out of your home or from a separate location, you should consider buying flood insurance.
Business owners can get flood insurance coverage from private insurance companies or the NFIP.
Paying for a Flood Insurance Policy
The flood insurance cost can deter some people from buying needed coverage. However, it might be less expensive than you think.
The average cost of flood insurance in the U.S. is $700 per year, according to FEMA. Of course, your insurance rates may be higher if you live in a high-risk flood zone.
Policyholders have several options when it comes to paying for a flood insurance policy:
Credit card

Cash

Check or money order

Escrow account
Your lender might establish an escrow account to manage the cost of homeowners insurance and property taxes. At the lender 's discretion, they may also add flood insurance premiums to the escrow account.
Keep in mind that your flood policy won't typically renew automatically. Make a note of your policy expiration date to make sure your coverage doesn't lapse.
Be Prepared to Wait
Policyholders are often surprised to learn that flood insurance comes with a waiting period. Your policy may not kick in for 14 to 30 days after you obtain coverage.
How long you wait depends on whether you bought NFIP flood insurance or coverage from a private insurer —policies underwritten by FEMA almost always have a 30-day waiting period.
Frequently Asked Questions
Yes. Although flood insurance may be required for property owners in a flood zone, policies are available even if you're in a low-to-moderate-risk flood area.

No. FEMA manages the National Flood Insurance Program but does not directly sell policies. To buy NFIP coverage, contact your insurance company or agent.

Yes. Private insurers can offer varying rates, so shopping around can help you pay lower rates. However, comparing NFIP coverage rates isn't necessary because the same affordable rate is offered no matter what insurance provider you use or what state you live in.

Oddly enough, Florida has the cheapest flood insurance, with an average annual cost of $592. The cheapest flood insurance for you depends on a number of factors: where you are on a flood map, the type of coverage you purchase, the deductible you choose, the design and age of your home, and where you live.
Buy Flood Insurance That's Right for You
Flooding is the most common natural disaster in the U.S. Yet it's the one that most people are the least prepared for.
Coverage is often cheaper than you might think. To protect your home and belongings from floodwaters, contact your insurance agent to ask about an NFIP policy. You can also shop around with private insurance companies to compare home insurance rates and get the flood coverage you need.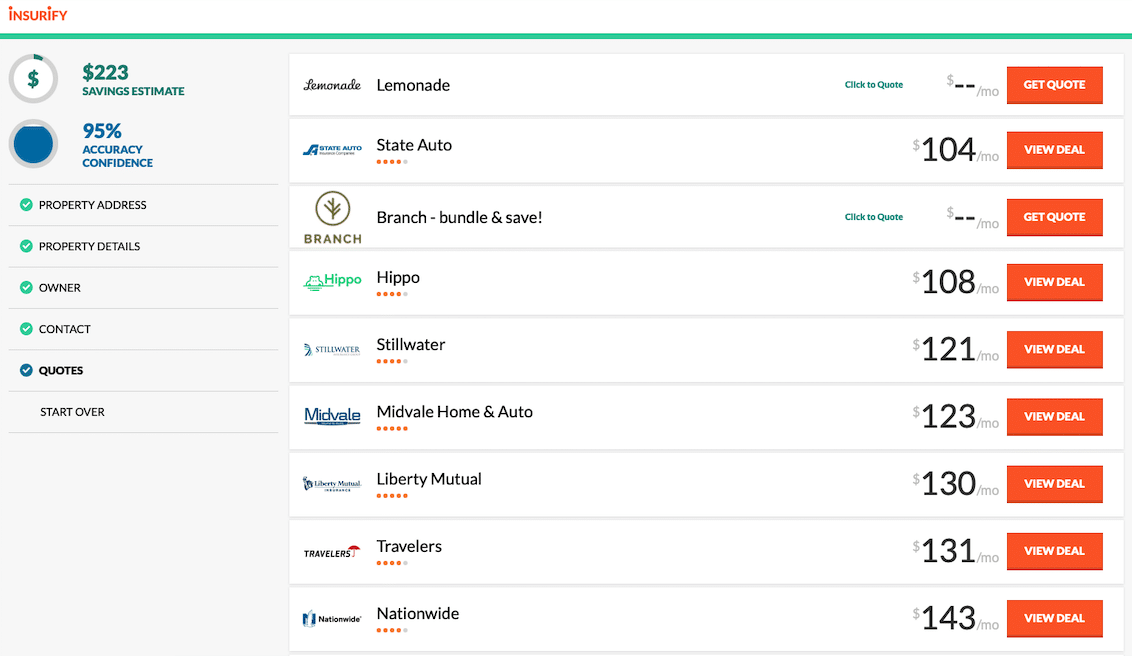 Compare Car Insurance Quotes Instantly
Personalized quotes in 5 minutes or less
No signup required
Data scientists at Insurify analyzed over 40 million auto insurance rates across the United States to compile the car insurance quotes, statistics, and data visualizations displayed on this page. The car insurance data includes coverage analysis and details on drivers' vehicles, driving records, and demographic information. With these insights, Insurify is able to offer drivers insight into how their car insurance premiums are priced by companies.