What is apartment insurance?
Apartment insurance protects your personal property against damage or loss when you're renting. It also covers legal and medical bills if someone is injured in your apartment.
If you rent an apartment and a fire or other hazard destroys your belongings, how will you pay to replace your things? Rather than paying out of pocket, apartment insurance can cover the cost to replace your property.
A policy can save you thousands of dollars if something bad happens. Yet few renters have the coverage they need. The number of renters increases year after year. But only 37 percent of renters have insurance to cover their belongings, according to an Insurance Information Institute (III) poll.
Don't leave your financial well-being to chance. Here's what you need to know about apartment insurance and how to get it. You can compare renters insurance quotes on Insurify today.
What Is Apartment Insurance?
Apartment insurance is another name for renters insurance coverage. It includes property damage and personal liability coverage if you rent an apartment, house, or condominium.
It's crucial to have because the landlord's insurance only covers the physical structure of the building. It will not cover your personal items inside the rental property.
If the worst happens, the replacement cost of your things could be high. Apartment insurance acts as a safety net to protect you from financial ruin if a disaster destroys your belongings.
Plus, a policy covers legal fees and medical payments if you're found liable for injuring someone or damaging their property.
What's Covered by Apartment Insurance
Apartment insurance covers many of the same perils as homeowners insurance. For example, a typical policy covers damage caused by fire, smoke, lightning, theft, vandalism, windstorms, and some types of water damage.
The protections you'll find in renters insurance are broken down into different policy components. You'll usually find coverage for:
Personal property coverage: This pays to repair or replace your personal belongings if a covered peril causes damage.

Liability protection: This pays for medical expenses and legal fees in lawsuits for damage caused to a person or their property by you, a family member, or your pets.

Additional living expenses: Also called loss of use, this can pay for temporary housing, meals, and other additional costs if you can't live in the rental property while it's being repaired.
Keep in mind that renters insurance has coverage limits. Your policy may not include fine jewelry, art, antiques, or other unusually expensive items.
But many insurance agencies offer additional coverage options called riders or floaters. The additional protection can cover your more valuable items if they're damaged or destroyed.
Compare Car Insurance Quotes Instantly
Personalized quotes in 5 minutes or less
No signup required
How Much Is Renters Insurance for an Apartment?
One common renters insurance question is how much it costs. According to the National Association of Insurance Commissioners (NAIC), the average cost of renters insurance for policyholders can range between $15 and $30 per month.
How much you pay depends on your location, the size of the apartment, and your belongings.
The type of policy you purchase also influences the cost. There are two major types of renters insurance:
Broad Form: This covers furniture, electronics, clothing, and other personal belongings against specific events, including fire, lightning, smoke, vandalism, and theft.

Comprehensive Form: This covers your belongings against a variety of hazards unless the policy expressly excludes it.
Broad form is usually the more affordable renters insurance. It's also the most common. The policy limits coverage to perils named in the policy. It may not be the best choice if you live in an area prone to violent storms.
Comprehensive renters insurance can offer protection against more types of hazards. Unless the policy specifically excludes the peril, it should cover the resulting damages.
Comprehensive form is generally more expensive than broad form. But it can give you peace of mind if you live in a high-risk area for storms or other disasters.
What You Need to Get a Renters Insurance Quote
You can get an online quote for renters insurance or talk to an insurance agent directly. Either way, you'll need a few crucial pieces of information to get a renters insurance quote.
Personal information:
Full name

Date of birth

Email address

Number of people living in the rental property

Claims history
Apartment information:
Address

Deadbolts, smoke alarms, and other safety features

Square footage
You'll also determine the policy coverage amount. How much renters insurance you need depends on the value of your possessions. You might consider making a home inventory to calculate your insurance needs.
Before finalizing your policy, you'll choose a deductible. The deductible is the amount of the claim you're responsible for paying, while the insurance company covers the remaining amount (up to the coverage limit ).
Deductible amounts can vary. Common options to choose from are $500 and $1,000, but insurers can offer a range of options.
Apartment Insurance FAQs
Yes, landlords can require a tenant to buy renters insurance. Read your rental agreement carefully before signing so you'll know what's expected of you. If your rental contract doesn't require it, consider buying a policy anyway. It can potentially save you thousands of dollars if your property is damaged.

You can compare online quotes for renters insurance. It helps to check rates from a few different companies to make sure you're getting the best coverage at the best price. To save on your policy, consider bundling your renters and auto insurance together. Many insurers offer a discount for combining two or more policies with the same company.

A home inventory can facilitate a claim if a disaster destroys your property. Start small and make a list of the items you own. You might start with your most recent purchases or group your items by category. It helps to record the value of each item and hold on to your receipt.
Get a Quote for Apartment Insurance
Apartment insurance can be a valuable safety net. For example, if a fire, windstorm, or other hazard sweeps through your apartment, a renters insurance policy can protect you from financial loss.
Like with home insurance, the amount of coverage can vary. Your policy can pay to replace your belongings and for a place to stay until you're able to move back into your rental unit. Compare now on Insurify!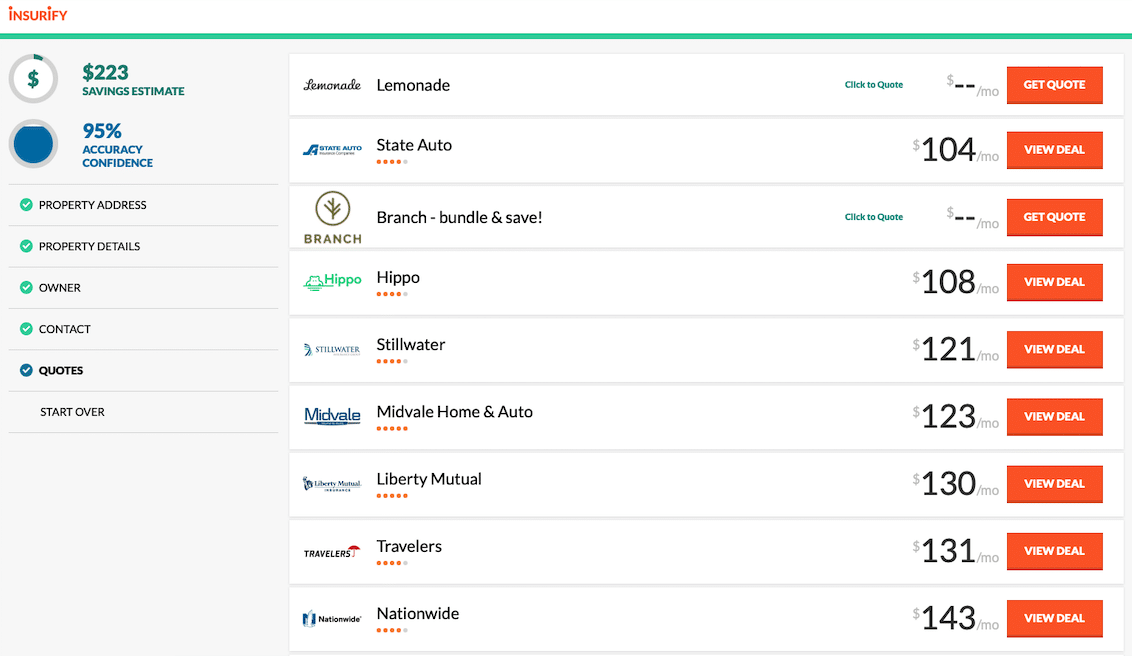 Compare Car Insurance Quotes Instantly
Personalized quotes in 5 minutes or less
No signup required
Data scientists at Insurify analyzed over 40 million auto insurance rates across the United States to compile the car insurance quotes, statistics, and data visualizations displayed on this page. The car insurance data includes coverage analysis and details on drivers' vehicles, driving records, and demographic information. With these insights, Insurify is able to offer drivers insight into how their car insurance premiums are priced by companies.