Ready to buy a home? Here's how you can protect your investment.
Homebuyers are faced with many fees that are all part of the purchase price of a home. To save money, you might be tempted to skip optional closing costs like owner's title insurance, especially since you're probably already paying for the lender's title insurance.
But an owner's title insurance policy can be well worth the money if title problems come up after you buy the home. Without it, your property is at risk. Here's how it works.
Did you know that Insurify can help you save money on home, car, and life insurance? Fill out one form and get free quotes from insurance companies!
What is title insurance?
Title insurance is an insurance policy on your new home. It protects you in case someone sues and says they have a claim against the home from before you bought it. This could include disputes over property lines, confusion about whether the seller actually had the right to sell the property to you, taxes that the previous seller didn't pay, or even undisclosed lawsuits against the property—for example, if a contractor did work on the property for a previous owner and was never paid.
Types of Title Insurance
Lender's title insurance: You will probably be required to buy this if your loan is from a public mortgage lender. A lender's title insurance policy protects the amount of money that the lender loans you, but doesn't offer you any individual protection. It only protects the lender against loss and it stays in effect until you pay off your loan, sell the home, or start refinancing.
Owner's title insurance: This protects your own financial investment in your home if someone challenges your property rights.
Both of these policies are a one-time fee that you pay upfront. Purchasing owner's title insurance won't affect your monthly mortgage payment.
Title insurance is different from most other types of insurance. Policies like home insurance or car insurance cover you in case anything happens in the future, like a house fire or a car accident. A title policy covers you against things that happened in the past—in other words, any defects that existed at the time you take the title, but not defects that developed afterward.
Insurify can help you find cheaper rates for home, auto, and life insurance. Start with your ZIP code and get a personalized quote in 2 minutes!
How Does Owner's Title Insurance Work?
When you buy your home, the seller transfers their legal ownership (title) to the home with a document called a deed. As part of this process, a title research company does a title search, which means that they check the ownership history of the property by looking through public records of properties being bought and sold.
These records typically also include events that might affect real estate ownership, like liens, easements, or other restrictions that affect the property. All of these things are part of the property's title.
Hopefully, your home has a clear title, which means that the current owner has complete ownership of the property and there are no legal claims against it.
However, it can still be a smart idea to buy title insurance even if the home has a clear title. That's because there are lots of title defects that can crop up later and cause major headaches for you, including:
Mistakes in the home's ownership history

Oversights by the title researcher

Previously unknown heirs to the property

Pending lawsuits or legal judgments

Fraud
When you buy title insurance, the title company does a deep dive through records to try to find any issues with the property's ownership. They may even verify ownership history through deeds, taxes, court records, and other sources.
If a title claim or other issue does arise, the title insurance company will pay for your defense in court. Often, they can resolve the dispute in your favor. If you lose the case, the title insurance company will reimburse you. People who don't have title insurance are forced to try to resolve these problems on their own.
The policy is as good for as long as you and your heirs own your home, so if a problem does pop up later, it will be covered.
How to Know if You Need Title Insurance
Title issues are rare, but when they do happen, they can be very expensive. That's why you'll have a hard time finding a mortgage lender who doesn't require you to buy lender's title insurance. But lender's title insurance only protects the lender from financial loss, not you. The lender's policy covers the remainder of the mortgage that's still outstanding if someone's title claim is successful against you, but doesn't protect your investment or equity at all.
Without owner's title insurance, title issues that are discovered after loan closing are likely to result in legal fees for you, at the very least. In the worst-case scenario, you could even lose your property—not to mention losing the down payment, other payments you've made, and the value of any improvements you've made to your home. An owner's title policy can give you peace of mind because it shields you against the financial loss that could occur if you run into title problems.
How Much Does Title Insurance Cost?
The cost of owner's coverage varies depending on where you live and the policy itself. The average owner's policy is about $1,000, but it can be anywhere from a few hundred dollars to a few thousand. You can usually shop for title insurance providers separately from your mortgage, according to the Consumer Financial Protection Bureau; however, the cost is usually lower if you buy the lender's policy and owner's policy from the same place.
The extra cost can be daunting, but remember that you stand to lose much more. Legal fees associated with clearing up title problems are typically very complicated and can cost you thousands of dollars and years of time—or even your home. Owner's title insurance can help you avoid a financial nightmare from title issues and protect your investment for years to come. Even though it's not required as part of the home buying process, it can be worth it to know an insurer has your back if a title defect is discovered years later.
Hazard Insurance Frequently Asked Questions
A title search usually costs between $75 and $200. It's usually included in your closing costs.

Owner's title insurance is optional. However, it's the only protection that homebuyers have against title defects.
Title Insurance: The Bottom Line
You don't have to buy owner's title insurance. You might even decide to go without if you're absolutely certain your title is clean. But if you do end up discovering title defects later, they can be very time-consuming and expensive to resolve. It may be worth it to pay the one-time cost for owner's title insurance upfront to know that the insurance company will resolve any title defects for you.
Owner's title insurance coverage isn't the only added cost you'll discover during the home buying process. That's why it's important to save money wherever you can, like on home insurance. Compare homeowners insurance with Insurify today.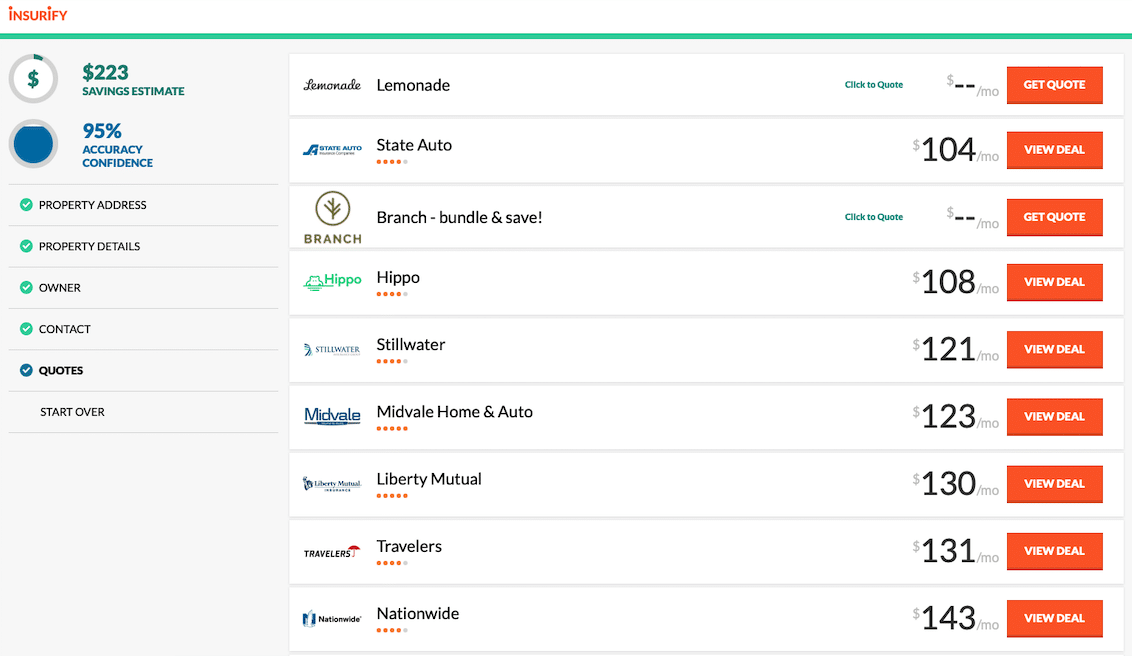 Compare Home Insurance Quotes Instantly
Personalized quotes in 5 minutes or less
No signup required