Does homeowners insurance cover wildfires?
Home insurance policies typically cover damages caused by fires, but homes in high-risk areas may need additional fire insurance for adequate coverage.
Wildfires ravaged the U.S. in 2020, burning a record-setting 10.27 million acres of land. While these wildfires primarily affected undeveloped land across the western U.S., the 2020 wildfire season directly caused 42 deaths and $16.5 billion in damages.
Fire is an unpredictable and devastating peril, but most homeowners in fire-prone areas are used to wildfire damage being limited to the hottest months of the year, narrowing the window of time fires are likely to strike. But with the rise of global temperatures—and 2020 bringing in the highest land temperatures to date— wildfires are becoming a year-round risk.
Home insurance covers house fires, but as wildfires increase in severity nationwide, more and more home insurance companies are limiting fire protection and even choosing not to provide insurance coverage at all in areas with high wildfire risks.
Don't go into this wildfire season unprepared. The best way to protect your home and family from wildfires is to plan ahead, understand exactly how (or if) your insurance policy covers fire, and make sure you have all the coverage you need to stay safe from potential fires and financial losses.
If you're still looking for property protection, finding the wildfire coverage you need takes just a few minutes with Insurify. Use our comparison tools to see your options for home insurance providers and insurance quotes all in one place. Securing affordable home insurance has never been easier. Trust us (or see for yourself ).
Fire Coverage in Standard Homeowners Insurance Policies
Standard homeowners insurance coverage protects your home and personal belongings from a slew of perils from theft and vandalism to natural disasters, fire included. You should be covered in case of house fires or wildfires if you live outside of a high-risk area, but it's always best to know how your policy covers fire losses and the types of damage your policy excludes before you need to file an insurance claim.
In general, a standard home insurance policy will pay to repair or replace after fire damage and smoke damage, as long as the fire wasn't intentionally started by the occupants or caused by lack of maintenance or war. The amount of coverage your policy provides—and the payout you can expect from a wildfire claim —depends on your deductible, your coverage limits, and the type of policy you have.
Actual cash value policies will only reimburse an item's depreciated value, which means your insurer will pay you more for your newer possessions and less for your older ones. Policyholders who want complete coverage for their home and personal belongings should opt for replacement cost coverage. This will come at a higher cost but will also yield higher payouts for any potential fire claims.
Keep in mind that your policy will only replace your property up to your limits minus your deductible. This is why it's so important to make sure that your deductible isn't too high and that your coverage limits are high enough to replace all of your belongings, just in case.
Most policies that cover fire damage include:
Dwelling coverage: This protects the physical structure of your home up to your policy limit. To ensure proper coverage, make sure you choose a limit based on the cost of rebuilding your home today rather than the price you paid for your home.

Other structures coverage: If fire damages structures like garages and fences on your property, this coverage helps replace them.

Personal property coverage: This helps repair or replace any personal belongings that are burned or sustain smoke damage after a fire. Making a home inventory can help you and your insurer anticipate the cost of replacing your belongings but know that you may need additional coverage for items like jewelry, fine art, or furs.

Additional living expenses coverage: Also called loss of use, this aspect of your homeowners policy pays for expenses like hotel stays and food costs incurred while your home is repaired after a fire.
Your basic homeowners coverage should provide sufficient wildfire protection if you live in an area with relatively low wildfire risk. But if your policy specifically excludes fire damage or you need more coverage than your home insurance policy can provide, you'll need to look into additional fire insurance options.
Coverage Options in High-Risk Areas
If your neighborhood has experienced devastating wildfires, it may be hard for you to secure basic home insurance coverage, much less fire insurance. Plus, home insurance policies in fire-prone areas (especially in states like California and Texas) often exclude fire as a covered peril, making it even harder to secure the property protection needed in these areas.
Many states offer FAIR ( Fair Access to Insurance Requirements ) plans to provide high-risk homes with the insurance they need. FAIR plan policies are intended as a last-resort option for homeowners who can't secure insurance coverage from private insurers. These policies generally offer bare-bones dwelling protection, including fire coverage, and usually come at a higher cost than standard homeowners coverage since they are specific to high-risk homes.
A better option (for homes that can qualify) is surplus lines coverage. Excess and surplus lines carriers provide coverage for perils other insurers deem too big a risk. Surplus lines policies come with pretty high premiums, but having proper fire protection will be worth every penny.
Compare Car Insurance Quotes Instantly
Personalized quotes in 5 minutes or less
No signup required
Stand-alone Fire Insurance Options
Policyholders whose standard homeowners policies exclude wildfires and those who are seeking higher coverage than their standard policy allows can also purchase stand-alone fire insurance or fill the gaps in their coverage with additional fire insurance.
There are various types of coverage depending on how high your wildfire risk is and how much coverage you need.
In some cases, you can increase your home insurance policy 's protection by simply increasing your coverage limits or talking to your insurance agent about additional fire protection options.
Policyholders seeking coverage for high-value homes can find fire protection with insurers like Chubb and AIG Home Insurance. They offer specialized fire insurance, including preventive services like wildfire mitigation and even private firefighting services.
Some insurers also offer separate dwelling fire policies for homeowners who rent out their homes or who need coverage for second homes and vacation properties. These policies replace the need for full home insurance protection for homeowners who don't need personal property or liability protection but still want to make sure their dwelling is safe in case of fire.
Even small house fires can cost nearly $3,000 to repair. Don't forgo coverage trying to cut down on costs.
Wildfire Insurance Frequently Asked Questions
Yes, renters insurance policies typically cover personal property and additional living expenses for policyholders who experience fire damage. Check your policy or talk to your insurance agent to check your coverage limits and to see if fire is excluded from your renters policy.

The cost of fire insurance varies greatly based on a home's value, wildfire risk, and the state it's in. Homeowners can generally expect to pay a few thousand dollars for fire coverage annually, but fire protection in especially high-risk areas can cost upwards of $20,000 or more per year.

Only policies with replacement cost coverage guarantee full reimbursement for your property after a fire, and certain expensive possessions require additional coverage for full protection.
Homeowners Insurance and Wildfire Damage: Know What Coverage You Need
Living in an area prone to wildfires is stressful enough on its own, and trying to protect your home and family from future wildfires can feel like a daunting task. The best way to prepare for this year's wildfire season is to understand your homeowners insurance coverage and know your additional options for fire protection. That way, you can make sure your home insurance policy has enough coverage to protect your home and provide you with peace of mind.
Home insurance will cover wildfire damage unless the peril is specifically excluded, so get familiar with your policy to make sure you have the fire protection you need.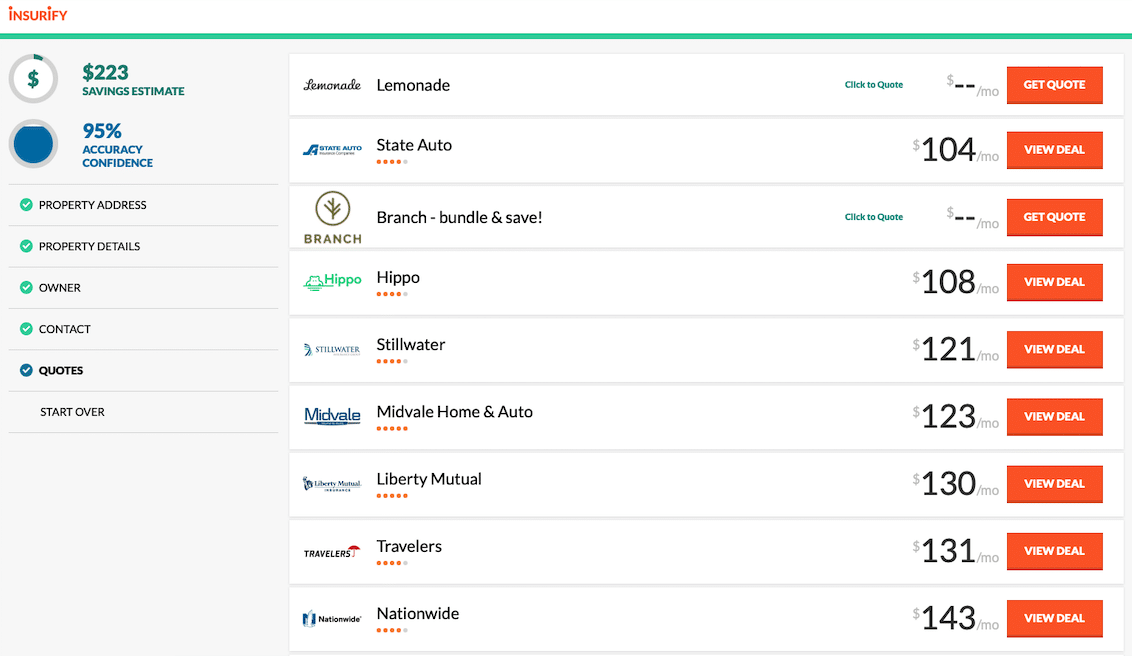 Compare Car Insurance Quotes Instantly
Personalized quotes in 5 minutes or less
No signup required
Data scientists at Insurify analyzed over 40 million auto insurance rates across the United States to compile the car insurance quotes, statistics, and data visualizations displayed on this page. The car insurance data includes coverage analysis and details on drivers' vehicles, driving records, and demographic information. With these insights, Insurify is able to offer drivers insight into how their car insurance premiums are priced by companies.