When shopping for homeowners insurance, understanding the term "replacement cost" is crucial to getting the coverage you need. Most insurers offer three property coverage options: replacement cost value (RCV), actual cash value (ACV), and extended replacement cost.
Replacement cost is a popular choice among homeowners, but what is it, and is the coverage sufficient to protect your home? Insurify is here to walk you through RCV insurance and help determine if it's right for you.
To compare options, Insurify lets you explore policy types and rates from best home insurance comparison sites. We make it easy to pick the best home insurance to protect your investment, whether you're looking for a policy for your new home or shopping for a lower rate on an existing policy.
What Is Replacement Cost Home Insurance?
Replacement cost value (RCV) is how much it would cost to replace or rebuild your home with the same or a similar home if it were damaged or destroyed. It uses current costs to estimate the amount of money it would take to restore your home and belongings.
The dwelling coverage amount you select determines how much your insurer will pay to repair, replace, or rebuild if you file a claim. Keep in mind that an RCV policy typically covers your house and items inside the home but does not factor in the value of the land it sits on.
Actual Cash Value vs. Replacement Cost Value
RCV isn't the only option to insure your home. The best home insurance providers let you pick from three coverage types:
Replacement cost value pays today's prices to replace or fix your home and personal property with the same or similar materials.

Actual cash value pays an amount minus depreciation based on factors like age or wear and tear.

Extended replacement cost is an endorsement to replacement cost value that can pay up to 20 percent or more above the coverage limit to rebuild your home.
Replacement cost value and extended replacement cost are similar. Replacement cost value will only pay up to the policy's dwelling coverage limit. Extended replacement cost will pay more than the limit to ensure you have enough insured value to foot the bill to rebuild your home.
Actual cash value coverage generally has lower payouts because it takes depreciation into account. Instead of paying current market costs to replace or rebuild your home, your payout is lower because depreciation lowers your property's value over time.
For example, let's say a wildfire swept through your area and destroyed your home. Even though building materials have probably increased in price since your home was built, replacement cost value insurance would pay to rebuild or repair your home and replace your personal belongings at current prices.
However, actual cash value would reduce your payout based on age, building codes, and wear and tear. If the roof of your home had a 20-year lifespan and were 15 years old at the time of the claim, your policy would only cover the remaining value of five years while you're stuck paying for the difference.
Under normal conditions, the $250,000 limit on your RCV policy should be sufficient to rebuild your home. But, since the wildfire wiped out many homes in the area, labor rates have skyrocketed. Extended replacement cost coverage provides the extra funds needed to cover those unexpected expenses.
Keep in mind that an actual cash value policy might have cheaper monthly insurance premiums, but the coverage may not be enough to replace or fix your home or personal items.
Compare Car Insurance Quotes Instantly
Personalized quotes in 5 minutes or less
No signup required
How Does Replacement Cost Insurance Work?
When purchasing replacement cost homeowners insurance, you must choose a dwelling coverage amount. The amount you choose directly affects your rates. You'll pay higher premiums if you opt for more coverage because you'll likely receive a higher payout when filing a claim.
Determining the replacement value of your home and belongings is a crucial part of protecting your home, but it can be difficult for policyholders to estimate.
You might think it's equal to your home's current market value, yet the replacement value is often much lower. That's because the real estate market value considers comparable sales, condition, location, and demand. RCV doesn't consider any of those factors and focuses only on the cost to rebuild.
Even if you have a total loss, your insurer will pay for rebuilding costs and construction costs with RCV.
Your RCV policy would also pay to replace the items inside your home. For instance, your payout would cover the cost of a brand-new television to replace a stolen or damaged television, even if it was five or 10 years old.
Factors That Affect Replacement Cost
Rebuilding costs don't consider market value, but several factors can influence the replacement value of your house.
Size and Square Footage
The size and square footage of your home are the biggest components when determining replacement cost. A 3,400 square foot house will cost more to rebuild than a 1,400 square foot house.
Age of Home
The age of your home can help identify features that can affect replacement cost. Older homes are more likely to have detailed trim work, thick hardwood baseboards, solid hardwood floors, and custom moldings.
Your replacement cost will likely be higher to preserve those elements of the house when rebuilding.
Finishing Touches
A home's age and square footage are two substantial factors but don't discount the impact of the quality of finishes. A house with granite, quartz, or marble countertops will have a higher replacement value than one with cheaper laminate countertops. Hardwood cabinets and solid-wood vanities are also more expensive to replace than standard builder-grade materials.
Ceiling Height
You might not think ceiling height matters that much, yet a house with higher ceilings requires more materials to rebuild. Homes generally have 8-foot ceilings, though some luxury homes can have 9- or 10-foot ceilings. The extra lumber, insulation, and drywall needed for higher ceilings can increase the replacement value.
Other Factors
Because each house is different, the replacement value can also depend on additional factors:
Window size and quantity

Room size

Lighting fixture type

Electrical amperage

Exterior siding, brick, or stucco

Building codes
How to Find the Replacement Cost of Your Home
Thinking about how much it would cost to rebuild your home from the ground up and replace everything inside can feel overwhelming. Estimating it on your own is possible, but taking a do-it-yourself approach requires a lot of legwork.
You could ask a custom home builder to run the numbers for you. A more accurate option is to hire an independent appraiser. An appraiser is familiar with building costs and can inspect your home to determine replacement value.
A word of caution about appraisals if you bought your home recently: the appraisal you got for your lender to obtain a mortgage is based on the market value and is not an accurate estimate of the replacement cost.
However, in most cases, you don't need to do anything. Your insurance agent will calculate the replacement cost for you. Because it directly relates to your policy limit, calculating the value is part of the process when asking for a home insurance quote.
Frequently Asked Questions - Replacement Cost
The price of replacement cost coverage can vary from one home to the next. The national average for house insurance is around $1,200 annually. Your cost might be substantially different depending on where you live and the condition of your home. To get the best rates, compare house insurance quotes from a few insurance companies before purchasing a policy.

The most favorable option for homeowners is usually a replacement cost policy because the payout is enough to cover the cost of replacing or rebuilding the property. If someone steals your laptop, a replacement policy will reimburse you the full cost of replacing it. Actual cash value home insurance is usually cheaper. However, if someone steals your laptop, your payout will be significantly less and may not cover the cost of a new laptop. There are other ways to get cheap home insurance, so don't settle for actual cash value just to get a lower rate.

Renters insurance also has the option of actual cash value or replacement cost value. The same criteria apply when choosing between the two policies: if you want your insurance payout to be enough to replace the item, replacement cost value is your best option. Otherwise, you may find that your renters policy isn't enough to replace your stuff, and you might have to settle for a lower-value item.
Is Replacement Cost Right for You?
When you file an insurance claim, your payout depends on a lot of different factors. You should purchase insurance coverage that meets your needs, and choosing between replacement cost value and actual cash value is critical to protecting you and your family.
If you're not sure, talk to an experienced Insurify insurance agent to help you determine the best policy for your coverage needs.
Use Insurify to compare home insurance premiums for your property, no matter where you live. Our comparison tools make homeowners insurance shopping (and saving) simple so you can be on your way to enjoying your newly insured home in no time.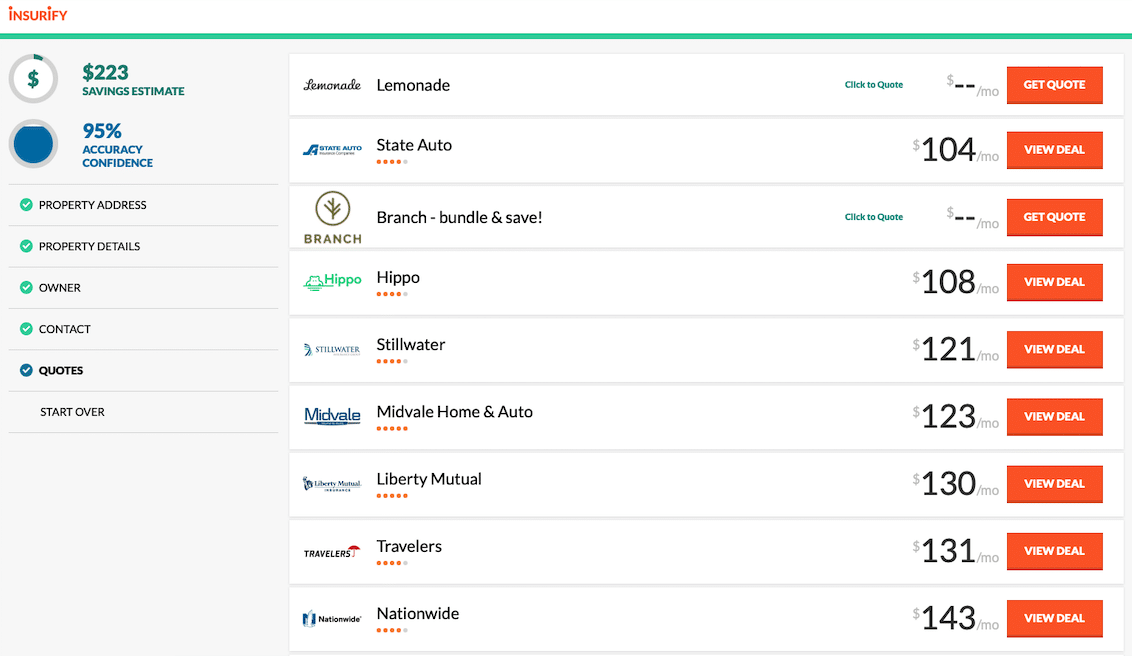 Compare Car Insurance Quotes Instantly
Personalized quotes in 5 minutes or less
No signup required
Data scientists at Insurify analyzed over 40 million auto insurance rates across the United States to compile the car insurance quotes, statistics, and data visualizations displayed on this page. The car insurance data includes coverage analysis and details on drivers' vehicles, driving records, and demographic information. With these insights, Insurify is able to offer drivers insight into how their car insurance premiums are priced by companies.