Hurricane season seems to get longer and longer each year, extending from the beginning of June through the end of November.
If you live in Florida, Texas, Louisiana, or anywhere along the Gulf Coast or eastern seaboard, you might have questions about how—or even if—your homeowners insurance policy covers hurricane damage. We've got you covered.
Insurify lets you compare home insurance quotes instantly, without any hassle or need to commit. Insurers aren't in the market of saving you money, but Insurify is.  Unlock discounts and save on your home insurance policy today!
Where Hurricane Insurance is Needed
If you live in any of the following states, it's important to evaluate your homeowners insurance policy to ensure it includes some type of hurricane coverage.
What do most of these states have in common? A coastline! States on the Atlantic and Gulf coasts are most susceptible to hurricane damage, including Florida, Texas, Louisiana, South Carolina, North Carolina, Delaware, Georgia, Mississippi, Connecticut, Rhode Island, New York. Hawaii gets included in this list because it's located in the warm waters of the South Pacific, and high ocean temperatures contribute to the development and strength of hurricanes. Any coastal area is susceptible to the. water damage hurricanes may cause. Inland states typically have a built-in buffer against hurricane damage, but some weak winds and rain can sometimes extend into them.
Pennsylvania is one notable exception to this rule. Although not a true coastal state, the states that protect it from the ocean—Maryland and New Jersey—are so thin that hurricane damage and a storm surge can easily pass beyond state lines. If you live in Pennsylvania, you might feel extra of mind by purchasing a flood policy and windstorm policy to augment your existing home insurance policy.
Standard homeowners insurance policies will not cover damages from a hurricane. Tropical storms and hurricane damage is only covered through hurricane insurance or separate windstorm insurance. If you're in a high-risk area, make sure you are covered before hurricane season begins.
Hurricane Coverage on Standard Home Insurance
"Hurricane insurance" isn't a discrete type of policy that you can purchase.
Instead, your homeowners policy might include coverage for wind damage. One caveat? Policies in high-risk areas, like the states listed above, don't typically include windstorm coverage. And no homeowners policy, regardless of where you live, covers flood damage. A separate flood insurance policy can be purchased through the National Flood Insurance Program (NFIP). Flood insurance is required by law for some homes, especially those in high-risk areas.
Part of the reason flood insurance is such an undertaking is because flood waters cause more damage per square foot than nearly any other type of disaster. When homeowners file flood insurance claims, they're often very costly. The NFIP exists to ensure all property owners have access to this type of coverage —if it were in the hands of private insurance companies, it would be much more difficult to find and pay for.
Flood damage and wind damage are the primary types of hurricane damage, so it's important to maintain coverage against both of these threats, whether it's as part of your normal homeowners policy or an additional policy. Check with your insurance company to see if they offer extra coverage for windstorm damage.
The combination of coverages from a homeowners insurance policy including coverage for living expenses and replacement cost helps victims of hurricanes get by during the waiting period between claim filing and moving forward with repairs to their home. The average cost of flood insurance will vary based on the risk posed in a policyholder's specific area. Talk to an insurance agent to get a better idea of how much it will cost to add that type of coverage to your policy.
Compare Car Insurance Quotes Instantly
Personalized quotes in 5 minutes or less
No signup required
Hurricane Deductibles
Getting reimbursed for hurricane damage isn't as easy as filing a claim and receiving a check. Unfortunately, many insurance policies include a "hurricane deductible," which is a certain amount of money that will be deducted from your payment when you file your claim. Each state has its own regulations when it comes to hurricane deductibles. In most cases, the amount is between two and five percent of the total insured value of your home. For example, if you live in a state with a five percent deductible (such as Alabama) and your home is insured for $400,000, you could be responsible for $20,000 out of your own pocket.
This type of insurance deductible is usually only applicable when the damage is incurred by a named storm. It doesn't apply when the damage is caused by a run-of-the-mill thunderstorm.
Tricky Coverage
After a major hurricane, it can be extremely difficult to determine whether the damage sustained by your property was caused by wind or water. In severe storms, wind and water seem to coexist. Is damage caused by a storm surge, for example, the product of high winds or rising floodwaters? Would the waters have risen without the aid of wind? It's enough to make your head spin.
In most cases, your insurance company will send an agent out to your property to assess the damage and attempt to determine what the root cause was. If the agent determines that the cause was water, you'll understand exactly why purchasing a separate flood insurance policy was so important.
Mitigating Hurricane Damage
There several steps home and business owners can take in order to reduce the risk of damage should the worst occur. According to FEMA (the Federal Emergency Management Agency), property owners should take the following precautions:
Installing hurricane straps: These metal strips can help keep your roof attached to the walls of your home in case of high winds. It's typically advisable to hire a contractor to install them, as they can be a little tricky to do yourself.

Installing storm shutters: Different than traditional decorative shutters, storm shutters shield glass windows, doors, and skylights from damaging winds. They're available in a variety of different materials, including aluminum and wood.

Maintaining your yard: This is solid advice for reducing damage from many types of natural disasters, not just hurricanes. We recommend regularly assessing trees around your home to ensure they're healthy and not overgrown. Very large trees should be far enough away from your home to ensure they don't fall on it in the event of a storm. You should also anchor patio furniture, garbage cans, and other loose outdoor items—especially if there's a storm in the forecast.
Hurricane Insurance - Frequently Asked Questions
No. Hurricane insurance cannot be purchased as a supplemental or add-on product. With the careful combination of other insurance products, homeowners can create the perfect mix of coverages that will protect them from the damage that hurricanes can bring. The combination includes standard homeowners insurance, flood insurance, and sometimes wind insurance.

Luckily (or not), hurricanes often follow similar patterns season after season. Because of this, if you're moving to a region known to be at risk for a hurricane, you'll know before it hits. States in the south like Florida, Texas, the Carolinas, and Louisiana are often the most hit states during hurricane seasons. Puerto Rico and Hawaii also see frequent hurricanes. All states could be at risk for a hurricane depending on the weather system and nearby coastline.

Yes. If you live in a region prone to hurricanes, especially if you're in a marked flood zone, your mortgage lender will likely require flood insurance as a supplemental add-on product to your homeowners insurance policy.
Deciding on Hurricane Coverage
We get it: purchasing extra insurance for things like wind and flood damage can be a hassle. But when you spot that first storm brewing in the south Atlantic, you'll be glad you didn't rely on your homeowners policy to cover hurricane damage. Although hurricanes aren't always as inevitable as, say, rain, they have the potential to wreak havoc. And as ocean temperatures rise, these storms are poised to only become more numerous and severe.
But even if you're still willing to risk it, your state might not—both flood and windstorm insurance are required by law in many areas, especially those most susceptible to this type of weather.
Our bottom line? Don't take this kind of dangerous chance. Be prepared to meet hurricane season head-on with a strong policy.
Insurify lets you compare home insurance quotes that fit your budget, location, and needs. Start saving on home insurance coverage today… then, sit back and enjoy your summer.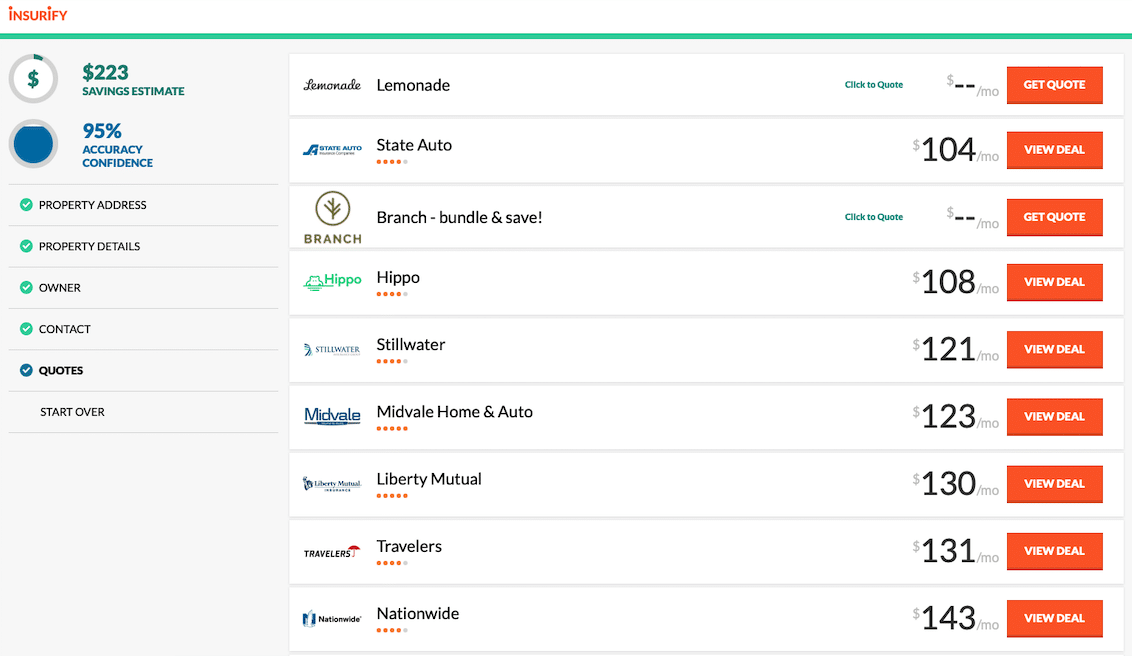 Compare Car Insurance Quotes Instantly
Personalized quotes in 5 minutes or less
No signup required
Data scientists at Insurify analyzed over 40 million auto insurance rates across the United States to compile the car insurance quotes, statistics, and data visualizations displayed on this page. The car insurance data includes coverage analysis and details on drivers' vehicles, driving records, and demographic information. With these insights, Insurify is able to offer drivers insight into how their car insurance premiums are priced by companies.