If my homeowners insurance policy covers water damage, do I still need flood insurance?
Yes, definitely. Water damage coverage only covers so much, but flood insurance will keep your home covered for a wider array of weather-related flood damage.
Water damage can be extremely destructive and expensive to fix, and for the most part, home insurance policies do not cover damage from naturally occurring sources of water damage, such as heavy rain, storms, or melting snow. You might be tempted to think that your home is at low risk of flooding: Why bother paying for flood insurance if your area isn't prone to flooding?
According to FEMA, almost every county in the United States has experienced the impact of flooding over the past 15 years, and with climate change ramping up the intensity of weather events, it's becoming harder and harder to ignore that it can affect your home. So if you need some guidance in understanding and finding flood insurance coverage, read on below!
What Should I Know about Flood Insurance Coverage?
According to the National Flood Insurance Program ( NFIP ), a flood is when two or more acres of dry land (or two separate properties) are completely or partially inundated by mudflow or water. While that technical definition can be helpful, floods, from an insurance perspective, can be viewed as sources of water damage that occur as a result of a natural disaster.
The federal government requires that any homeowner or business owner (in a high-risk area ) that has a federally backed mortgage be covered by a flood insurance policy. While having to pay more for insurance is not ideal, it would be irresponsible—and financially risky—to rely solely on federal disaster aid to fix any damages to your home.
With that in mind, it would be extremely helpful to you if you assess just how at risk your home is for flooding. If you live near a river, lake, or coast that is known to flood from time to time, you'll definitely need flood insurance coverage. On the other hand, even living in the desert won't preclude you from needing to file flood insurance claims. Flooding can happen virtually anywhere and at any time.
Where Can I Buy Flood Insurance?
Generally speaking, there are two ways to get flood insurance.
National Flood Insurance Program
The first way is through the federal government via the National Flood Insurance Program. The NFIP is a program set up by the Federal Emergency Management Agency ( FEMA ) to provide flood insurance to American homes. In fact, a solid majority of homes covered by a flood insurance policy get that policy from the NFIP.
NFIP policies are typically offered by major home insurance companies, like Farmers or Allstate. When it comes to what NFIP flood insurance covers, such a policy offers two types of coverage: contents coverage and building coverage.
- Contents coverage protects much of the personal property inside your home, including:

- Appliances like washers, dryers, air conditioners, and microwave ovens

Curtains

Carpets that are installed over wooden floors

Highly valuable items like artwork or jewelry (up to $2,500)

Other personal belongings, such as electronics, clothing, and furniture

Building coverage protects various aspects of your actual home and its structure, including:

- Built-in appliances, like refrigerators, dishwashers, and cooking stoves

Electrical and plumbing systems

Detached garages

Window blinds

Energy equipment, such as solar panels and fuel tanks

Permanently installed features, such as carpeting and cabinetry

Furnaces, water heaters, and well-water tanks and pumps
When it comes to things that NFIP policies do not cover, one thing to remember is that if water damage is caused by something other than flooding, that damage will not be covered by flood insurance. For example, if your home experiences a sewage backup that is not directly caused by a flood-related natural disaster, flood insurance will not cover that damage. Also there are additional exclusions, so things that exist outside of the walls of your home or business, like swimming pools, important papers/currency, walls, or decks, are not typically covered. Neither are additional living expenses or damages caused by the earth moving.
Private Insurance Companies
NFIP provides a generally standardized approach to flood insurance. For anyone who feels that NFIP policies are inadequate or for anyone who has a much larger or expensive property that requires much more extensive coverage, private insurance companies do offer flood insurance coverage.
Unlike NFIP policies, private flood insurance policies have a much more varied range of options when it comes to flood coverage. To figure out the right plan, it may help to contact your insurance agent or an insurance agency so that you can gather more insight into the options available to you and potentially get a flood insurance quote. You could also visit insurance websites to potentially get a quote online.
How Much Does Flood Insurance Cost?
When it comes to flood insurance policies offered by FEMA / NFIP, the pricing system has not changed since they were first developed half a century ago. This pricing system took various things into account, including:
Whether the house has a basement

The number of floors in the house

Enclosures and crawl spaces

The elevation of the house

The house's location within a flood zone
While this system has been the standard for a long time, FEMA will be updating to its Risk Rating 2.0 system, which goes into effect in October 2021. This system no longer looks to flood zones to determine premiums, deductibles, or coverage limits and instead uses a wide swath of scientific data to weigh the following factors:
- Geography

- The type/size of the closest body of water to the house

The elevation of the house relative to flooding sources

Flood Risk

- Likelihood of river flooding, coastal flooding, or flooding from heavy rain

House Features

- Type of foundation

Height of the lowest floor relative to a flooding source

Replacement Cost of the House
This updated system seeks to create more individualized premium costs, simplify generating flood insurance quotes for agents, and reflect more types of flood risks in policy rates. In addition, this system will provide credits to policyholders who mitigate flood damage by installing flood openings, elevating the home onto posts, or elevating essential equipment and appliances above the lowest level of the home.
FAQ: Flood Insurance Quotes
Whether or not you live in a flood area, you should be prepared for a flood well in advance. If you are not prepared, you might be out of luck, given that many NFIP flood insurance policies require a 30-day waiting period before the policy is approved and activated.

If you live in a floodplain or your property shows up on a community's flood maps, it would be best to sign up for flood insurance as soon as possible. There are some exceptions to the 30-day waiting period. If you enroll in an NFIP policy to affect your mortgage, the waiting period is waived. If you are changing coverage through NFIP policy renewal, the waiting period is waived. Also, if your home has been newly designated as high-risk, the waiting period will shrink to one day for a 13-month period following the designation.

On the other hand, private flood insurance policies have a lot more wiggle room in terms of policy terms and waiting periods. It is entirely possible that you can have a reduced waiting period by getting flood insurance from a private source.

While this scenario will undoubtedly cost you more than if you did have insurance, you are not totally without recourse if you don't have flood insurance.

If you're lucky, you can qualify for federal disaster aid, which is essentially a subsidy from the federal government to repair your home. Alternatively, you could apply for a loan with the Disaster Loan Program. The Disaster Loan Program is offered by the Small Business Administration and can provide loans of up to $200,000 to help homeowners repair their primary homes. Also, the program offers loans of up to $40,000 for damages to one's personal property.

The one downside is that these are loans after all, and you will be expected to pay them back. There is a silver lining, however, in that lenders for these loans often have relatively low interest rates and long repayment terms.

Looking to save some money and not get flood insurance? You could totally do this if you truly believe no harm will come to your home. However, if you live in a flood zone or your home is situated in a place that has flood risk, you will absolutely not get any help from your standard home policy.

Standard home policies typically only provide coverage for water damage that occurs in a sudden and unexpected way that is totally unrelated to natural disasters.
It's Always Better to Have Flood Insurance
Whether you live in an area that experiences frequent floods or in an area that only has a deluge every so often, floods can be an unexpected hardship for anyone affected. Even if you believe flooding won't affect your home, it's a sound idea to talk to your insurer about your flood insurance options. Even if you take action to mitigate the damage a flood can cause, you can save yourself from a massive financial headache by protecting your home with flood insurance.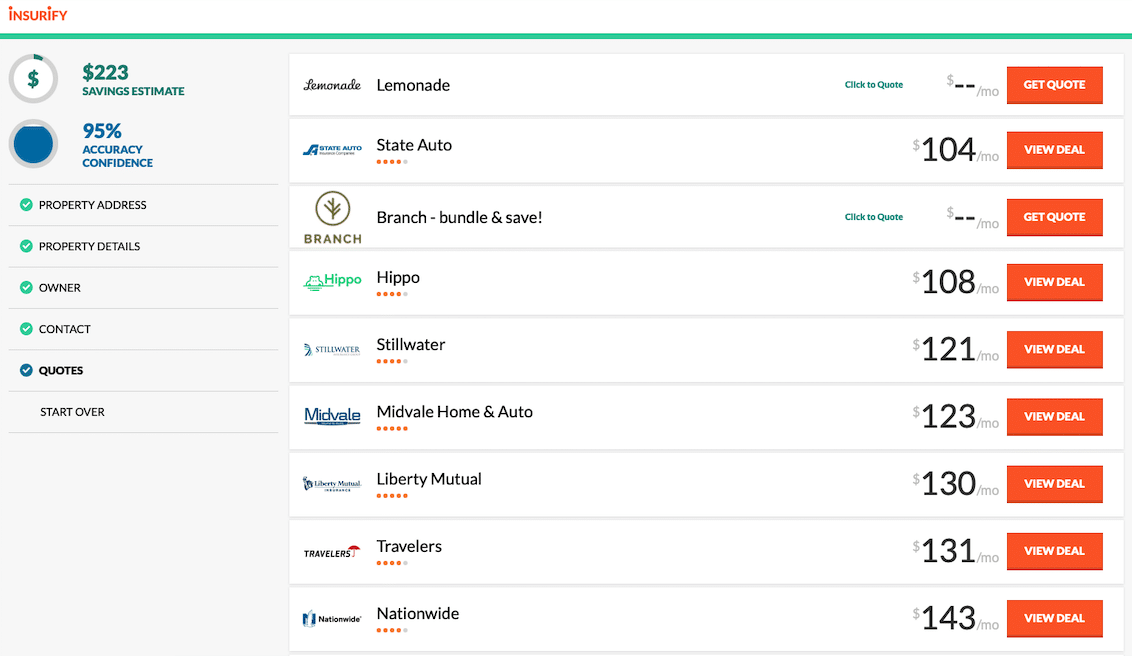 Compare Home Insurance Quotes Instantly
Personalized quotes in 5 minutes or less
No signup required