What is renters earthquake insurance?
Renters earthquake insurance is a policy you can buy in addition to a standard renters policy to protect your belongings from damage caused by earthquakes.
As a renter, you need renters insurance to protect your stuff. You don't own the structure you live in, but the belongings inside are important to you.
A policy can replace your furniture, dishes, electronics, clothing, and other belongings if you have a kitchen fire or burglary. It can also protect you from a lawsuit if a guest injures themselves in your home.
But it doesn't cover everything. For example, renters insurance doesn't include earthquake damage.
You might think you're not at risk for earthquakes unless you live in California. However, a U.S. Geological Survey study found that only four states (Florida, Iowa, North Dakota, Wisconsin) didn't have any earthquakes over a 20-year period.
So, how can you get renters earthquake insurance? In this complete guide to earthquake insurance for renters, discover what a policy covers, how to get it, and how much you might pay.
Does Renters Insurance Cover Earthquake Damage?
You know you need renters insurance to protect your personal possessions, right? After all, your landlord's dwelling coverage protects the structure of the home or building but not your belongings.
A standard renters policy protects you against damage from fire, smoke, lightning, vandalism, theft, windstorm, and other disasters that the policy lists. Typically, it has three basic types of protection:
Personal property coverage, including appliances, clothing, kitchen utensils, electronics, towels, and bedding

Liability against lawsuits for bodily injury or property damage that you cause to another person

Additional living expenses, also called loss of use coverage, to reimburse some costs if you can't live in your home because of a covered loss
But renters insurance never covers floods or earthquakes. That means if an earthquake destroys your furniture, electronics, or prized record collection, your finances (and your morale) could be shattered.
However, if you plan ahead, you can usually get earthquake coverage as an add-on supplement to your policy before disaster strikes.
What Earthquake Insurance for Renters Covers
Earthquakes can damage foundations and collapse walls. Imagine the destruction it could do to your furniture and belongings!
Luckily, earthquake insurance is specifically designed to cover damage caused by earthquakes. In fact, if an earthquake is the cause, a policy can cover many types of "earth movement":
Earthquakes

Land, mud, and rock slides

Other earth movement
Like a standard renters policy, earthquake insurance for renters typically includes repairing or replacing your personal belongings. It can also reimburse the cost of additional living expenses if your home is uninhabitable after the disaster hits.
Coverage can also extend beyond the initial event. For example, some policies include damage from aftershocks up to 15 days after the quake in a single claim.
Keep in mind that coverages can vary among policies and insurers. Read your policy carefully, and ask questions if you're not sure what your protection includes.
Compare Car Insurance Quotes Instantly
Personalized quotes in 5 minutes or less
No signup required
What Renters Earthquake Insurance Doesn't Cover
Renters earthquake insurance can protect against earthquake damage. However, policies have several exclusions. According to the Federal Emergency Management Agency ( FEMA ), a typical earthquake policy will not cover:
Fire

Vehicle damage

Floods

Sinkholes

Masonry veneers such as brick, stone, or rock
Earthquake insurance won't cover fire, even if the quake causes it. Instead, your standard renters insurance policy should cover the damage.
There's one exception. In California, state law requires renters and homeowners insurance policies to cover fire damage caused by or following an earthquake.
If earthquake vehicle damage concerns you, ask your auto insurance company about coverage options. You can usually protect your cars, RVs, and other vehicles with a comprehensive auto insurance policy.
Earthquakes can sometimes cause flooding. The ground movement can break dams, move riverbeds, or trigger a tsunami. However, earthquake insurance does not cover water damage from flooding. Your insurance company may offer a supplemental or separate policy for flood insurance.
Do Renters Need Earthquake Insurance?
You're not usually required to buy earthquake coverage as a renter. Even in California, a state with over 15,000 known faults and more than a 99 percent chance of an earthquake happening, earthquake insurance isn't required.
Even though the law doesn't force you to buy coverage, it can be a smart move for renters.
Think about this: earthquakes cause a substantial amount of damage. They can happen anytime, anywhere—often with little to no warning at all.
Image source: U.S. Geological Survey
This U.S. Geological Survey map of the long-term national seismic hazards shows high earthquake risk in the states you'd expect—California, Oregon, Washington, Nevada, and Alaska.
However, Arkansas, Kentucky, Missouri, and Tennessee are also at significant risk, thanks to the New Madrid Seismic Zone.
So, do you need earthquake insurance as a renter? It depends on:
The location of your home compared to active faults

The number of earthquakes in your area

The time that's passed since the last quake

The value of your personal property
The most crucial factor to help you decide whether to buy a policy is whether you can afford to replace your items after an earthquake without the help of insurance.
If you can't, a policy is likely worth the investment.
How to Get Earthquake Insurance for Your Apartment
If you're in the market for earthquake insurance, start with your current renters insurance company. Ask your insurance agent or customer representative if you can add coverage to your existing policy.
If not, they may offer it as a stand-alone policy.
Keep in mind that how you buy coverage can depend on where you live. For example, California law requires standard homeowners insurance companies to provide earthquake coverage. But you don't have to be a homeowner to get a policy. The California Earthquake Authority ( CEA ) offers policies for renters, homeowners, condo owners, and mobile home owners.
Not all insurers have earthquake coverage available. If your provider doesn't offer coverage, you can shop around to compare rates and find the best protection for your location and situation.
A word of caution if you're looking for a policy: insurance companies typically won't sell new earthquake policies for one to two months after a quake has occurred. If you're in an area that recently experienced one, you'll likely need to wait to buy coverage.
How Much Renters Earthquake Insurance Costs
The cost of renters earthquake insurance can be a factor in whether you decide to buy a policy. So, how much is earthquake insurance?
In most states, the average cost for earthquake coverage can range from $100 to $300 per year. Your premium could average around $800 if you're in a high-risk area.
According to the National Association of Insurance Commissioners (NAIC), your rate largely depends on:
Your proximity to a fault line

The age of the home

What the building is made of

How much it would cost to replace your things

The deductible you choose
Insurers often lower your insurance rate if you opt for a higher deductible. It's a way to reward you for accepting more financial risk.
Still, your deductible could be 10 to 20 percent of your coverage limit. For example, if your policy covers up to $25,000 to replace your items, your deductible might be in the range of $2,500 to $5,000.
When shopping for earthquake insurance coverage, know that different insurance companies can charge different premiums, even if they offer the same coverage limit and amount of protection.
Make sure you compare insurance quotes from top earthquake insurance companies before committing to a policy.
Frequently Asked Questions
No. Standard renters insurance covers damage from fire, smoke, vandalism, theft, and windstorms, but it does not cover earthquake damage. Many insurers offer earthquake protection as an add-on option or as a stand-alone policy. If you buy a policy, it can protect your personal belongings and reimburse additional living expenses if your home is uninhabitable after an earthquake.

It depends. For many renters, earthquake insurance is a wise investment. Most Californians, for example, live within 30 miles of an active fault, so coverage is probably worth buying. Whether it's worth the cost for you depends on how close you are to an active fault, the number of earthquakes in your area, the value of your personal property, and if you can afford to replace your belongings without the help of insurance.

If you're looking for earthquake coverage, start with your current insurance provider. Many allow you to add supplemental coverage to your existing policy. Remember that companies can charge different premiums for the same amount of coverage. So shop a few insurers to compare rates and coverage levels to get the best value.

The cost of renters earthquake insurance varies by location. The average cost can range from $100 to $300 per year. However, renters in high-risk areas can pay an average of $800 for coverage.
Is Earthquake Insurance Worth It for Renters?
Earthquake insurance is usually a sound investment for renters. According to studies by the U.S. Geological Survey, only four states in the U.S. reported zero quakes over a 20-year period. So you have some risk of an earthquake no matter where you live.
Cost can be a factor when deciding if earthquake insurance is worth it. However, renters only need to protect their personal property, not the house, apartment, or building where they live. For that reason, earthquake insurance coverage is much more affordable for renters than it is for homeowners.
Only you can know if renters earthquake insurance is worth it. But consider this: if a disaster strikes, your policy can pay to replace your furniture, electronics, dishes, lawn equipment, power tools, clothing, and more—and save you from financial ruin.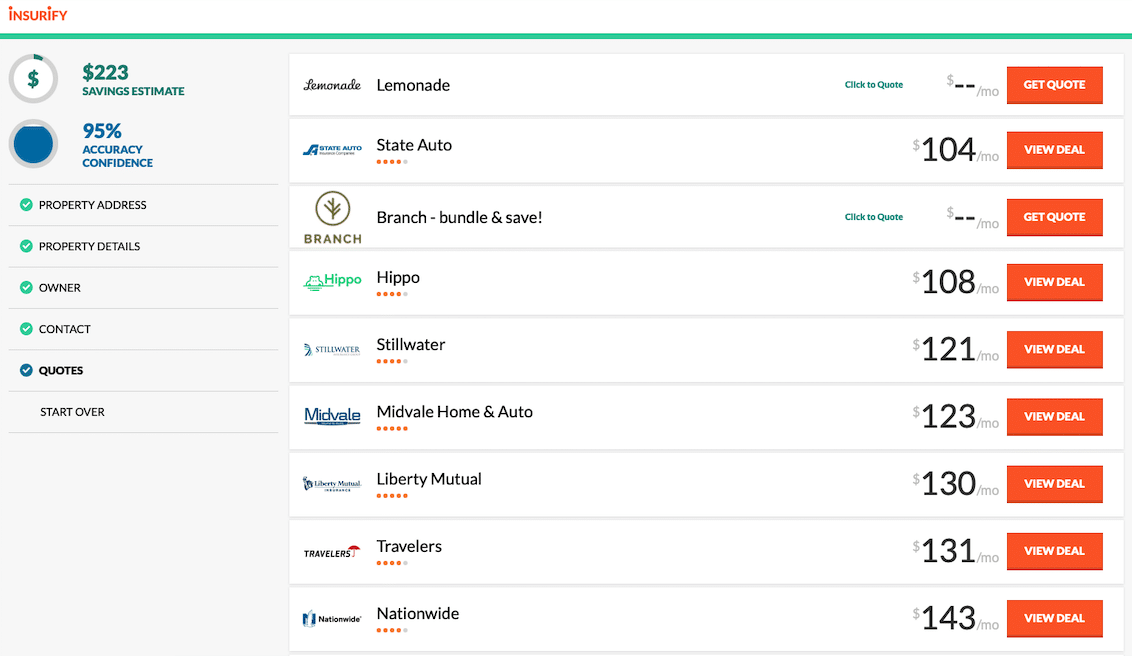 Compare Car Insurance Quotes Instantly
Personalized quotes in 5 minutes or less
No signup required
Data scientists at Insurify analyzed over 40 million auto insurance rates across the United States to compile the car insurance quotes, statistics, and data visualizations displayed on this page. The car insurance data includes coverage analysis and details on drivers' vehicles, driving records, and demographic information. With these insights, Insurify is able to offer drivers insight into how their car insurance premiums are priced by companies.