There are many "what-ifs" that come with homeownership. What if your home catches fire? What if a tornado comes and tears the roof off your home? What if a burglar steals valuable personal belongings? But what most people don't think about are the accidents caused by humans that happen at home. Some events or accidents may result in bodily injury or property damage, and you may be held legally responsible for paying for medical bills.
Additionally, if someone sues you, you may have to pay legal fees. How do you pay for the unexpected that affects everyone else? The answer is personal liability home insurance. You may already have a personal liability policy and not even know it. Or you could be looking for the most protection for your home. Either way, homeowners insurance looks out for you in ways you least expect.
Insurify takes out all the hassle of your home insurance policy search. With our comparison tool, you can get the right coverage for you and your family from the best insurance company. Try us out now!
Why Do I Need Personal Liability Coverage with Homeowners Insurance?
Personal liability means that a person is legally responsible. Renters and home insurance include liability protection for risks like bodily injury and property damage. With personal liability, you are legally responsible. And you would have to pay for an injury or accident that happened to someone else.
Personal liability coverage is included in your homeowners insurance or renters insurance policy. Think of personal liability as a safety net. You want a personal liability policy as part of your home insurance because you never know what could happen. You could be stuck paying for legal fees or hospital bills, and those are often costly. That's why it's essential to file a liability claim so that you don't end up paying thousands of dollars out of pocket. With the right coverage limits, you won't go into debt if an accident happens on your property or to someone in your household.
What Personal Liability Insurance Covers Under Home Insurance
Many things can cause you to file a personal liability claim. It's there for financial protection. There may come a time when you need to hire a lawyer to defend you in court when a guest becomes injured on your property. You may also need to pay for their medical costs if they're over $5,000. Personal liability covers accidental property damage if you or members of your household break something in and out of your home or cause unintentional damage to others. Personal liability even pays if your pets cause harm in some way. Remember that personal liability home insurance covers personal injury to others. Personal liability does not cover injuries to you or others on your policy.
Insurance coverage can be confusing. At Insurify, we make weeding through insurance companies and long insurance jargon a thing of the past. Get home insurance from the best insurance companies the easy way. Check us out now.
Compare Car Insurance Quotes Instantly
Personalized quotes in 5 minutes or less
No signup required
What Personal Liability Home Insurance Does Not Cover
Personal liability home insurance only covers medical bills or legal expenses for accidents. They must be unintentional. If you or a family member hits someone and they sue you, you will have to pay any legal fees or medical payments out of your pocket. If you intentionally damage someone's personal belongings or home, you are not covered under personal liability.
Let's say your car causes damage to someone's personal belongings or property. Personal liability home insurance does not cover medical expenses or injuries from an auto accident. You will need auto insurance for that kind of accident. What if you conduct business activities from your home and a person is injured or personal property becomes damaged? Personal liability home insurance will not cover your losses. What if someone is injured on your property and it's not your fault? Your liability coverage will not pay for damages because you are not liable.
Finally, if you rent a property and it's damaged, your insurance policy will not cover the cost of your rental structure like the walls or windows. But the liability part of the policy will cover repairs for accidents on someone else's property or a guest's medical bills. Watch out for going over your limit with liability protection. Sometimes you might not have the full coverage you need. It's wise to check your policy for coverage limits should something pop up in the future.
Amount of Coverage and Personal Liability Policy Limits for Home Insurance
Homeowners and renters policies typically include a few types of coverage. With typical home insurance, you're guaranteed coverage for your home and the structures on your property. This coverage is not included with renters insurance. With standard policies, you are given personal property coverage and loss of use coverage. Note that loss of use is also known as additional living expenses. And then there's personal liability coverage. Each type of coverage has limits. With any home insurance, you customize your policy to meet your needs. You'll be asked to select coverage levels for each coverage type. Personal liability coverage generally begins at $100,000. Let's say your personal liability on home or renters insurance is set at $100,000 or above, and you need to pay legal expenses and medical expenses. That means your insurance company will pay up to that amount in liability coverage limits per liability claim.
Insurance companies make it easy to increase policy limits under any of these coverage types. You can buy additional insurance or an endorsement on expensive items not covered under your standard policy. According to the Insurance Information Institute, it's recommended that you purchase at least $300,000 to $500,000 in liability coverage. Renters should purchase $100,000 in liability coverage, which is usually sufficient. Let's say you have people at your home a lot, and your assets' values exceed the amount of coverage. Consider coverage amounts equal to the total value of your assets or belongings with higher limits. Be aware that certain states have maximum coverage limits. Ask your insurance agent for more information regarding your state's coverage limits no matter your net worth.
Personal Liability Homeowners Insurance Scenarios
Many scenarios might put you in the situation of filing a personal liability claim. You may not think you'll ever have to hire a lawyer or pay someone's medical bills, but it happens. Your personal liability will include medical payments coverage as well as legal costs. Here are some frequent scenarios that may prompt you to file a personal liability home insurance claim:
Your Neighbor's Window Breaks
Let's say your kids are playing ball in the backyard. The ball accidentally flies in the wrong direction, and your neighbor's window breaks. Thankfully, as a policyholder, you have liability protection for such accidents. You can provide your insurance information to your neighbor to pay for the broken window and submit a claim. With home insurance, you don't have to spend hundreds or thousands in damages out of pocket. If you don't provide your insurance information, you might even be sued and forced to submit a claim.
Your Dog Bites Your Neighbor
Let's say your neighbor is over at your house, and your dog, Rover, bites them and they are injured. It would be wise to give your injured neighbor your insurance information. Maybe neither of you thought of doing so, or you felt uncomfortable. Your neighbor could take legal action by having their lawyer send a letter to pursue a claim. Let's say you don't provide your insurance information. The letter might suggest court action and medical costs thousands of dollars. In this case, you should notify your home insurance company to reach out on your behalf. Next, you will file a liability claim and send your neighbor your claim number and your insurer's contact information. You should probably skip to this final step anytime an event like this occurs. These situations are always uncomfortable. But it will save you time and energy to file a claim in the first place, without your neighbor resorting to legal action.
Here at Insurify, uncomfortable insurance lingo and high insurance rates are not our jam. Check out how easy it can be and compare home insurance quotes.
Umbrella Policy for Personal Liability Insurance Coverage
Umbrella insurance is extra insurance that goes beyond current insurance limits. Umbrella insurance provides coverage for any injuries, lawsuits, property damage, and personal liabilities. A personal umbrella policy provides coverage if your home insurance, car insurance, and other policy limits are used up. Other liability policies may exclude some claims. False arrest, slander, libel, and liability coverage on rental properties may be a few exclusions. Umbrella insurance pays an excess amount for property damage, individual lawsuits, and injuries that require liability coverage.
Frequently Asked Questions - Personal Liability
Yes, most basic home insurance policies cover personal liability protection. This type of coverage protects against lawsuits due to injury or property damage made by you or a household member. It would be risky if you didn't have personal liability home insurance.

It's wise to buy enough liability coverage in your home insurance to protect your assets. The minimum coverage on a standard home insurance policy is $100,000. But if your assets are worth far more, it would be wise to purchase more liability protection. Many people choose anywhere from $300,000 to $500,000 of liability coverage on their properties.

Personal liability and general liability have two different meanings. General liability is used for business purposes. Let's say your company is liable for an accident. General liability covers you and your company if there's an accident and a claim is filed for injuries and property damage. General liability can also protect you if your landlord's property sustains damages.

Workers' compensation pertains to businesses and their liability. Businesses have general liability. And workers' compensation may be included in their liability coverage. A business can be sued for instances that aren't covered in the workers' compensation policy. An employer would then pay for legal fees and court costs with liability insurance should a lawsuit occur.
Personal Liability Coverage: The Bottom Line
Personal liability is often an afterthought when you think of home insurance. But it's an integral portion of your policy. You never know when you or someone in your household could cause bodily injury or property damage to someone else. Always know your coverage limits. And you should see if you have enough liability coverage on home insurance.
Are you still looking for the most accurate home insurance policy? Insurify delivers home insurance quotes to your inbox in a few seconds when you compare them on your site. See for yourself now!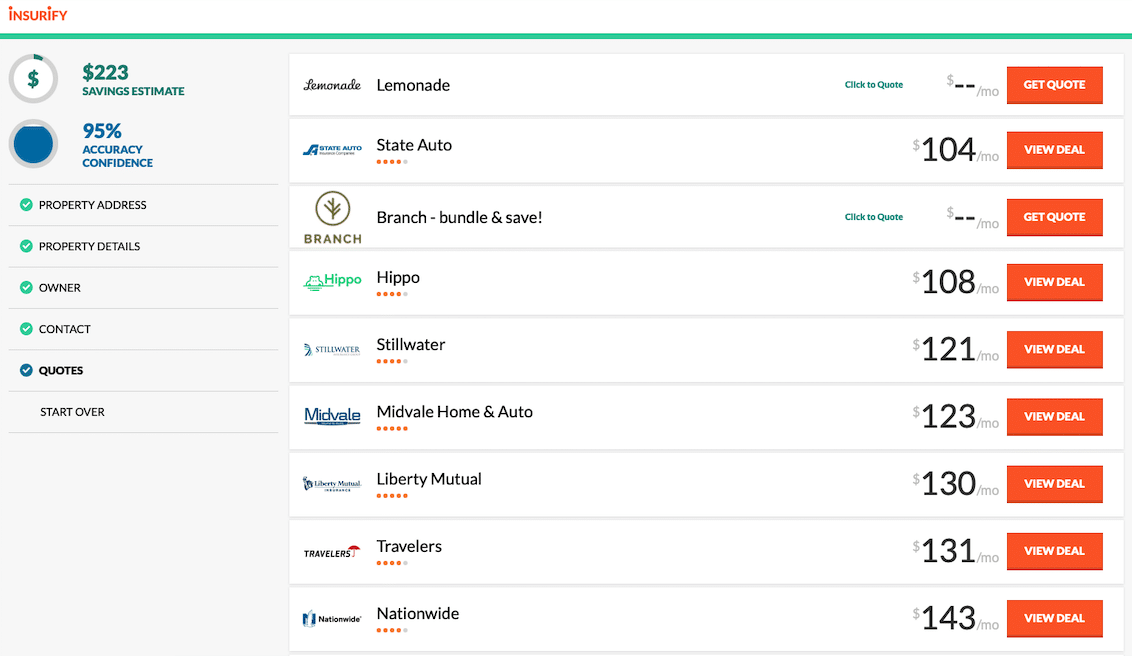 Compare Car Insurance Quotes Instantly
Personalized quotes in 5 minutes or less
No signup required
Data scientists at Insurify analyzed over 40 million auto insurance rates across the United States to compile the car insurance quotes, statistics, and data visualizations displayed on this page. The car insurance data includes coverage analysis and details on drivers' vehicles, driving records, and demographic information. With these insights, Insurify is able to offer drivers insight into how their car insurance premiums are priced by companies.