Flood Insurance in Louisiana is an important aspect of homeowners insurance.
Here's our guide to the cost of coverage, how it works, and what you can expect.
Louisiana is ranked number two in the nation for flood risk, making Louisiana flood insurance a top concern for homeowners.
Flood insurance policies are available in Louisiana through the National Flood Insurance Program (NFIP). Private insurance companies also sell flood policies. The coverage limits may be higher, but they may not have coverage in as many areas.
Keep in mind that flood insurance doesn't replace homeowners insurance. To get the best Louisiana homeowners policy, use Insurify to compare rates from Louisiana insurers. Shopping around for a new policy only takes a few minutes and could save you hundreds.
How To Know If You Need Flood Insurance in Louisiana
Homeowners insurance protects you financially from a disaster or accident involving your home. But there's one thing it doesn't do: protect you from floodwaters.
Flood insurance in Louisiana bridges the gap. It covers your home, property, and belongings if they're damaged or destroyed by flooding.
Flood insurance isn't generally required for most Louisiana residents. The exception is homeowners who live in high-risk flood zones. In that case, your lender may need you to buy flood insurance to qualify for a home loan.
But flooding is a significant threat in many areas of Louisiana. The Federal Emergency Management Agency (FEMA) reports that areas outside of high-risk areas (floodplains) account for nearly 25 percent of flood insurance claims. Property owners may want to purchase coverage even if it's not required.
To find out your risk, you can use the Louisiana State University Agricultural Center's flood map tool. Visit Louisiana's flood maps and enter your address or select a parish to view your area's flood map. It can also show you how the floodplain risk has changed over time.
Louisiana Flood Insurance Coverage
Like most insurance products, Louisiana flood insurance coverage can vary from one policy to the next. Coverage limits can also depend on where you purchase your policy.
Louisiana residents can buy flood insurance from the NFIP, which is run by FEMA. NFIP policies are federally underwritten but are generally sold through private insurance agents.
There's also a private market for flood insurance. The policies are similar to what you might find from the NFIP, but private market flood insurance can offer higher coverage levels.
Flood insurance policies can have different coverage limits. Generally, they cover:
Home systems such as the electrical and plumbing system, furnace, water heater, central air conditioning units, and solar energy systems

Appliances including refrigerators, freezers, ranges, dishwashers, washers, and dryers

Carpeting and window treatments like window blinds and curtains

Paneling, wallboard, and cabinets that are damaged

Foundations and structures, including walls, staircases, and garages

Personal property (aka contents coverage), like furniture, electronics, clothing, and sometimes original artwork and furs
Keep in mind that the NFIP provides replacement cost coverage for the structure of your home. With replacement cost coverage, the policy pays to rebuild your home as it was prior to the flood damage.
But with the NFIP, your possessions are covered by actual cash value. That means you get the item's current value, which is likely less than how much you'll pay to replace your belongings.
Compare Car Insurance Quotes Instantly
Personalized quotes in 5 minutes or less
No signup required
What Flood Insurance Does Not Cover
In addition to knowing what's covered, policyholders should understand what won't be covered when you submit a flood claim:
Property outside of your home, like landscaping, swimming pools, fences, decks, and patios

Cars and most other self-propelled vehicles

Personal items kept in basements

Currency, precious metals, stock certificates, and other valuable papers

Additional living expenses (ALE) if you have to temporarily live outside your home
Some private flood policies will cover additional living expenses. But if your policy doesn't, be sure to add the coverage to your insurance plan.
Remember that the cause of water damage is also important. Flood insurance only covers losses caused by flooding. Any damage that is not a direct result of flooding is not a covered loss.
Cost of Flood Insurance in Louisiana
According to the Insurance Information Institute (III), 498,664 flood insurance policies are in effect throughout the state. They report the national average NFIP premium was $642 in 2018.
However, Louisiana's average cost of flood insurance is higher, coming in around $970 annually.
How are flood insurance rates set? According to FloodSmart.gov, it depends on a few factors:
Flood risk in your area

Type of coverage

Policy deductible

Design and age of home

Location of contents
If you live in a flood zone, you can still find ways to save money. You can lower your risk of flood damage by elevating utilities in and around your home to get lower premiums. You can also install waterproof doors and windows, even a flood gate to protect your home.
On the policy end, increase your policy deductible to lower the monthly premium. Just be careful not to raise it too high that you can't cover the deductible if the time comes. You should also consider bundling your home insurance with your auto insurance policy. Many companies offer discounts of up to 25 percent for multi-policies. Beyond auto, you can bundle life insurance or even your child's renters insurance policy. So long as the company offers the product, you should be able to get a deal.
Finally, regularly compare home insurance rates with a tool like Insurify the ensure you're still getting the best price.
How to Get a Flood Insurance Policy in Louisiana
Flood insurance policies in Louisiana come from a mix of federally issued policies through the NFIP and private insurers. To get a policy, start by contacting a local Louisiana insurance agent. They can help you choose coverage levels and give you a quote.
Keep in mind that NFIP flood insurance rates use a formula set by FEMA. Companies selling NFIP policies will give you the same price no matter which insurer you choose, so there's no need to shop around for quotes.
A private flood insurance company can also offer flood insurance. It may be a good choice for you if you don't qualify for an NFIP policy or want higher levels of coverage.
The process to purchase from a private insurer is the same, with one exception: rates can vary from one insurance company to the next. Compare rates when shopping for Louisiana flood insurance from a private insurer.
Frequently Asked Questions
Homeowners insurance does not cover flood events. They can offer protection for plumbing-related water damage and water leaks. However, homeowners policies do not protect against naturally occurring floods and the damage they leave behind. For that, you need a flood insurance policy.

Through FEMA, the federal government offers NFIP insurance to protect against flooding. Purchasing flood insurance through FEMA isn't required. Private insurance companies also sell flood insurance and can offer higher limits than NFIP policies. To find out what's available in your area, contact a local insurance agent.

Renters insurance policies offer protection for your personal items, but the coverage doesn't extend to flood damage. If you're a renter, you can purchase flood coverage from the NFIP or a private insurer.
Louisiana Flood Insurance: The Bottom Line
From Baton Rouge to Shreveport, homeowners in Louisiana love the low cost of living, strong economy, and vibrant culture. For all the benefits, don't discount the threat of flooding.
Even though the state doesn't mandate the purchase of flood insurance, you may need a policy to satisfy home lending requirements or if your home is in a flood-prone area.
Compare a flood insurance quote from the NFIP to private flood insurance companies to see which option can save you the most money on Louisiana flood insurance.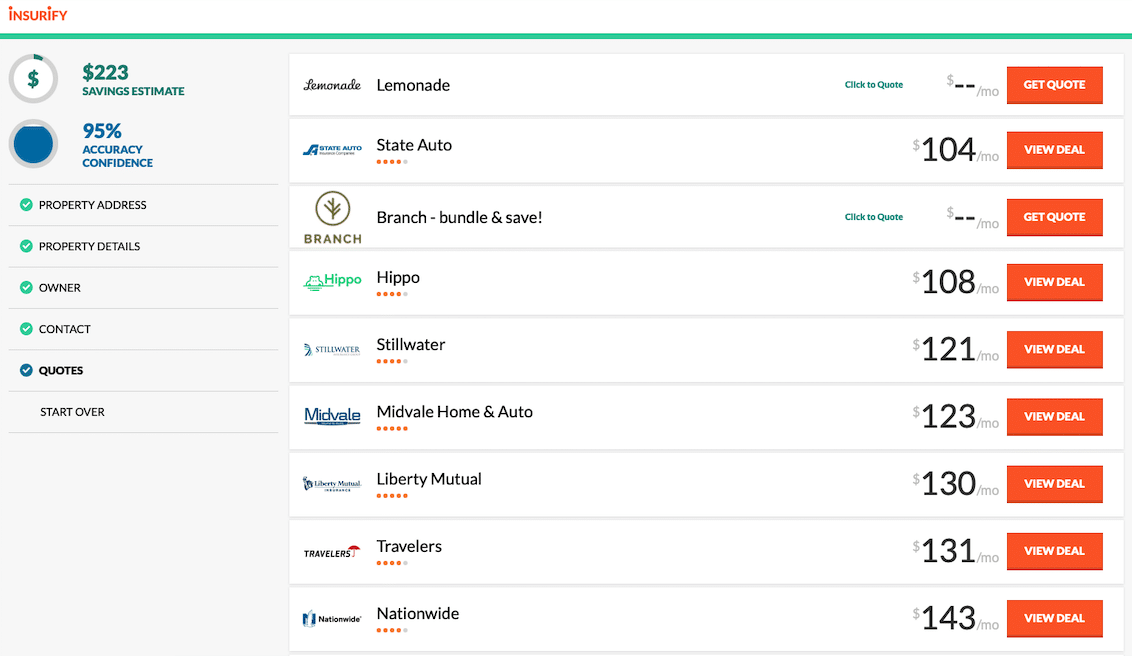 Compare Car Insurance Quotes Instantly
Personalized quotes in 5 minutes or less
No signup required
Data scientists at Insurify analyzed over 40 million auto insurance rates across the United States to compile the car insurance quotes, statistics, and data visualizations displayed on this page. The car insurance data includes coverage analysis and details on drivers' vehicles, driving records, and demographic information. With these insights, Insurify is able to offer drivers insight into how their car insurance premiums are priced by companies.