Are flood insurance rate increases going to affect my annual premium?
The majority of flood insurance rate premiums will increase a little, but some homeowners will pay lower rates than before, and a small fraction of policyholders will weather significant price increases.
On October 1, 2021, the National Flood Insurance Program ( NFIP ) will implement a historic overhaul of the methodology it uses to set flood insurance rates for its five million policyholders across 46 states and territories. The majority of flood insurance rates will go up a little bit or stay the same, some annual premiums will go down, and the most expensive homes in the riskiest areas will see big rate hikes.
Homeowners buying new policies will be affected immediately. For current policyholders, these new rates will go into effect on April 1, 2022. If you have an NFIP flood insurance policy, you can contact your insurance agent right now to find out how the new methodology will change your flood insurance premium.
Don't panic: your flood insurance premium won't double overnight. Flood insurance rate increases are capped at 18 percent per year, so if you are going to see a big rate hike, it will be phased in gradually.
Read on for everything you need to know about these pricing changes and what they mean for your property and flood insurance policy.
Flood Insurance Rates are Changing: Why?
Almost all flood insurance is purchased through the Federal Emergency Management Agency ( FEMA )'s National Flood Insurance Program, known as the NFIP. Since 1968, NFIP has used the same basic methodology to set the cost of flood insurance. In 2012, Congress asked FEMA to make some important updates to NFIP, and now for the first time in over 50 years, the system is going to change.
FEMA 's new method of evaluating flood risk, which it calls Risk Rating 2.0, is more sophisticated and equitable than the old system. Right now, high-value homes are paying less than their fair share into the program, while lower-value homes are paying in more than they ought to. Risk Rating 2.0 is trying to change this.
The new methodology is also intended to increase most rates overall because NFIP is operating at a substantial deficit. As climate change makes flood damage a more common risk, Congress decided to update the flood insurance system to make sure homes are protected in the future and everyone is paying their fair share.
Who Will See F lood Insurance Rate Increases?
Nationally, about two-thirds of policyholders are going to see their monthly flood insurance rates increase between $0 and $10. That's a modest increase of no more than $120 per year, or around 15 percent of the average flood insurance premium.
A much smaller proportion of NFIP policyholders, about 7 percent, will see their rates go up between $10 and $20 per month, a more substantial hike, while 4 percent of policyholders will be hit with rate increases of $20 per month or more.
Keep in mind those with the highest rate increases will be wealthier customers who have higher-value homes in risky areas and are currently being unfairly subsidized by lower-risk policyholders who pay higher rates than they should. Those homeowners, 23 percent of flood insurance policyholders overall, will see their rates decrease. Score!
Your insurance company can ask FEMA what your new rate is going to be. Call your insurance agent now to find out how your flood insurance rates will change.
States Where Rates are Increasing
Texas, Hawaii, Louisiana, Florida, and New York will be most affected by Risk Rating 2.0. In these states, more than 10,000 homes will be subject to the biggest rate hike. And Texas and Hawaii will see flood insurance premium increases of some kind on almost every policy.
New risk ratings will also come down harder on property owners who have a flood insurance policy on non-primary residences. Pricing changes will also be harsher for businesses. Areas that participate in FEMA 's Community Rating System will retain their discounts.
Compare Car Insurance Quotes Instantly
Personalized quotes in 5 minutes or less
No signup required
Knowing if Your Rates are Increasing
Your annual premium for flood insurance is difficult to predict for an individual property. But FEMA has already mapped out its new premiums for flood protection. To find out how your flood insurance will be affected, you can reach out to your insurance agent, who can determine your new rating from FEMA and discuss your flood insurance premiums before the rate increases are implemented for current NFIP policyholders on April 1, 2022.
Flood Insurance Requirments
If you live in a Special Flood Hazard Area (SFHA), you'll still be required to have flood insurance for your federally backed mortgage. The SFHAs aren't changing under Risk Rating 2.0. Homeowners who don't live in SFHAs aren't required to have flood insurance.
So flood zones don't matter anymore?
In the old system, flood zones were one of the only criteria used to evaluate a property's flood risk and set rates for NFIP policies. Flood insurance rate maps (FIRMs) are static measurements that don't take into account real estate values, the property's elevation and flood mitigation tools, and other factors in flood risk, like storm surge and coastal floodplains.
Risk Rating 2.0 sets pricing based on a more sophisticated set of criteria. It will lower flood insurance premiums for lower-risk homeowners and crackdown on NFIP policies that aren't high enough.
It's important to note that equity is the most important driver of these rate hikes: wealthier homeowners will pay more for their insurance, and lower-income families who are overpaying will have better affordability so more property owners can have flood protection.
Frequently Asked Questions
If you live in a high-risk area, flood insurance rate increases could depress home values in your community, especially as rate hikes build up over time.

Insurers can find out from FEMA how their policyholders' flood insurance rates will change with the implementation of Risk Rating 2.0. Call your insurance agent to see what it means for you.

Because NFIP policies determine rates for the whole market, just because your premium increases doesn't mean you should switch. NFIP flood insurance rates are still subsidized compared to the rest of the market.

Risk Rating 2.0 premiums will be used to set pricing for new NFIP policies on October 1, 2021. The new rates will apply to existing NFIP policies on April 1, 2021, though rate increases are capped at 18 percent, so the price hikes will be spread out over some years if your flood insurance premiums are going to increase more than that.
Don't Panic About Flood Insurance Rate Increases
With Risk Rating 2.0, annual premiums will go up for most NFIP policyholders —but for most, the increase will be relatively modest. If your property isn't very valuable and your flood risk isn't super high, you have even less to worry about. And nearly a quarter of NFIP policyholders will actually save money thanks to the new changes.
If you live in Florida, Texas, Louisiana, or New York, you should strongly consider contacting your insurance agent soon because your flood insurance premium is likely to change.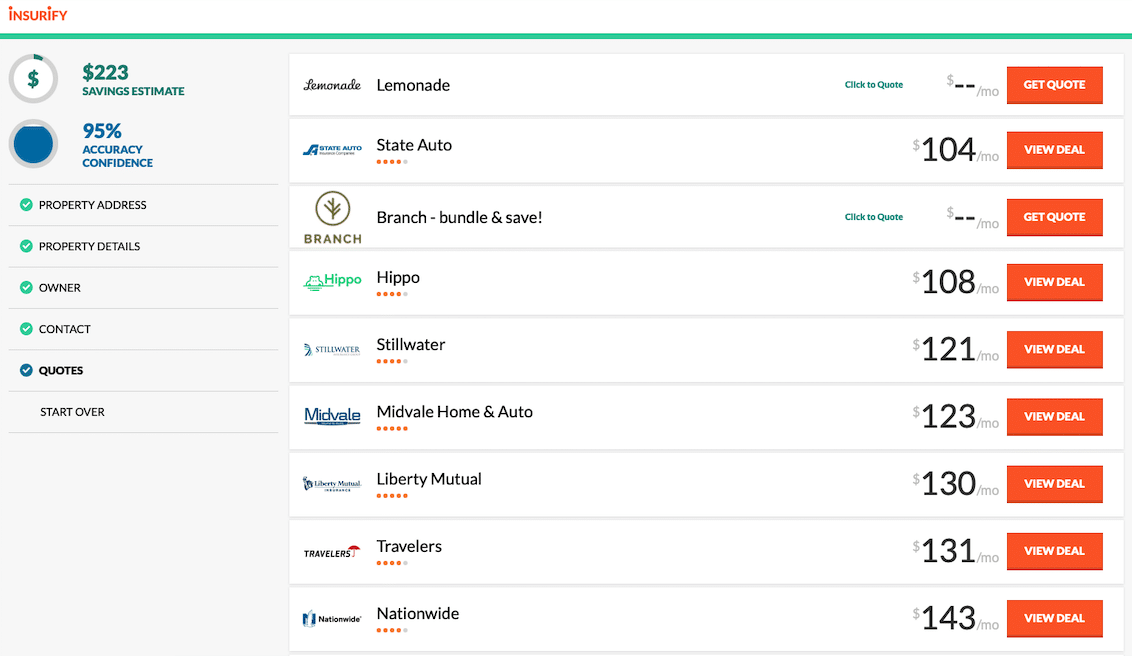 Compare Car Insurance Quotes Instantly
Personalized quotes in 5 minutes or less
No signup required
Data scientists at Insurify analyzed over 40 million auto insurance rates across the United States to compile the car insurance quotes, statistics, and data visualizations displayed on this page. The car insurance data includes coverage analysis and details on drivers' vehicles, driving records, and demographic information. With these insights, Insurify is able to offer drivers insight into how their car insurance premiums are priced by companies.