How can I find flood insurance near me?
Call your current home insurance, property insurance, or auto insurance company to buy flood insurance coverage.
The biggest risk to your home isn't wind damage or fire. It's flooding. According to the Federal Emergency Management Agency ( FEMA ), flooding is the most common and most expensive natural disaster in the United States.
Homeowners and renters insurance don't cover flood insurance claims. But you can protect yourself with flood insurance. If you're searching for "flood insurance near me," here's a step-by-step guide on how to get coverage.
Step 1: Understand Your Flood Insurance Needs
While home insurance and renters insurance don't cover flood damage, flood insurance is a type of insurance that specifically protects homes from the hazards of flooding. It covers the cost of repairing or rebuilding your house, apartment, or business after a flood. It can also pay to replace your belongings after they've had water damage.
Before you start shopping for a flood policy, you should have a ballpark estimate of how much coverage you need. At a minimum, your policy should pay to restore your home to its pre-flood condition and replace any personal items that you lost.
Policies are separated into two types:
Building coverage

Contents coverage
Building coverage protects the structure of your house, the electrical and plumbing systems, furnaces, washers and dryers, water heaters, and other appliances.
Contents coverage includes your clothing, furniture, electronic equipment, curtains, and other personal property.
Homeowners can benefit from both types of coverage. However, if you rent your living space, you'll only need to purchase contents coverage.
Step 2: Figure Out How to Shop for Flood Insurance
Your current home or auto insurance company or insurance agent is usually the best place to start shopping for flood insurance. However, you should know that not all flood insurance companies are the same—some policies come from FEMA, but you can also buy private flood insurance.
National Flood Insurance Program ( NFIP )
FEMA manages the National Flood Insurance Program ( NFIP ). The NFIP exists to offer insurance to help with disaster assistance when flooding strikes.
If your city, town, or community participates in the Community Rating System (CRS) for floodplain management, you'll have the option to buy an NFIP policy. According to FEMA, there's a good chance it's available where you live—over 1,500 communities participate nationwide.
Private Flood Insurance Companies
Private flood insurance is another option. Like an NFIP policy, private flood insurance covers the structure of your home and its contents from damage caused by a flood.
The difference between private flood insurance and the NFIP is that private policies receive no financial backing from the federal government. Private policies can also have higher coverage limits, provide customized coverage, and offer lower premiums.
Compare Home Insurance Quotes Instantly
Personalized quotes in 5 minutes or less
No signup required
Step 3: Gather Information You'll Need
The more information you provide about your home, the more accurate your quote will be. Here's what you'll need to provide to your agent or broker:
Home address

Rebuild value of the home

Coverage requirements from your mortgage lender

Value of personal belongings

Personal information like date of birth, occupation, and Social Security number
The property address will determine your flood area and if you're in a low- or high-risk flood zone.
If you're replacing flood coverage, you can find the details you need in your old policy. Otherwise, your homeowners insurance policy or renters insurance policy might have this information.
Step 4: Get a Quote and Select a Policy
The most common way to get flood insurance quotes is by going through the NFIP. Although the NFIP doesn't sell policies directly, it partners with over 60 insurance companies to sell and manage flood insurance coverage, including:
Allstate

Auto-Owners

Farmers

The Hartford

USAA
If you want to go the federal route, use FloodSmart. gov to find an NFIP flood insurance provider near you. You can qualify for discounted flood insurance rates if your community participates in the NFIP program.
Depending on where you live, you may be able to buy private flood insurance that isn't underwritten by the federal government.
While you can use an independent agent to help find the best option for your situation, a few private insurers you may want to consider include:
Keep in mind that NFIP building coverage is capped at $250,000, but private flood insurance often has higher policy limits and fewer exclusions. Review your policy options carefully to make sure you're getting the proper protection.
Step 5: Finalize Policy Details
The last step in your search to find "flood insurance near me" is to finalize your policy details:
Premiums: Paid in full or in monthly installments?

Deductible: Separate deductibles apply for building coverage and contents coverage.

Effective date: A waiting period of 10 to 30 days is common, depending on the type of coverage you buy.
Ask your insurance agent if you have questions about any policy details. Take the time now to understand your coverage so you know what to expect if a flood ravages your home.
Frequently Asked Questions
Flood insurance policies typically cover the structure of your home and its contents. It can include rebuilding your home and replacing appliances, furniture, and clothing.

Flood insurance cost depends largely on your flood zone and how much coverage you need. You can often lower insurance premiums by increasing your deductible, elevating utilities, or moving to an area with a low risk of flooding.

The most common way to buy flood insurance is through the NFIP, which FEMA manages. But you can also buy private flood insurance that isn't underwritten by the federal government.
Protect What Matters with Flood Insurance
Flooding can happen anytime, anywhere—it does not discriminate. You can protect your property and belongings from the damages and losses caused by flooding with a flood insurance policy.
Before purchasing a policy, figure out your flood insurance needs and how you want to shop for a policy. You may have the option of a federal NFIP policy or private flood insurance.
Then, take the time to understand your coverage to make sure you have the proper protection if floodwaters invade your home.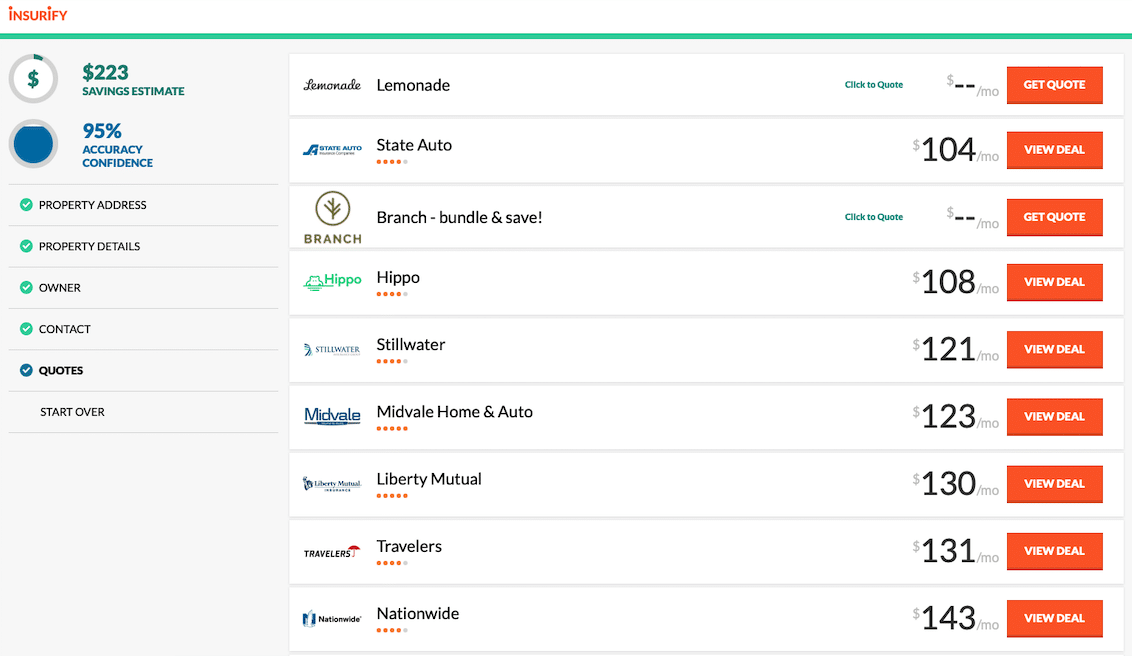 Compare Home Insurance Quotes Instantly
Personalized quotes in 5 minutes or less
No signup required
Data scientists at Insurify analyzed over 40 million auto insurance rates across the United States to compile the car insurance quotes, statistics, and data visualizations displayed on this page. The car insurance data includes coverage analysis and details on drivers' vehicles, driving records, and demographic information. With these insights, Insurify is able to offer drivers insight into how their car insurance premiums are priced by companies.