Do you need flood insurance for a condo?
If you want to protect your personal belongings from flood damage, you need to purchase a separate condo flood insurance policy.
Flooding is on the rise across the country. Whether your condo is faced with coastal, riverine, or urban flooding, you need flood insurance to protect you from flood loss. That's because a standard HO-6 policy never covers flooding.
This article shows you the different aspects of condo flood insurance —what's covered by your association and what needs to be covered by you.
Ready to save on condo insurance? Try the Insurify rate-comparison tool and compare policies with flood coverage from the best insurers in your area today!
Do You Need Flood Insurance for a Condo?
If your condo is in a high-risk flood zone, also called a Special Flood Hazard Area ( SFHA ), you should carry flood insurance. If you have a mortgage out on your condo, your lender will require you to carry a policy.
The same rules apply to your association: if your condo association has any active lending (mortgage or line of credit) on the buildings, the lender will require your association to carry a policy.
But even when it's not mandatory, condo owners should purchase individual flood insurance to protect their property if they live in a high- or moderate-risk flood zone. This is for two reasons: flood damage is expensive, and condo flood insurance is relatively inexpensive.
Unlike a homeowners policy for flooding, your condo flood insurance just needs to cover what's inside the condominium unit. An owner of a single-family home needs to cover the building. When you live in a condo, building coverage is paid for by your association.
What Does Condo Flood Insurance Cover?
Like your HO-6 policy, flood insurance for your condo covers what is inside the unit. This is often called contents coverage, and with it, personal belongings like clothing, jewelry, furniture, and artwork are covered.
Most condo owners purchase their policy through the National Flood Insurance Program ( NFIP ). These policies cover you up to $100,000 minus the deductible. But there are some important coverage exclusions.
First, if your personal property is worth more than $100,000, you will need to purchase additional insurance. Currency, documents, and stock certificates are excluded from coverage. If you have specialized property, like high-value art or collectibles, you may need a special appraisal and rider to have that covered.
Additional living expenses (ALE) are not included in condo flood insurance. ALE covers the extra costs of having to live outside your home temporarily, like hotel stays, laundry, and extra fuel. You'll need a special rider to get ALE coverage, and we recommend it.
Finally, you should note that you're covered for the actual cash value (ACV) of your property. That means the value of your property minus depreciation. If you want to purchase replacement cost value (RCV) coverage, you'll need to specify that in your policy.
Compare Car Insurance Quotes Instantly
Personalized quotes in 5 minutes or less
No signup required
What Does Condo Association Flood Insurance Cover?
If you live in a high-risk flood zone, your homeowners association ( HOA ) likely carries a master flood insurance policy. When this policy is purchased through the Federal Emergency Management Association ( FEMA ), it's known as a residential condominium building association policy ( RCBAP ).
This policy covers your condo's common areas. That means roofs, structures, parking lots, elevators, and other shared spaces. It also covers some things inside your unit, including:
Floors

Ceilings

Appliances

Cabinetry
The coverage limit for the RCBAP is either the replacement cost of the condo building (s) or the number of units multiplied by $250,000, whichever is less.
The Cost of Condo Association Flood Insurance
Master flood insurance policies are expensive, especially for associations with a large number of condo units. And ultimately, these costs are passed on to unit owners through association dues.
Because of the high expense, some associations forgo flood coverage to save money. However, this is not advisable if the entire building or even part of the building is in a floodplain. Flood risk is serious, and flood damage can easily bankrupt an association.
If you're concerned about flood coverage, you can petition to make flood insurance mandatory in the association bylaws. Importantly, some lenders will refuse to offer mortgages to would-be condo owners if the HOA does not carry a master flood insurance policy. That can hurt property value, which no one wants.
Frequently Asked Questions
Condo associations must purchase property insurance, but for some, flood insurance is optional. If the association has a lending product (mortgage or line of credit) backed by the buildings and the condo is located in a high-risk area, flood insurance is typically mandatory. Condo owners can also press for mandated coverage for their association.

For most, condo flood insurance is worth it. Your association's flood insurance protects the structure of your condo. But it does not protect what's inside your condo. Purchasing flood insurance helps protect you from property loss.

There are a few main ways to look up your flood zone. Your local government website likely offers flood map information. You can also get a copy of your flood map at FloodSmart.gov. You can also order it from FEMA.
Saving on Condo Flood Insurance
You can always find ways to save on insurance, including flood insurance. Always participate in any discount programs you qualify for. Petition your association to invest in flood prevention like advantageous landscaping. If you're on the ground floor, elevate your appliances and store valuables above potential flood elevation.
Finally, always remember to compare your condo flood insurance rates before you buy. Insurify makes this easy with our free tool. Fill out one confidential form and compare rates from top insurers in your area. Only purchase when the price is right.
Still have questions? Speak to one of our qualified insurance agents. Try it today!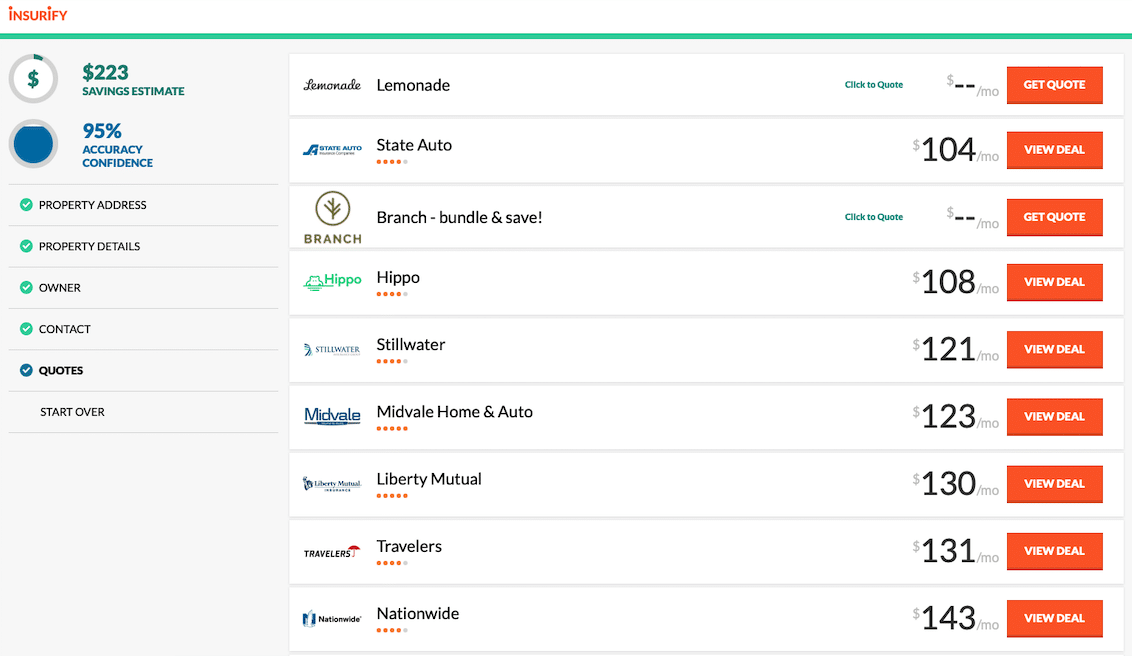 Compare Car Insurance Quotes Instantly
Personalized quotes in 5 minutes or less
No signup required
Data scientists at Insurify analyzed over 40 million auto insurance rates across the United States to compile the car insurance quotes, statistics, and data visualizations displayed on this page. The car insurance data includes coverage analysis and details on drivers' vehicles, driving records, and demographic information. With these insights, Insurify is able to offer drivers insight into how their car insurance premiums are priced by companies.