Do I need flood insurance?
If you live in a designated flood zone or region with frequent storms, you may want to add flood insurance to your home insurance policy for the most comprehensive coverage.
Comparison shopping is the key to insurance savings. We hear about the importance of comparing coverage options and quotes all the time when it comes to home and auto insurance policies. That's why Insurify exists, after all.
But when it comes to comparing your flood insurance options, you'll notice there aren't all that many. There's federal flood insurance and private flood insurance, and the option that's best for you depends on your home's flood risk and the coverage you need.
If you're feeling in over your head, you've come to the right place. Insurify is here to calm the waters and clear up all of your flood insurance confusion.
What does flood insurance cover?
The Federal Emergency Management Agency ( FEMA ) defines a flood as "an excess of water on land that is normally dry, affecting two or more acres of land or two or more properties."
Since homeowners insurance policies don't cover flood damage, FEMA established the National Flood Insurance Program ( NFIP ) to make sure homeowners in high-risk flood zones (known as Special Flood Hazard Areas or SFHAs) can get the insurance coverage they need. NFIP flood insurance policies are available to any homeowner regardless of their flood risk, as long as they live in one of the 23,000+ communities that participate in the program. Visit FEMA. gov to see if your community participates in the NFIP.
NFIP policies are generally split into two coverage options— building coverage and contents coverage. Each policy will cover damage to your home and personal property caused by heavy rain, melting snow, overflow of rivers and lakes, natural disasters like hurricanes, and dam failure. Policyholders can choose a residential building coverage limit as high as $250,000 and a contents coverage limit up to $100,000.
Building coverage protects:
Your home's foundation, walls, and staircases

Electric systems

Plumbing systems

Refrigerators and stoves

Built-in appliances

Permanently installed carpets, cabinets, bookcases, and paneling

Window blinds

Fuel tanks and the fuel in them

Well-water tanks and pumps

Furnaces, water heaters, and central air systems

Solar energy equipment

Detached garages

Includes debris removal
Contents coverage protects:
Personal belongings like clothing and electronics

Furniture

Washers and dryers

Microwave ovens

Portable air conditioners

Food freezers and any food in them

Carpeting that isn't covered by building coverage

Valuables like artwork and furs up to $2,500
Homeowners can also purchase flood insurance from private insurers. Private flood insurance has the added benefits of higher coverage limits, higher deductibles, and additional coverage options. Some private insurers even offer flood endorsements as cheaper add-ons to your home insurance coverage or to enhance your NFIP coverage.
Private flood policies include the same coverage as NFIP policies, plus:
Loss of use (a.k.a. additional living expenses ) coverage to pay for temporary housing while your home is repaired

Replacement cost coverage for your building and contents

Building limits up to $500,000
Flood Insurance Exclusions
Whether you opt for flood coverage through the federal government or a private insurance agent, no policy can cover everything. In general, flood insurance policies don't cover any property outside of your home or garage or any personal property stored in basements or crawl spaces.
Keep in mind that FEMA defines a flood as "an excess of water on land that is normally dry, affecting two or more acres of land or two or more properties." If your home sustains water damage that doesn't fall into this definition, you may not be covered.
Items excluded from building coverage:
Property outside of the insured home

Swimming pools and hot tubs

Wells

Septic systems

Decks, patios, and sidewalks

Fences
Items excluded from contents coverage:
Personal property stored in basements

Currency

Precious metals

Stock certificates

Valuable papers

Self-propelled vehicles, including cars, motorcycles, snowmobiles, and lawnmowers
Coverage and perils excluded from NFIP policies:
Additional living expenses coverage

Sewer backup damages (unless directly caused by a flood)

Damaged landscaping

Financial losses

Preventable damage caused by mold or mildew
Compare Car Insurance Quotes Instantly
Personalized quotes in 5 minutes or less
No signup required
Flood Insurance Coverage Caveats
When it comes to understanding your insurance policy, what's included in your coverage is just the start. Here are a few more things you should know about flood insurance coverage before you buy a policy.
Type of Coverage
The whole point of insuring your home is to make sure you're financially covered in case of emergency. So it's important to know how your flood policy will reimburse your losses when you file a claim.
Insurance companies pay out flood claims in one of two ways: replacement cost or actual cash value. Replacement cost value (RCV) policies pay to completely replace your damaged property regardless of the property's state before it was damaged. Actual cash value (ACV) policies, on the other hand, only pay to replace or repair your items to their previous state, meaning these policies account for the depreciation of your older possessions.
NFIP policies reimburse building damages at their replacement cost, but only when all the following circumstances apply:
The insured building is a single-family dwelling.

The insured building is your principal residence (i.e., you live there at least 80 percent of the year).

Your building coverage is at least 80 percent of the full replacement cost of the building (or the maximum $200,000 limit).
Building damage for homes that don't meet these requirements, along with personal property and certain items like carpeting, is reimbursed for actual cash value.
Deductibles
If you purchase both building and contents coverage, you will also need to choose separate deductibles for each policy. Building deductibles start at $1,000 for homes with coverage limits less than $100,000 and at $1,250 for homes with coverage limits greater than $100,000. Personal property deductibles start at $1,000.
The higher you set your deductibles, the less you'll pay for flood insurance now, but the more you'll be left paying when you file a claim. If you need to file flood claims for damage to both your building and personal property, you'll have to pay both deductibles.
Your mortgage lender may also have limits on how high your deductibles can be.
Elevation Certificates
Homes in high-risk flood zones need to provide elevation certificates to FEMA to qualify for coverage.
These certificates show the level of your home's lowest floor and your area's base flood elevation (BFE), which is how high floodwaters are expected to rise near your home. If your lowest floor's elevation is lower than the BFE, your home is at high risk for flooding.
FEMA uses elevation certificates to determine your home's risk and your flood insurance cost. You can look for your home's elevation certificate by calling your local floodplain manager, contacting the original builder of your home, or checking to see if the certificate is with your deed. If there is no elevation certificate for your home, you'll need to hire a licensed surveyor to complete the certificate for you.
Elevation certificates can also help you lower your flood insurance premiums if you've mitigated your home's flood risk by filling in your basement, for example.
Waiting Periods
If you thought you could hold off on buying a flood policy until the next storm was heading your way, think again. Most NFIP policies have a 30-day waiting period from the time you purchase your policy to the time your coverage kicks in, so your flood insurance coverage won't protect you from storms during the first month of your policy.
FEMA will waive the waiting period in three circumstances:
Your mortgage company requires you to purchase flood insurance coverage, and you purchase flood insurance while applying for your mortgage.

You change your flood insurance coverage amount when renewing your flood insurance policy.

You live on federal land, and a wildfire elicits flooding. If you purchased coverage within 60 days of the wildfire's containment, FEMA will consider waiving the waiting period.
FEMA regularly updates flood maps to reflect changes to an area's flood risk. Because of this, there is only a one-day waiting period for homeowners who purchase flood coverage within 13 months after their area has been newly designated as high risk.
Most private flood insurance policies have 15-day waiting periods. For homeowners in lower-risk areas and those looking for fast flood insurance coverage, private insurers may offer better policy options.
Private Insurance
Private flood insurance policies are great for homeowners outside of high-risk flood areas and those looking for higher coverage limits. But private insurers can choose not to issue policies to homes they deem too risky and may not renew policies for homeowners who've filed expensive flood claims in the last year.
If you know your home is likely to experience flood damage, an NFIP policy will probably be your best bet since FEMA can't refuse or choose not to renew coverage for homes in high-risk areas.
Still flooded with questions? Insurify has got your back.
Flood Insurance Coverage FAQs
Yes. Since NFIP building and contents policies are sold separately, renters can purchase contents coverage to protect their personal belongings even though they don't need to insure the building they live in.

According to FEMA, 40 percent of flood claims from 2014 to 2018 came from homes outside high-risk areas. Most homeowners in low- and moderate-risk areas can qualify for the NFIP's Preferred Risk Policy (PRP), which offers combined building and contents coverage at lower rates. Private insurers can also provide flood coverage to low-risk homes at lower costs. If you still aren't sold on whether you need flood insurance and choose to forgo the insurance policy, be sure to set aside some funds in case of emergency.

FEMA has flood maps for all the communities that participate in the NFIP. You can check to see if your home is located in a Special Flood Hazard Area (SFHA) and find your area's Flood Insurance Rate Maps (FIRM) at floodsmart.gov.
Flood Insurance Coverage: The Bottom Line
Homeowners outside high-risk flood zones typically aren't required to purchase flood insurance. But floods are the most common natural disaster in the U.S., so you'll likely benefit from the protection flood insurance provides. And it's always best to know what comes with the coverage before you buy a policy.
Don't forget to use Insurify's home insurance comparison tools while you're here! It only takes a few minutes to find serious savings.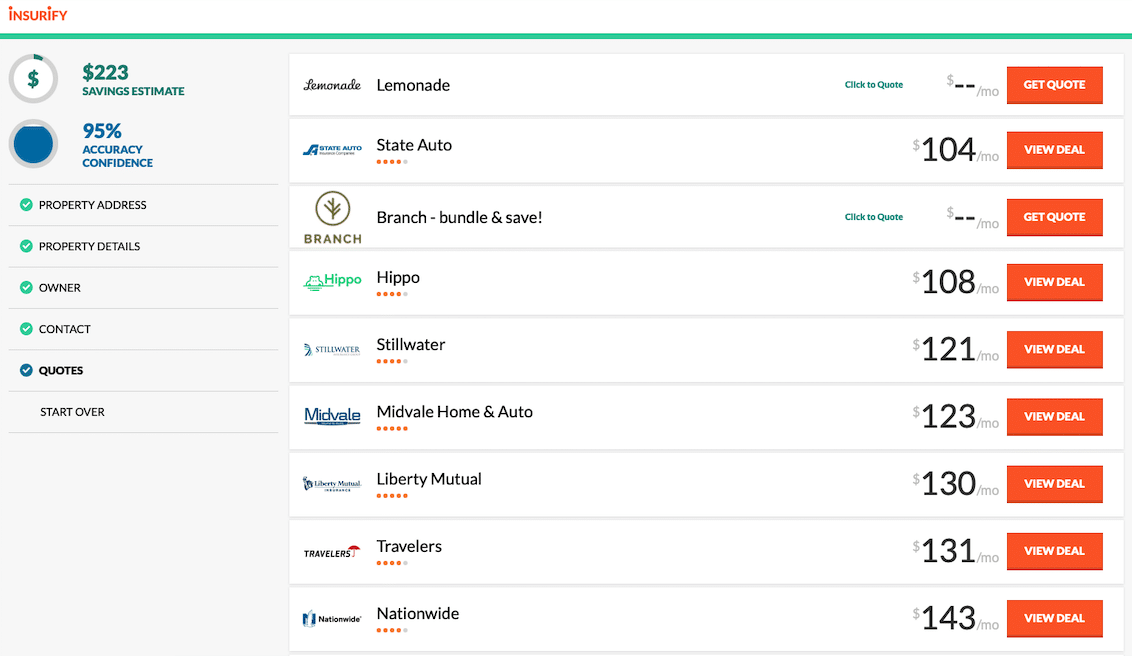 Compare Car Insurance Quotes Instantly
Personalized quotes in 5 minutes or less
No signup required
Data scientists at Insurify analyzed over 40 million auto insurance rates across the United States to compile the car insurance quotes, statistics, and data visualizations displayed on this page. The car insurance data includes coverage analysis and details on drivers' vehicles, driving records, and demographic information. With these insights, Insurify is able to offer drivers insight into how their car insurance premiums are priced by companies.