What is fire insurance?
Fire insurance is a special form of property insurance that covers financial and physical damages from fire.
Fire is a bigger danger than many homeowners realize, especially if you happen to live in a wildfire area.
According to the National Fire Protection Association, firefighters in the U.S. respond to a new fire every 24 seconds and 72 percent of those fires occur in someone's home.
If a fire does happen in your home, you may not have the coverage you expect from a standard homeowners insurance policy. Just as homeowners insurance policies in Southern California generally don't include earthquake coverage, so may homeowners insurance policies in high-risk fire areas not include fire coverage. And even if your homeowners insurance company does cover fire damage, it may not cover some of the side consequences of a fire.f
Insurify offers real, free, trustworthy homeowners insurance quotes in minutes. See how much you can save on your new dwelling!
Fire Insurance Coverage
If your home is damaged by a fire, you'll likely have other kinds of damage to deal with as well.
If firefighters arrive and put out the fire, you'll probably have significant water damage from the fire hoses.

If the water damage is not repaired immediately, dry rot could set in and eat away at your home's structure.

Where there's fire, there's smoke—and fire coverage doesn't always include smoke damage coverage, too.
Does your homeowners policy cover insurance claims related to all these types of damage? Check your policy to find out. If not, you may need to get a separate fire insurance policy to protect your home, especially if you're at high risk of a fire. Get the most out of your payout by ensuring you've chosen the best property coverage limits.
If your homeowners insurance policy covers fire damage, it doesn't just include the physical structure of your house. Homeowners insurance policies cover not only the building itself (AKA dwelling coverage) but also your personal property inside your house and (in most cases) separate structures on your property, such as a detached garage.
Homeowners insurance also comes with liability protection that may come in handy after a fire. For example, if a fire on your property spreads to the neighbor's property and the neighbor sues you for the cost of his fire damage, your homeowners insurance liability coverage could help with your legal expenses.
Finally, many homeowners insurance policies will help cover loss-of-use expenses after your home is damaged. For example, if your home burns down and you have to live in a hotel for a while, these are considered part of your covered losses, and as additional living expenses, they would be covered by your policy. Policyholders have peace of mind knowing their personal belongings and dwelling are fully covered from property damage caused by fire.
How Home Fire Insurance Coverage Works
Whether you get your fire insurance protection from your homeowners policy or a separate fire insurance policy, you'll need to make sure that you get a policy that protects you from all the types of damage you fear. Before you can determine whether or not your policy covers these various types of damage, you need to know whether it's a "named peril" or "all-risk" type of policy.
Named Peril Insurance Policies
A named peril policy only covers the dangers that are specifically mentioned in the policy. So if a named peril homeowners insurance policy lists fire damage as being covered but doesn't mention smoke damage, then smoke damage would not be covered by the policy.
If a particular type of damage is included in a named peril policy, it'll be covered even if the root cause of the covered damage is something that doesn't appear on the named peril list. For example, if fire damage is not covered by your homeowners insurance policy but water damage is included, then the water damage from the firefighters' hoses in the previous example would be covered by your insurance carrier.
All-Risk Insurance Policies
An all-risk policy, sometimes also called special form insurance, covers all types of damage except for those that are specifically excluded from the policy. Since an all-risk policy could potentially extend to types of damage that the insurer never considered (alien invasion?), these types of policies are considered riskier by insurance carriers and generally cost more than equivalent named peril policies.
Once you figure out whether your policy is a named peril or all-risk policy, you'll know how to check for fire damage coverage and other related types of coverage. If it's a named peril policy, check the list of perils to make sure that fire, smoke, water, and related damages are included on the list. If it's an all-risk policy, check the list of exclusions to make sure that these types of damage don't appear.
If your homeowners insurance policy does include fire damage and all the related types of damage, you're still not out of the woods yet: you'll need to confirm whether the policy will provide full replacement cost coverage or actual cash value coverage after a fire.
Full Replacement Cost Coverage Insurance
An insurance policy that provides full replacement cost will pay the entire amount needed to replace the damaged or destroyed item with an equivalent item. For example, if your garage burned down in a fire and your homeowners insurance included full replacement cost coverage, the carrier would pay you however much it would cost today to build an exact replica of your old garage.
Be aware that even full replacement cost coverage is subject to whatever your coverage limit may be. If your coverage limit is $200,000 and it would cost $300,000 to replace the destroyed structure, you'll still only get $200,000 from the insurance carrier.
Actual Cash Value Coverage Insurance
Many insurance policies provide actual cash value coverage (also known as fair value coverage) rather than full replacement cost. The actual cash value will only pay up to the market value of the destroyed or damaged item, based on how much it was worth just before it was damaged. For example, if your garage burned down and the most recent appraisal indicated it was worth $50,000, the insurance carrier will only pay you $50,000 to cover the damage—even if it would cost much more than that to replace the garage.
Actual cash value coverage may be further limited by depreciation, meaning how much the value of the item has dropped based on its expected lifespan. For example, if your five-year-old riding mower was in the garage and was destroyed when it burned down, an actual cash value policy would pay you based on the mower's current value minus five years' worth of depreciation for the mower.
Compare Car Insurance Quotes Instantly
Personalized quotes in 5 minutes or less
No signup required
Getting a Separate Home Fire Insurance Policy
Once you've reviewed your homeowners insurance policy to see how it handles fire damage, you may be unhappy with your findings. In that case, you have two options: get a new homeowners insurance policy with better fire damage coverage, or keep your existing homeowners insurance policy but get a standalone fire insurance policy to provide additional coverage.
Before you can make this decision, you'll need to check rates on both homeowners insurance policies that include strong fire damage coverage and standalone fire insurance policies.
Fire Insurance - Frequently Asked Questions
What is fire insurance?
Fire insurance is a form of property insurance that can be purchased as supplemental coverage as an add-on product. This type of insurance protects homeowners from damage caused by fire, which is generally not covered by traditional home insurance.
Is fire insurance required?
Most mortgage lenders will require homeowners who live within fire zones to secure fire insurance prior to granting a loan. Fire insurance is never a bad idea for homeowners who live in fire prone areas, and even if its not required by their lender, may want to consider it.
Does fire insurance cover damage from all types of fires?
Wildfires, kitchen fires, gas fires, arson… flames come from a lot of places. Lucky for homeowners with fire insurance as a supplemental product, they know they're covered no matter how the fire stared.
Fire Insurance: The Bottom Line
Insurify can help you compare rates for policies that include the same coverage options so that you can be sure you're looking at equivalent policies.
Next, it's just a matter of crunching the numbers to see if your existing home insurance policy plus a standalone fire policy is more or less expensive than a single, comprehensive homeowners insurance policy.
Don't forget that whichever option you choose now, you'll need to review at least annually to make sure you're still getting the best deal. Fire insurance coverage is an important part of protecting your home, but there's no reason you should be paying more than you have to for such a policy.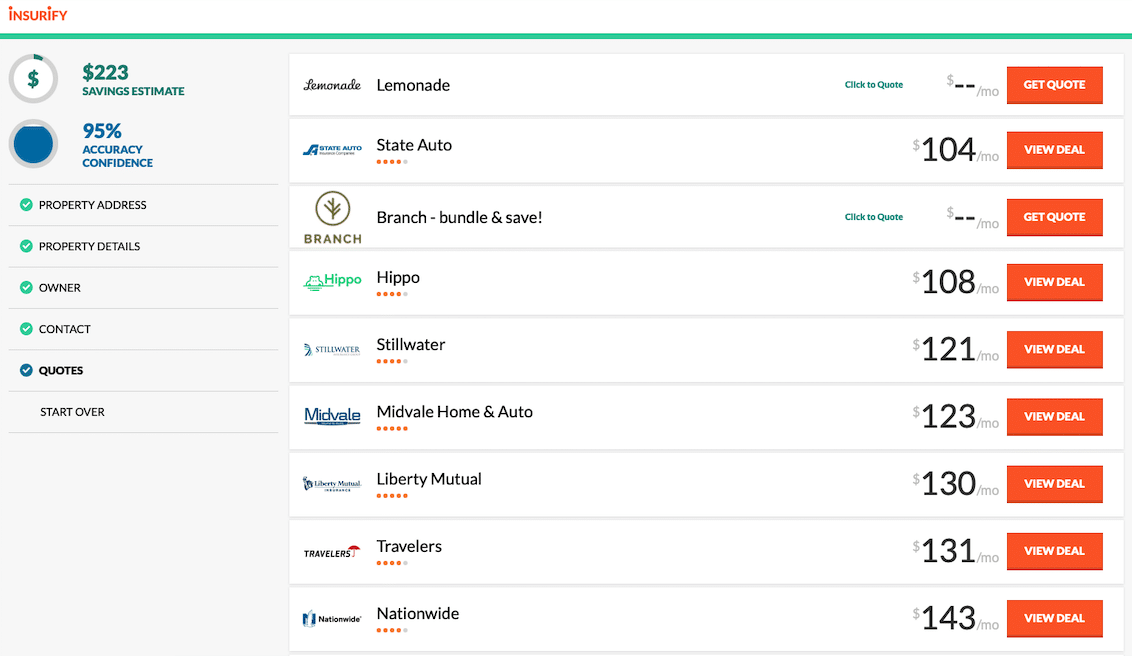 Compare Car Insurance Quotes Instantly
Personalized quotes in 5 minutes or less
No signup required
Data scientists at Insurify analyzed over 40 million auto insurance rates across the United States to compile the car insurance quotes, statistics, and data visualizations displayed on this page. The car insurance data includes coverage analysis and details on drivers' vehicles, driving records, and demographic information. With these insights, Insurify is able to offer drivers insight into how their car insurance premiums are priced by companies.