How much is flood insurance in Colorado?
You should expect to pay between $900 and $1,000 per year for flood insurance in Colorado. You may pay more or less depending on your flood zone and the rebuild value of your home.
Though Colorado gets a lot of press coverage for wildfires, flooding is just as common in the Centennial State. While the mountainous landscape may not look like your average floodplain, all areas of the state have high- risk flood zones. If you live in one of these areas, flood insurance is a must.
This article will give everything you need to understand how much flood insurance you need and where to get it. Plus, you'll get the inside scoop on how to save on your flood insurance policy.
Ready to save now? Check out the Insurify home insurance comparison tool. You can compare home insurance rates, including flood coverage, from top companies in your area. Only buy if the price is right. Try it today!
Do I Need Flood Insurance in Colorado?
Standard homeowners insurance policies never cover flood insurance. Homeowners living in areas of flood risk need to purchase a separate policy to protect their homes from floods.
In Colorado, many homeowners are required to carry flood insurance, especially if they have a mortgaged property in a high- risk flood zone, also called a Special Flood Hazard Area (SFHA). Not only does your lender require it, but the federal government requires your lender to make flood insurance mandatory.
Homeowners in moderate- or low-risk areas may or may not be required by a lender to carry a flood policy. And homeowners who have no lending product collateralized by their home aren't required to carry a flood policy.
However, it's still a great idea. Flooding is becoming a larger issue each year, thanks to increased precipitation and urban sprawl. More rain and snow mean more water to flood water tables. Increased urbanization means less natural ground and vegetation to absorb that water.
Finally, flood damage is among the most expensive forms of property damage. Not only can the water damage ruin levels of a home, it can also lead to other forms of damage, like mold and rot.
Colorado Flood Zones
There are flood zones in every county of Colorado. In drier regions, flash floods are a big concern. The cities with the most properties at risk of flooding in Colorado are:
Colorado Springs: 15,440 properties

Denver: 10,136 properties

Fort Collins: 4,559 properties

Aurora: 4,058 properties

Longmont: 4,023 properties
According to FloodFactor, Colorado will see a 2.3 percent increase in the number of properties at substantial flood risk in the next 30 years. However, many local governments are addressing the increased risk with public works projects, including:
Building levees

Upgrading sewer systems

Building detention basins

Protecting marshes and wetlands

Building rain gardens and bioswales
You can find a detailed flood map for your area either through your local government website or by visiting FEMA 's website at www. FEMA. gov.
What's Covered with Colorado Flood Insurance?
Flood insurance comes in two parts: building coverage and contents coverage. Building coverage is mandatory with flood insurance, as the building(s) is the collateral on your mortgage. Home contents coverage is optional but highly recommended.
| Building Coverage | Contents Coverage |
| --- | --- |
| Detached garages | Washer and dryer |
| Foundation walls | Microwave |
| Anchorage systems | Portable and window air conditioners |
| Staircases | Jewelry |
| Electrical systems | Artwork |
| Plumbing systems | Clothing |
| Refrigerators | Furniture |
| Stovetop and oven | Electronics |
| Dishwasher | Furs |
| Water heaters | Curtains |
| Permanently installed air conditioners | Non-permanent carpeting |
| Sump pump | |
| Permanently installed carpets | |
| Built-in cabinets, paneling, and bookshelves | |
| Fuel tanks | |
| Well-water tanks and pumps | |
| Solar energy equipment | |
Replacement Cost Value vs. Actual Cash Value
A standard flood insurance policy insures you for the actual cash value (ACV) of your building and contents. ACV is calculated based on the value of the property minus depreciation. That means that damage to a 15-year-old roof with an estimated lifetime of 20 years gets a payout of 25 percent of the roof's cost.
That's why it's recommended that property owners purchase coverage that reimburses for replacement cost value (RCV). With RCV, the payout for the same roof would be whatever the cost is to replace it, minus the deductible.
While ACV policies often have less expensive premiums, RCV policies save homeowners thousands in the event of a claim.
Compare Car Insurance Quotes Instantly
Personalized quotes in 5 minutes or less
No signup required
What's Not Covered with Colorado Flood Insurance?
Flood insurance does come with exclusions. The maximum coverage limit under National Flood Insurance Program ( NFIP) flood insurance is $250,000 for building coverage and $100,000 for contents coverage. If the rebuild cost of your property exceeds those limits, you'll need to buy an additional policy through a private insurer to cover the gap.
Exclusions include:
Cars, trucks, and other vehicles

Landscaping and fencing

Patios and decks

Pools and hot tubs

Seawalls

Septic systems

Currency and precious metals

Stock certificates and other documents

Additional living expenses (ALE)

Business losses caused by flooding
You can cover these exclusions by adding on a rider to a current policy (e.g., add flood insurance to your car insurance) or by buying a private flood insurance policy.
Finally, remember that flood insurance is only for damage caused by flooding— heavy rains, storm system backups, etc. If you experience water damage due to another factor, like burst pipes, the damage would need to be covered with a different policy, such as a home insurance policy.
Additional Living Expense (ALE)
Additional living expenses (ALE) coverage covers you when you need to live temporarily outside of your home. With this coverage, you're reimbursed for hotel stays, laundry, pet boarding, added fuel costs, and more. Without ALE coverage, homeowners foot that bill on their own.
To add ALE to your flood insurance policy, you'll need to add a rider. You can do this through the insurance provider managing your flood insurance plan or another insurer.
What's the Cost of Flood Insurance in Colorado?
Your flood insurance rate will depend on a few factors:
Your property's risk for flooding—higher- risk areas are more expensive to insure.

Your home's size —larger homes are more expensive to insure.

Your home's building materials —higher quality materials are more expensive to replace but may be more resistant to flood damage.

Your home's finishings (faucets, tile, etc.)—luxury finishings are more expensive to insure.

The age of your home—older homes are often more expensive to insure.

Your deductible —the lower the deductible, the more expensive the premium.

Qualifying discounts —the more discounts you qualify for, the lower the premium.
The average homeowner in Colorado should expect to pay between $900 and $1,000 annually to add flood insurance to their insurance plan. That's about the national average.
Flood Insurance Deductibles
You can choose your deductible with NFIP -backed flood insurance. The minimums are:
$1,000 for building coverage of $100,000 or less

$1,250 for building coverage over $100,000
You can also raise your deductible to receive a discount on your premium. The maximum deductible of $10,000 comes with a 40 percent discount on your premium.
Wherever you set your deductible, you should make sure that you have the savings to cover it in the event of a claim.
How to Get a Flood Insurance Policy in Colorado
There are two main ways to buy flood insurance in colorado:
Buy a federal flood policy through a local insurer

Buy a private flood policy through a private insurer
Because the NFIP has limits as to how much you can insure, some homeowners will need to purchase a combination of policies.
Keep in mind that flood insurance comes with a mandatory 30-day waiting period from the day you purchase it. You can qualify for a shorter waiting period if:
You just bought your home and you're buying insurance for the first time.

Your home was recently revised to be in a high- risk flood zone.
National Flood Insurance Program ( NFIP )
The National Flood Insurance Program ( NFIP ) is flood insurance backed by the federal government. NFIP insurance policies are typically less expensive than private insurance. You must buy an NFIP policy through an insurer, such as Farmers or Liberty Mutual.
For a list of approved providers in your area, you can visit FloodSmart.gov or call the NFIP at 1 (877) 336-2627.
Private Flood Insurance
If you own a luxury home or simply do not want to purchase through the NFIP, you can buy a flood policy on the private market. These policies tend to be more expensive, but they also offer greater flexibility, including the option to add riders and other special protection not offered by federal programs.
Does FEMA Provide Flood Insurance?
FEMA is the Federal Emergency Management Agency, and it does not provide flood insurance. FEMA coordinates aid during a declared disaster. Most floods, while technically a form of natural disaster, are not big enough to become a declared disaster. Yet they can still inflict thousands in damages to property owners.
Even when a flood is declared a disaster, FEMA doesn't pay much. The maximum payout is $30,000 per household. But the average payout is just $7,000.
Purchasing the proper insurance coverage is always the better choice.
Frequently Asked Questions
For most homeowners, the value of flood protection is worth the price. If you live in a high-risk flood zone, your chances of experiencing a flood over the next 30 years is 26 percent! As flooding becomes more prevalent, those chances increase. Given the high cost of flood damage repair, the premiums are typically worth the cost.

Yes, renters should buy flood insurance if they live in a high- or moderate-risk area. Flood insurance for renters is inexpensive as it just covers your personal belongings. Renters in low-risk areas should do some additional research to determine if flood coverage is right for them.

Remember, high-risk areas don't have to be near a river. Always look up your flood zone before you decide.

There is no such thing as a "no-risk" flood zone according to FEMA. However, some flood zones are at increased risk of flooding. When evaluating whether to purchase, you should consider the current and future risk of flood. To evaluate future risk, consult FloodFactor, which offers flood information using predictive modeling based on climate change.
How to Save on Flood Insurance
Though flood insurance can be expensive, there are ways you can save on your premiums. Here are the best ways to save on your flood insurance policy:
Use discount programs to lower your premium.

Raise your deductible if you can cover the cost.

Install floodproofing like floodgates and swales.

Ensure the ground is graded (sloping) away from your house.

Elevate basement appliances and systems.

Store your personal belongings in the attic or on shelving units.

Compare flood insurance quotes from multiple insurers.
And don't forget to shop for homeowners insurance (with flood coverage!) using Insurify. Compare policies from top insurance companies and find your best rate fast. Still have questions? Speak to one of our talented insurance agents. Our service is confidential and free to use. Try it today!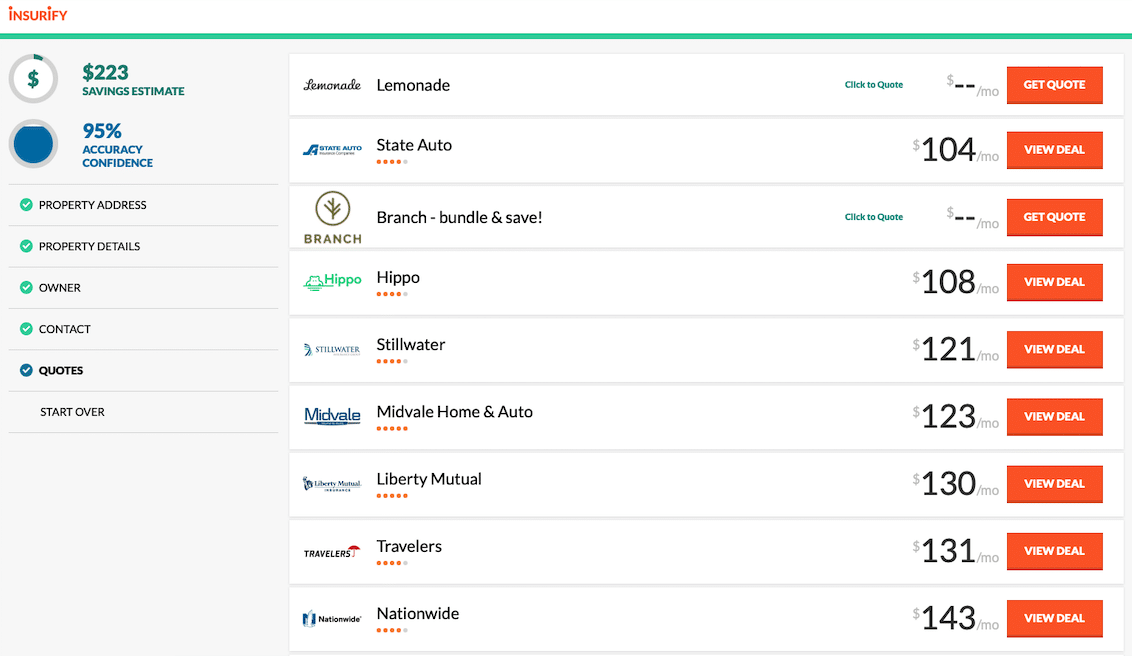 Compare Car Insurance Quotes Instantly
Personalized quotes in 5 minutes or less
No signup required
Data scientists at Insurify analyzed over 40 million auto insurance rates across the United States to compile the car insurance quotes, statistics, and data visualizations displayed on this page. The car insurance data includes coverage analysis and details on drivers' vehicles, driving records, and demographic information. With these insights, Insurify is able to offer drivers insight into how their car insurance premiums are priced by companies.