Best For…
Young puppy and kitten owners

Pet owners only looking for preventive and routine care coverage

Those with access to a Banfield Pet Hospital
Not the Best For…
Pet owners looking for accident and illness coverage

Those living in North Dakota, South Dakota, Wyoming, West Virginia, Maine, or Vermont

Pet parents who want to choose their vet

People looking for cheap wellness plan coverage
Why buy a wellness plan?
Choosing between buying a pet insurance policy or a wellness plan can be tough for any pet parent. It is impossible to predict when a sudden illness or injury might impact your furry friend, but routine and preventive care are costs you can expect to procure every year of your pet's life.
When it comes to necessary charges like yearly vaccines, routine dental care, heartworm prevention, and spaying / neutering surgery, many pet parents find themselves unexpectedly racking up large veterinary bills.
Buying a wellness plan can relieve some of the financial pressure from pet owners by covering up to 100 percent of their routine medical bills. Wellness plans can cover a variety of expenses depending on the company and policy, and you can usually get it as an add on to comprehensive accident and illness coverage plans.
Pets are a part of the family and deserve the best possible health care, and having a wellness plan in your corner can guarantee the best annual care for your best friend.  Make sure you compare plans on Insurify before settling down on a policy!
Banfield Pet Insurance Policies and Pricing
Banfield Wellness Plans are different from competitors for two reasons. For one, its pet insurance plans don't include accident and illness coverage, only wellness coverage that covers routine and preventive care, including things like annual checkups and other pet care services. Secondly, it requires policyholders to have all of their wellness and routine care managed through the Banfield Hospital chain. This means that its wellness plans only work at Banfield Pet Hospitals.
Banfield has over 1,000 locations across 44 states and Puerto Rico, excluding North Dakota, South Dakota, Wyoming, West Virginia, Maine, and Vermont. Over 800 of Banfield Pet Hospitals are located inside a PetSmart store.
Banfield requires a veterinary exam and approval from one of its own veterinarians before enrollment in any of its plans. This means that Banfield can deny coverage of your pet based on its medical history and health.
Banfield Plans for Your Dog or Cat
Banfield offers five core optimum wellness plans that cover two annual physical exams, vaccinations, diagnostic testing, three fecal exams, four deworming procedures, and unlimited office visits. These plans can each be upgraded and customized with add-ons like parasite control, spay/neuter coverage, a DNA test to detect genetic disease, increased dental cleanings, and different options for chronic care.
Unlike many pet insurance companies, Banfield 's wellness plans pay for covered treatments outright, rather than through a reimbursement system. Banfield 's coverage does not require an annual deductible or waiting period for treatments.
Plans are determined by your pet's life stage, which means the wellness plan for puppies has different coverages than the wellness plan for adult dogs. Plans are split into coverage options to give pet parents flexibility with their monthly premium and coverage options. Banfield also offers a build-your-own plan option, which helps pet owners figure out which pre-set plan fits their needs.
Depending on the plan you choose, Banfield can help cover a variety of routine and preventative care for your new puppy or kitten or the dog or cat you've had for years. This kind of coverage can be especially beneficial for new puppy kitten owners that are looking to avoid racking up big initial veterinary bills from spay/neuter surgery and tiered vaccinations.
According to Banfield 's website, it won't exclude coverage to your pet regardless of breed, and openly opposes breed discrimination. However, Banfield does reserve the right to deny coverage to pets due to health and medical history because plan enrollment is contingent on a Banfield veterinarian's approval.
Puppies and kittens under six months are only eligible for the puppy or kitten wellness plan and can choose between early care or early care plus. Both coverage options can also purchase add-ons for parasite control at an additional cost.
Early care is the cheaper option and covers two annual physical exams, vaccinations, diagnostic testing, fecal exams, deworming, unlimited office visits, and a five percent discount on uncovered Banfield treatments and products. Puppies also get coverage for DNA testing for genetic diseases. Early care plus is more expensive but includes all of the early care coverage, spay/neuter surgery, and a 10 percent discount on uncovered Banfield treatments and products.
Dogs and cats older than six months are eligible for the dog or cat wellness plan and can choose between active care, active care plus, and special care. Each coverage option also allows policyholders to purchase add-ons for parasite control, DNA testing for dogs, adult spay/neuter surgery, additional dental coverage, and chronic care options.
Active care is the cheapest option and only includes coverage for the core plan treatments like vaccinations, unlimited office visits, and a 10 percent discount on uncovered treatments and products. Active care plus is a little more expensive and includes the core coverage and adds coverage for dental cleanings, urine tests, and a 15 percent discount on uncovered treatments and products. Special care is the most expensive of the build-your-own plans. It includes the core and active care plus coverages and adds preventative x-rays, additional diagnostic testing, and a 20 percent discount on uncovered treatments and products. Dogs with the special care option also receive coverage for electrocardiograms and eye pressure tests.
Banfield will not cover injuries or illness, but treatments done at a Banfield Pet Hospital will qualify for a discount.
Banfield insurance for Your Bird or Exotic Animal
Banfield does not offer insurance for birds or exotic pets. Currently, Nationwide is the only pet insurance company to provide pet insurance to exotic animals.
Banfield Claims, Deductibles and Benefits
Banfield does not work like typical pet insurance policies. Instead of using the standard reimbursement system, Banfield can automatically apply your coverage after each appointment. This means pet owners don't have to worry about reimbursement amounts because wellness plans cover treatments outright, rather than a percentage of the veterinary invoice.
Banfield 's plans also don't have an annual maximum payout, but there are limitations on certain procedures per year, depending on the plan you purchase. For example, the special care policy only covers two urine tests a year for dogs.
Banfield does not have an annual deductible, which means you do not have to spend a certain amount of money out of pocket before your coverage kicks in.
Banfield is not very flexible when it comes to its wellness plans, but offers a variety of add-ons that can be used to adjust the monthly premium. It also gives a $15 off discount on membership fees for pet owners that enroll multiple pets in Banfield wellness plans.
Banfield's Vet chat
All policyholders have access to Banfield 's Vet Chat through its website or app. Vet Chat gives policyholders access to 24/7 support from certified veterinarians. This can be especially helpful when it comes to deciding whether to make an appointment for small problems or looking for general advice.
Banfield's Waiting Period
Banfield does not have waiting periods on any of its wellness policies.
Banfield vs. Competitors
Banfield won't give out price quotes without an initial veterinary assessment from one of its own staff, which means they determine the monthly cost on your pet's health and can deny coverage outright.
However, it does offer a pricing calculator to show basic prices depending on the age, breed, and location of your pet.
For example, Banfield 's quote for a 2-year-old British shorthair cat named Simon, who lives in Brooklyn, New York, would be $26.95 per month for the active care plan. Simon would be quoted $37.95 per month for the active care plus plan, and $46.95 per month for the special care plan.
But if Simon were to get a quote from Embrace pet insurance, which offers a wellness plan add-on in addition to its accident and illness coverage, Simon's quote would be $29.10 per month. This quote consists of a $5,000 maximum reimbursement, a $1,000 annual deductible, a 70 percent reimbursement rate, and no prescription drug coverage—all of which can be customized to adjust your coverage and price.
Banfield Pet Insurance Reviews from Policyholders
Success stories:
Banfield 's website doesn't have any user reviews on its website, but there are many positive reviews from customers on websites like ConsumerAffairs, where it holds a three-star rating with 1,024 reviews. However, Banfield is reviewed as a brand, which combines reviews of its individual hospitals, staff, and wellness plans. Many positive reviews extoll Banfield 's customer service and expansive routine coverage.
Not-so-successful stories:
While ConsumerAffairs might showcase many of Banfield 's positive reviews, it also has many negative customer stories. Since Banfield requires all of its patrons to use the wellness plan at the Banfield Pet Hospitals, many of the negative reviews also reflect on the quality of the hospitals and staff.
These reviews typically talk about up charging, not being able to cancel your membership, and lousy customer service and veterinary practices. There are multiple reviews citing pet death following routine appointments.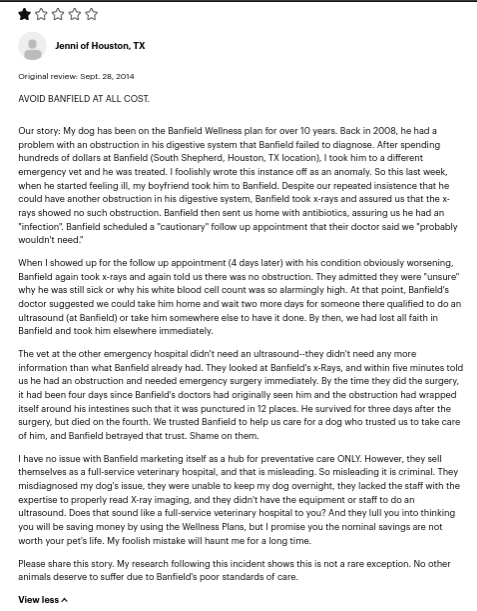 Banfield Pet Insurance Contact Information
| | |
| --- | --- |
| Corporate contact | 1 (866) 894-7927 |
| Wellness plan enrollment | 1 (866) 277-7387 |
| Email | OWP@banfield.net |
| Website | www.banfield.com |
Frequently Asked Questions: Banfield Pet Insurance
Banfield's wellness plan rates depend heavily on your pet's breed, age, health, and location. On average, Banfield's rates can run anywhere between $20 to upwards of $80 per month. Again, these rates are heavily subject to the aforementioned factors, as well as the insurance plan you choose. In comparison to other pet insurance companies, Banfield's prices are somewhat higher than competitors. Still, you should compare wellness plans and prices before settling on one policy.

Banfield has many negative reviews surrounding its cancellation policy. Rather than cover treatments outright, Banfield considers your monthly payments as a payment plan towards significantly discounted procedures. This means that if you were to get your pet neutered, you would be slowly paying off that procedure with each monthly payment. If you want to cancel your membership before your contract ends, Banfield requires you to pay the full price for any services it previously gave you a discount for. This means that if Banfield quoted a neuter surgery for $300, but with the wellness plan discount it was only $100, you would have to pay Banfield $200. Policyholders are required to sign into an annual contract and the company automatically renews the contract at the end of its term.

Banfield is one of the only national pet wellness plans that requires policyholders to work within its own network of veterinarians. This means that the quality of veterinary care your pet receives really depends on your location and access to a good practice. Wellness plans can be great when dealing with new kittens and puppies that need their first few rounds of shots and to be spayed/neutered or a pet that's young and has been healthy for years. But if you have a chronically sick dog or a cat that's just always getting hurt, it may be better to look into pet insurance policies with accident and illness coverage. Compared to competitors, Banfield's policies are more expensive for less coverage. Many pet insurance providers offer wellness plan add-ons in addition to their accident and illness coverage, which means your pet can be covered for nearly every instance of veterinary care. Whether Banfield is a good choice for you comes down to what you can afford and what kind of coverage fits you and your pet best. That's why you should make sure you compare quotes before settling down on a single pet insurance policy.
Data scientists at Insurify analyzed over 40 million auto insurance rates across the United States to compile the car insurance quotes, statistics, and data visualizations displayed on this page. The car insurance data includes coverage analysis and details on drivers' vehicles, driving records, and demographic information. With these insights, Insurify is able to offer drivers insight into how their car insurance premiums are priced by companies.