Do I need flood insurance in Virginia?
Only high-risk homeowners are required to, but everyone should think seriously about getting flood insurance.
The Potomac River in Alexandria, the James River in Richmond, and the shining waves on Virginia Beach and the Eastern Shore— Virginia 's water makes it the romantic, adventure-filled place so many love. But Virginia is also flood-prone, and only an inch of heavy rain can cause thousands of dollars in flood damage in the blink of an eye.
Fortunately, it's not hard to prepare. The Federal Emergency Management Agency ( FEMA ) administers the National Flood Insurance Program ( NFIP ) to provide affordable access to flood insurance through every major insurance company. When you're ready, your insurance agent can help you get started.
But first, our guide will help you learn everything you need to know about Virginia flood insurance.
While you're here, take just a moment to use Insurify 's free quote-comparison tool to make sure you're getting the best deals you can on car insurance, homeowners insurance, and other policies. Get personalized quotes from all major insurance companies in just a few minutes!
Do I Need Flood Insurance in Virginia?
You may be required to have flood insurance—but even if you're not, you should still seriously consider buying a flood insurance policy. If you're in a low-risk flood zone, peace of mind will be even more affordable!
If you're in what FEMA calls a Special Flood Hazard Area (SFHA) and have a federally backed mortgage, your lender will most likely require you to purchase a flood insurance policy. These areas are at high flood risk because they're in a 100-year floodplain, which has a 1 percent chance of flooding every year.
Even if you're not compelled by the federal government to purchase flood insurance, it's not a bad idea for anyone to think about it carefully. Flooding is the most common and costly natural disaster in America, and with a warm climate and abundant water, Virginia is vulnerable to about every flood risk you can imagine—including up in the mountains.
But I have home insurance, you might be thinking. Doesn't that cover flooding? Probably not. Flood damage is very rarely covered by standard homeowner's insurance policies. So make sure you've verified with your insurance agent if you think your homeowner's policy covers flooding.
Virginia Flood Zones
So what's your flood risk? You can find out at FEMA 's Flood Map Service Center by putting in your address. Your flood zone is assigned a code. If your code starts with an A or Z, you're in a high-risk flood zone; X or D means low, moderate, and unknown flood risk.
Property owners should know that these flood zones are based on research that isn't always as up-to-date as possible. If your area has altered significantly in recent decades—perhaps a levee was built, or lots of new real estate has been built in the watershed—your property may be at higher or lower flood risk.
So you checked, and your flood zone is not considered high-risk. Phew! But remember that it's still very wise to buy a flood insurance policy anyway.
What's Covered with Virginia Flood Insurance?
There are two main components to flood insurance. The first is called building coverage, which protects the walls, floors, and ceilings of your home and garage, along with the HVAC and heating systems and other components that could be considered part of the house itself.
Contents coverage protects your belongings—clothes, electronics, furniture, jewelry—and other appliances and possessions inside the home. Renters should consider buying contents coverage for flooding, given that most renter s insurance policies won't cover flood damage.
Business owners can access flood insurance policies as well.
Compare Car Insurance Quotes Instantly
Personalized quotes in 5 minutes or less
No signup required
What's Not Covered with Virginia Flood Insurance?
Every flood insurance policy is subtly different, so review them carefully with your insurance agent before you sign. NFIP policies have coverage limits up to $250,000 for building coverage and $100,000 for contents coverage. So if your personal property is worth more than that, you may want to get coverage from a private insurance company.
Your deck, swimming pool, hot tub, landscaping, patio, and other external parts of your real estate won't be covered by any NFIP policies.
Keep in mind there's a 30-day waiting period for flood insurance policyholders. So give yourself enough time to be covered by the time hurricane season rolls around.
What's the Cost of Flood Insurance in Virginia?
Over 100,000 Virginia homeowners are flood insurance policyholders —that's about 5 percent of the state. Virginia flood insurance costs an average of $772 per year. That's on the cheaper side compared with the rest of the country, which averages almost $1,000 a year. Check your county website or FEMA to find a flood insurance rate map (FIRM) for your area.
Rates vary a lot. If you're in a high-risk area, you'll obviously pay more, and homeowners in low- to moderate-risk flood zones pay below-average annual premiums. This can make flood insurance coverage a pretty good deal because even though you won't have a 1 in 3 chance of a flood once every 30-years, it's certainly reasonable to think you might.
How to Get a Flood Insurance Policy in Virginia
All major insurance companies sell flood insurance through the NFIP, and there are also private insurance companies that offer specialized policies and take advantage of more sophisticated mapping that can offer lower rates than the NFIP. If you think your NFIP policy might be overpriced, get flood insurance quotes from both private and NFIP policies and see what works best.
To find an agent that sells NFIP policies in your area, go to FloodSmart. gov. Likely your insurance agent for your homeowner's policy will also sell flood insurance.
National Flood Insurance Program ( NFIP )
Participating communities in Special Flood Hazard Areas work with the federal government to offer subsidized flood insurance policies through the National Flood Insurance Program ( NFIP ). When your community opts in to take advantage of NFIP policies, they also agree to invest in floodplain management and mitigation projects to shore up the area's flood resilience.
NFIP policies are sold through private insurance companies, but because they're offered through the federal government, they're all the same across different insurers. So it's wise to pick a company that offers good customer service rather than low prices on other policies.
Private Flood Insurance
Private insurance companies are meeting demand for flood insurance coverage that offers advantages over NFIP policies. One such difference you can find with private insurance is higher coverage limits. So if you have high-value jewelry or possessions or a very expensive home, you can access more coverage.
But beware. Plenty of new companies are not established or well-rated like longtime insurance companies that broker NFIP policies. So you'll want to be sure that you're working with a reputable company that can pay out your flood insurance claims. Otherwise, what's the point of having a policy in the first place?
Frequently Asked Questions
If you live in a high-risk flood zone, you may be required by your lender to have flood insurance, assuming you have a federally backed mortgage. Ask your lender to be sure.

It's a common misconception that flood insurance comes with a standard homeowner's insurance policy. This is not true! You almost always have to purchase a stand-alone flood insurance policy.

Flood insurance costs an average of $772 annually, significantly cheaper than the nationwide average.

A quarter of flood insurance claims originate from low- and moderate-risk flood areas. So just because you're not in the 100-year floodplain doesn't mean you're not at real risk of flooding.

FloodSmart.gov can help you find a local agent. If you already have home insurance, contact your insurance agent to see if they offer flood insurance policies.
Is Virginia Flood Insurance Worth It?
Even if you don't live on a riverbank or at the mouth of the Chesapeake, all Virginians are vulnerable to flood risk. Check your flood zone and ask your insurance agent for quotes and information.
Whatever insurance you're looking to buy, Insurify can offer you a slate of quotes personalized to you, for free, in just a few minutes. Try it now!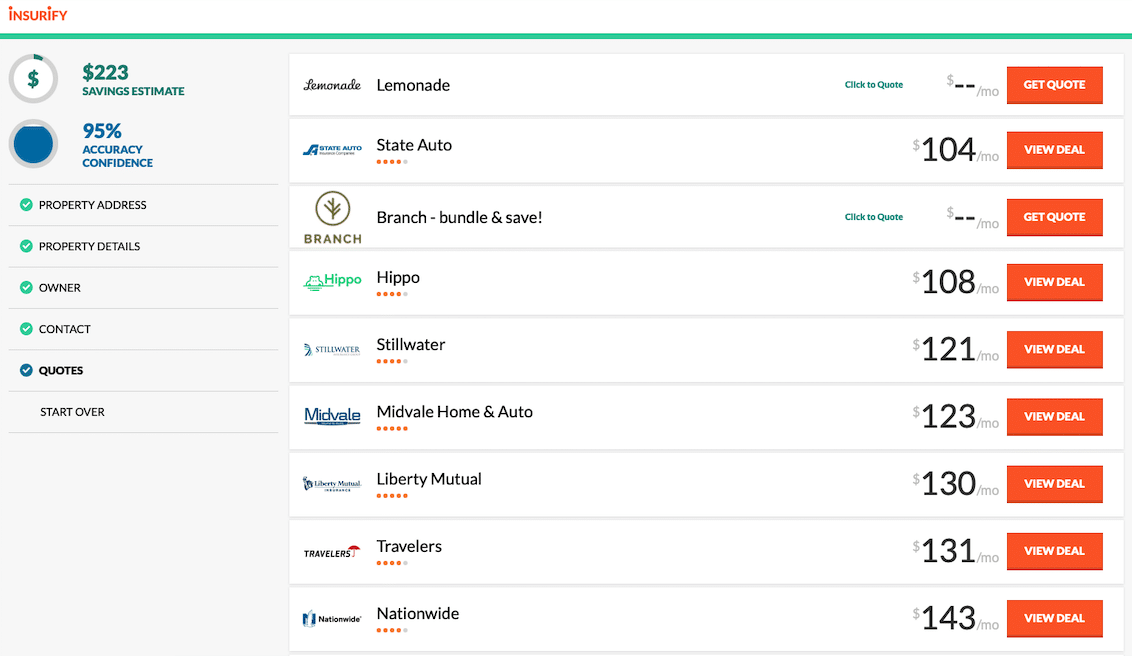 Compare Car Insurance Quotes Instantly
Personalized quotes in 5 minutes or less
No signup required
Data scientists at Insurify analyzed over 40 million auto insurance rates across the United States to compile the car insurance quotes, statistics, and data visualizations displayed on this page. The car insurance data includes coverage analysis and details on drivers' vehicles, driving records, and demographic information. With these insights, Insurify is able to offer drivers insight into how their car insurance premiums are priced by companies.