Hawaii has beautiful beaches, stunning waterfalls, and exciting activities. The warm climate draws homeowners and travelers to Hawaii year-round.
The Hawaiian Islands are located in the middle of the North Pacific Ocean. You might think the Aloha State is a prime target for hurricanes. It might surprise you to know that hurricanes don't make it to the Hawaii waters very often. According to the Insurance Information Institute (III), only four significant storms have hit Hawaii since 1871.
But most homeowners insurance policies don't cover hurricanes. If disaster strikes, the damage could be costly. Don't be left holding the bill. Find out what you need to know about Hawaii hurricane insurance in this guide.
And if you're looking for a great rate on homeowners insurance, we can help with that, too. The home insurance comparison tool from Insurify makes shopping and buying homeowners insurance a cinch. See how much you could save by comparing policies and premiums today.
Hurricane Insurance in Hawaii: The Basics
Hurricanes can damage your home or property. Hurricane insurance covers windstorm-related damage from the storm.
The III states that Hawaii homeowners insurance doesn't usually include hurricane coverage. Hurricane insurance is a supplemental policy. You can add it to your home insurance to cover hurricane damage.
But it wasn't always that way. Homeowners policies used to include hurricane losses. The state suffered catastrophic losses from Hurricane Iniki in 1992. This led insurance companies to stop offering hurricane coverage.
Insurers in Hawaii began writing hurricane policies again in 2002. But you need a supplemental policy at an extra cost.
Hurricane Insurance Requirements in Hawaii
Officially, hurricane season in Hawaii lasts from June 1 to November 30, but storms can occur during the off-season. Hurricane insurance comes into play when the National Weather Service or National Hurricane Center declares a Hurricane Watch or Warning.
State law doesn't require you to buy hurricane insurance in Hawaii. But you'll need hurricane insurance if you buy a home with help from a bank. Lenders require it as part of the mortgage approval process.
Compare Car Insurance Quotes Instantly
Personalized quotes in 5 minutes or less
No signup required
What Hawaii Hurricane Insurance Covers
Hurricane insurance in Hawaii covers wind damage during a hurricane. The damage can make areas uninhabitable for weeks or months. Wind speeds can reach 157 miles per hour or more. It can cause fallen trees and branches, roof failure, and destroyed homes.
It's critical coverage in the event a storm strikes your property. A hurricane policy typically covers:
Your home's structure, including attached structures like garages and carports

Your home's heating, air conditioning, plumbing, electrical, and other systems

Other outbuildings, such as sheds and gazebos

Furniture, clothing, tools, and other personal property
Your coverage may also include additional living expenses if you can't live in your home while repairs are being made.
What Isn't Covered by Hawaii Hurricane Insurance
Home insurance policies can cover damage from fire, lightning strikes, vandalism, and other perils. Supplemental hurricane insurance protects against wind-related damage from hurricanes.
But neither cover flood damage. Flooding and storm surges often accompany hurricanes, making flood insurance a crucial consideration.
Hawaii Hurricane Insurance Rates
How much you pay for hurricane insurance depends on where you live, your home's value, coverage amount, and policy deductible.
Before you buy a supplemental hurricane policy, you must buy homeowners insurance. The average cost of Hawaii homeowners insurance is $372 per year. Supplemental hurricane coverage is an extra cost. You'll also pay another premium if you add flood insurance to your hurricane protection package.
Some insurance providers offer discounts for wind-resistive devices. You might install a connector to secure rafters or roof trusses. Check with your insurance agent to find out if discounts are available for hurricane premiums.
How to Get Hawaii Hurricane Coverage
Hurricane insurance coverage starts with an excellent homeowners policy. The III names State Farm, Heritage Insurance, Tokio Marine Group, USAA, and Allstate as the top five homeowners insurance writers in Hawaii.
For Hawaiians, hurricane coverage is usually a supplemental policy. Contact your insurance provider to ask about adding hurricane protection. Your agent can walk you through the costs, deductibles, and policy limits to make sure you get the coverage you need.
Homeowners and hurricane insurance don't include flood damage. That means separate flood insurance is an important policy to have. Without it, flood damage—even if the flood is from a hurricane's heavy winds—isn't covered.
The Department of Commerce and Consumer Affairs in Hawaii recommends flood insurance policies from the National Flood Insurance Program (NFIP). Visit FloodSmart.gov for more information and to find a local provider.
Frequently Asked Questions - Hawaii Hurricane Insurance
Most Hawaii homeowners insurance companies don't include hurricanes in standard coverage. To protect your home from hurricane damage, you must purchase a separate supplemental policy. It's also important to note that homeowners and hurricane insurance policies do not cover flood or storm surge damage. Because flooding and storm surges are common with hurricanes, consider adding flood insurance to protect your home as well.

The homeowners or hurricane insurance covering your home and property does not include your car, truck, or other vehicles. Comprehensive auto insurance coverage can pay for hurricane damage to vehicles. It's also known as "other than collision" coverage and is an optional add-on to a standard Hawaii auto insurance policy.

The risk of a hurricane and related storm surge is low for Hawaii residents. However, most homeowners insurance policies in Hawaii specifically exclude hurricanes. Mortgage lenders generally require you to purchase hurricane coverage. Most insurers won't let you buy a policy when a storm is imminent, so make sure to review your insurance needs before a storm threatens your home.
Hawaii Hurricane Insurance: The Bottom Line
It's hard to imagine the gorgeous beaches in Hawaii being torn apart by a hurricane. Not many storms venture into Hawaii waters, but the damage could be catastrophic if one makes landfall.
In Hawaii, hurricane insurance is a separate coverage from homeowners insurance. If your mortgage lender doesn't require hurricane insurance, you should consider getting a policy anyway. Without a hurricane policy, flood coverage, and wind insurance, you risk losing your home and personal property. Hawaii hurricane insurance can provide the financial protection you need. Companies like Insurify help you compare home insurance give you the peace of mind of knowing your home is protected.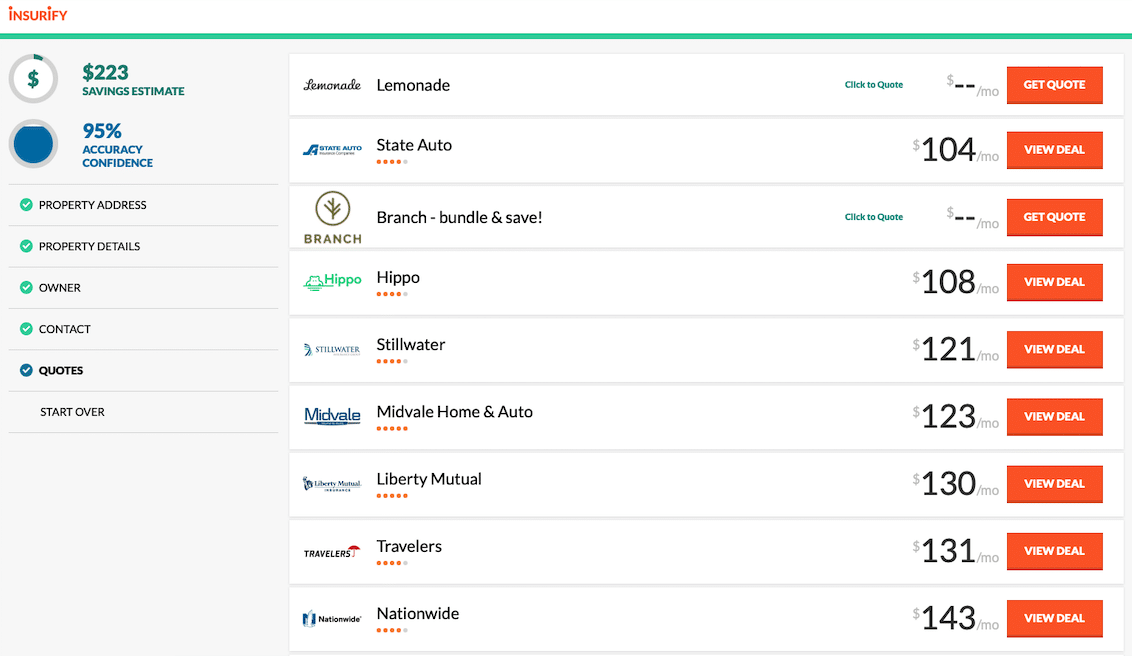 Compare Car Insurance Quotes Instantly
Personalized quotes in 5 minutes or less
No signup required
Data scientists at Insurify analyzed over 40 million auto insurance rates across the United States to compile the car insurance quotes, statistics, and data visualizations displayed on this page. The car insurance data includes coverage analysis and details on drivers' vehicles, driving records, and demographic information. With these insights, Insurify is able to offer drivers insight into how their car insurance premiums are priced by companies.