Is flood insurance worth it?
Standard homeowners insurance doesn't cover damage caused by flooding, but a flood insurance policy can pay to repair or replace your home and belongings.
Flooding is one of the most expensive disasters. Many homeowners don't know they could be at risk for flooding—it can happen even if you don't live in a high-risk flood zone.
Your Flood Insurance Policy
If you have a mortgage, your lender might require you to buy coverage. It's necessary for some homeowners, but nearly everyone should consider getting a flood policy. Here's what you need to know about flood insurance.
1. Standard Homeowners Insurance Doesn't Cover Flooding
Even the best homeowners insurance policies don't include flood insurance coverage. Typically, policies exclude water damage from:
Rain and storm surges

Mudflow

Underground seepage

Sewer and sump pump backup

Overflowing bodies of water
Your homeowners insurance may cover water damage from leaking plumbing (if it's not due to a lack of maintenance) or a water heater that bursts. But floods caused by natural disasters, including hurricanes and heavy rain, aren't covered.
2. Your Lender Can Require You to Get Flood Insurance
Most lenders require flood insurance if the home is in a high-risk area. Flood insurance can protect the lender from a total loss if floodwaters damage or destroy the house.
If your home had severe flood damage, your lender would be left with a damaged home and a potentially unpaid loan. Lenders know that with flood insurance, you can fix the house and get it back to its original condition, preserving its value.
3. Flood Insurance Policies Can Be Cheaper Outside of Flood Zones
Flood damage itself is expensive. One inch of water can cost as much as $25,000 to fix, according to FloodSmart.gov.
But flood insurance can cost a lot less than you think if your home isn't in a designated flood zone.
You might pay as little as $146 per year, which can be an excellent investment to protect yourself against the high cost of flood damage.
However, like home insurance, the premiums vary based on the home's size, structure, and flood risk. Your chosen deductible and coverage amount can also impact the rate.
4. Know Local Flood History Before Buying a Home
Before you buy a home, investigate the area's flood history. If a house has flooded before, it's likely to flood again. The potential for flooding puts your home at risk and can increase your flood insurance premiums.
It might be more difficult than you think—the process of finding a property's flood history depends on the state. The most crucial information is to know whether the house is in a floodplain and what the flood map says about the area's flood risk.
5. Flood Zone Risks Don't Tell the Whole Story
Flood zone risks are based on the Federal Emergency Management Agency 's ( FEMA ) flood maps. FEMA uses flood models to determine the threat of flood in different areas.
But the models aren't always accurate. Besides the unpredictability of Mother Nature, the maps also don't consider the increased flooding caused by climate change.
Floods are happening more often—even previously low-risk areas are flooding, making locations more high-risk than you might realize.
FEMA is updating its risk rating system to a new methodology called Risk Rating 2.0. The new structure will primarily help determine more accurate rates for policies through the National Flood Insurance Program ( NFIP ). It can also better predict a property's flood risk.
Still, there's no such thing as a flood-free zone. Protect your home and personal property with flood insurance because even the best home insurance policy won't cover flood claims.
6. Not All Flood Insurance Policies Are from FEMA
FEMA manages the NFIP program, and NFIP policies are the most popular. But it's not the only option.
Private flood insurance policies are available, too.
The best place to shop for a policy is with your current homeowners insurance company or agent. You can also use the FEMA flood insurance provider tool if you're looking specifically for a policy from the federal government.
7. Flood Insurance Policies Don't Typically Cover Basements
Some flood insurance policies may cover a percentage of lost items stored in a basement, but many policies don't.
Policyholders may be surprised to find that flood insurance policies don't typically protect anything kept in a basement that's lost in a flood.
Also, it's important to note that flood insurance coverage doesn't pay for the cost to repair or replace a finished basement that's damaged in a flood—this includes improved floors, ceilings, and walls.
However, insurers typically cover water heaters, furnaces, and other necessary equipment if installed in the basement.
8. Flood-Proof Your Home to Lower Flood Insurance Premiums
Property owners can flood-proof their homes to lower their flood insurance premiums. Some options are costly but can save you a significant amount of money each year on your flood insurance premiums.
Some common techniques include:
Elevating your appliances

Installing a drainage system

Installing flood openings in your foundation
9. Renters Need Flood Insurance, Too
Renters can suffer from flood damage. Flooding can damage or destroy your personal belongings and large housewares, such as furniture, bookcases, portable dishwashers, and decor.
Your landlord's insurance won't pay to repair or replace your items—neither will your standard renters insurance policy.
The replacement cost could be staggering. Flood insurance for renters can protect you financially if a flood strikes.
Frequently Asked Questions
While most policies are through FEMA, it isn't the only option. Private insurance companies can also provide flood insurance. Make sure you read the fine print to know what's included and the coverage limits that may apply before accepting a policy.

Flood insurance is generally divided into two parts: building coverage and contents coverage. Building coverage protects the home's structure, all permanent features (carpeting, cabinets, shelving), washers and other appliances, utilities, blinds, and detached garages. Contents coverage includes clothing, electronics, and valuables (up to the policy limit).

If you already have homeowners insurance, you can usually get flood insurance from your insurance agent. If not, call an independent agent in your area or visit FloodSmart.gov to purchase flood insurance.
Compare Car Insurance Quotes Instantly
Personalized quotes in 5 minutes or less
No signup required
Is Flood Insurance Required?
Lenders can mandate coverage if the home you buy is in a flood zone. Otherwise, homeowners and renters aren't required to purchase flood insurance.
But flooding is one of the most expensive natural disasters to happen to any homeowner. It can happen even if you don't live in a high-risk flood zone.
If you live in an area that experiences heavy rainfall, consider taking preventative measures like keeping gutters clear and maintaining drainage systems around your home. And don't wait to find out what your flood insurance covers.
You may also want to look into using Insurify as part of your homeowners insurance shopping process. That way, when disaster strikes, you have the peace of mind of knowing you will be taken care of no matter what happens next.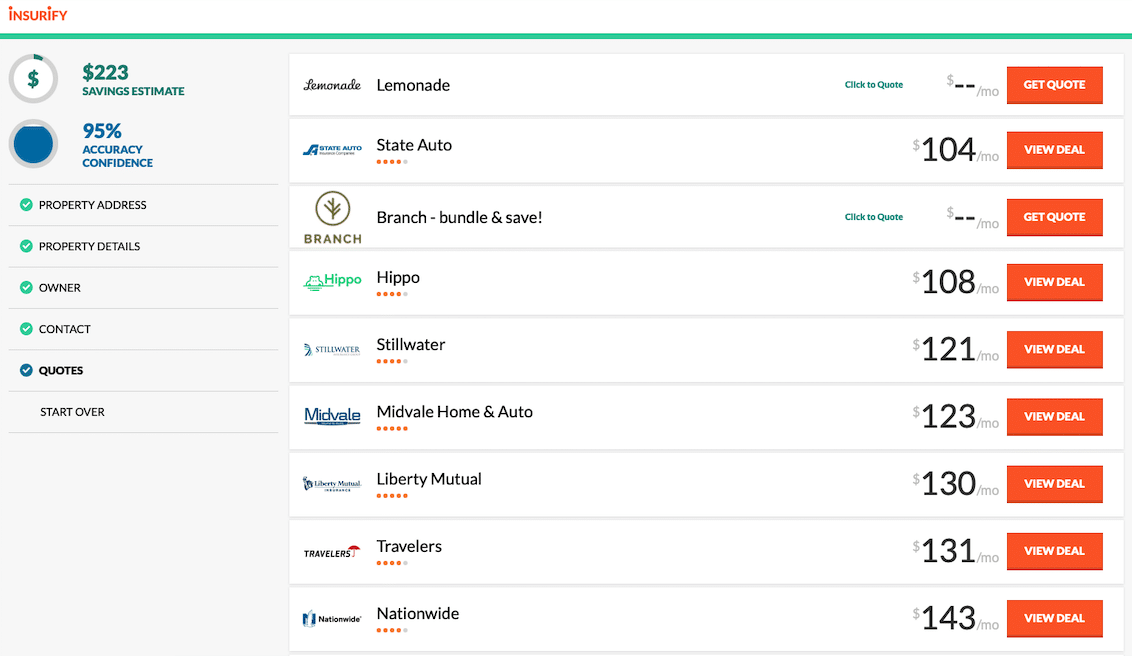 Compare Car Insurance Quotes Instantly
Personalized quotes in 5 minutes or less
No signup required
Data scientists at Insurify analyzed over 40 million auto insurance rates across the United States to compile the car insurance quotes, statistics, and data visualizations displayed on this page. The car insurance data includes coverage analysis and details on drivers' vehicles, driving records, and demographic information. With these insights, Insurify is able to offer drivers insight into how their car insurance premiums are priced by companies.