Why you can trust Insurify
Medicare helps make hip replacement surgery costs more manageable.
Hip pain can be hard to live with. Aside from soreness and stiffness, many who suffer from hip pain struggle with or cannot perform daily activities like walking, reaching, or bending over. If you've been experiencing hip pain for a while, you may have started looking into solutions like hip replacement surgery.
As with any surgery, there are a lot of factors to consider: Do the benefits outweigh the risks? Can you afford to pay for the procedure? Can you get help from health insurance or other medical healthcare programs?
Often, the financial concerns of surgery can be a huge stressor that prevents people from further exploring the idea. Fortunately, Medicare insurance plans can help cover the costs of hip replacement surgery. Here, we cover everything you need to know about the costs associated with hip replacements to help you determine your best options.
Saving money on Medicare is easy. Just use the Insurify Medicare comparison tool to find the right Medicare plan for you. Uncover options in your area at no cost to you. Try it today!
What Is a Hip Replacement?
A hip replacement is a surgical procedure that removes diseased or damaged parts of the hip joint and replaces them with artificial parts. In the case of a total hip replacement, also known as a total hip arthroplasty, the entire hip joint is removed and replaced with a new artificial joint. Whether it is a total joint replacement or partial hip replacement, this procedure is done to help relieve pain, restore hip joint functionality, or improve mobility.
How Much Does A Hip Replacement Cost?
The average cost of a hip replacement is $39,000. How much you pay depends on the way you've set up your Medicare plan (more on this below).
Although this is a common orthopedic surgery, with nearly 400,000 procedures performed annually in the United States, hip replacements come with their own set of risks and complications. Your doctor or surgeon should be able to walk you through any complications you may be at a greater risk for based on your medical history.
Physicians will usually advise less invasive treatment methods depending on your level of pain before recommending surgery. If you've already tried conservative, non-invasive treatments for pain relief management with no luck, then a hip replacement may be something to consider and discuss with your doctor.
What Is the Average Cost for a Hip Replacement?
The national average for a hip replacement in the United States was $39,000 in 2020. There are a few factors involved in the cost of the surgery, the big ones being location and choice of hospital. Some regions where the cost of living is higher than others— New York City, for example—may have greater healthcare expenses. Top-ranked or extremely reputable hospitals will likely charge more for medical procedures like hip replacements.
It's important to note that even if you have health insurance, you will still likely need to pay out-of-pocket expenses, which can range from a few hundred dollars to several thousand, depending on the coverage details of your health insurance policy.
Coverage will vary by insurer. So it's important to find out what is required by your insurers to get coverage and to ask for a breakdown of procedure costs from your hospital to see what gets covered. For example, some insurers may require a referral from your primary care provider to cover a surgery performed by an orthopedic surgeon.
And by asking for a breakdown of costs in terms of preparation, care, supplies, and more, you can talk with your insurer and find out which items are covered. That way, you're prepared when you receive the final medical bills.
How Much Does a Hip Replacement Cost Without Insurance?
If you don't have health insurance coverage, a hip replacement can cost anywhere from $30,000 to $112,000. Since the cost of a hip replacement varies from hospital to hospital, make sure to check with a few different medical facilities before scheduling your surgery. Some may offer discounts to those who are uninsured or be willing to reduce surgery pricing if you explain that you are uninsured.
If the total cost of a hip replacement surgery is overwhelming, you can ask your hospital of choice if they offer payment plans for surgery. Other options to consider may be using FSA, HSA, or HRA funds to cover some out-of-pocket costs, borrowing from retirement savings, or applying for healthcare financing.
These are big decisions, so make sure to thoroughly research your options and, when possible, consult someone you can trust for medical advice, such as a close family member.
Does Medicare Cover Hip Replacement?
The good news is: Medicare covers some of the hip replacement surgery costs if your doctor deems it medically necessary. The amount that Medicare will cover depends on your specific plan's coverage, the procedure's cost, and other factors. Although a Medicare plan will not cover 100 percent of the surgery cost, it certainly makes hip replacement much more affordable.
Below is a breakdown of what each Medicare plan covers:
- Medicare Part A: Part A will help pay for your stay at an approved hospital (hence why it's so often called your "hospital insurance"). This includes hospitalization costs for your room, meals, and nursing care. Part A will also cover drugs that are part of your inpatient treatment. If you need skilled nursing care after the surgery, Part A can help cover the first 100 days of care, including physical therapy.

- Medicare Part B: While Medicare Part A covers inpatient treatment, Part B covers some of your surgery costs if is performed at an outpatient surgical facility. This includes costs like doctor's fees, the surgery, diagnostic X-rays, follow-up treatment and care, and necessary medical equipment, such as canes or walkers.

Medicare Part C: Also known as Medicare Advantage, Part C is required to cover areas that Original Medicare ( Part A and Part B) covers. Some Medicare Advantage plans may offer additional benefits like transportation to medical appointments, meal delivery to your home after surgery, and other similar supplemental aid. A benefit of Medicare Advantage plans is that out-of-pocket costs tend to be co-payments rather than coinsurance. Co-payments are an agreed flat fee per visit or service, while coinsurance is a percentage of the overall cost.

Medicare Part D: This is a prescription drug coverage plan that can be purchased alongside Original Medicare. If you need to take pain management medication or certain prescription drugs after surgery, Part D can help cover these costs.

Medicare Supplement Insurance: Medigap plans offer supplemental coverage to Original Medicare. That means that it can help cover the cost of deductibles, co-pays, and coisnurance associated with your hip replacement care.
Bear in mind that those last three are fulfilled by a private insurance company. That means you'll work directly with the insurance company to coordinate and pay for your care. Be sure that you've set up your Medicare coverage with the best additional options before you schedule your surgery. It can save your bundles. Now, you'll likely have access to many plan options in your area. You'll need to decide if a Medicare Advantage plan or Original Medicare with a Medicare Supplement plan is the best way to set up coverage. The answer truly depends on your needs, preferences, and budget.
Having trouble choosing? Speak to one of our licensed insurance agents by calling 1 (844) 965-1378 (TTY 711). They can guide you through the options in your area. They'll also make sure you get a plan that fits your needs and your budget.
Out-of-pocket Costs for a Hip Replacement
Now that you know what each Medicare part covers, here's what you can expect to pay out of pocket. Before Medicare Part A, Part B, or Part C kicks in, patients must pay any associated premiums, deductibles, or co-pays.
In 2020, the average annual deductible for Medicare Part A was $1,409 when admitted to a hospital, and the average annual Medicare Part B deductible was $198. After your monthly premiums, deductibles, and coinsurance or co-payments are made, Medicare will pay a percentage of the surgery cost. Medicaid services can help you cover even more of your care so long as you're eligible.
Medicare can make hip replacement surgery very affordable. If you've been considering hip replacement surgery or think you may need one down the road, you may want to enroll in Medicare during your Initial Enrollment Period.
The Initial Enrollment Period for those eligible for Medicare begins three months before your 65th birthday and ends three months after your 65th birthday. If you already have a Medicare plan but want to switch plans—such as switching from Original Medicare to Medicare Advantage—you can do so during the Medicare open enrollment period from October 15 to December 7.
Why Are Hip Replacement Surgeries So Expensive?
Even the low end of hip replacement surgery pricing can give a person massive sticker shock. There are a lot of items that add to the total cost of surgery, like:
Diagnostic testing, like blood work and X-rays

Use of the surgery operating room, which has a per-hour or per-procedure cost

Surgical assistants who help in the operating room

Medicinal or biological support for the surgery, like anesthesia, IV, blood, or plasma

The cost of the prosthesis used for surgery

The surgeon's fee

Cost of the recovery room and your hospital stay

Skilled nursing facility charges if you require extensive care after surgery

Part-time nursing care during your recovery at home
This is just a brief list that covers some of the costs associated with hip replacement surgery and shows why the final bill is so high. Each line item will likely have different coverage depending on your insurer, which is why final costs can vary so much.
Is a Hip Replacement Worth It?
With nearly 400,000 hip replacements done each year in the United States, it's hard to argue that it isn't worth it. Severe hip pain can have a huge impact on your quality of life and your ability to perform basic routine actions—and it's difficult to put a price tag on that. Thankfully, Medicare plans can help cover some of the costs associated with hip replacement, making the final bill more feasible for many.
You may consider hip replacement if you have:
Hip pain that persists, despite pain medication

Difficulty walking, even with a cane or walker

Pain that interferes with your sleep

Difficulty performing routine activities, like getting dressed

Hip pain that affects mobility, like rising from a seated position or going up and down the stairs
Remember, your physician should be able to advise you on the best course of action. At the end of the day, a hip replacement is a highly personal procedure. A medical professional can walk you through all of your best options and help you decide whether a hip replacement is worth it based on your unique circumstances.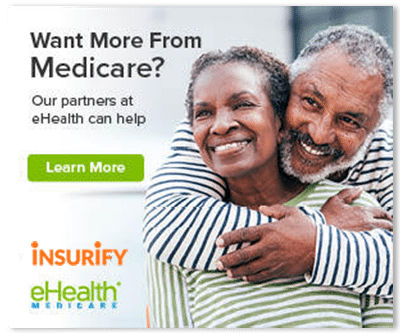 FAQ: Medicare and Hip Replacement
The level of pain varies depending on the type of hip replacement procedure you undergo and your own personal pain tolerance. There are generally two types of approaches to hip replacements: minimally invasive and open surgery. During both procedures, patients will be under anesthesia. Minimally invasive procedures involve smaller incisions and cause less damage to muscles and tissue. The recovery time and pain associated with this procedure are much less than with traditional open surgery. Since open surgeries require larger incisions, the level of pain and recovery time are a bit greater.

But remember, while some swelling and pain are normal after a hip replacement, you should inform your doctor if you consistently feel moderate to intense pain to ensure that there are no post-surgery complications.

Before a hip replacement procedure, you will receive instruction from your physician on how to get ready for the surgery. This may include temporarily pausing certain supplements or medications, losing weight before surgery, or dietary restrictions 24 hours before surgery.

The actual procedure normally takes a few hours, and you may be able to go home on the day of surgery or a few days after.

Recovery time can range from two to six weeks, and some physicians may recommend that you work with a physical therapist who can help you maintain or build up your range of motion and strength. Depending on the patient's hip strength and mobility, they may want to consider arranging for a family member to help with daily activities and errands or at-home care.

As long as the hip replacement surgery is deemed medically necessary, Medicaid will cover some of the costs. The exact amount of coverage will vary depending on your plan's details but generally Medicaid will cover evaluation appointments, diagnostic tests, surgery fees, postoperative hospitalization, and postoperative physical therapy appointments.
Conclusion: Talk to Your Doctor to Determine Your Best Option
When considering a hip replacement surgery, the big factors you'll need to consider include:
Whether your hip pain is manageable or is interfering with your daily life

If you have increased risk factors that make surgery difficult

How manageable the cost of the surgery and any post-operative care is
Fortunately, Medicare makes the cost of surgery and post-operative care much more manageable for those who are suffering from severe hip pain and are good candidates for hip replacement surgery. Have a discussion with your doctor about your symptoms and any concerns you may have—and don't hold back. Your doctor cares about your health and will work with you to help find the best course of action.
If the decision is overwhelming, you may want to involve a trusted family member in the discussion and even bring them along on your next doctor appointment. Hip replacement surgery is a big decision, and having open discussions with your doctor will help set you up for success.
And don't forget that the Insurify Medicare comparison tool is always here to help you get more out of Medicare. Enter your ZIP code to compare costs for Medicare Advantage, Medigap, and Prescription Drug plans.
Data scientists at Insurify analyzed over 40 million auto insurance rates across the United States to compile the car insurance quotes, statistics, and data visualizations displayed on this page. The car insurance data includes coverage analysis and details on drivers' vehicles, driving records, and demographic information. With these insights, Insurify is able to offer drivers insight into how their car insurance premiums are priced by companies.