Tree removal on your property may seem straightforward enough, but this often isn't the case. When it comes to your home insurance policy, there are times when tree removal may not be covered. You'll have to pay out of pocket for preventive tree removal. But let's say a fallen tree presents a peril or is event-related. Windstorms, fires, and vandalism could cause a tree to fall on your property. Your home insurance might cover damage and tree removal in these instances. It's essential to know when your insurance company will cover tree removal. Either way, homeowners insurance will help you prepare for the unknown. And you need to know the steps to take to save money in the long run.
Ready for the first step to savings? Insurify helps homeowners like you find the most affordable homeowners insurance. Check out all the home insurance quotes to save now!
When Does Homeowners Insurance Cover Tree Removal?
If you look at your insurance policy, you'll see your dwelling coverage laid out for you. A standard homeowners insurance policy covers damages from named perils that are listed. These named perils include smoke, fire, lightning, falling objects, and weight from ice, sleet, or snow. The good news? If a tree falls on your home because of one of these named perils, your insurance will pay the cost of tree removal.
Let's say a tree falls far from your house. Note that even with a covered peril, it's up to your insurance company to decide. Your insurer will determine whether or not the fallen tree caused damage to the insured structures on your property. Usually, if a covered peril causes damage to a covered structure, tree removal is also covered.
Do you run a business out of your home?  If the company is tree-related, such as landscaping or nursery sales, a business insurance rider will cover the removal of any tree on your property. You should have coverage with an additional business rider for your business' property to be covered with any company you run out of your home. If you're running a similar business from your home and don't have home insurance, you could be out thousands of dollars if something happens to your trees, plants, and shrubs.
Some events may result in loss of use. For example, a tree falls on your driveway and makes the property unusable. Your insurer may decide to cover tree removal. It's always wise to double-check what's included and excluded in your policy.
When is Tree Removal Not Covered?
In certain instances, your insurance would not cover tree removal. The reasoning for a claim denial can get a little tricky. Let's say a windstorm or snowstorm comes and does not damage a covered structure on your property, but a tree lands on your lawn. In this case, homeowners insurance doesn't cover tree removal. You will have to pay for tree removal out of pocket.
The standard HO-3 home insurance policy excludes the cost of tree removal in certain events. Let's say you have damage due to flooding or an earthquake. You may live in a high-risk area on a flood plain or with frequent ground movements. Since most HO-3 homeowners insurance policies do not include flood insurance or earthquake insurance, they will not cover tree removal due to flooding. You would have to buy an additional policy to cover damage from these events. Ask your insurance agent for additional coverage or riders to see if you may need one for your property.
Always check the wording on your policy. There are usually limits on landscaping coverage. Sometimes an insurer will only pay for the replacement of a certain tree or tree removal, depending on the peril. Most policies will list the included perils such as fire, vandalism, explosion, theft, and damage. Talk to your local agent to find out if your policy covers replacement costs or only tree removal.
Does Homeowners Insurance Cover Tree Removal After a Storm?
Storms may come with wind, hail, ice, sleet, and snow. These perils are typically covered by standard home insurance coverage. Note that a home policy only applies to covered structures, not property land. Consider this scenario: You have a line of maple trees on your property close to your house. A violent storm comes, and they blow over and damage your roof. You file a claim and pay your deductible. Then, your insurance company will pay for the roofing repairs and tree removals. In this case, the storm damaged your covered structure. But if the trees did not cause damage to your covered structure, then you would have to pay out of pocket to remove them.
In another scenario, your tree is struck by lightning. It splits in half but doesn't damage your home. In this case, the insurance company would still pay for tree removal. The reason? Lightning is a covered peril on your property, no matter what. Fire, lightning, riots, vandalism, aircraft, and explosions are covered on a property's standard policy. But remember that coverage for snow, wind storm, hail, and ice is only on your dwelling's structure.
Does Homeowners Insurance Cover Diseased Tree Removal?
Do you see signs of deterioration on your tree? You may see that it has rot, has a disease, or is aging. You may need to remove a tree from your property due to one of these reasons. In this case, you will need to pay for removal on your own. Homeowners insurance does not cover the usual rot and disease on an old tree.
There are also strange instances that may cause your insurance adjuster to deny a claim for tree removal or cleanup after a covered peril. Your insurance adjuster may determine the tree to be damaged, diseased, or rotten before the event. If your insurance claim is denied, you will have to pay to remove the tree on your own.
What If a Tree Fell on a Neighbor's Property?
Let's say your tree falls on your neighbor's property. Who is responsible for the neighbor's yard? They are responsible for the tree falling in their yard. Your neighbor should submit a claim under their insurance as soon as possible. The neighbor's insurance company is responsible for the structural damage costs under their covered perils. If your neighbor's tree falls in your yard, you will use your homeowners insurance to cover tree removal and damage under any covered perils. Your insurance company may decide to use a process called subrogation, which is the attempt to collect money from your neighbor's insurance company. It may be necessary if the fallen tree was not properly maintained or in poor health and they knew about it.
Homeowners Insurance Coverage Limits for Tree Removal
Always check your policy for coverage of tree removal service. A standard policy has coverage limits of around five percent of your dwelling structure's insurance amount. Generally, you will see insurers place a $500 to $1,000 limit on the reimbursement amount. Let's say your three maple trees cost $1,500 to remove, and your deductible is $1,000. You would receive a check for $500.
On the other hand, let's say those trees cost $3,000 to remove, and your maximum payout is $500 per tree. You would get a check from your insurer for $1,500 only, regardless of your deductible. Your insurance is paying for three trees worth a $500 payout per tree in this scenario. Of course, the payout will vary from policy to policy. It's best to check with your insurance agent to make sure you have the right coverage limits for the landscaping on your property. Extra coverage may be warranted if need be.
Debris Removal
A debris removal endorsement is a standard coverage option. Debris removal covers any cleanup costs associated with a named peril on your coverage. Let's say you are cleaning out your house after a fire. Your insurance would cover tree debris removal and similar cleanup. Debris removal is often limited to 25 percent of your liability under property loss. Let's say a windstorm or similarly covered peril causes fallen trees. Debris removal on your policy would be able to assist you with cleanup costs.
In some cases, insurance would exclude the per-tree removal limit in your policy. Or it might be increased by a specified amount (usually around $500). You may then use dwelling or hazard coverage for tree removal anywhere from five percent and up.
Yard and Garden Endorsement
You may decide to increase your coverage for your lawn and landscaping. In this case, a yard and garden endorsement will increase your coverage for damage. Let's say a tree falls on your property, causing damage to your existing garden, shrubs, or sprinkler system. Your rider or endorsement would assist with covering any losses. If damage results in loss of business, you could then talk to your local agent. They will help you find out what is covered by business insurance and what is excluded.
Other Additional Home Insurance Coverage
Flooding may cause a tree's roots to weaken and result in a fallen tree. If you live near a flood zone, it's best to consider an additional flood insurance policy. You can buy a supplemental policy through the National Flood Insurance Program (NFIP), which is managed by the Federal Emergency Management Agency (FEMA). Ask your insurer to help you purchase additional coverage through the NFIP.
Let's say you live in an area that gets hurricanes. Your policy may cover damage caused by winds. Your insurer will determine if it was wind or flooding that caused any trees to fall. It's always recommended you have additional flood insurance if you live in a hurricane-prone area.
A standard HO-3 policy doesn't cover earthquakes. But your insurer will offer additional insurance for removals. This additional insurance is helpful if you live in an area prone to earthquakes. The coverage would extend to mudslides and related disasters, including debris removal. It will be worth purchasing this additional coverage if you have a lot of trees on your property.
To buy or not to buy? That's probably the question on your mind. Compare insurance companies fast and find out what you need. Use Insurify to answer the age-old question now!
Compare Car Insurance Quotes Instantly
Personalized quotes in 5 minutes or less
No signup required
What to Do When Your Tree Falls
If you own a property with many trees, you will likely experience a tree falling if you live there for an extended time. Trees tend to die naturally, but nothing can prevent a storm from coming and causing damage. It isn't hard to detect rot and damage with the naked eye. If you notice any decay, damage, or signs of disease and a storm comes, the tree will eventually fall. Sometimes, even seemingly healthy trees fall as a complete surprise. Some trees are in bad shape, with dead or decomposing roots that only show underground. Any weather-related event can quickly upend any sick or healthy tree. Here are the steps you can take when a tree falls and to prevent a tree from falling:
Evacuate (If Necessary)
First, always check to make sure everyone is alright. Anyone on a second or higher story should evacuate to the main floor. Take a head count to make sure everyone is accounted for. If a tree is blocking you from exiting your home, call for help. You may need to contact your local emergency services.
Contact Your Power Company (If Necessary)
If there are downed power lines, it's best to report them to your local power company. Exposed power lines can create more damage or even death. Keep away from any power lines or cables until the power company can come and remedy the situation.
Contact an Arborist
Once the situation is safe, call a certified arborist to assess the situation. Arborists are trained to work with confusing tree issues. They work with special equipment to diagnose and treat the trees. A certified arborist will also know the standards for tree removal and guide you to get the job done. Sometimes the work of an arborist is worth the extra expense. A specialist can give the most practical advice.
Call Your Insurance Company
If you have property damage, always call your insurance company. An insurance adjuster will come out before tree removal work starts. They will file a report for your claim and assess the damage. It may be wise to have your arborist there with the insurance adjuster at the same time. If there's any damage, a claim may pay the tree removal for covered perils listed on your policy.
Contact a Contractor
Sometimes fallen trees and branches cause extensive damage to the roof or side of a house. Always make sure the debris or tree is removed as soon as possible. Then, call a contractor to have the damage repaired. If your home becomes unlivable, take the proper safety measures. Your home insurance agent will advise if you need to stay elsewhere. And loss of use coverage will pay for additional living expenses.
Be cautious of solicitors who commonly knock on doors to offer their services. Only certified arborists trained in tree removal should advise you. You would be held liable if the solicited company doesn't have insurance or causes more damage to your home. They may even sustain an injury without worker's compensation. This scenario would put you through unnecessary costs and create more work, so it's best to do your research before hiring anyone.
How to Prevent Trees From Falling
Always keep an eye on your property's trees. If you think there may be a hazard, call a local tree company or certified arborist. They will address if any trees should be removed, treated, or cabled. Hire a tree-trimming service if necessary, and keep your gutters cleaned each season. These essential steps will save you money in the long run, since your home insurance will only cover certain events. If a tree falls due to disease, age, or any other circumstance not covered by home insurance, you will be stuck paying the price.
Also, always be proactive about dying trees. If your neighbor's trees look like a threat, let them know. If your neighbors ignore the situation, you can send a certified letter and take pictures. If a tree were to fall and cause damage, you would have proof that your neighbor was aware of the situation.
Knowing if fallen tree removal is covered on your home insurance is a toss-up. You can have peace of mind knowing you have the best home insurance providers to fit your needs. Don't wait—try us now!
Frequently Asked Questions
If the damage is to a covered structure on your property, your home insurance may help cover tree removal. Tree removal payouts typically range from $500 to $1,000. It all depends on what's included and excluded from your policy.

Whether homeowners insurance covers tree removal from a storm depends on the event. It will all boil down to how the tree fell and where it landed. If a windstorm or snowstorm damages your property, you will be covered. If the tree lands only on the ground and not the structure, you will not be covered. If lightning strikes the tree, you will likely be covered.

A neighbor's tree may fall on your property and cause damage to your covered structures. Your insurance policy may cover the event under named perils. If the tree falls on your neighbor's property, it is up to your neighbor to call their insurance company as soon as possible.

Your home insurance will not cover damage from a tree falling on your car. Auto insurance will instead pay for the damage to your vehicle. You can combine, or bundle, car insurance with your home insurance policy at a discount. It may be easier to navigate a situation like this by bundling since it's all in one place.
When Homeowners Insurance Covers Tree Removal: The Bottom Line
It's often tricky to navigate whether your home insurance will cover fallen tree removal. It's a case-by-case basis when there is fallen tree damage. Knowing if your covered structure is damaged is the first step. Knowing if it fell due to a covered event is the next step. And if the tree did not fall from a covered event, your home insurance will not cover tree removal. Knowing if you're covered in the event of a fallen tree is a game of chance. But having the most comprehensive coverage to protect your home and your property is the best choice.
Use Insurify to compare home insurance premiums for your property. Our comparison tools make homeowners insurance shopping (and saving) simple so you can be on your way to enjoying your newly insured home in no time.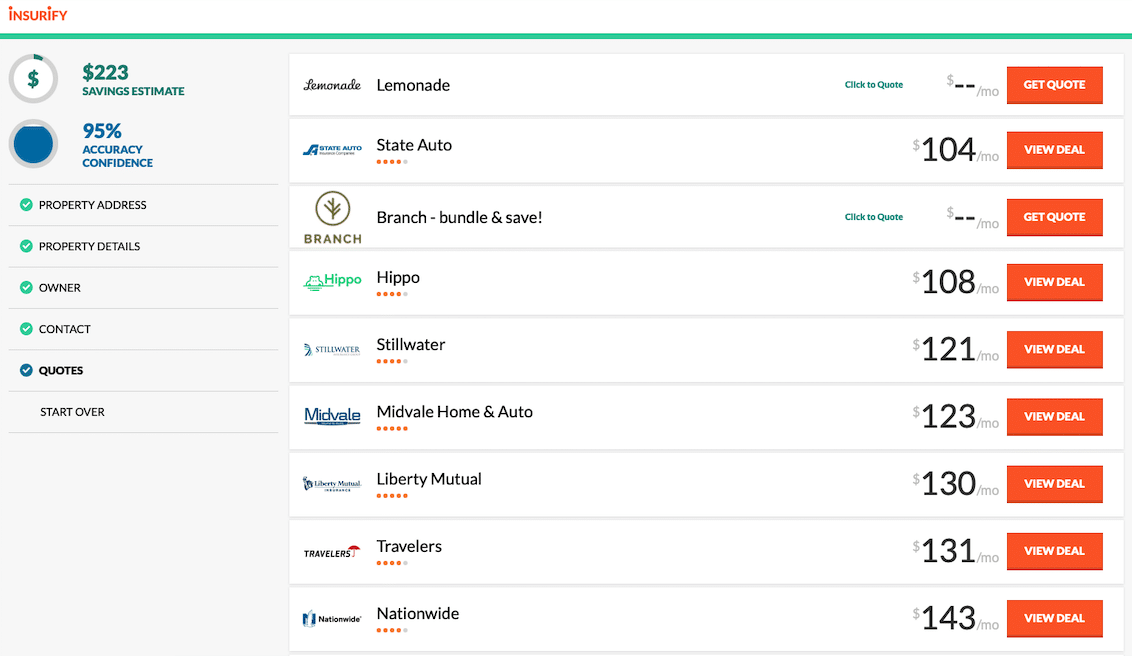 Compare Car Insurance Quotes Instantly
Personalized quotes in 5 minutes or less
No signup required
Data scientists at Insurify analyzed over 40 million auto insurance rates across the United States to compile the car insurance quotes, statistics, and data visualizations displayed on this page. The car insurance data includes coverage analysis and details on drivers' vehicles, driving records, and demographic information. With these insights, Insurify is able to offer drivers insight into how their car insurance premiums are priced by companies.