What is condo insurance?
Condo insurance policy, or HO-6 form homeowners insurance, provides financial protection and coverage for loss or damage of your belongings, personal liability, and medical payments if an incident happened on your property.
Are you thinking about buying a condo? Before you sign on the dotted line, take some time to understand what condo insurance is and why you need it.
Property insurance becomes more complicated when you share living spaces. Even though you'll be a unit owner, you can't buy a standard homeowners insurance policy for a condo. Instead, you need coverage that's specific to condo owners.
Insurify can help you compare home insurance quotes almost instantly if you're a homeowner or thinking about becoming one. One simple form is all it takes to see quotes from up to a dozen or more insurance companies. Then, you can decide which is the best coverage option for you.
Condo Insurance: The Basics
Also known as HO-6 insurance, condominium insurance protects your condo unit 's interior and your personal belongings inside it. It also provides personal liability coverage and additional living expenses.
Condo insurance is a type of co-op insurance. It's split into two types: a master insurance policy for the building and an individual policy to cover your unit. Because you share the building structure with others, both are needed to protect you and your neighbors fully.
Why You Need Condo Insurance
To best understand why condo owners need condo insurance, it helps to compare it with other insurance types.
Homeowners own the entire building and the surrounding property. A homeowners insurance policy covers the structure of the home, personal belongings inside it, and the land it sits on.
If you rent your home, your renters insurance covers only your personal possessions. The building owner's or landlord's policy covers the dwelling and land.
But when you buy a condo, you own your unit while also sharing a portion of the building or property with others. Condo owners are covered under two policies: one that covers the building and common areas and another covering your unit and personal property.
If disaster strikes, the policy covering the building and its shared spaces won't cover your unit or the items inside it. That's why you need an HO-6 condo insurance policy.
Compare Car Insurance Quotes Instantly
Personalized quotes in 5 minutes or less
No signup required
What the Condo Association or HOA Master Policy Covers
Most master condo association policies, sometimes called homeowners association ( HOA ) insurance, protect against damage from perils such as:
Fire and smoke

Lightning

Windstorm

Vandalism and theft
However, protection against covered perils doesn't include any loss or damage to your unit or personal property.
The condo association 's bylaws and state law can dictate what the master policy covers. What's covered also depends on the type of master insurance policy:
All-in coverage: the most comprehensive coverage that insures everything but your personal belongings

Bare walls coverage: covers shared areas but excludes your unit's interior walls and fixtures

Single entity coverage: a middle-of-the-road policy that covers common areas as well as fixtures in your condo
Generally, the condo association's master policy covers the exterior walls and building structure. It can sometimes include your appliances, flooring, and bathroom and kitchen fixtures.
Coverage also includes property damage to common areas, such as lobbies, hallways, elevators, fitness centers, and landscaping.
What's Covered by Condo Insurance
As you can see, the condo association 's policy stops after the exterior walls. It doesn't generally protect your unit or items in it. But that's where your condo insurance policy comes in.
Condo insurance covers many of the same perils as a standard homeowners policy, such as lightning, windstorms, fire, smoke, theft, and vandalism.
A typical condo insurance policy includes:
Dwelling coverage: the interior walls, fixtures, carpet, and other structural features of your condo unit

Personal property coverage: your clothing, electronics, appliances, furniture, and other belongings

Personal liability protection: pays for medical bills, medical payments, and other costs if you're found to be legally responsible for injury or damage to someone else or their property

Loss of use: reimburses additional living expenses if you can't live in your condo while it's being repaired

Loss assessment coverage: helps pay for claims if there's an accident in a pool, stairwell, or other shared areas of your condo property
Additional Coverages to Consider
No single insurance policy can protect against all risks. Consider purchasing additional coverage to fully protect yourself against loss.
For instance, condo insurance doesn't cover damage resulting from floods or earthquakes. Adding flood insurance or other catastrophe insurance policies can protect you financially from those events and other natural disasters.
You may also want to buy an umbrella policy. This can increase your policy limits and offer broader coverage than what you get in your standard condo policy.
How Much Does Condo Insurance Cost?
Condo owners typically have two insurance costs to consider. You'll help cover the cost of the policy that protects the entire structure. Your maintenance fees or association dues likely include those costs.
You'll also pay for your condo insurance policy. According to a National Association of Insurance Commissioners (NAIC) report released in 2021, the average cost of condo insurance is $506 per year.
How much your policy costs depends on:
The condo's location

Real estate and construction costs

Catastrophe and risk exposure
The coverage limits on the policy you purchase also impact your condo insurance rate. For instance, for a $100,000 and over policy, the average cost is $857 per year. But the average annual price drops to $413 for a policy with limits that range from $44,000 to $49,999.
If you're looking to lower your costs, shop around for condo insurance quotes. Prices vary from company to company. You could save money by comparing policies from different insurers.
Another way to save money on insurance premiums is to increase your deductible. The deductible is the amount you're responsible for paying when you file a claim before the insurance kicks in.
The higher your deductible, the lower your rate may be. Compare the policy savings to the increased deductible to make sure the higher amount fits your overall financial picture.
Condo Insurance Quotes - FAQs
In many cases, you may be directed to have condo insurance. Lenders can require you to purchase your own condo insurance policy in addition to the master policy. Your condo association bylaws can also mandate this type of coverage because the master policy doesn't extend to individual units. With condo insurance, your interior walls, fixtures, and personal belongings are covered.

Making sure you have enough coverage is crucial. Before selecting your condo insurance coverage, find out what the HOA's policy covers. Some policies can cover appliances and fixtures, while others stop at the exterior walls of your unit. Estimate how much it would cost to repair or replace your condo's interior, and add the value of your personal items. Create an inventory to list your items and get an idea of what your belongings are worth. A household inventory can also help in the event you file a claim with the insurance company.

The best condo insurance quote depends on your circumstances. Prices can vary between companies. Shop for condo insurance from companies like GEICO, State Farm, Farmers, Liberty Mutual, and Nationwide to compare quotes. You might also ask about bundling your condo insurance with car insurance or life insurance to qualify for a bundling discount.
The Bottom Line: Condo Insurance
When it comes to protecting against risk, is it possible to have too much condo insurance? To make sure you have enough property and liability insurance, read the master insurance policy carefully.
Remember that the association's insurance policy only goes so far. To help protect yourself against fire damage, smoke, or other covered losses, purchase a condo insurance policy.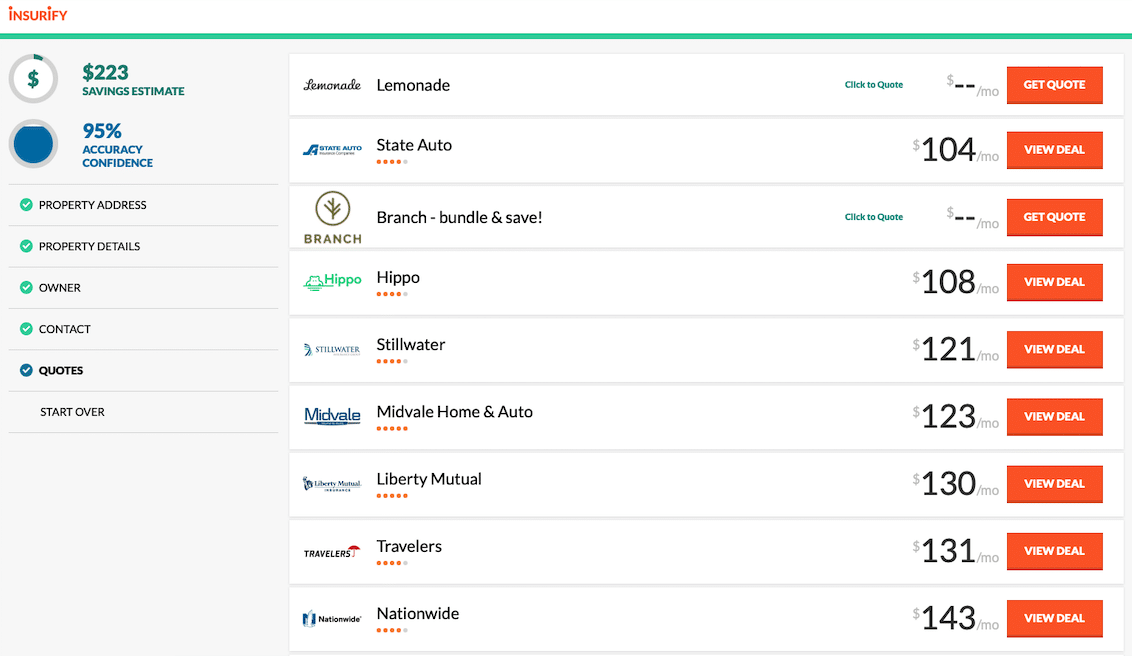 Compare Car Insurance Quotes Instantly
Personalized quotes in 5 minutes or less
No signup required
Data scientists at Insurify analyzed over 40 million auto insurance rates across the United States to compile the car insurance quotes, statistics, and data visualizations displayed on this page. The car insurance data includes coverage analysis and details on drivers' vehicles, driving records, and demographic information. With these insights, Insurify is able to offer drivers insight into how their car insurance premiums are priced by companies.